Want to easily cook a whole chicken in the crockpot? I've loaded this post with my best tips and tricks for making perfect crockpot whole chicken!
I love cooking a whole chicken at home in my crockpot, and I know you will too. The results are so much better than purchasing a store-bought rotisserie chicken! Your chicken will be packed full of flavor, have a crispy skin and will result in your own chicken stock/broth to use later.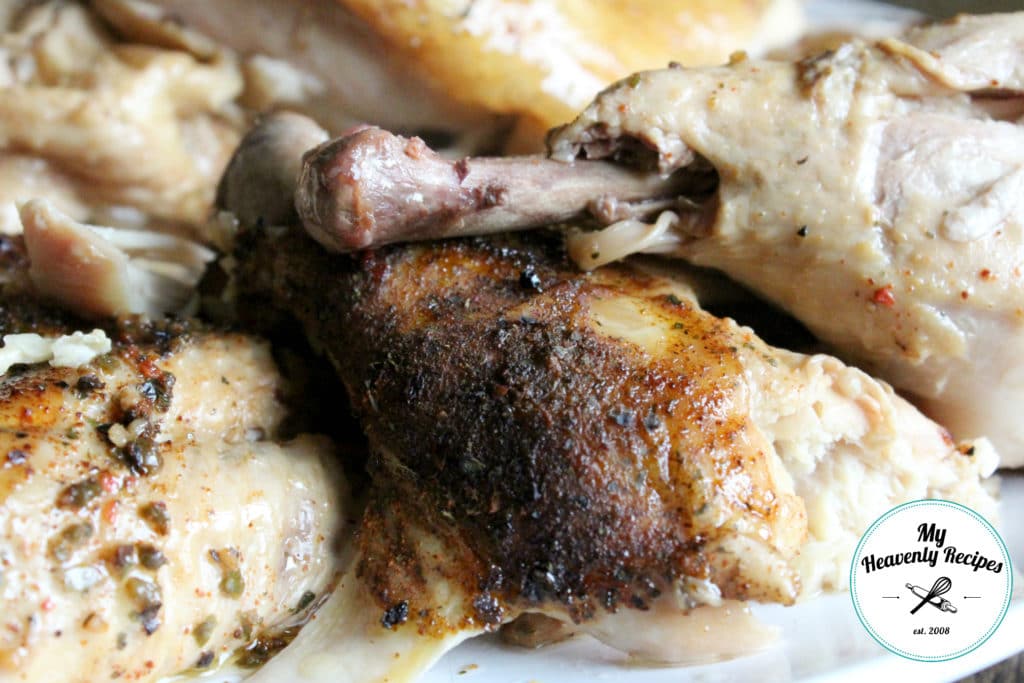 Have a hard time giving up store-bought rotisserie chicken? I completely understand. I used to buy store-bought rotisserie chicken all the time. However, I was tired of it being dry, and it just lacked so much flavor. I decided to attempt to cook a whole chicken in the crockpot one morning to see what the results would be… and I haven't turned back!
4 Problems With Cooking a Whole Chicken in the Oven
If you buy rotisserie chicken from the store, you might think the next-best option is to cook a whole chicken in the oven (instead of crockpot whole chicken). Let me tell you why cooking a whole chicken in the oven is not the best option.
You end up with super dry chicken. No one likes eating dry chicken!
You're supposed to leave the chicken uncovered in the refrigerator for at least 24 hours for crispy skin. I'm not down with that!
You have to leave the oven on for an hour-and-a-half while the chicken cooks. I hate leaving my gas oven on for that long.
You have to be a little knowledgeable in the kitchen. You have to know how to work with chicken: splitting, basting, cleaning, tying, etc.
9 Reasons Why Cooking a Crockpot Whole Chicken is Better Than the Oven
Cooking a whole chicken in a crockpot is so much better than cooking it in the oven. Here's why you should make crockpot whole chicken instead.
You won't have problems with #1, #2, #3, and #4 above!
No special instructions, just put the chicken in!
No need to baste the chicken.
There's no carving required. Each piece of the chicken will literally fall apart in your hand!
No tracking down kitchen string or twine to tie the bird down!
No watching the oven.
Set the Crockpot to low and dinner is done when you come home from work or running the kids around town!
You'll have LOTS of leftover juices. See my "What to Do With the Flavorful Stock from Your Crockpot Whole Chicken" section below for usage tips.
ANY level of cook can cook a whole chicken in the crockpot, children included! Crockpot cooking is an awesome way to get kids involved with cooking. Start them with this recipe!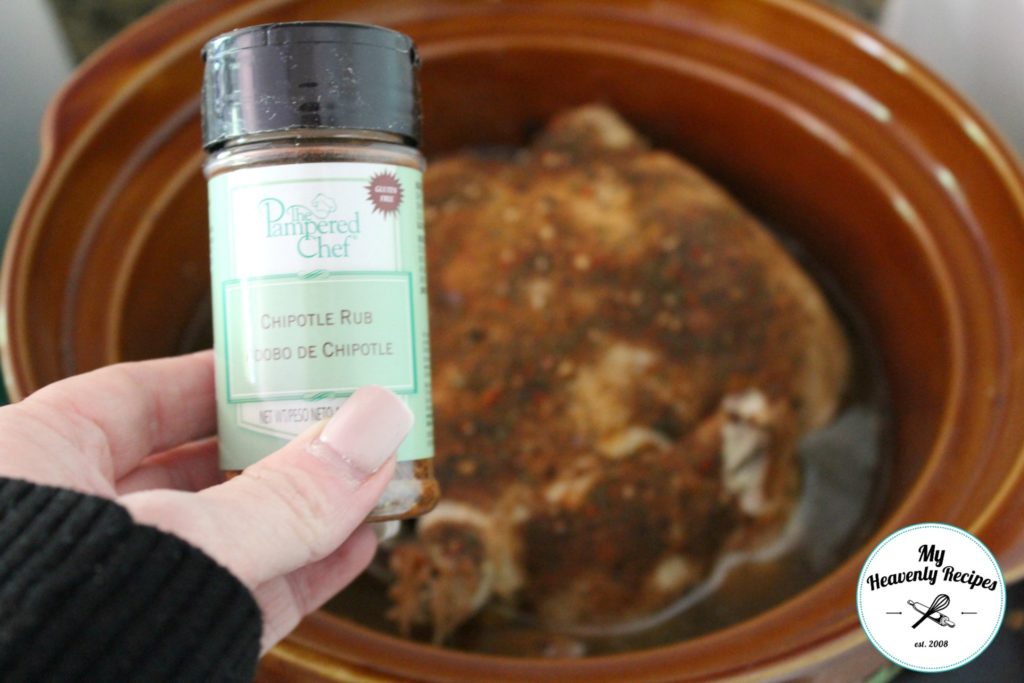 How To Use the Crockpot to Cook a Whole Chicken:
Rinse the chicken and clean if necessary.
Pat dry. This is a very important step that many people miss when using the crockpot to cook a whole chicken!
Season the ENTIRE CHICKEN with your favorite seasoning. 
Place in Crockpot for about 3 hours. The internal temperature on the thickest part of the thigh needs to be 165 degrees. It is so important to check the internal temperature of your chicken with a meat thermometer. Don't even think about skipping this part of the process!
If you want crispy skin on your crockpot whole chicken, leave the lid off of your crockpot for about 30 minutes to an hour. You can also pop under the broiler.
SAFETY TIP: If you started with a frozen chicken, make sure you have given it enough time to fully thaw before putting it in the crockpot. You can't slow cook a whole frozen chicken! It won't heat up fast enough and you'll risk food poisoning.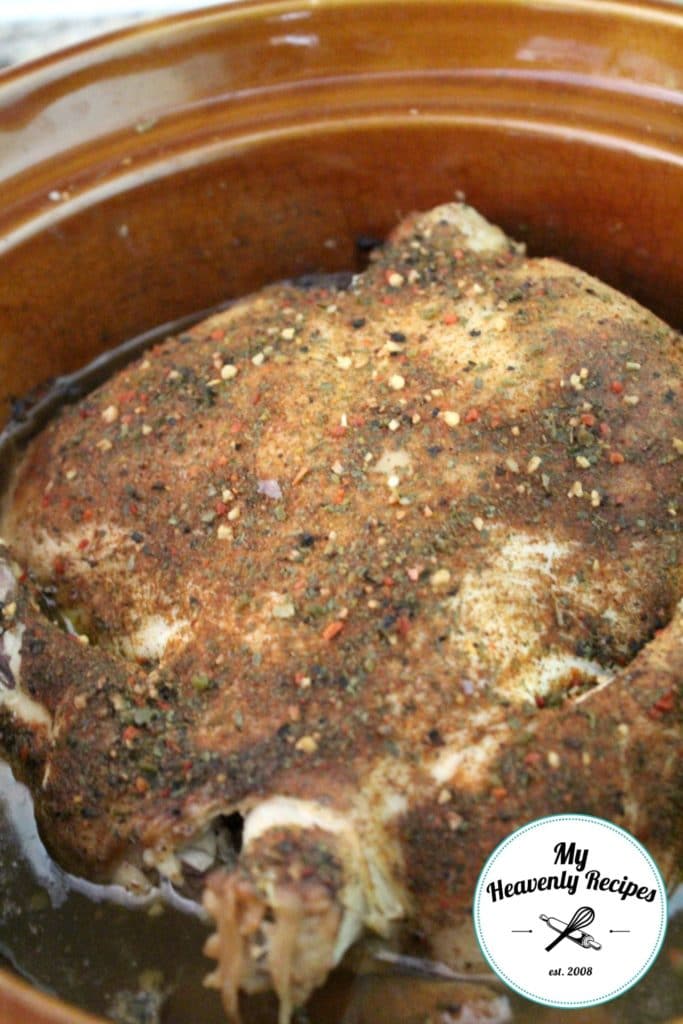 Additional Options for Cooking a Whole Chicken in the Crockpot
I typically add carrots, onion and celery to the bottom of my crockpot first, before adding the chicken. It gives it loads of flavor and I've never had a dry chicken.
Some folks use aluminum foil balls to set the chicken on in the crockpot. That's not necessary as the juices will prevent the chicken from "burning".
WARNING: When removing the whole chicken from the crockpot, it will be super tender. Like, you probably need to just break it apart in the crockpot and plate it like I did below. Super tender is good!
What to Do With the Flavorful Stock from Your Crockpot Whole Chicken
I mentioned at the beginning of this post that one of the benefits of making your own whole chicken in the crockpot is the amazing chicken stock/broth you're left with after cooking. Don't even think about throwing that stock away!
You can preserve this stock in the fridge for up to a week in an airtight container and use as you would chicken stock/broth. You can also freeze it using an ice cube tray for longer shelf life and use as needed. Here are a few ways to use it:
Use it as a base for soups and stews.
Cook rice in it.
Steam vegetables in it.
As you can see, there are a ton of benefits to making crockpot whole chicken. It's easy, convenient, and you're left with amazing stock to use for more recipes. You'll never go back to store-bought chicken again!
Want a Few More Flavorful Crockpot Recipes?
Once you're done making this crockpot chicken recipe, try a few of these:
Enjoy!
WW FreeStyle Plan: Zero SmartPoints for chicken breast when skin is removed