This post may contain affiliate links, read our
Disclosure Policy
for more information. As an Amazon Associate I earn from qualifying purchases, thank you!
These stuffed jalapeno poppers are out of this world good and are THE Best Chicken Bacon Stuffed Jalapeno Poppers you'll EVER put into your mouth! C'mon in and let's get you the recipe of course!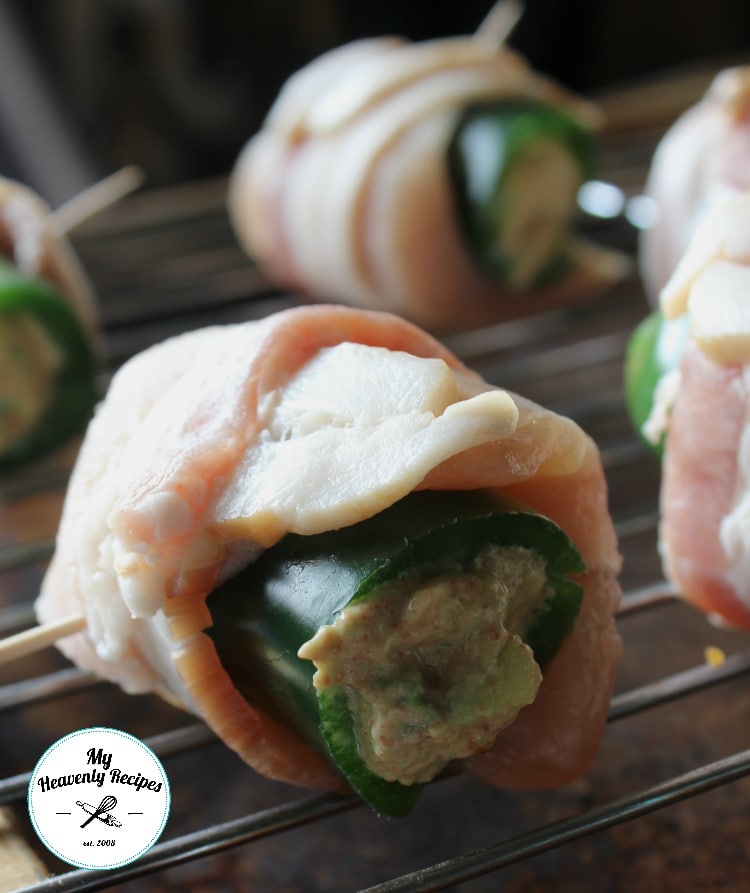 Look, we all are short on time. I get it. You don't want to read through my boring story. All YOU want is the recipe, right?
If so, go ahead and scroll to the bottom of this page where you can find the complete stuffed jalapeno poppers recipe. You can also scroll down for the full recipe video, showing how to assemble THE Best Chicken Bacon Stuffed Jalapeno Poppers…because there is a science to it, of course. 😉
Alright, so like you, I see all of these recipe videos on Facebook. I'll share the ones I think you can relate to, ones that I would personally like to try, or ones that are just so freakin' high in calories I just gain 10 pounds looking at them.
I mean, who would eat a Chocolate Chip Cookie stuffed with a brownie, dipped in chocolate and smothered in ice cream? I mean that sounds good and all, but, reality says DO NOT EAT IT! I mean, maybe a bite or two, but, good lord. Not an entire dish needs to be made.
I'll save you the calories with that and give you something a bit more realistic. This is my FIRST ever recipe of this nature and I can't wait to get your comments on THE Best Chicken Bacon Stuffed Jalapeno Poppers. They are delicious.
If you want the heat, leave a little of the membrane inside of the pepper intact. This is where you get the heat from.
Personally, I can't stand really spicy foods. It takes the enjoyment out of eating. My Hubby would've probably liked them to be a bit spicier so I may do half and half next time.
There are a VARIETY of ways to make stuffed jalapeno poppers and this is my modern take on them. Now, we usually do a cream cheese mixture, stuff a Slim Jim down the jalapeno and grill it. Well, it's like 5 degrees here and I'm not going outside to grill.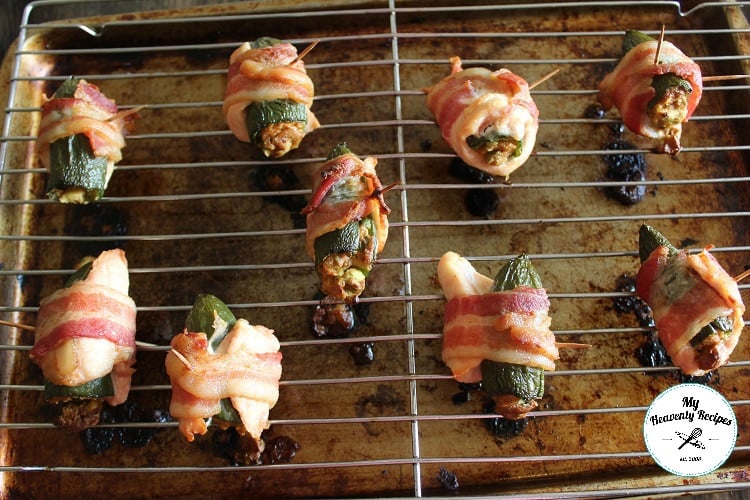 I'm seriously dreaming of these bacon wrapped, chicken stuffed jalapeno poppers. You just can't get enough of them.
If you are hosting any sort of gathering, these would be a great appetizer and will impress your friends and family. I will be putting these ingredients on my next ClickList order. I can guarantee you that!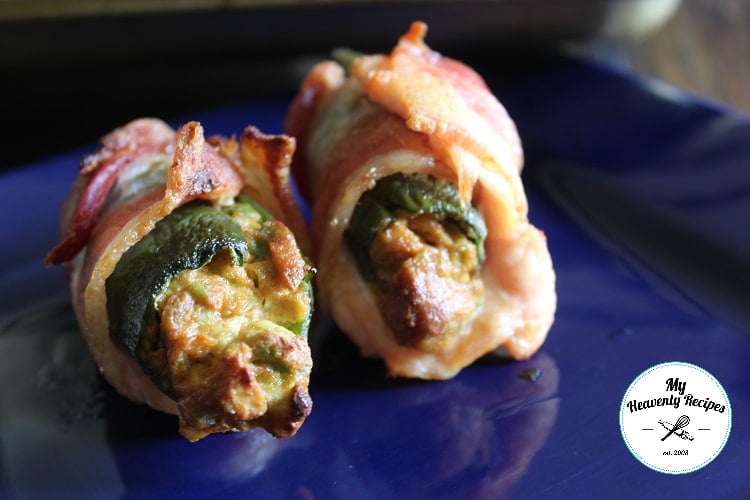 Grab a fork and knife and enjoy!
More Jalapeno Recipes For You to Enjoy:
Stuffed Jalapeno Poppers Nutrition Info
The Best Stuffed Chicken Bacon Jalapeno Poppers
These bacon wrapped chicken stuffed jalapeno poppers are a great appetizer that your party crowd will enjoy. This recipe is enjoyed all year round!
Ingredients
2

Avocados

1

C

Sour Cream

1

Fiesta Ranch Packet

9

Jalapenos

5

slices

of bacon

halved

1

chicken breast

filet 2" sections
Instructions
PREHEAT oven to 375.

In a large bowl, mash together avocado, sour cream and fiesta ranch seasoning. Set aside.

Clean jalapenos, removing stem. Remove seeds.

Filet Chicken breasts and cube in 2" sections.

Cut 5 slices of bacon in half.

Using a piping bag, stuff pepper with avocado mixture.

Place bacon with chicken on top, wrap stuffed jalapeno securing with a toothpick.

Place on oven safe rack on top of sheet pan and cook for 35-45 minutes until bacon and chicken are cooked.

Plate and enjoy!
Video
How to Make Stuffed Jalapeno Poppers (Recipe Video)
Notes
Weight Watchers FreeStyle Plan:  6 SmartPoints per jalapeno popper