If you are in need of a quick & flavorful lunch, snack or appetizer for a crowd these Grey Poupon Ham and Cheese Rollups will hit the spot!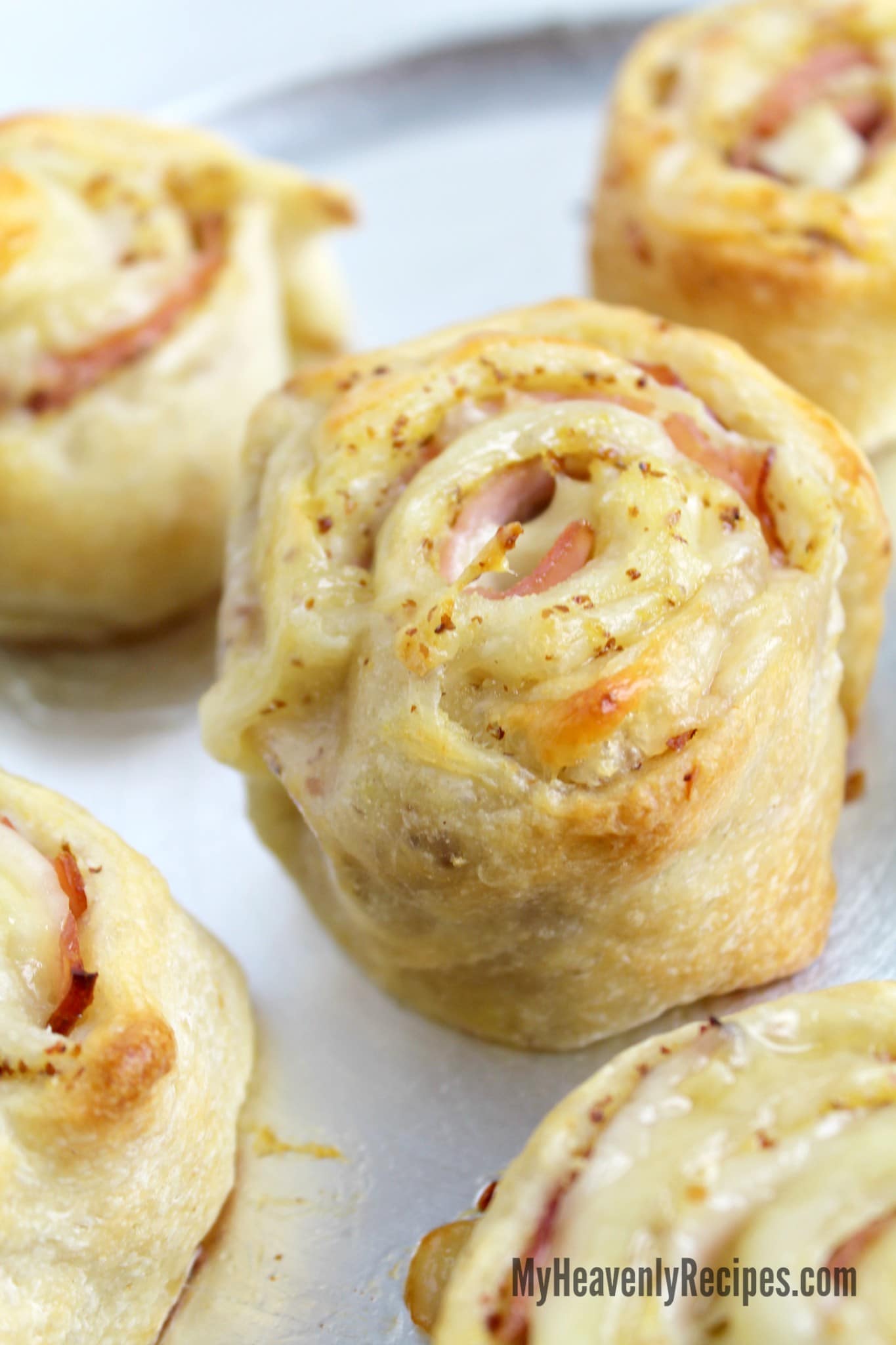 Now I can't take the full credit on this one. I saw these Hot Ham and Cheese Rolls and shared on the My Heavenly Recipes Facebook page. I remembered the general ingredients for the recipe and went ahead and "winged it" because that's just what I do. So the original recipe is from Kevin and Amanda. Be sure to stop by their site if you don't already and check them out!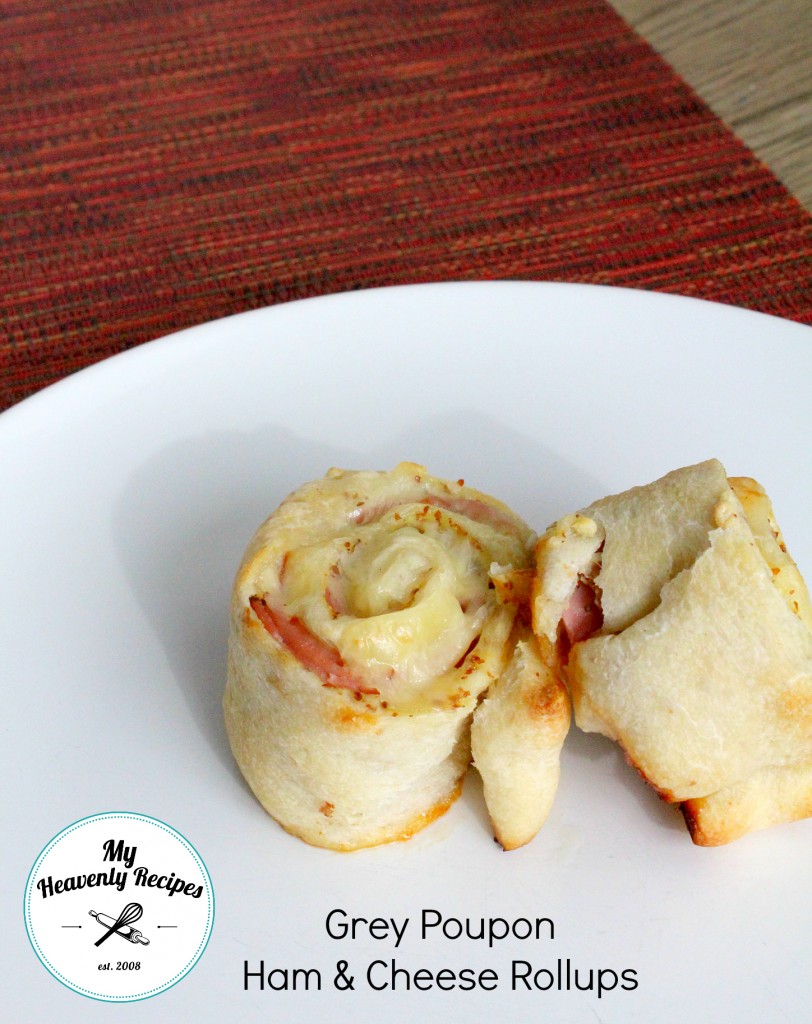 Now in Kevin & Amanda's rollups recipe they used poppy seeds & butter….I'm not one for butter unless it's absolutely necessary. This wasn't one of those times. As I am laid up with this foot surgery I don't need any extra calories. Because I'll have to work that much harder once I am cleared to walk and do workouts again!
I don't like extra work either!
Now can you think of anything better than hot ham & cheese? OK that's probably not a very good question to ask…but, these rollups are pretty damn good.
NO! Scratch that — These Grey Poupon Ham and Cheese Rollups are AMAZING. So amazing in fact my Husband had more of these rollups than I can count 😉
If you say that you aren't a cook – you are wrong! You can totally whip up these Ham and Cheese Rollups. They don't take any fancy schmancy ingredients. In fact, this Ham and Cheese Rollups is a recipe that my Husband made over Christmas Break – ya know since I can't even stand for longer than 2 minutes….
Now you can totally substitute out the lunchmeat for the ham if you prefer. You can add a little bit of pepperoni, salami, cheese, thinly sliced tomatoes and even a dash of italian dressing or Garlic Expressions. I'll be making this Italian Rollup version in the coming weeks so stay tuned for that recipe.
In the meantime, get creative (wo)man!!! It's all about utilizing the ingredients that are in your kitchen. Chances are your family would love to try a new recipe, you will be excited you made something new and I'll be happy that you made a recipe you found here — so it's a win win for everyone!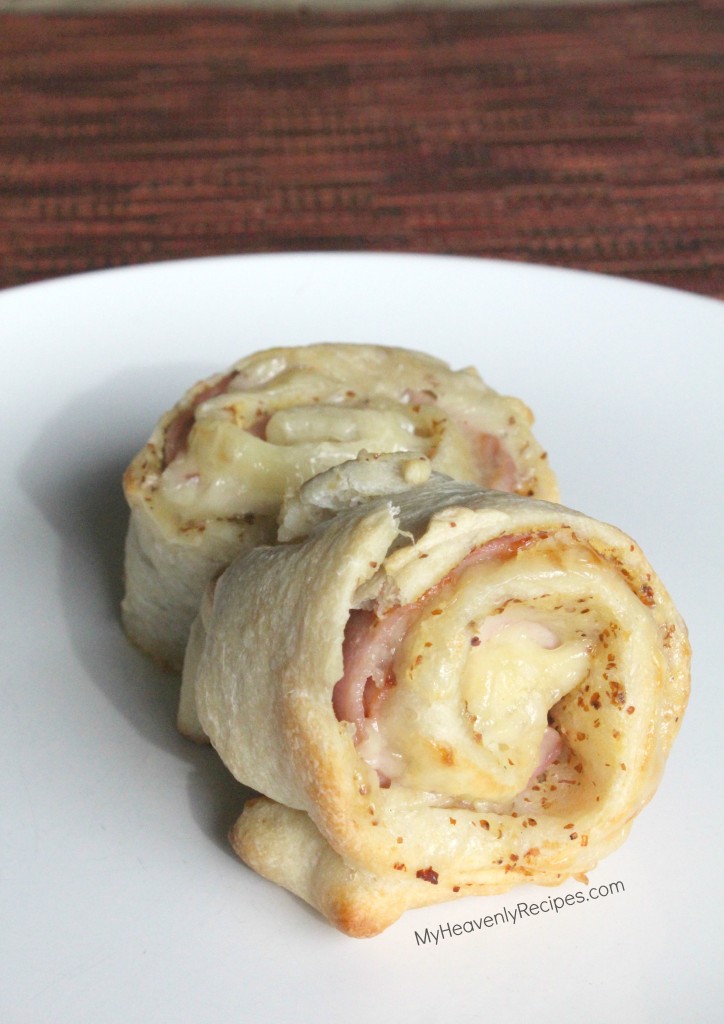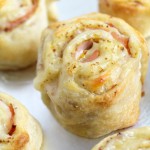 Grey Poupon Ham & Cheese Rollups
These Grey Poupon Ham & Cheese Rollups are delicious! They would be great with any lunchmeat and toppings that you would like to add.
Ingredients
Pillsbury Pizza Dough

6-8

Slices

Black Forest Ham

any ham will do

4-5

TBSP

Grey Poupon

6

Slices

Swiss Cheese
Instructions
PREHEAT oven to 350.

PLACE pizza dough out on a greased baking pan.

ADD Grey Poupon, Ham and Swiss Cheese evenly across the pizza dough.

Next flip over the pizza dough length wise about an inch and begin to roll the pizza dough carefully.

With the seam side down cut the rolls about 1" in diameter and place on the baking sheet. You should have 10-12 Rollups.

Bake in the oven for 20-25 minutes until the rollups are golden brown.
Be sure to Submit a Recipe so that I can feature it on the site once you've made this dish! See you soon 😉
Enter your Name and Email Address Below to receive a email when a new recipe is published!
I PROMISE I won't sell your info to those scammer people!