How to Make Crockpot Ham and Potato Soup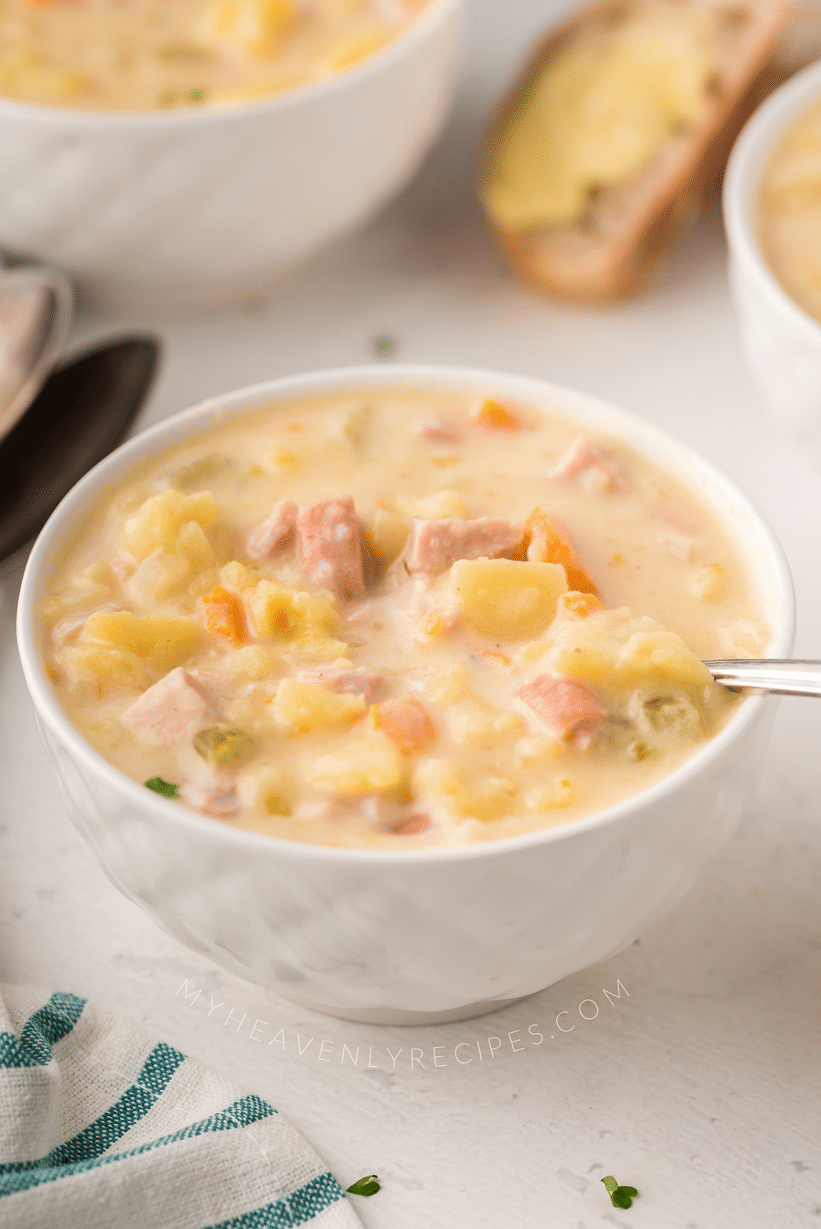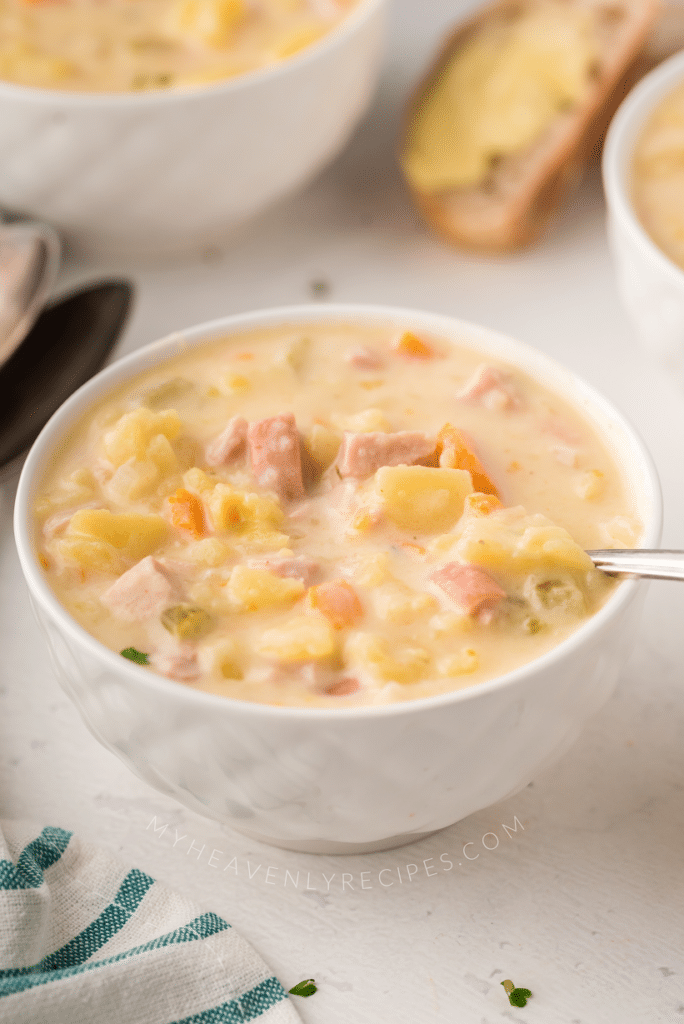 On a cold night the perfect meal to have is slow cooker ham and potato soup! It's so easy to make and it's pure comfort food. Make sure to also try our crockpot potato soup, chicken gnocchi soup, and crockpot scalloped potato and ham recipe too!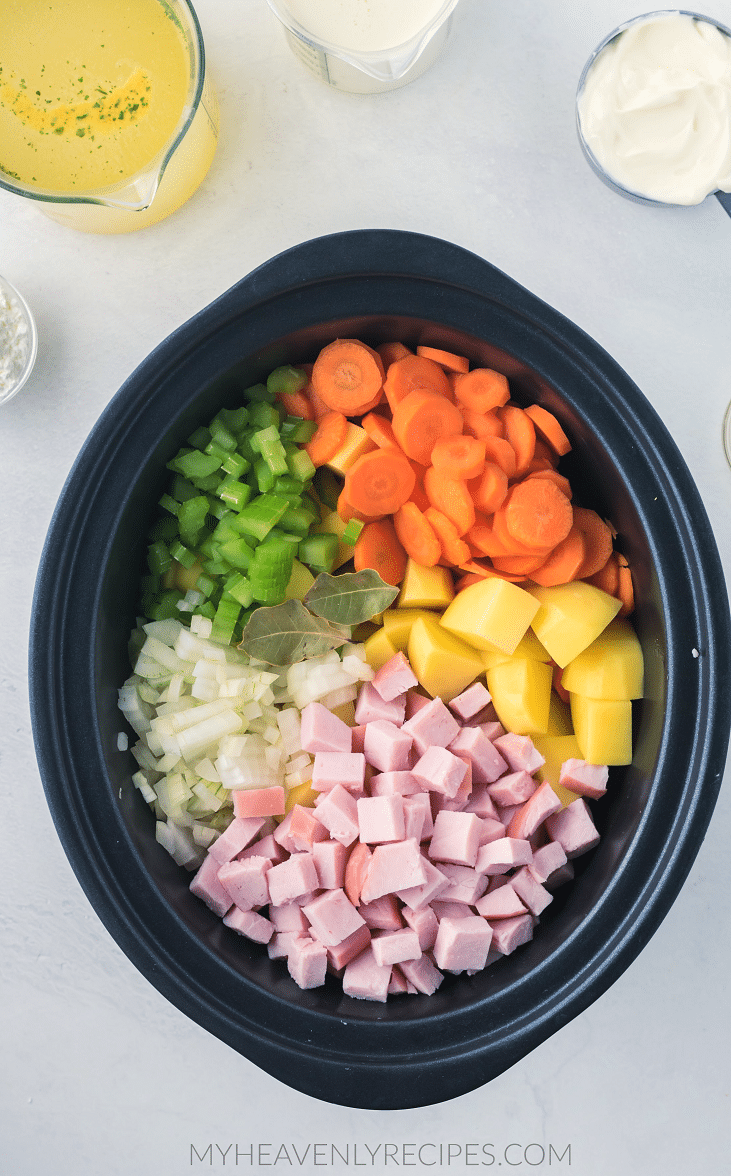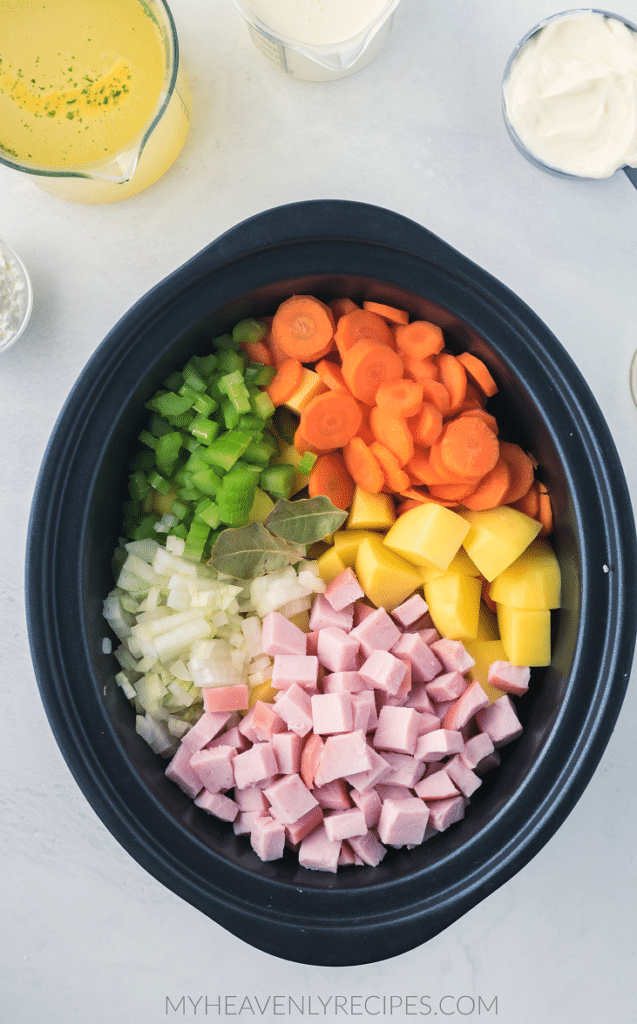 I love cooking with our crockpot because it just makes life so much easier as a busy mom!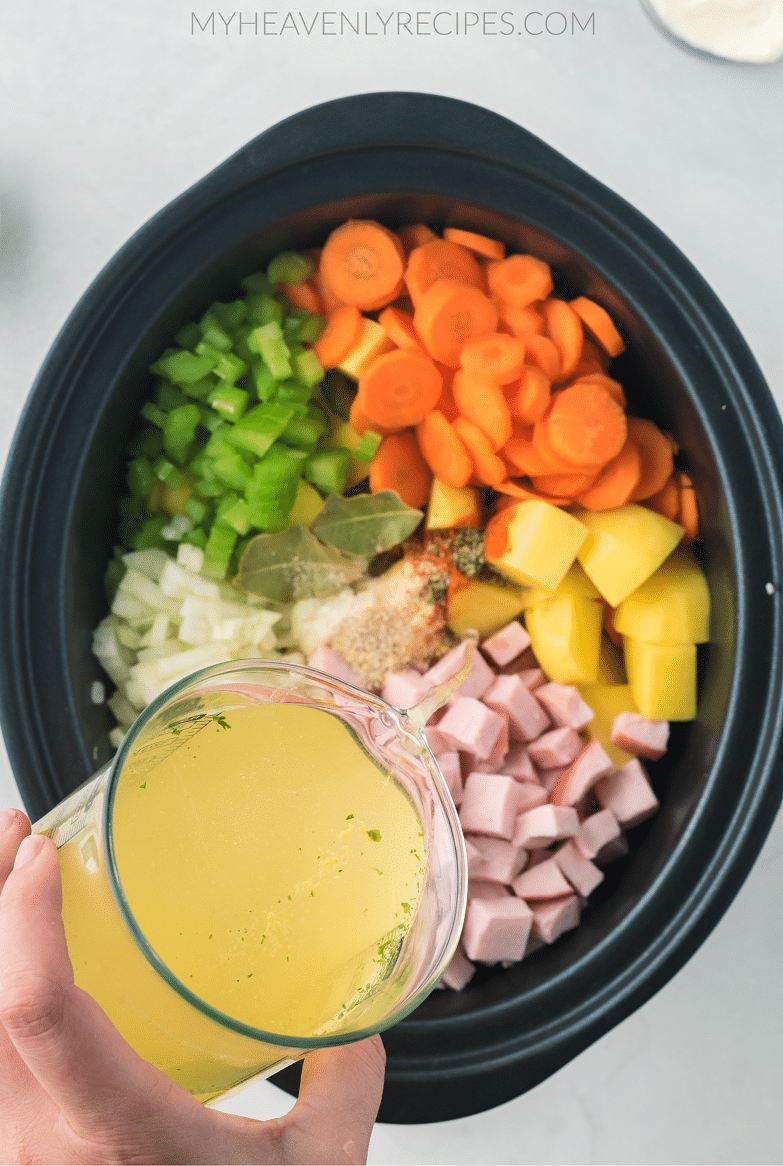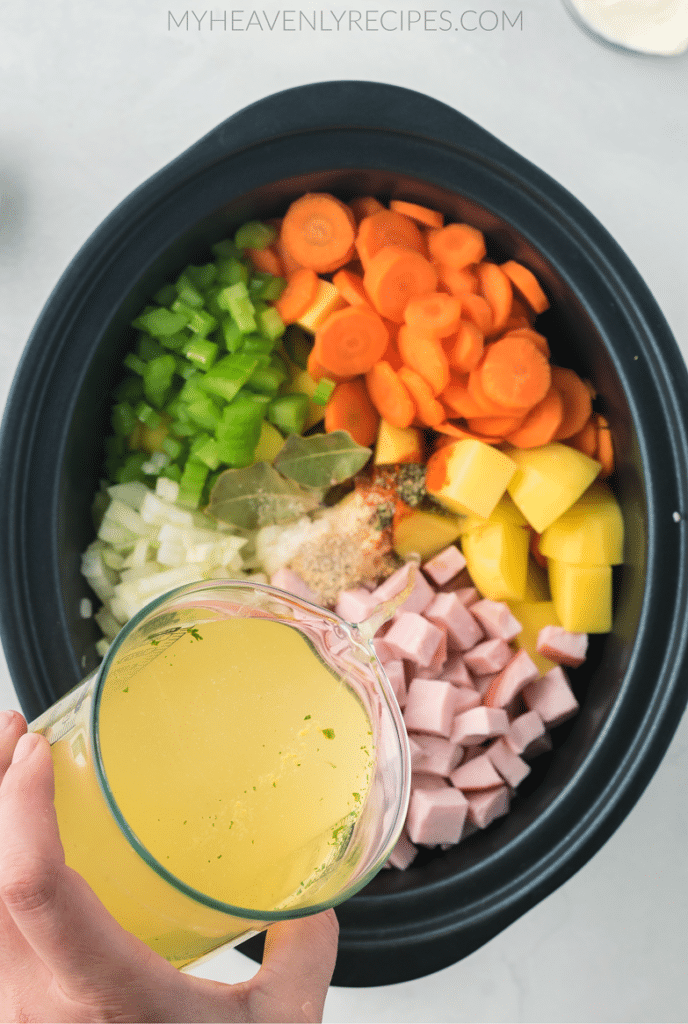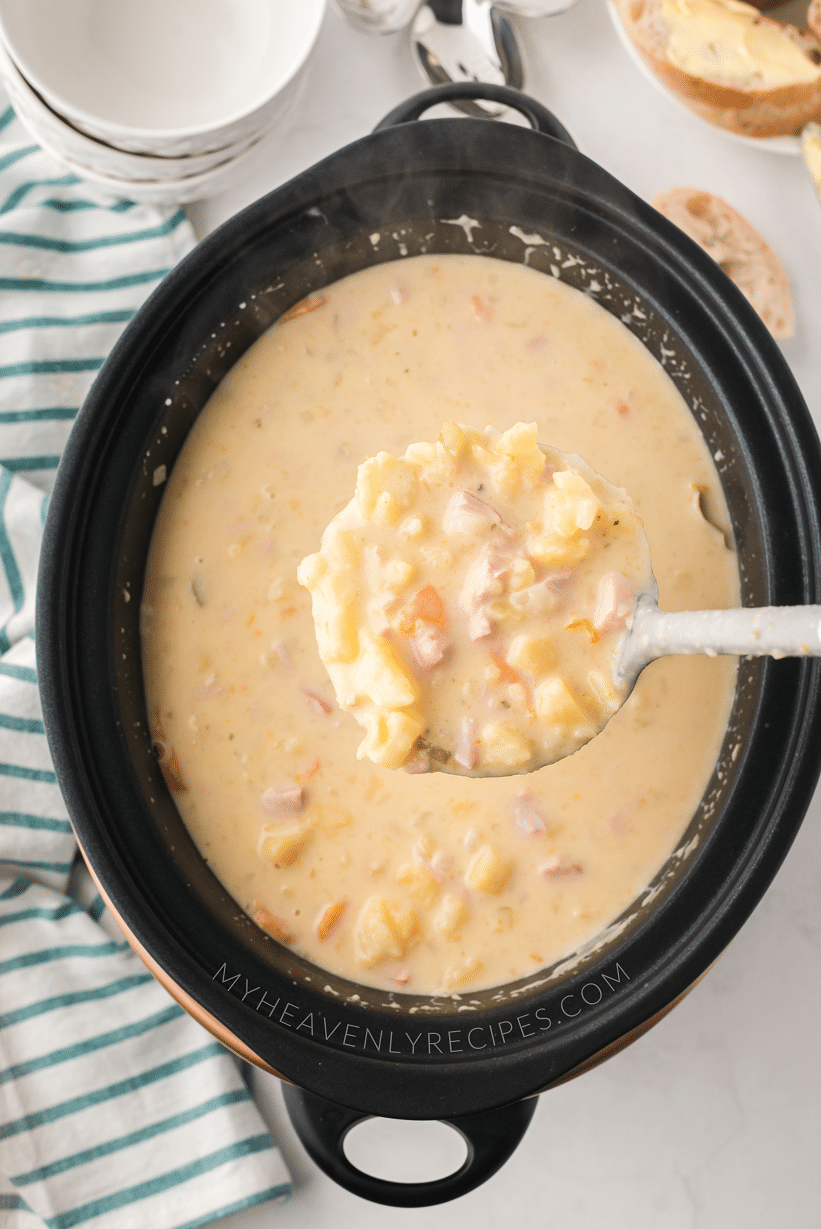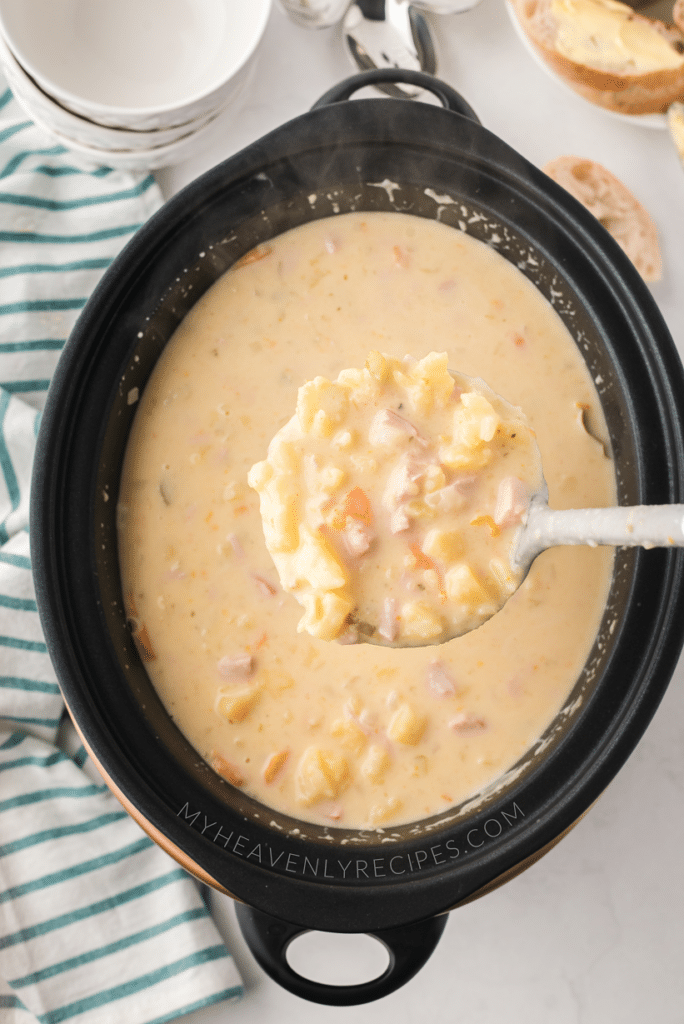 Chunky and hearty soup ready for your bowl! My kids always rave over this soup and they hardly will touch soup! Make sure to check out all our other easy crockpot meals!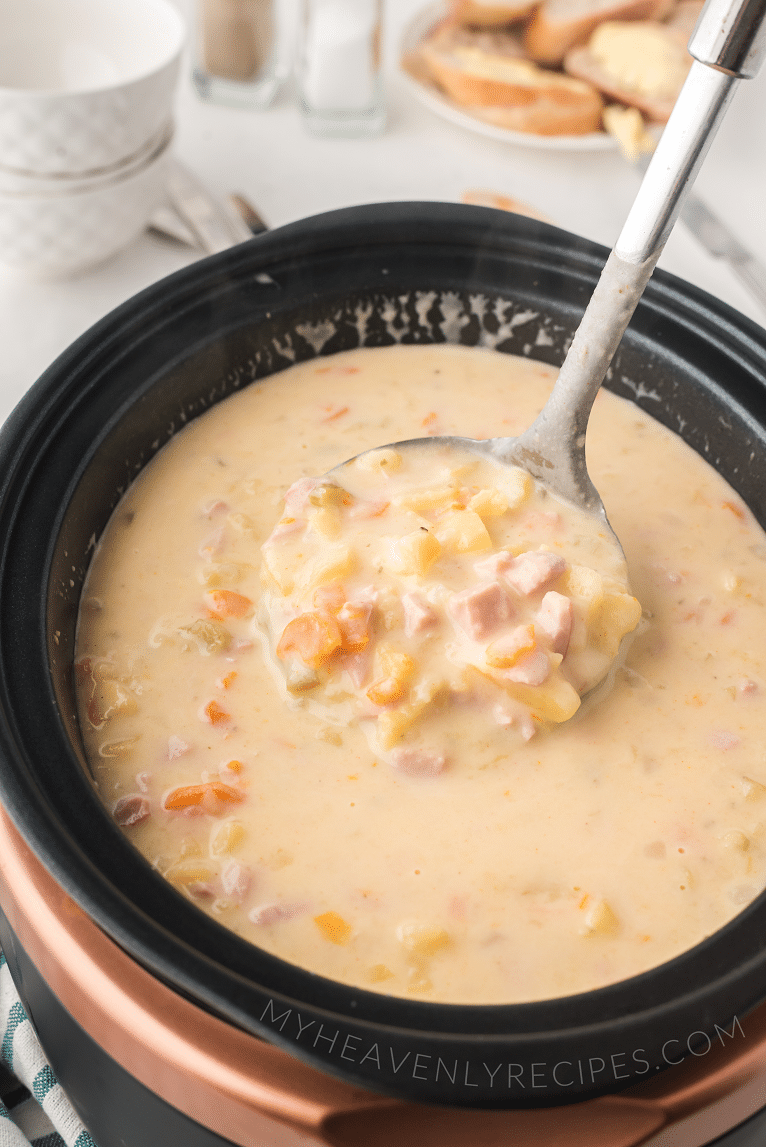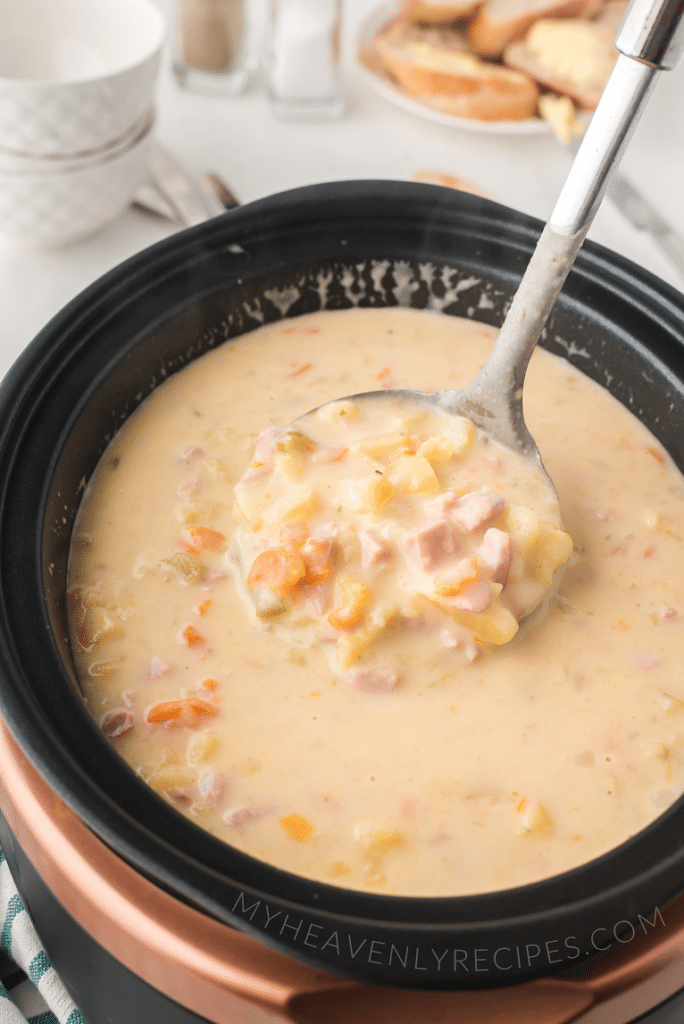 Can I make this ham and potato soup ahead?
Yes, totally. It will stay good in your fridge for up to 4 days.
Can I freeze this ham and potato soup?
The dairy products might separate when freezing, but it should come back together once it gets heated again. I would not recommend freezing it to serve to guests since it won't be as pretty as it was before.
Can I make more?
Totally, just double the ingredients and use a bigger crockpot.
Slow Cooker Ham and Potato Soup
Ingredients
2.5 lbs potatoes

around 15 medium potatoes, cubed (note 1)

2 cups cubed/diced cooked ham

1 stalk celery

diced

1 small onion

diced

1 cup sliced carrots

2 medium carrots

3 cups chicken broth

1 teaspoon dijon mustard

1 teaspoon garlic powder

1 teaspoon salt

1 teaspoon paprika powder

1⁄2 teaspoon freshly ground pepper

1⁄2 teaspoon dried marjoram

1⁄4 teaspoon ground nutmeg

2 bay leaves

1 cup heavy cream

note 2

2 tablespoons cornstarch

1⁄2 cup sour cream
Instructions
place the potatoes, onion, celery, carrots, ham, all spices, bay leaves and chicken broth in the slow cooker, cover and cook on low for 7-8 hours or on high for 3-4 hours.

Once the potatoes are fork tender stir the starch into the heavy cream until there are no lumps left

Pour the heavy cream mixture into the slow cooker, add the mustard and the sour cream and cook another 25 minutes on high. (If you want the soup to be even thicker mash around 3⁄4 of the potatoes and the vegetables with a potato masher)

Add salt and pepper to taste and serve hot.

Garnish with freshly chopped parsley if wanted.
Notes
Note 1: if you want the potatoes to hold their shape use Yukon Gold potatoes. If you like it thicker and more like mashed potatoes use something like russet potatoes.
Note 2: You can use milk instead of the heavy cream if you want to save some calories.
Tastes also great with sausages or wiener instead of ham.