How to Make Homemade Croutons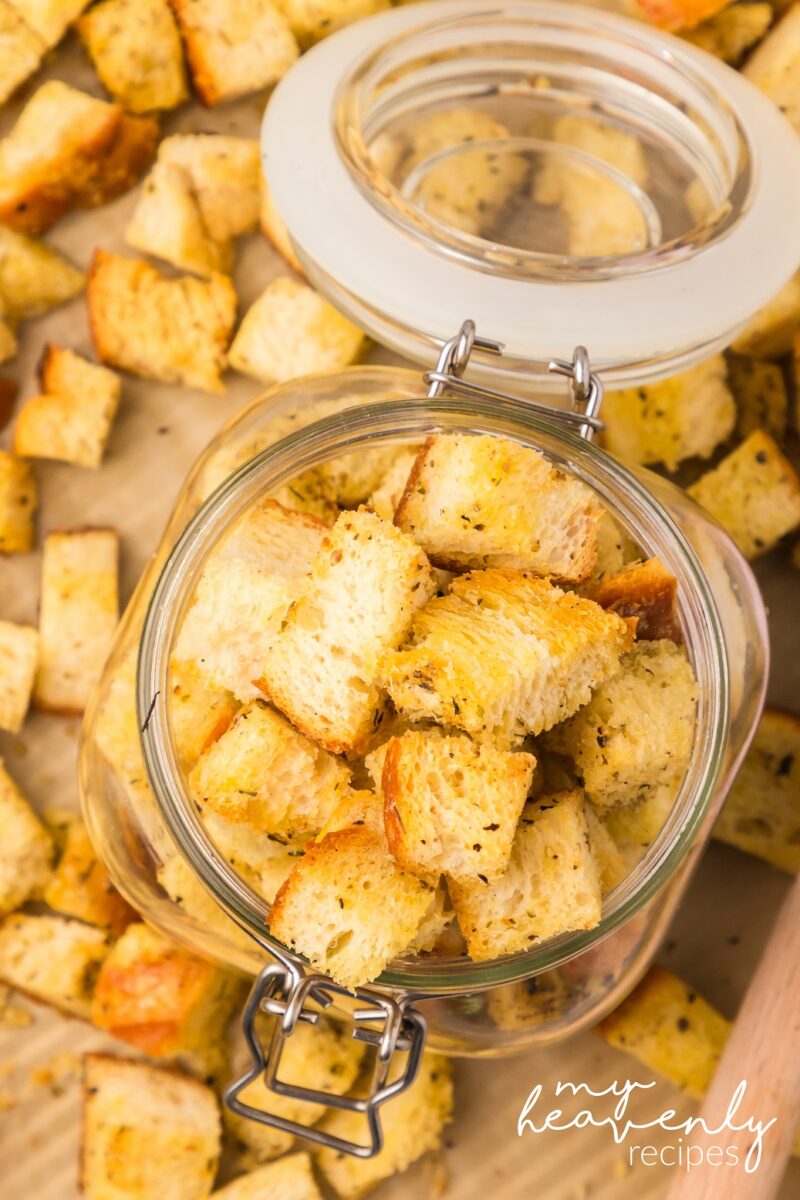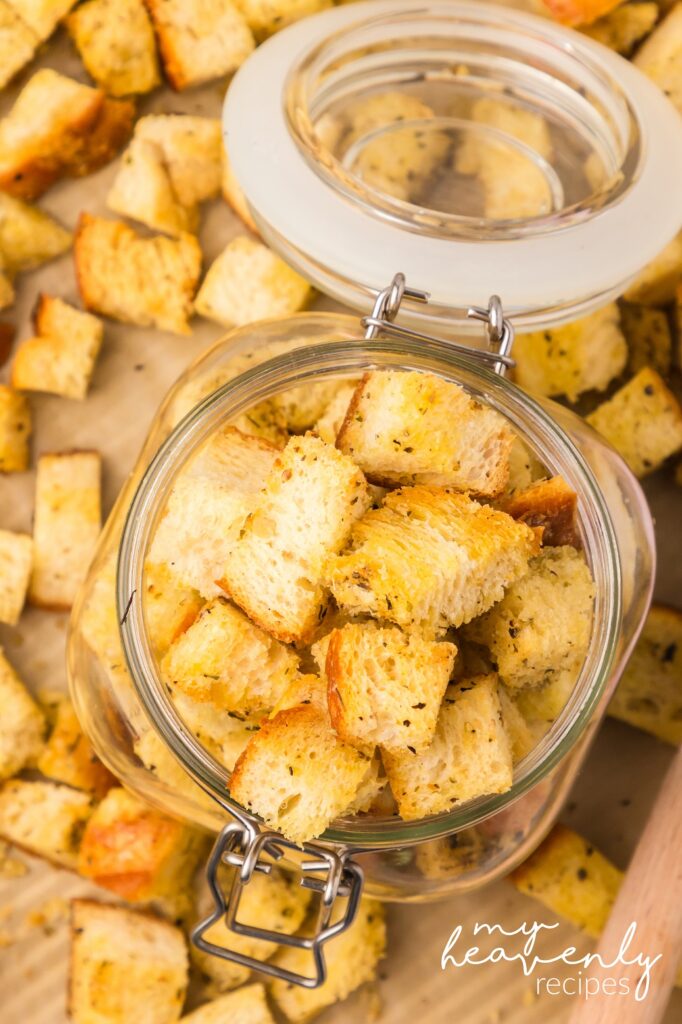 These homemade croutons are buttery and perfectly crunchy. Made with a handful of ingredients this is a quick and easy recipe. Use them on top of a salad or in soups.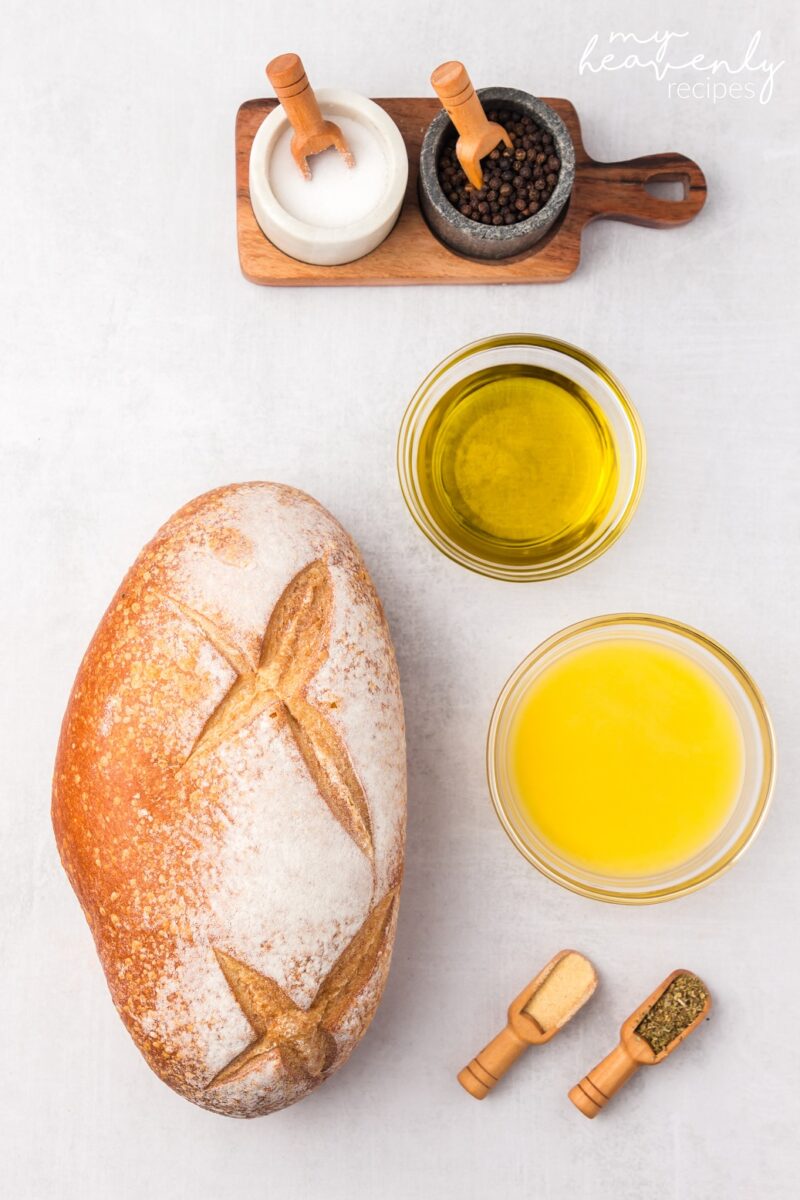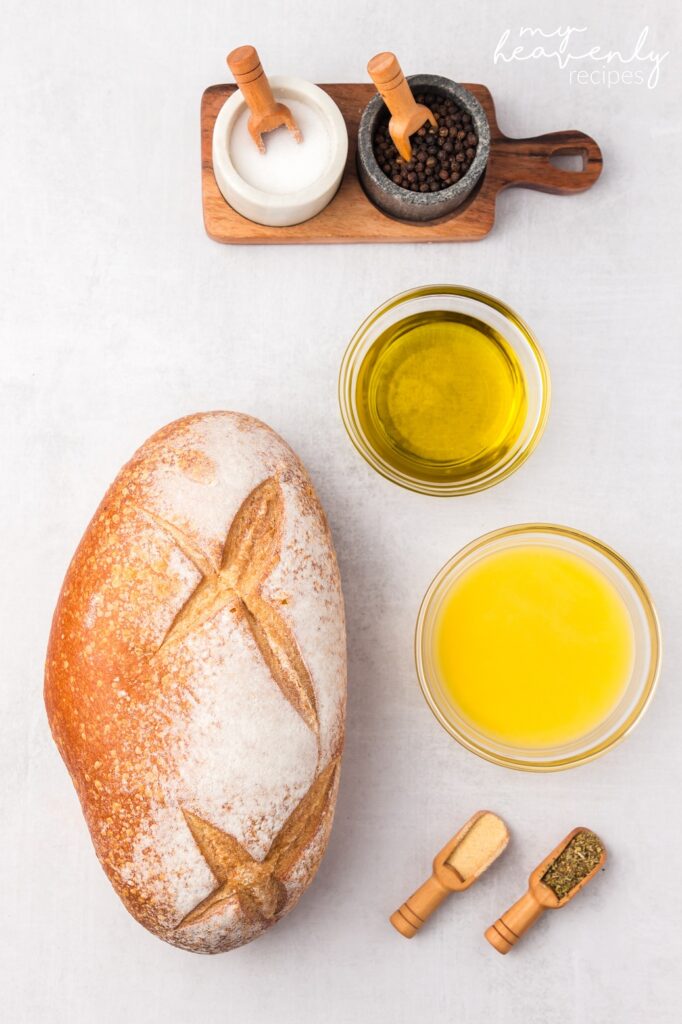 What will I need to make homemade croutons from scratch?
You will need the following ingredients:
French bread
Olive oil
Unsalted butter
Garlic powder
Salt and Pepper
Italian Seasoning
**Make sure to allow your croutons to cool completely before storing them. If they're still warm when you go to store them, the steam from the heat can make your croutons soggy.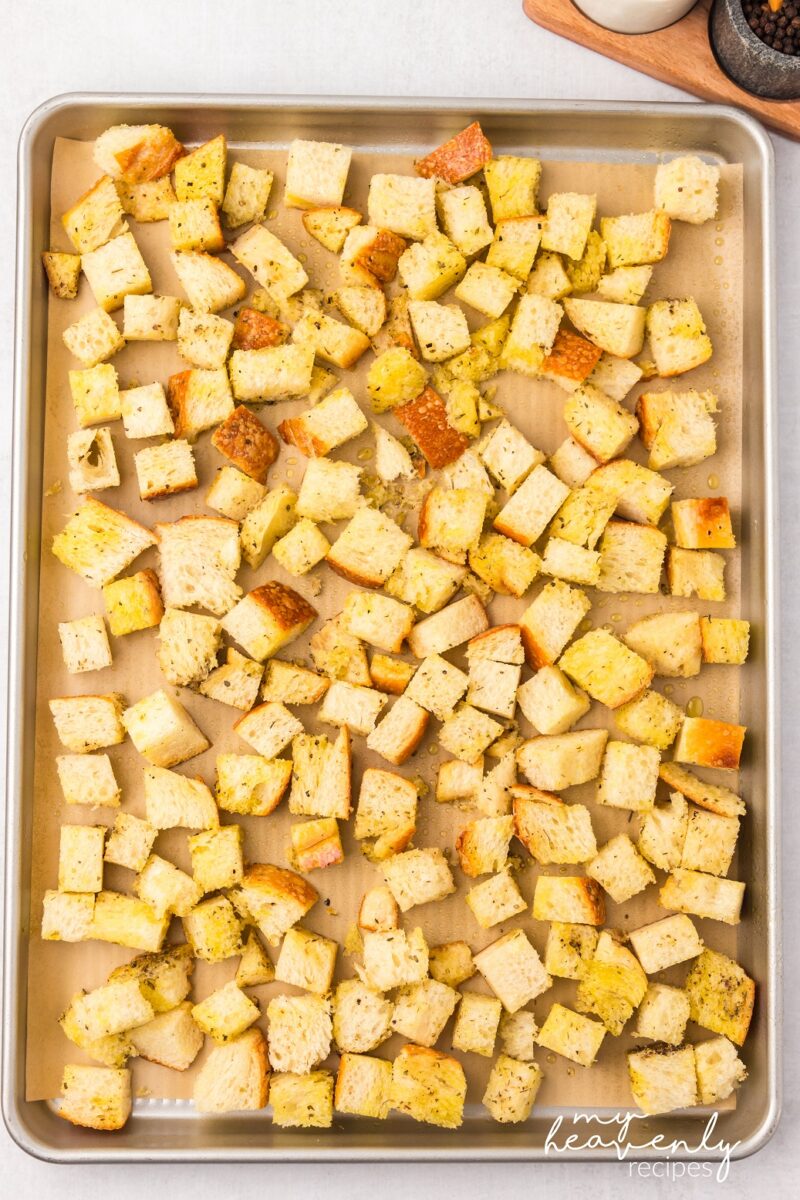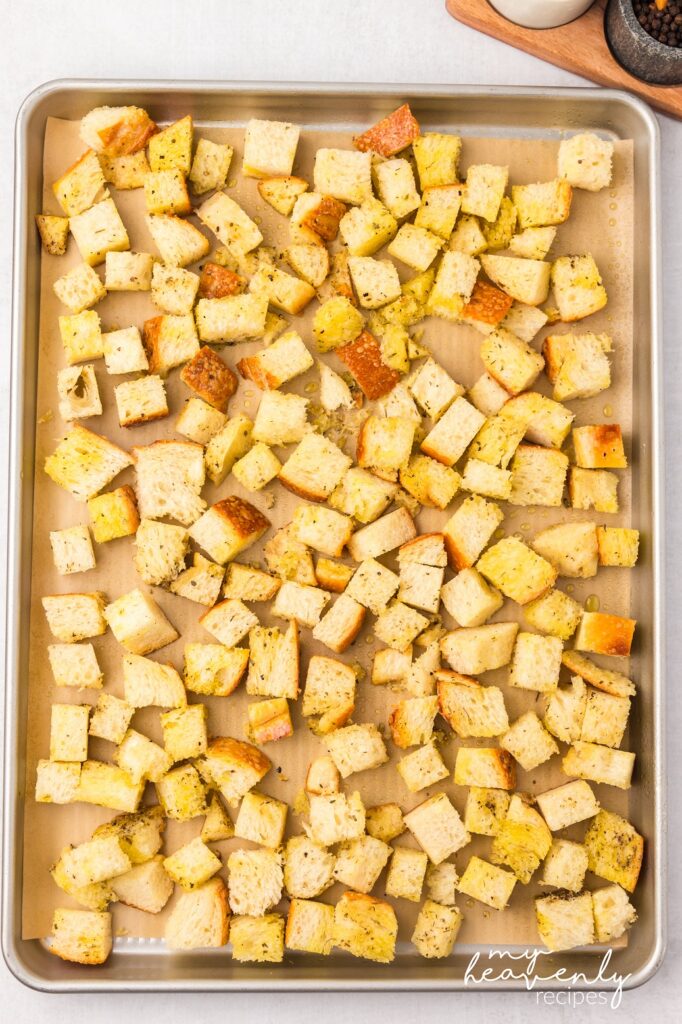 For this recipe we used a baking sheet/oven but you can also use your air fryer! Just set it to 400 degrees F. and cook the pieces of bread for 4 minutes. Flip them, then add 2 more minutes!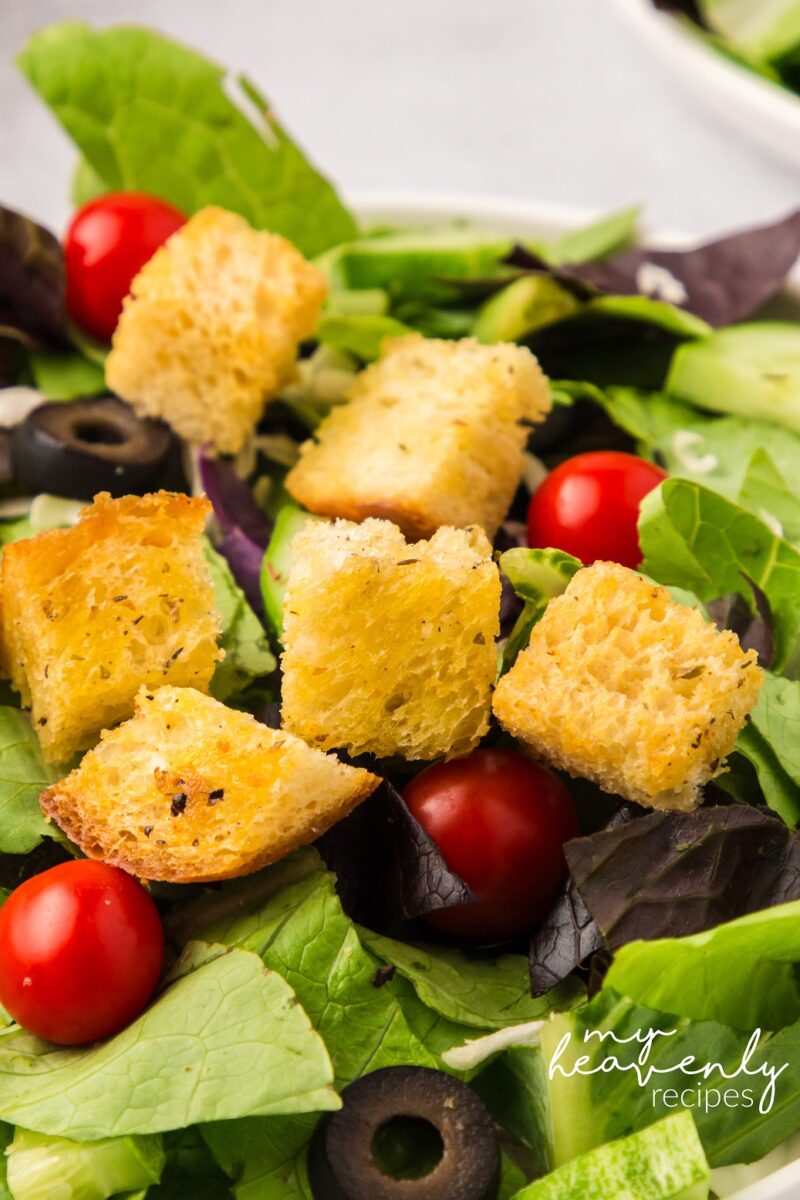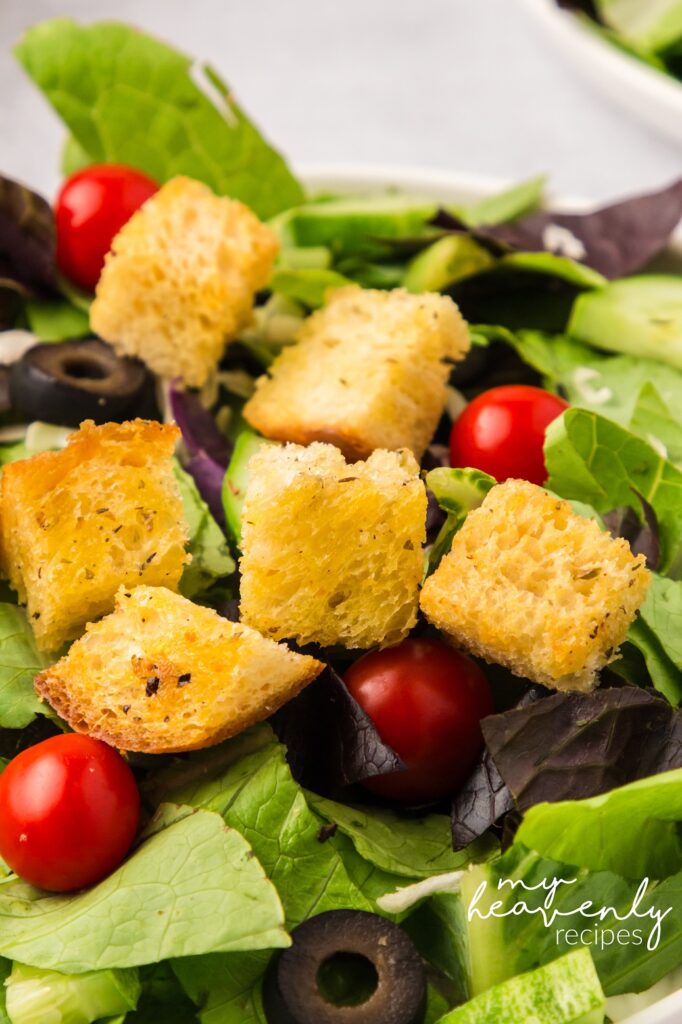 How long do they last?

If you store them in a zip bag with all of the air removed, homemade croutons will last at room temperature for 2 weeks! This is a great make-ahead recipe.

Why are my croutons not crunchy?

When baking your croutons make sure that they've been placed evenly on the baking sheet and are not overcrowded. Having an overcrowded pan can cause them to steam resulting in soft or soggy croutons.
Homemade Croutons
Ingredients
1

loaf of French Bread

¼

cup

Olive Oil

¼

cup

Unsalted Butter

melted

½

tsp

Garlic Powder

1

tsp

Salt

½

tsp

Pepper

2

tsp

Italian Seasoning
Instructions
Preheat the oven to 350 degrees F.

Line a baking sheet with parchment paper, set aside.

Cut the loaf of crusty bread into 1" cubes.

Place the bread cubes in a large mixing bowl.

Top the bread cubes with olive oil and melted unsalted butter. Using a spatula, stir to combine.

Season the bread cubes by sprinkling the garlic powder, salt, pepper, and Italian seasoning over top.

Using your spatula, stir to fully combine. **You want to make sure all of the bread cubes are coated with the oil mixture and the seasoning.

Turn the prepared bread cubes on the parchment-lined baking sheet. Spread them out so they are evenly distributed on the baking sheet. **Overcrowding can result in your croutons not crisping up fully. If you have too many, work in batches or use another baking sheet.

Place the prepared bread cubes in the oven and bake at 350 degrees F (or 177 degrees C) for 8 minutes.

After the 8 minutes is done, flip the croutons over and bake for 6 more minutes.

Allow to cool for 10 minutes before serving. Allow them to cool completely if you plan on storing them immediately.
Notes
I recommend using a crusty-style loaf of bread in this recipe. They tend to crisp up nicely in the oven.
I used unsalted butter in this recipe, if using salted butter or margarine reduce the salt slightly.