This post may contain affiliate links, read our
Disclosure Policy
for more information. As an Amazon Associate I earn from qualifying purchases, thank you!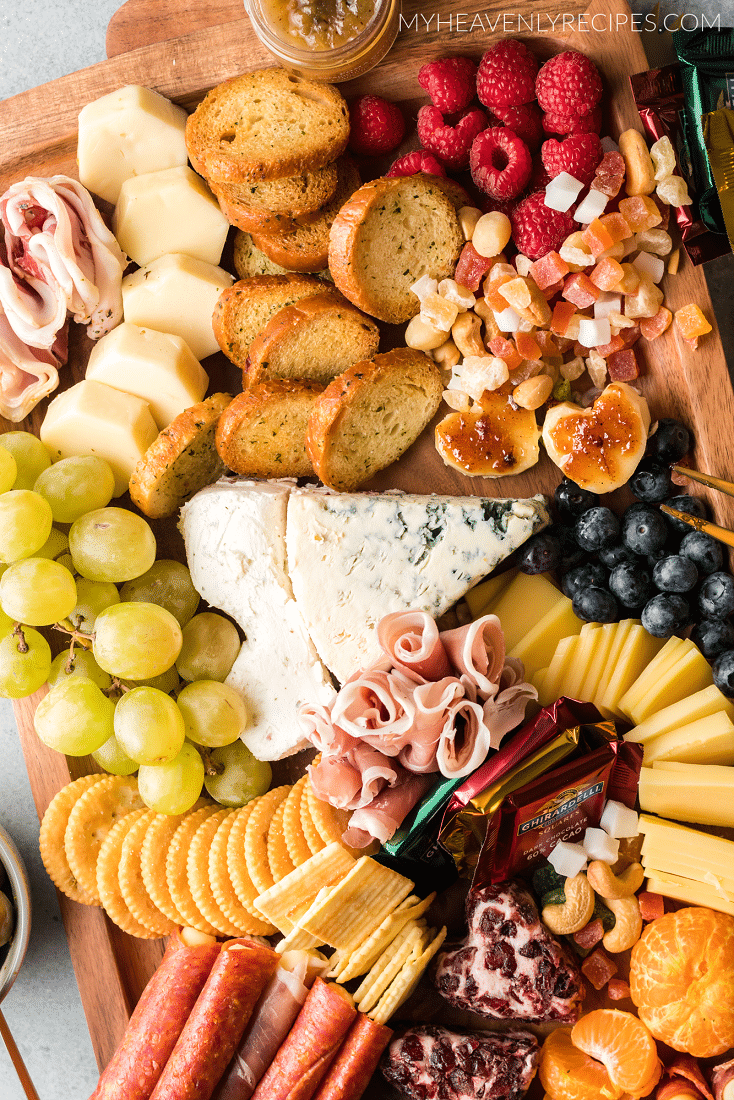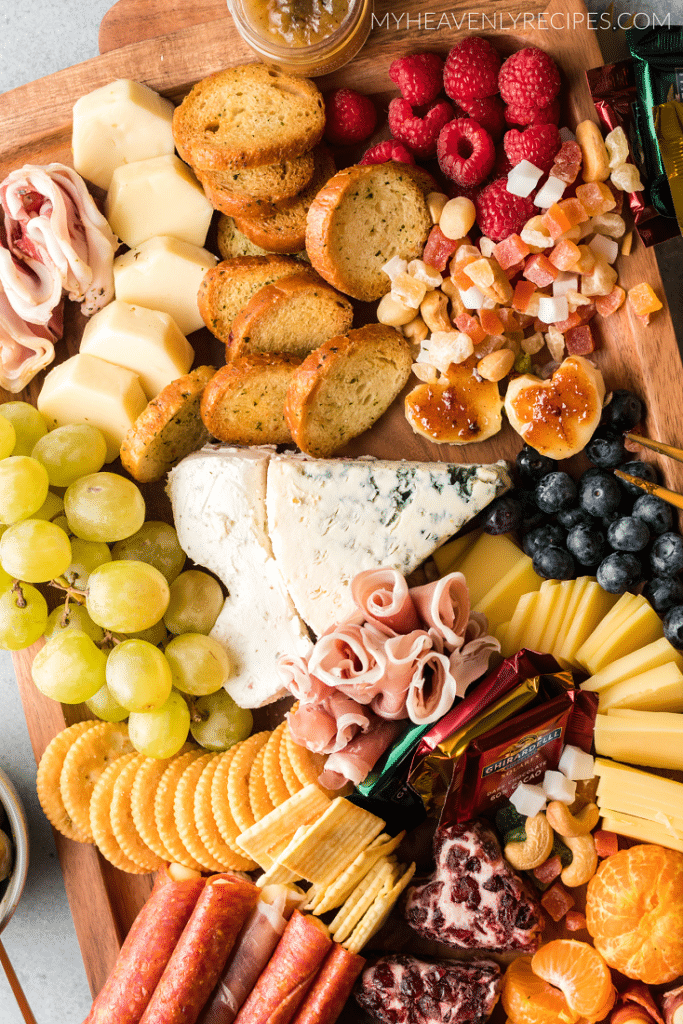 What is a Charcuterie Board?  
Technically it is a platter of cured meats, but it doesn't stop there.  Cheese and fruit, crackers and chocolates all fill the charcuterie platters.  They are so versatile and can be made to fit any occasion.  You can make a small platter for two or one that can serve a crowd.  They can be made very affordably or you can be extravagant. Make them for a football game or a girls spa day, any color theme you would like.  They can be show stoppers or simple platters.  No need to be a great cook with a charcuterie board, just have fun.  A little planning  and choosing a variety of colors, textures and flavors, you can create a visual feast.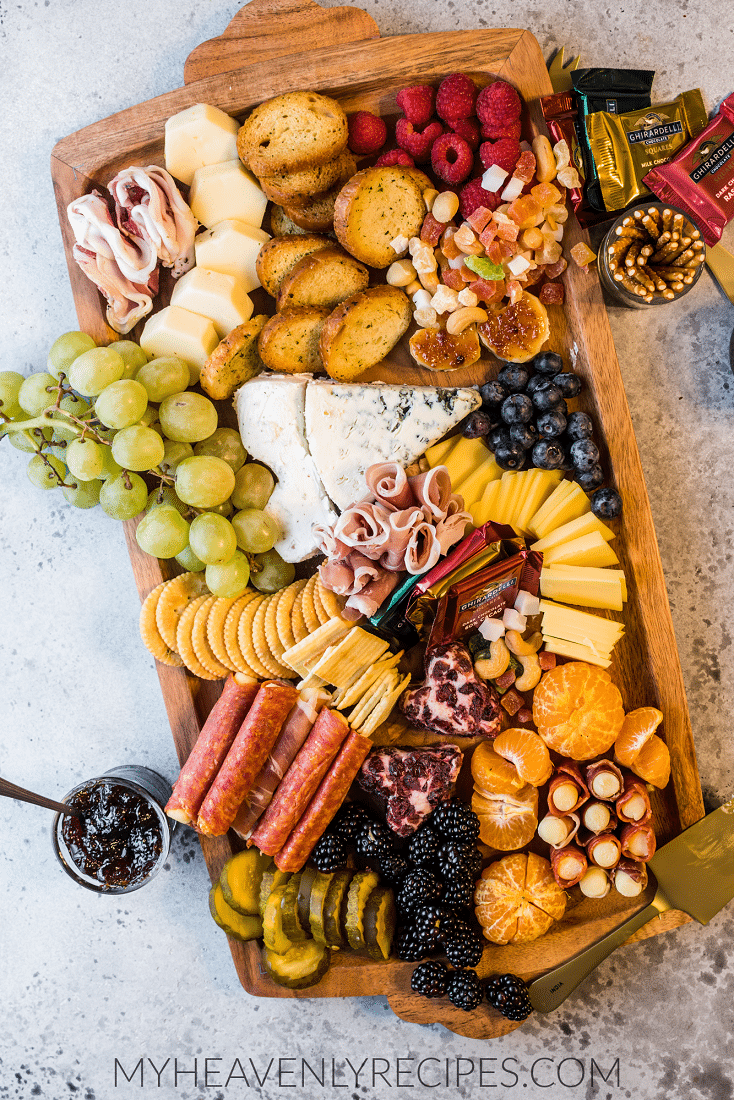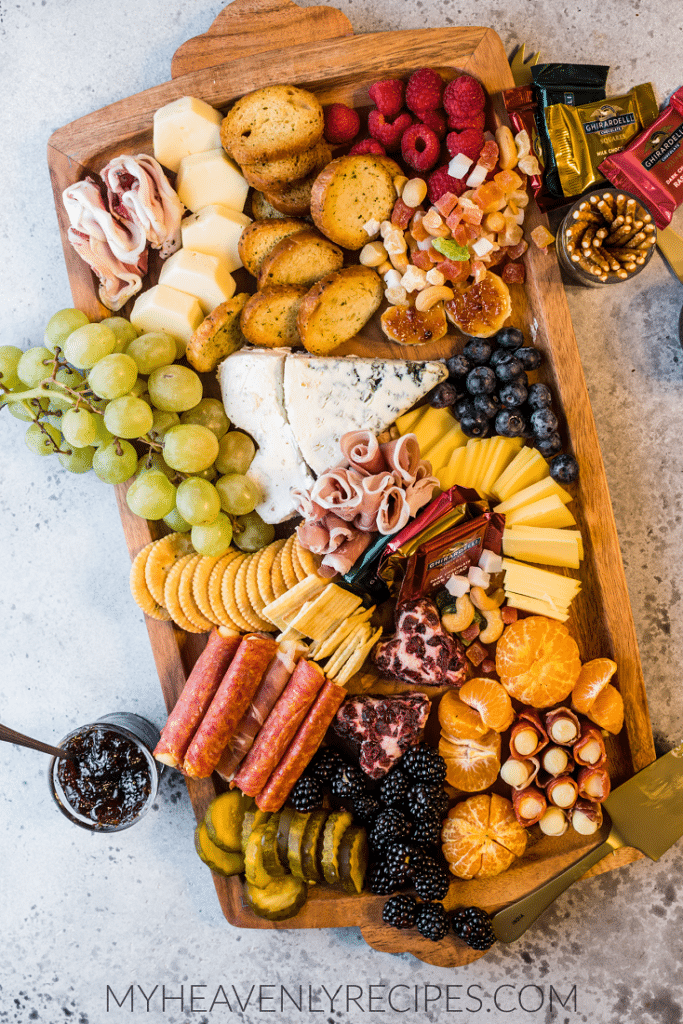 What kind of board do I need?
You can use wooden boards, metal trays, a variety of glass platters, or just use fun paper on your countertop.  The size of your board depends on how many you are serving.  Choose a size that will be enough for your crowd size. It's visually appetizing to have a full and brimming platter.  What shape do you want?  Making it for a princess party, find a cute dress pattern and cut out a design then create on that.  For something simpler, there are round, oblong, square, rectangle and many other shaped pans and platters. Use your imagination on this one.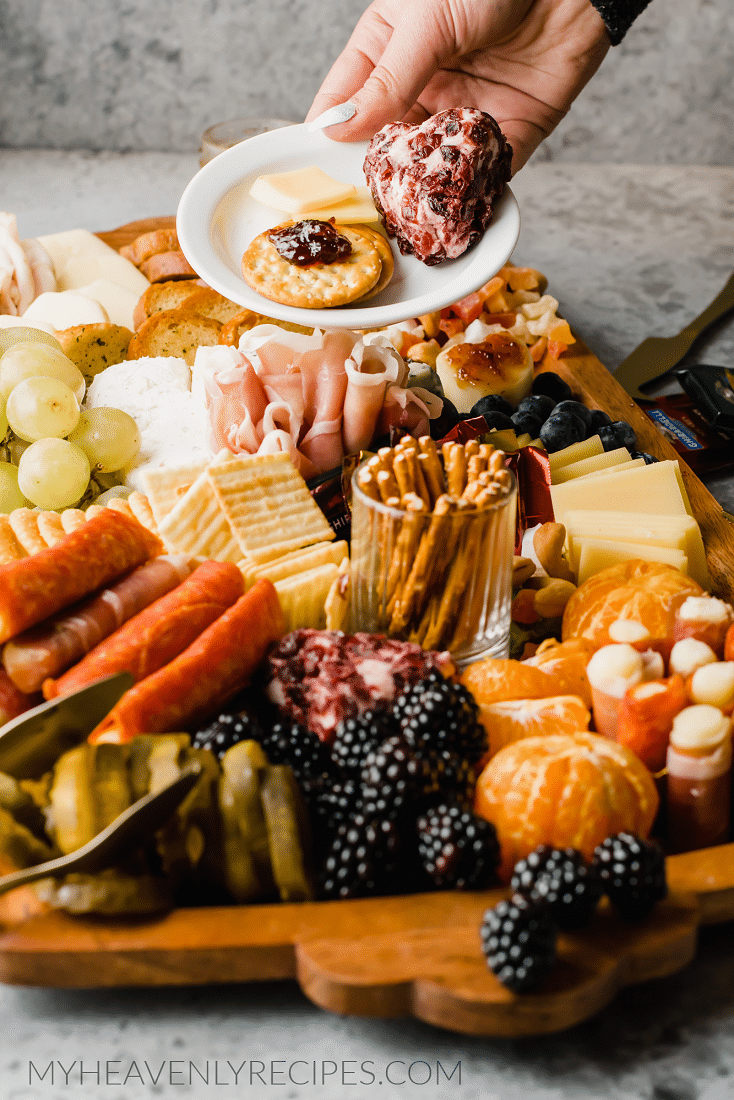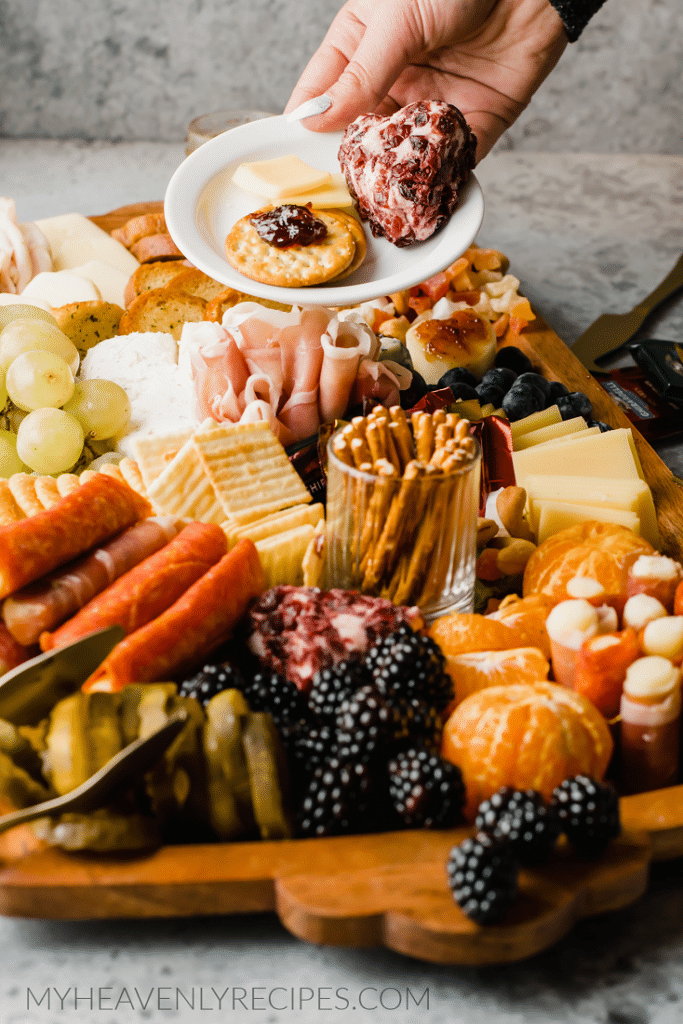 What to put on a charcuterie board?
Here are some great ideas, but choose your favorites, or ask your guests for some of theirs. Some people love blue cheese while others hate it. Some people prefer cured meats, others like jams and crackers.
Here's a list of ideas:
Meats
Cheeses
Nuts
Jams or Jellies
Crackers and Toasts
Dried or Fresh fruit
Vegetables
Olives
Pickles
Dips
To begin, start with the two basics, meat and cheese. Plan on a few slices of meat per person and one to two ounces of cheese per person.
Some popular charcuterie meat choices:
Prosciutto – it's usually sliced paper thin and sticks together, so separating it and rolling or folding it is a good option.
Salami – is a popular choice. You can have it sliced or slice it yourself and depending on how thick, you can fold it or place some in "rows" on the board.
Pepperoni – you can usually find this in larger sizes precut pretty thin and can fold or roll this to serve.
Ham – you can get some really nice flavored ham and for a variety, cube it or have it sliced thin.
Meat sticks – you can find a variety of meat sticks to add to your board.
Smoked beef – this adds a nice change to the board!
Pâté – these can be a really nice addition and you can find a variety of choices at some nice grocery stores.
The cheese options are endless and it's good to include at least three cheeses. Some varieties to include are wedges, soft cheeses, cubed or sliced. It's fun to include some new cheeses many of your guests may have never tried.
Some popular charcuterie board cheese choices:
Brie – this is a very soft cheese.  You can cut a shape out of the top rind for added design to the board.  Serve it sliced or whole with a serving knife.
Swiss cheese – there are many different varieties, some great ones are Jarlsberg, regular Swiss, Lacy Lite.
Smoked Gouda – this is a delicious smoky cheese that is great to serve cubed or sliced.
Blue cheese – choose a mild or strong version, for color French Roquefort or English Blue Stilton are great choices.
Havarti – this is a semi soft cheese and best served in slices.
Goat cheese – this is one of my personal favorites and you can find it in a variety of flavors from savory to sweet.  
Fresh mozzarella – this adds some light to your board as well as being a nice mild cheese.
Cream cheese, you can serve this on a plate with a spicy jam poured over it.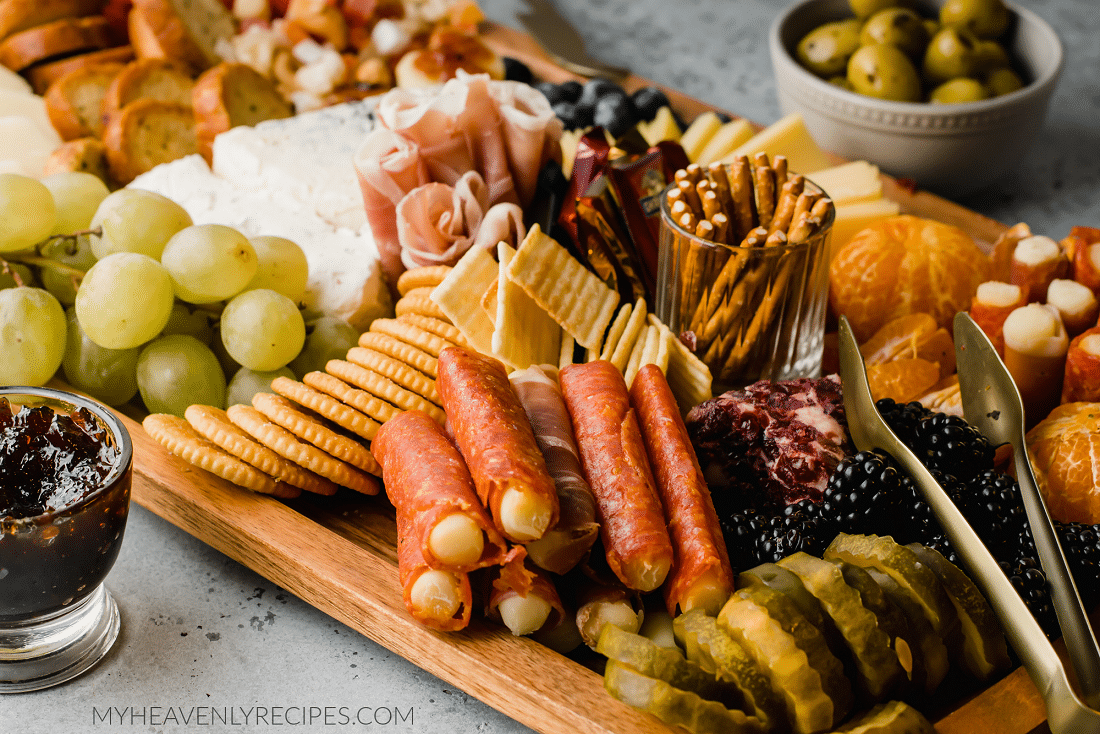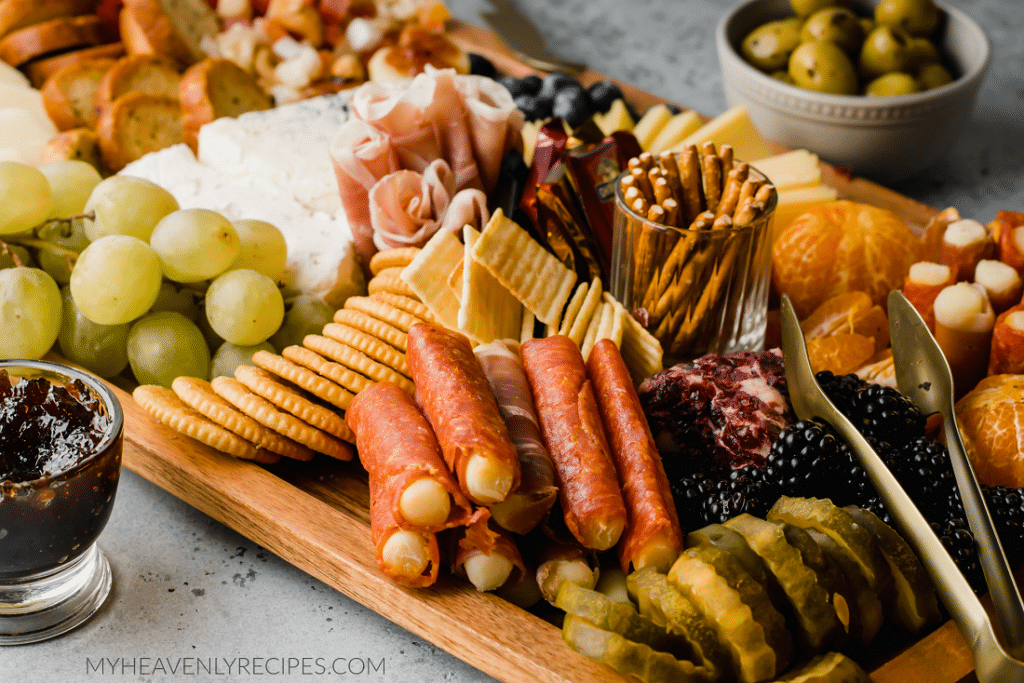 Complimentary Items:
Breads and Crackers – choose a variety of buttery crackers, multigrain, hard bread sticks or pretzels, and toasted French bread rounds.
Jams and Jellies – it's fun to add some spicy varieties or bacon jams. While you may not normally choose to eat this kind of jam, it is really exceptional with cheese and meat.
Fruit – grapes, orange slices, sliced apples, berries of all kinds are all great to add to a platter.
Pickles and olives – choose varieties you wouldn't normally choose, some sliced, some whole, sweet, spicy, sour, green, black, with garlic or pimentos, there are so many fun ones to choose from.
Nuts and dried fruits – Dried fruit add another layer of intrigue to a platter, and nuts of all kinds from spicy to smokey are a great addition.
Spreads and dips – whole seed old fashioned mustard, spicy mustard, savory dips and horseradish are all great to add as well.
Chocolates – it's always fun to include something sweet and there are lots of varieties of chocolates from truffles to orange flavored bars as well as spicy varieties.
Tips for arranging your charcuterie board:
Set your bowls on first, and spread them out so they aren't too close together. Also, have some nice serving ware for the dips and little tongs or forks for the meats and olives.
Spread the meats and the cheese out. Make little piles or rows of meats in different spots on the board. Do this with the cheeses as well.
Add some color to the board. Fruit is a wonderful way to do this. Red raspberries, green grapes, and oranges along with some mint or basil leaves are great colors to add.
Use small items to fill in gaps. Nuts, chocolates, pickles are great for filling in spots.
Charcuterie Board
Ingredients
Prosciutto

Salami and Pepperoni wrapped cheese

Blue Cheese

Smoked Gouda

Goat cheese varieties

Fontina cheese

Ritz crackers

toasted nut crackers, garlic toasted french rounds

Dried mixed fruit and nut mix

Berries

blueberries, raspberries, blackberries

Grapes

Little cutie oranges

Green and black olives

Pickles – spicy and sweet

Spreads – Raspberry chipotle

maple bacon chutney

Cheese dips

2 varieties

Chocolates
Instructions
Start by choosing your theme. You might choose to use bowls shaped as hearts for Valentines, or want to cut a cheese in the shape of a Christmas tree or a football. You may want to make this the center of the board and work out.

Place items that should be served in bowls on the tray. Items may include jams, olives, cheese dips, and olives. Place these in separate parts of the board.

Place the meat either in piles or rows in groups around the board.

Place the cheese in places where there are larger gaps to fill in spots.

Next, add the bread and crackers in nice rows or stacks.

Fill in "holes" with fruit, nuts, chocolates and pickles.

It is ok if things are spilling off the board, it just makes it look all the more inviting.

Look over the board and see if there are any spots that need to be filled in.

Serve with some nice wine or your favorite beverage.