This post may contain affiliate links, read our
Disclosure Policy
for more information. As an Amazon Associate I earn from qualifying purchases, thank you!
Top Rated Acai Bowl Smoothie Recipe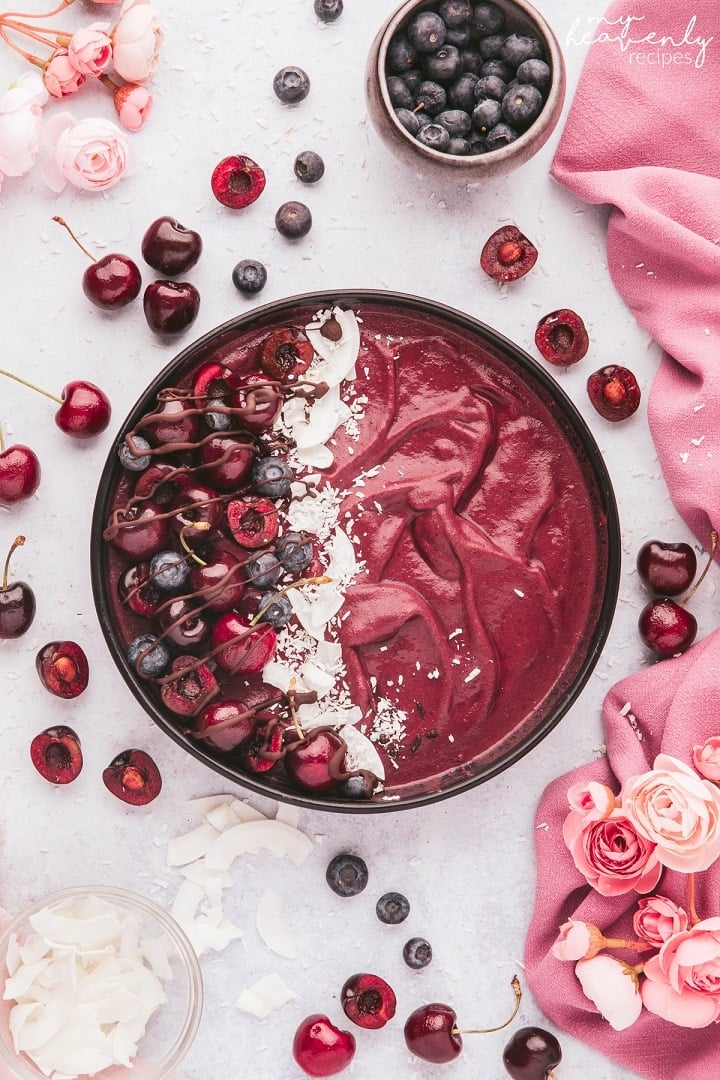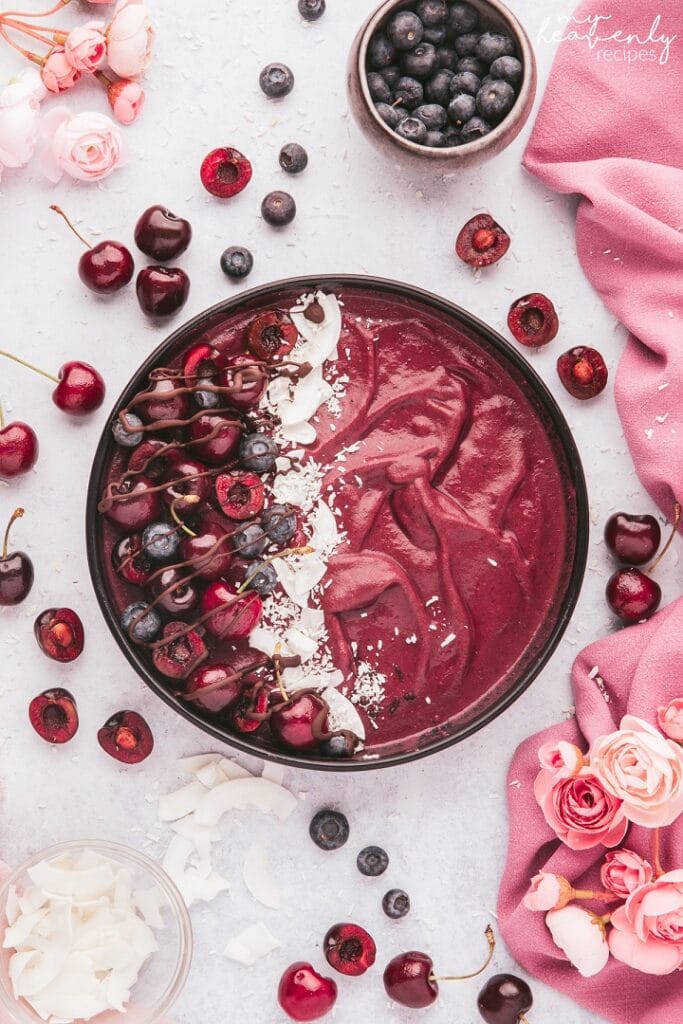 Have you been searching for a healthier breakfast or snack option to get you through the day? I'd love to share with you how Acai bowls can be an excellent choice. They're not only extremely delicious and can be customized to your liking, but they're also very good for you. It's like a dream that's too good to be true! Here's everything else that you need to know about the trending acai bowl.
What are acai bowls?
Acai bowls are basically a thick smoothie that consists of frozen whole fruit that's been pureed and then topped with all sorts of other delicious ingredients. It's a snack that's able to fill you up quickly and what's also nice about it is that you don't have to feel bad about eating it. Finally, a treat out there that keeps on giving!
Are acai bowls actually good for you?
Acai bowls may resemble something close to an ice cream sundae, but if you're using healthy ingredients and you enjoy them only in moderation, they can be very good for you. Acai fruit contains antioxidants that help to improve your immune system and reduce your risk of certain diseases. Acai bowls contain several other vitamins and minerals in their toppings that can also be good for you too!
What is an acai bowl made of?
Acai bowls can be made with all sorts of different ingredients but they all start off with a smoothie base that consists of a milk concentrate, frozen acai berries, and other berries that have been pureed. Toppings based on your preference are then added to the bowl, whether you enjoy granola, oatmeal, honey, chocolate pieces, peanut butter, nuts, or fresh fruit.
Do acai bowls help you lose weight?
Acai berries contain appetite suppression qualities to them, allowing you to feel full and satisfied quicker, meaning that you'll eat less. They also promote good digestion along with helping your body to burn fat faster, which all work together allowing you to lose weight. But eating acai bowls too often can also lead to the opposite effect so you have to be careful.
Are acai bowls healthy?
Acai bowls are meant to be a healthy snack that's filled with powerful antioxidants. But it's also very easy to get carried away with toppings like honey, chocolate, and granola, which can quickly add too much sugar to your bowl. As long as you're being mindful of what ingredients you're adding, acai bowls contain vitamins, minerals, protein, and healthy fats that are all good for you.
Is it OK to eat acai every day?
Although acai bowls are filled with fiber, vitamin C, potassium, manganese, and so much more, it's not recommended that you eat them every day. Doing so on a daily basis may raise your blood sugar levels or may cause weight gain.
As you can see, acai bowls are a healthy snack that provides all kinds of amazing health benefits. That is, as long as you remember not to eat them every day and also be careful about what you're putting in them. For those of you that already enjoy acai bowls, what's your favorite way to make them?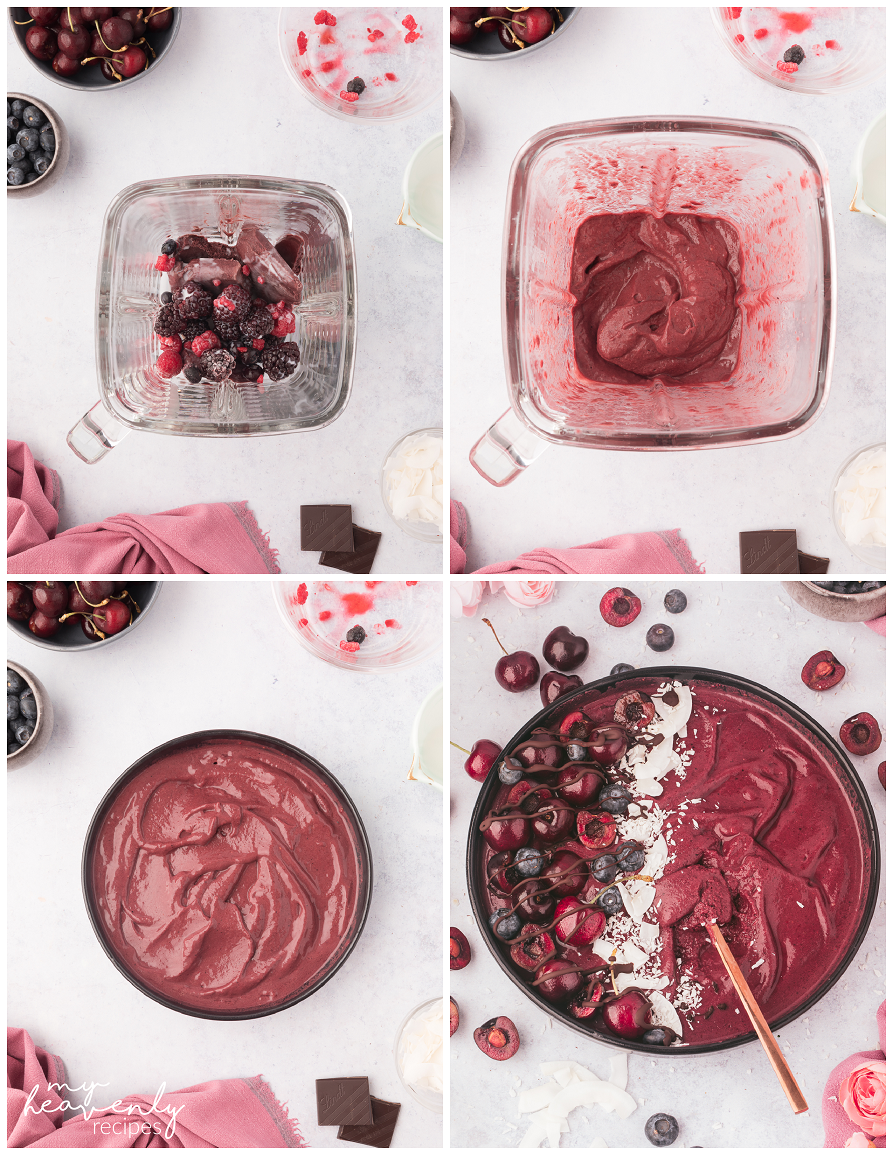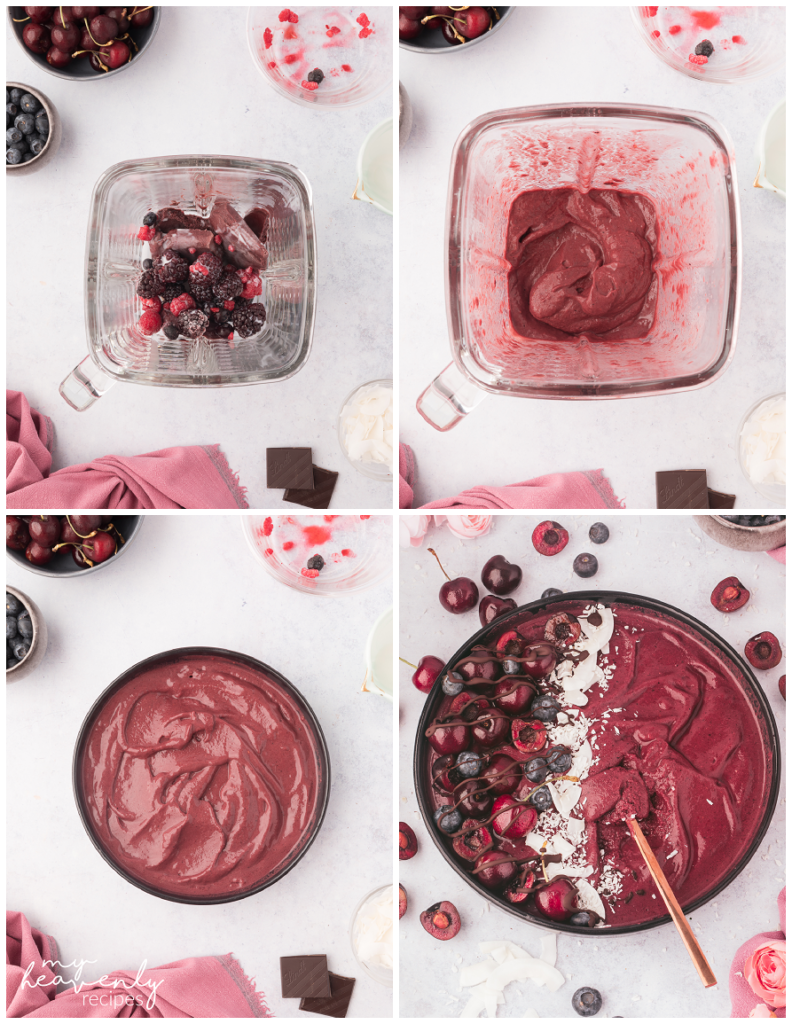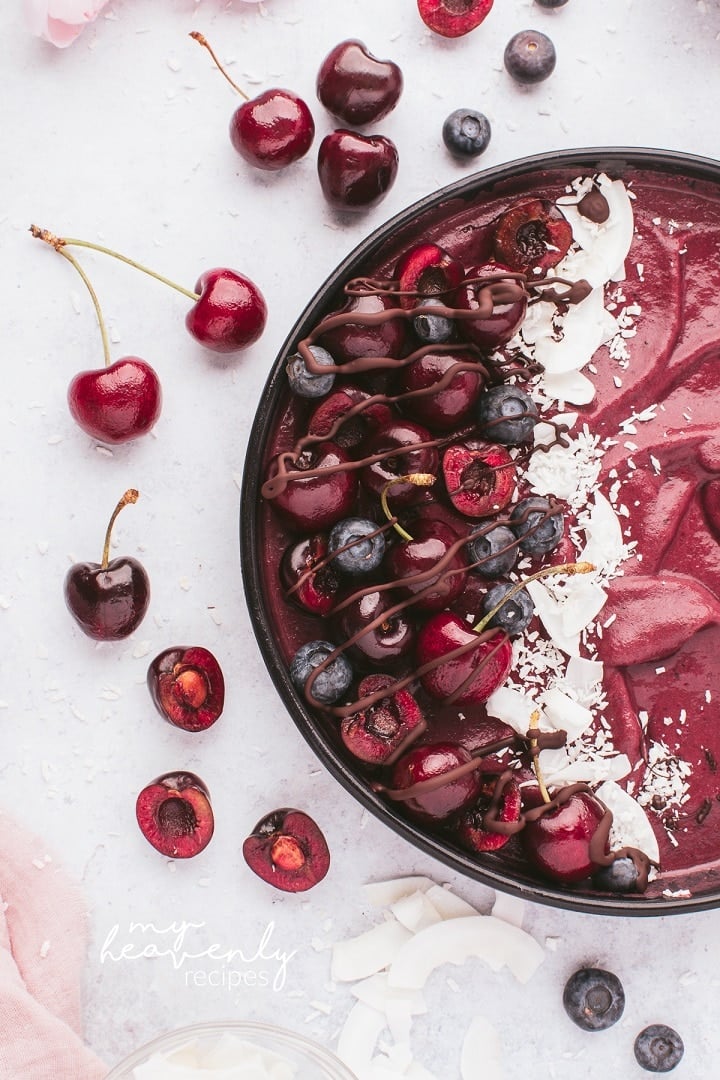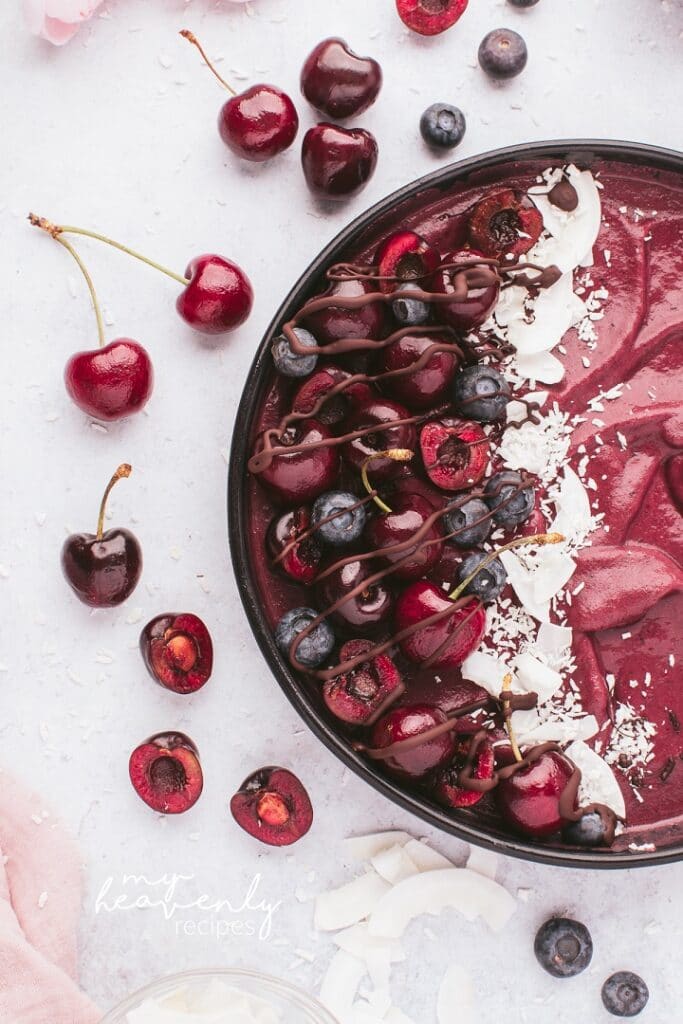 Acai Bowl
Ingredients
2 3.5

ounce

packets frozen Acai puree

1

cup

frozen berries

½

cup

milk of your choice
Toppings:
Cherries

Blueberries

Shredded coconut

Two squares semi-sweet chocolate
Instructions
Put the frozen Acai puree and berries into a blender.

Pour over the milk.

Blend until the smoothie has reached the desired consistency. Add more milk if needed.

Divide between two bowls.

Melt the chocolate in short bursts in the microwave. Add fresh fruit toppings as desired then drizzle over the melted chocolate.
Notes
• If you can't find frozen Acai puree you can substitute with 2 teaspoons of Acai powder. In which
case, increase the frozen berries to 1 ½ cups.
• This recipe doesn't contain any added sweetener (other than the natural sugar in the fruits). If
you would like to sweeten it you can add 1-2 teaspoons of maple syrup, agave nectar or honey.
• You can use any frozen berries. We used a combination of blueberries, raspberries and
blackberries. Any frozen fruit will work and taste great!
• Likewise, you can top this Acai Smoothie Bowl with whatever fresh fruits you have to hand. You
could also add nuts, seeds or granola.
• You can add a banana or avocado to make the smoothie bowl creamy.
• This is designed as a thick, partly frozen smoothie bowl so we haven't added much liquid. If you
would like it to be thinner and less frozen, simply add more milk.
• Use any milk of your preference, to keep this vegan we used almond milk. You can use any
plant based milk or cow's milk.