This post may contain affiliate links, read our
Disclosure Policy
for more information. As an Amazon Associate I earn from qualifying purchases, thank you!
Italian spaghetti sauce always tastes better when it's made from scratch. This meatless Italian spaghetti sauce recipe is easy to make in just 15 minutes, and is perfect for meal prep!
As a busy mom who is chasing 3 kids all over the place and trying to operate two businesses, I've come to realize that Meal Planning is my saving grace. As well, as quick and easy recipes on those busy weeknights. Come find out how I create this Meatless Italian spaghetti sauce with spaghetti and ravioli, in under 20 minutes!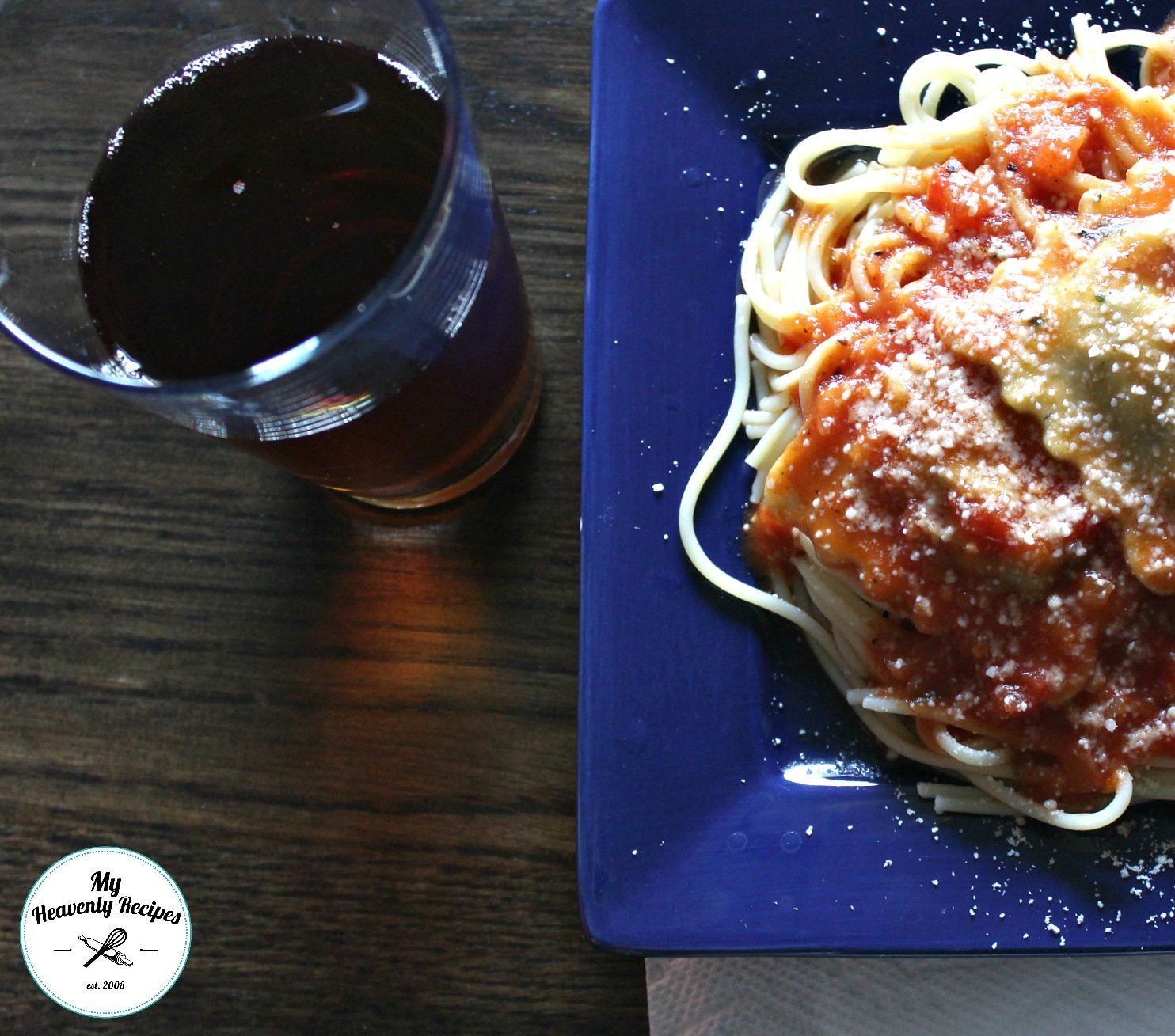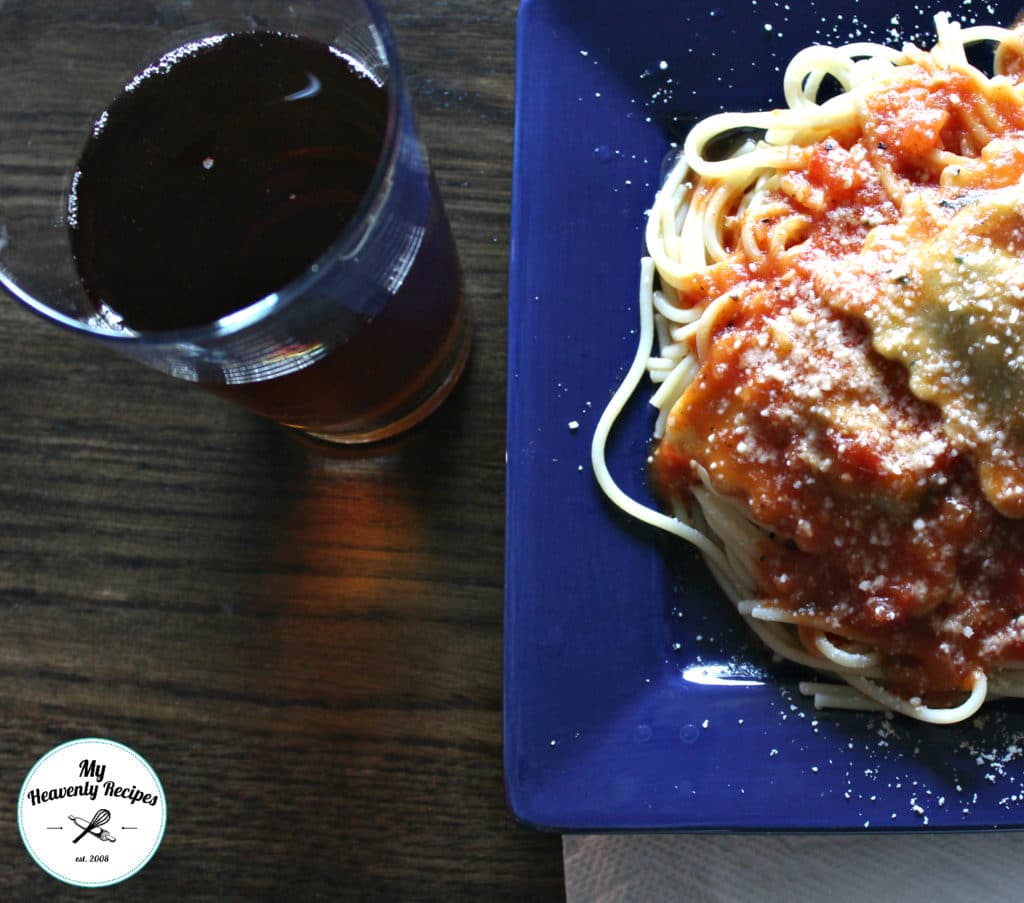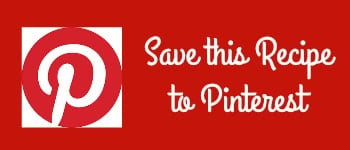 Easy Family Dinner Ideas
We all have them. Those nights where we are pulling our hair out, completely exhausted, the kids yelling and screaming in the background while we are trying to get dinner done. Not to mention you telling the kids to go find their soccer cleats, gymnastics uniform and to help find the soccer ball for practice.
You've got 45 minutes set aside to make and eat dinner. That in itself is a victory if it's pulled off. So when the dishes are piled high in the sink, and you got a successful dinner on the table,  at the end of the day that's what counts!
Now, as Moms, we all try to sneak in veggies that our kiddos wouldn't otherwise eat. For instance, there are two recipes I rely on to get some spinach into my kids. The first is my homemade lasagna recipe. The second is ravioli! They've been eating spinach-stuffed ravioli for so long now, they LOVE it. They won't eat a meat-filled or cheese-filled ravioli. So I just smile as I serve them spinach ravioli. 😉
As a busy family who is constantly on the go, I like to savor these moments around the dinner table. I want to be able to sit around the dinner table as a family of 5 for as long as I possibly can.
It's been said that children who eat dinner with their family do better in school, are less likely to participate in drugs and are happier all around. That has stuck with me and is one of the reasons I started this website. I remember sitting around the dinner table with my family as a child and want to instill that into my children and their family. It's time to stop and savor those moments…they're gone all too fast.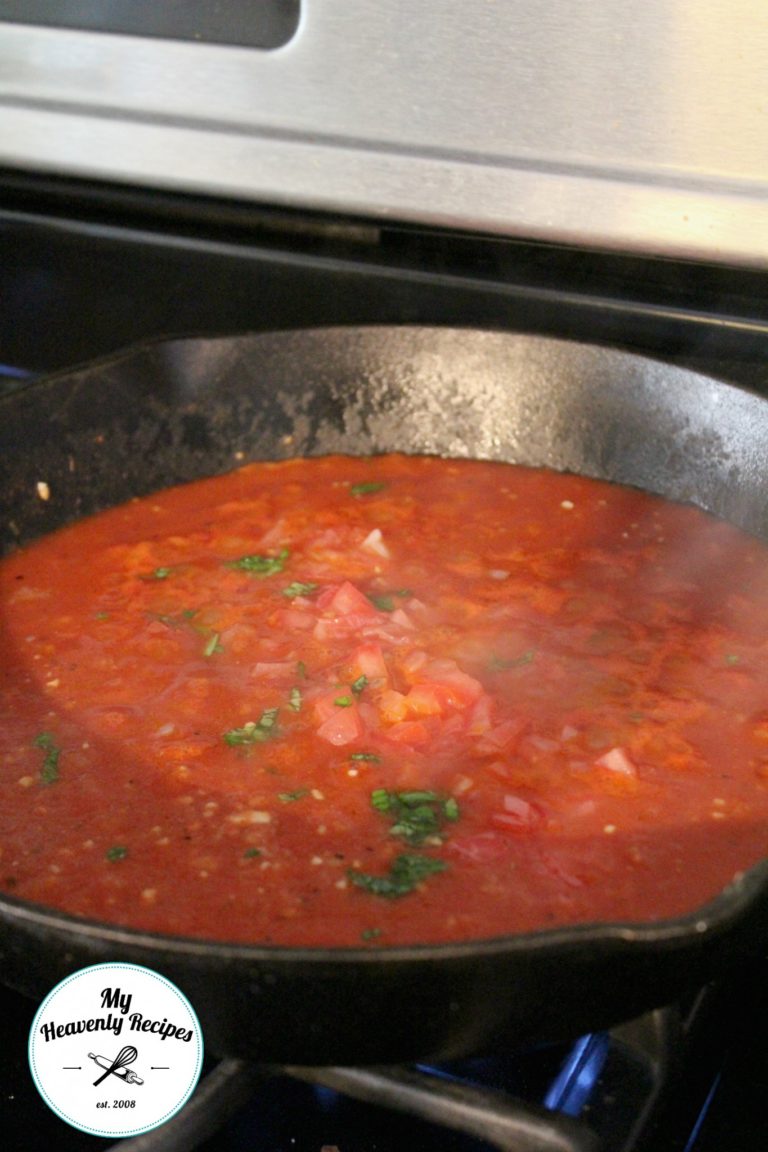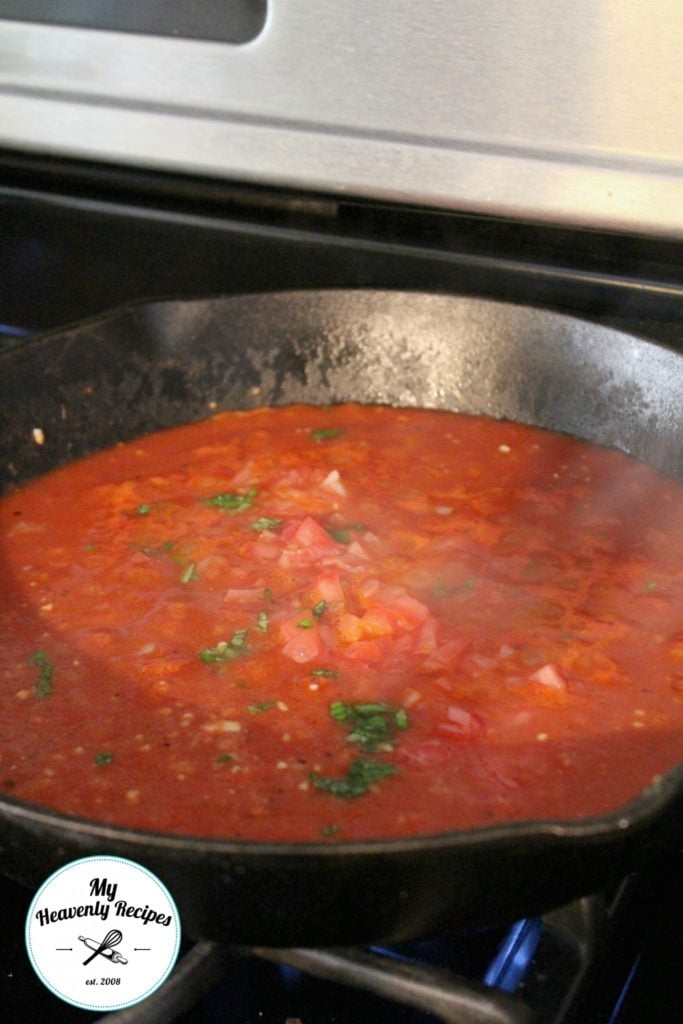 How to Make Meatless Italian Spaghetti Sauce
Alright, now that I'm done getting all emotional on ya'll, 😉 This meatless Italian spaghetti sauce recipe is really quick and easy to make. If you are short on time, be sure to boil the water for the pasta first, or cook the pasta in an Instant Pot. Then get going on your sauce.
I grab a large cast iron skillet to make my sauce in. But, you can use a sauce pan as well… I'm just weird! I cook EVERYTHING in my cast iron!
Seriously, throw in some diced onions, and let them cook for 3-4 minutes. Toss in some garlic, salt and pepper. Then pour in your tomato sauce and water. Stir it around and let it come to a boil. Now, if you like fresh tomatoes, you can dice two roma's and throw those in as well.
Lastly, add in some sugar and basil, stir and bring to another boil. Let it simmer on low until you are ready to serve. Seriously, 10-15 minutes, people, and dinner is done!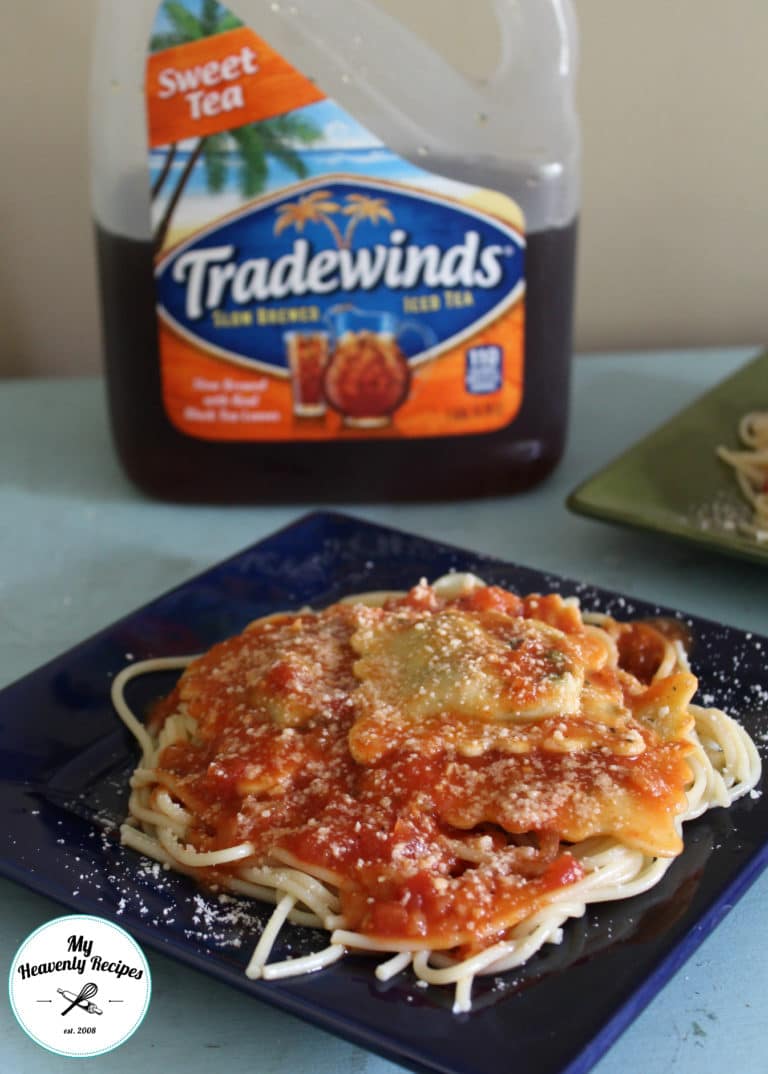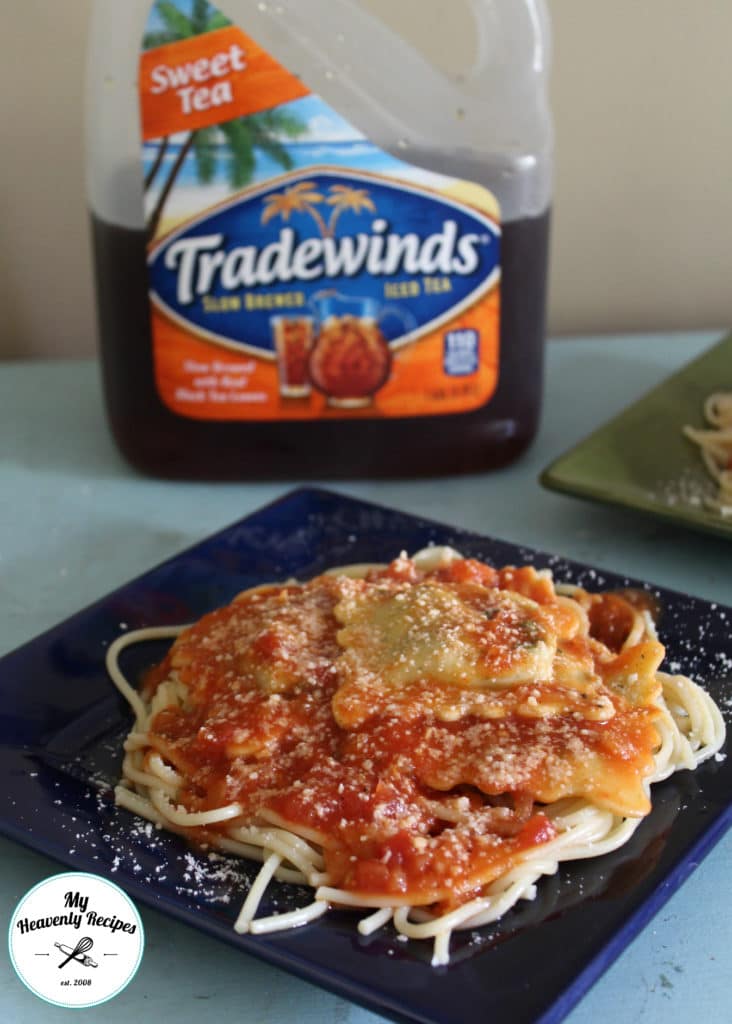 It's time to plate and serve around the dinner table. Talk about your day. On nights when there's not much going on, I like to go around the table and ask everyone what the best part of their day was and what could have made the day better. It's something fun and a great way to really know your children!
What's the best non alcoholic beverage to have with spaghetti?
I love to sip on sweet tea when I have spaghetti. I don't know what it is. I drink water all day long, and having a little Tradewinds Sweet Tea towards the end of the day is a treat at times. Not to mention it's a drink we can all agree on. Often times, everyone wants something different to drink, but, on nights like these, I pour everyone a glass of sweet tea to keep my life simple and dinner quick and easy!
What are some special ways that you savor moments with your family?
Meatless Spaghetti Sauce
A quick and easy Meatless Spaghetti Sauce that is ready in under 15 minutes.
Ingredients
½

Small Yellow Onion

Diced

2

TBSP

Garlic

Minced

2

Roma Tomatoes

diced

1

TBSP

Fresh Basil

chopped

2

C

Tomato Sauce

1

C

Water

Pasta

2

TBSP

Sugar

2

TBSP

Olive Oil

Salt and Pepper to taste
Instructions
In a medium sauce pan or skillet let onions cook for 3-4 minutes.

Add in garlic. Season with salt and pepper.

Stir in tomato sauce and water, bring to a boil.

Add in diced tomatoes and fresh bail, stir.

Drizzle in olive oil and sugar, stir.

Bring to another bowl, stirring and let simmer on low until ready to serve.