This post may contain affiliate links, read our
Disclosure Policy
for more information. As an Amazon Associate I earn from qualifying purchases, thank you!
Want a bit of a surprise for your guests? How about these Oreo Surprise Chocolate Cupcakes…they are a little piece of Heaven!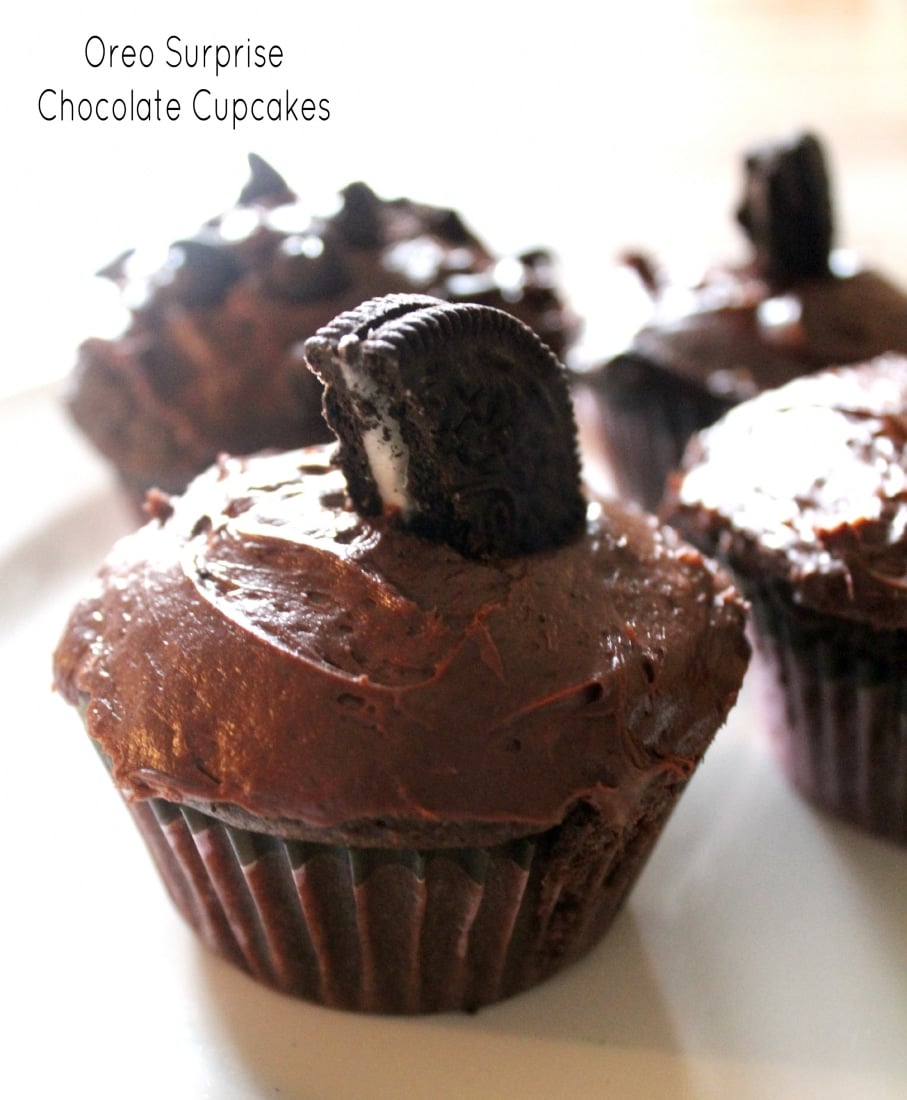 There are times that I have to come up with a dessert for one reason or another. There's the occasional birthday party, the "brighten someone's day", the "just for the hell of it" and because I need to serve a crowd reason for a cupcake…really you don't need an excuse, but, when I make an excuse it makes me feel better! Then afterwards I end up regretting that I just ate that and go for a 3 mile walk to make me feel better again…
this whole new lifestyle change for me – it's madness people. It's madness!
Now that you know what I do after I eat a cupcake 😉 Let's move on..shall we?
Mmmmk.
So I really don't remember what the reason was behind this cupcake. I think it was simple a just for the hell of it kinda cupcake, but, as I recall I also had two things of Oreos staring at me saying…."Eat Me!" "Eat Me!". I don't particularly care for Oreo's persay…I know some of you are saying that we can't be friends, but, whatev. I'd rather drink my dessert than eat it, if you know what I mean!
There was a time I was potty training TT and the only way I found that I could bribe reward her to go was with this little circle cookie. I wasn't hatin' I was handing out Oreo's left and right, I was a proud Momma and lovin' the smile on her face. We would sing a potty dance…I'll save you the terror of a video. It went a little somethin' like this:
"Tinkle, Tinkle, in the potty, TT goes tinkle on the potty. Tinkle, tinkle, in the potty. TT goes tinkle on the potttttyyyyyy!"
Then she would get a big 'ole smile on her face, wipe, wash hands and off to the kitchen we went! She then picked out a Oreo and all was right in the world.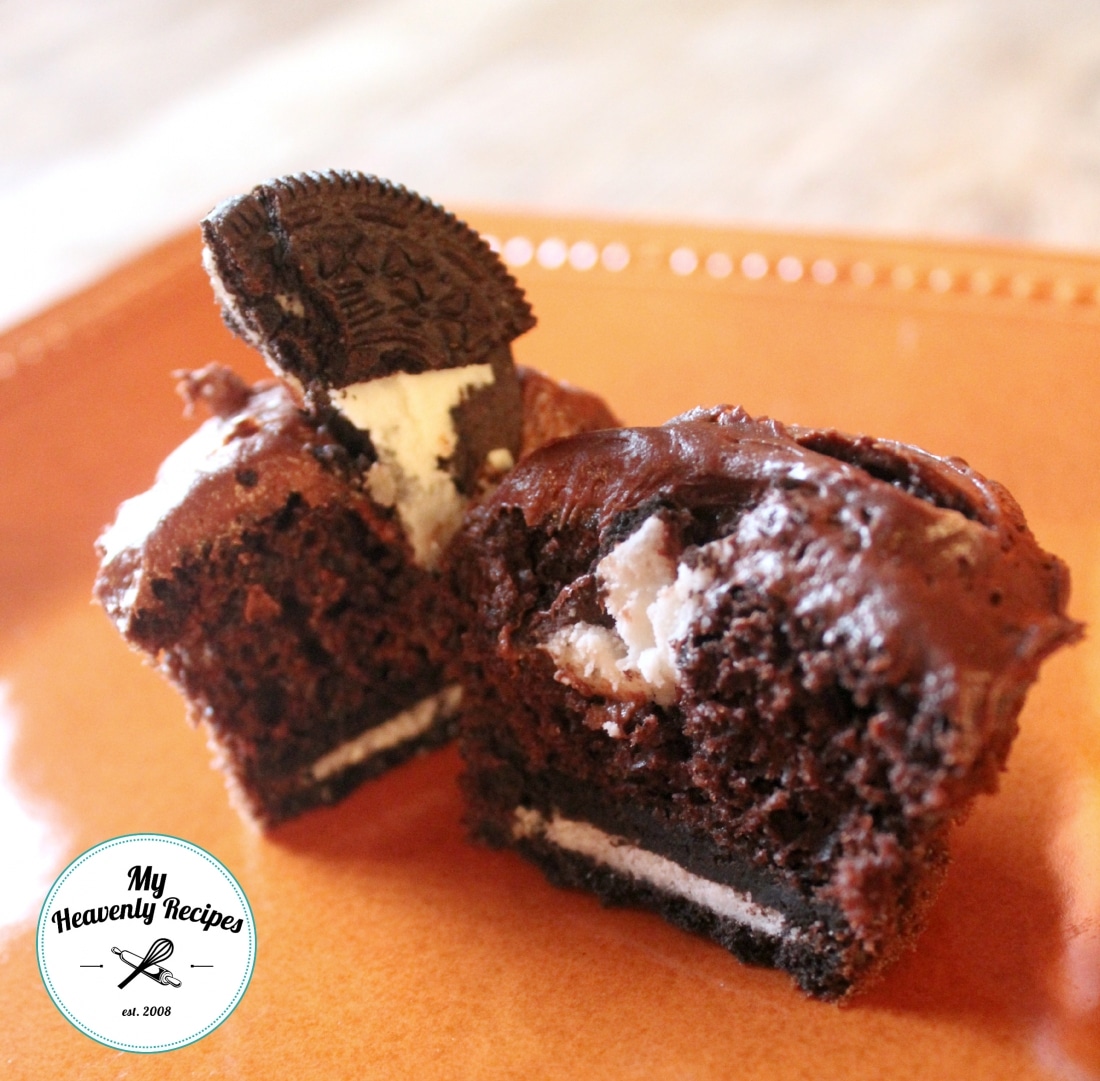 Well TT had become potty trained and I stopped giving her the Oreo 😉 So I suddenly had a overwhelming amount of Oreos and I needed an excuse to use them up before they went stale. Can Oreo's go stale?!?
So I had this idea to whip up a box chocolate cake mix, give it some love and pop in a surprise…that's just what I did with this Oreo Surprise Chocolate Cupcake. I will tell you that the girls had no idea!
Ingredients
Chocolate Cake Mix (made according to box)
1 tsp vanilla extract
1 TBSP Coffee
24 Oreos
Oreo Surprise Chocolate Cupcake
A quick and easy dessert that will surprise the entire family! You don't have to tell them how easy they were to make.
Ingredients
Chocolate Cake Mix

made according to box

1

tsp

vanilla extract

1

TBSP

Coffee

24

Oreos

Chocolate Icing
Instructions
PREHEAT oven according to box on Cake Mix.

Make cake mix according to directions. I add in the vanilla extract and coffee for an additional bonus!

GREASE paper cupcake liners and place in muffin tin.

Place 12 Oreos into the bottom of each liner then using a ⅓ C measuring cup scoop in mixture filling ⅔ the way full.

BAKE according to direction on the cake mix.

Let cool completely and bake remaining cupcakes according the directions above

ICING the cupcakes and enjoy!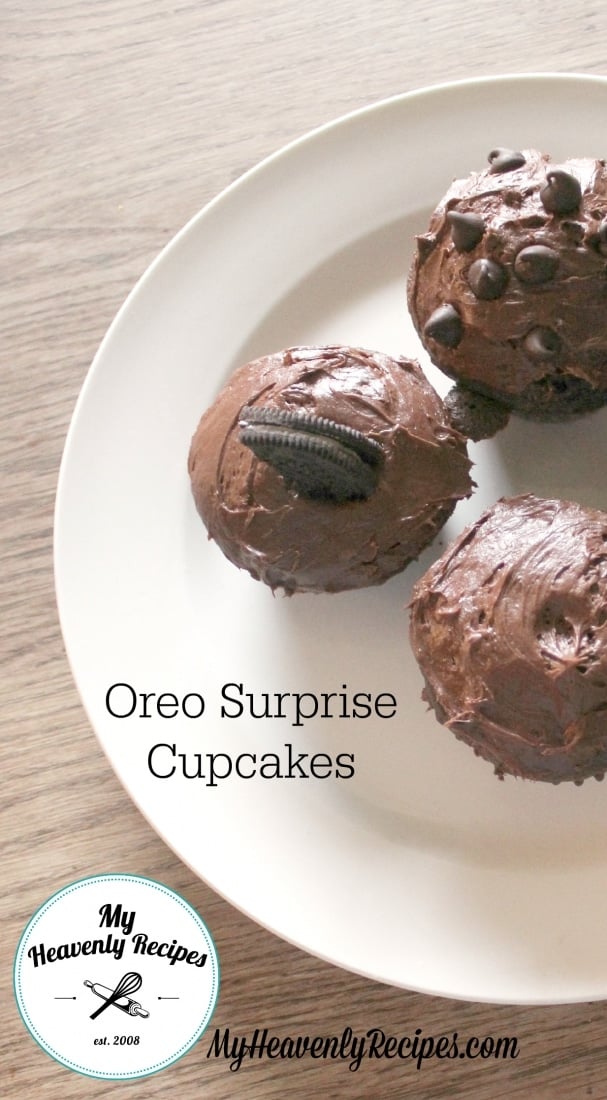 I love to see what you are creating in your kitchens! Be sure to share the recipes you found on MyHeavenlyRecipes.com with me on Facebook, Twitter, Pinterestand Instagram. for more Heavenly Recipes.