Do you have a unicorn fan at home?  Your unicorn lover is going to love this Christmas Unicorn Gift Wrap idea!  So how do you make unicorn gift wrap?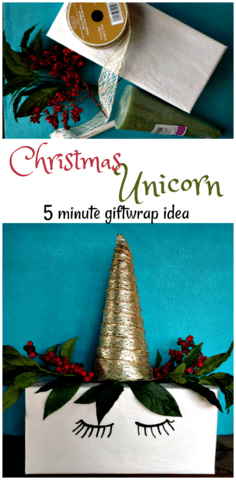 How do you make unicorn gift wrap? Well, not only is it easy, but it is an awesome way to present gifts to the kids and also a fun craft to do with the kids, if you are wrapping up the gift for someone besides them!  
This Unicorn Gift Wrap is a unique and fun way to present gifts. Not only does the gift recipient receive a gift, but the wrapping in itself is a gift. Plus, unicorns are just so much fun, that opening a unicorn shaped gift is going to make your gift-recipient smile from the start.  You know your gift will be a hit.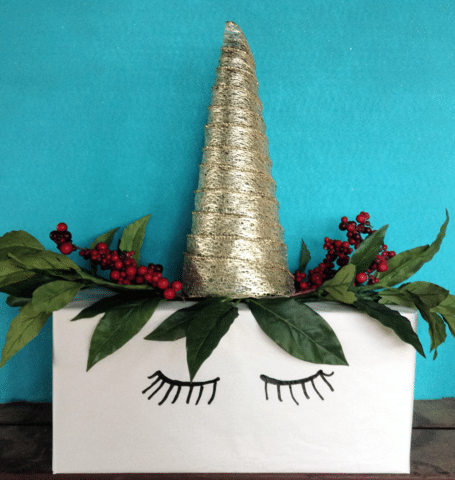 This unicorn gift wrap can be used for more than just Christmas too!  A quick look on Pinterest will show you that unicorns are all the rage in birthday party planning right now and these would present as great gift wrap for one of those!
WHY IT WORKS
Hello, it's unicorn gift wrap!

It's a fun twist on holiday gift preparation.

It's easy to do!

It works for any gift-giving occasion.
PROJECT VARIATIONS
Use a different color of solid colored paper to change up the look..

Choose a shiny silver colored ribbon to mix up the horn design.
TIPS
Be sure and have a good permanent marker on hand.  You will need it to create full lashes for a detailed look!
WHAT YOU'LL NEED TO MAKE UNICORN GIFT WRAP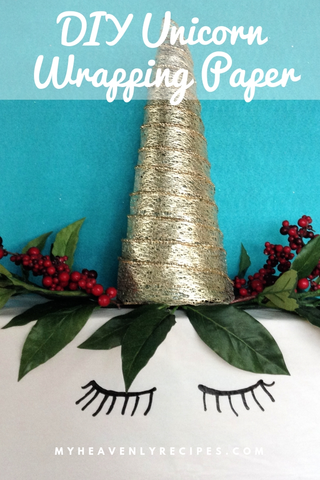 HOW TO MAKE UNICORN GIFT WRAP
Wrap present in a plain white wrapping paper. Use a permanent marker to make closed eyes with lashes.

Wrap floral foam cone with gold ribbon to make the horn for the unicorn.
Position floral picks on either side of center and glue to package.
Glue horn to the top of the package.
Other Unicorn FUN You'll Enjoy