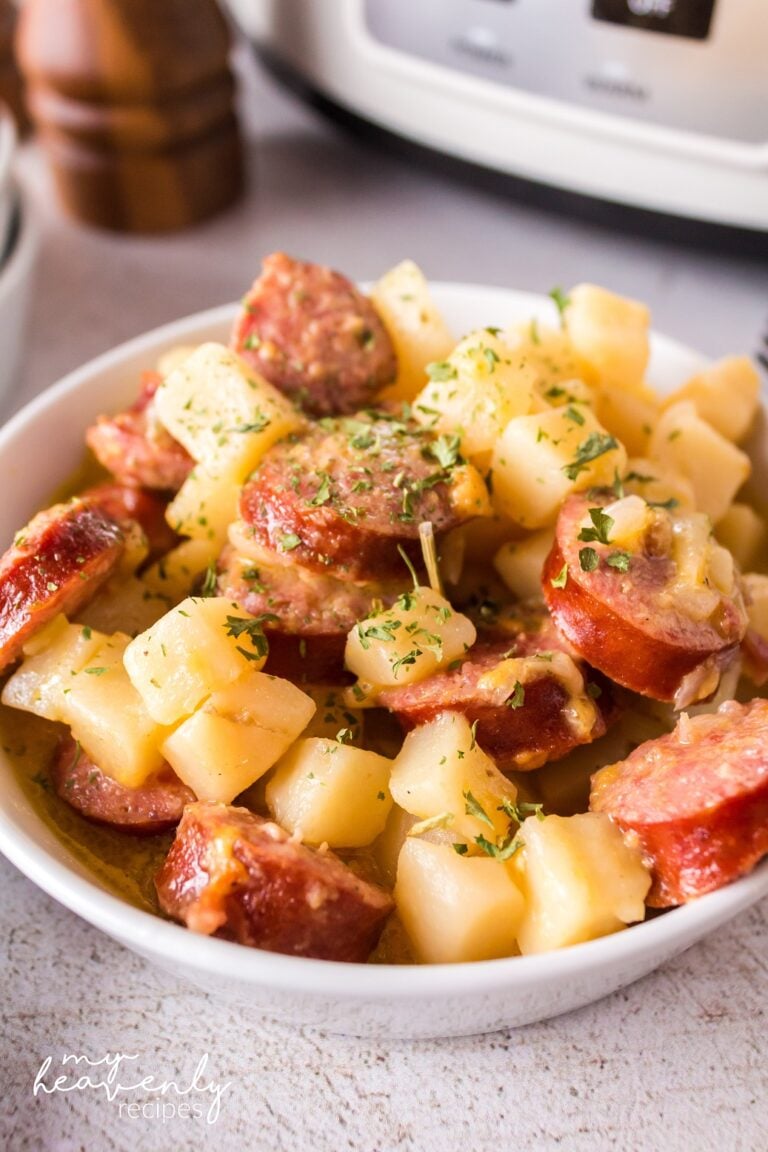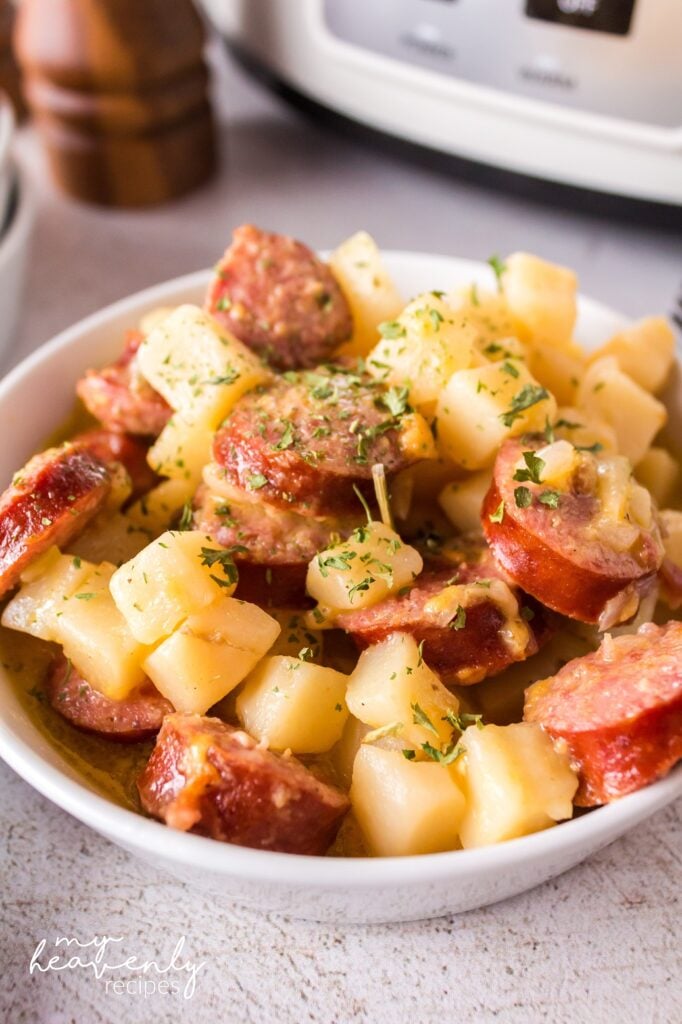 If you want an easy comfort food meal in the slow cooker, this cheesy kielbasa meal is for you! You can also make it into an actual soup by adding more milk at the beginning if you prefer. Make sure to also try our crockpot sweet and sour kielbasa meal and crockpot kielbasa bean and potato meal, too!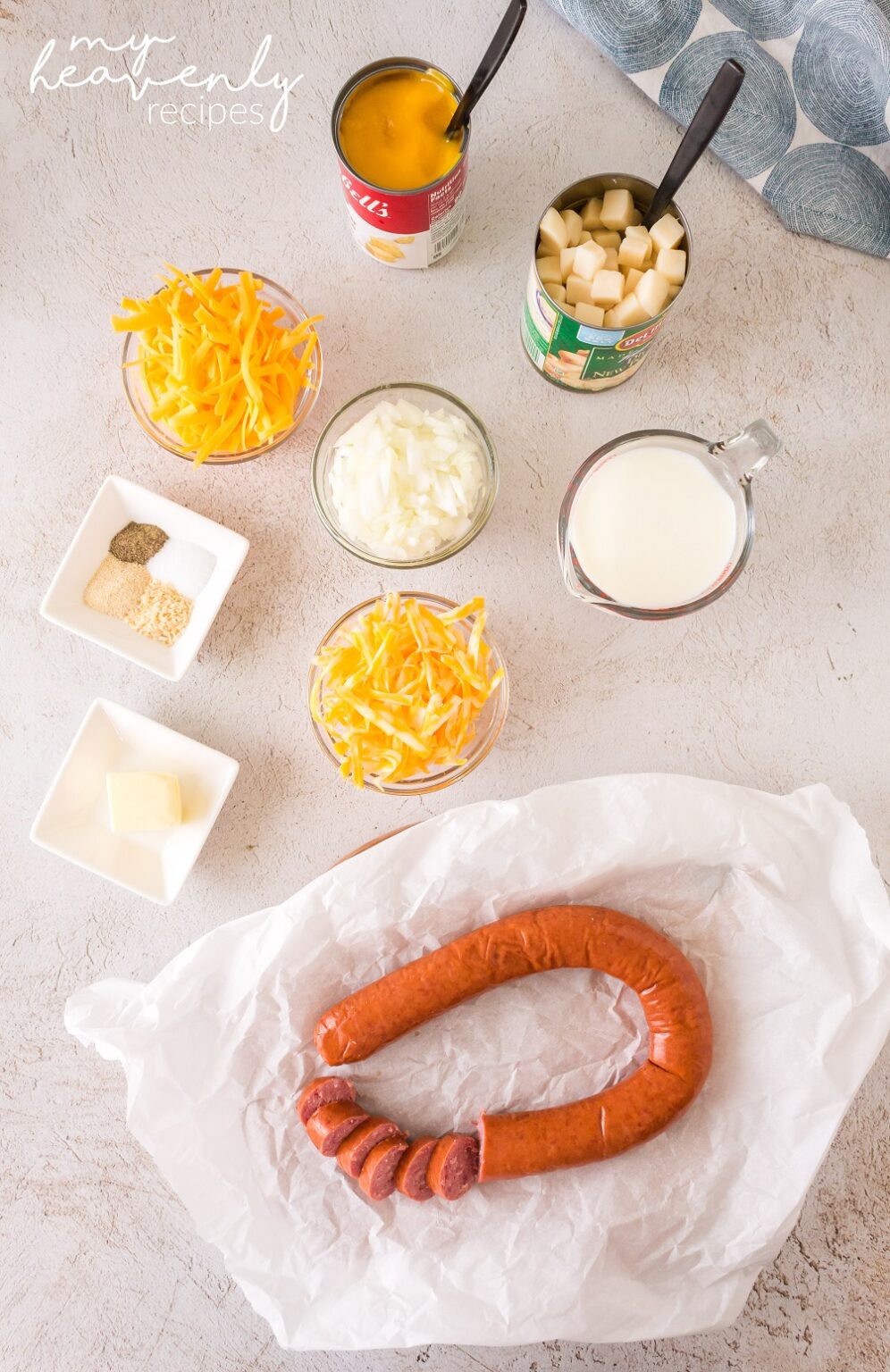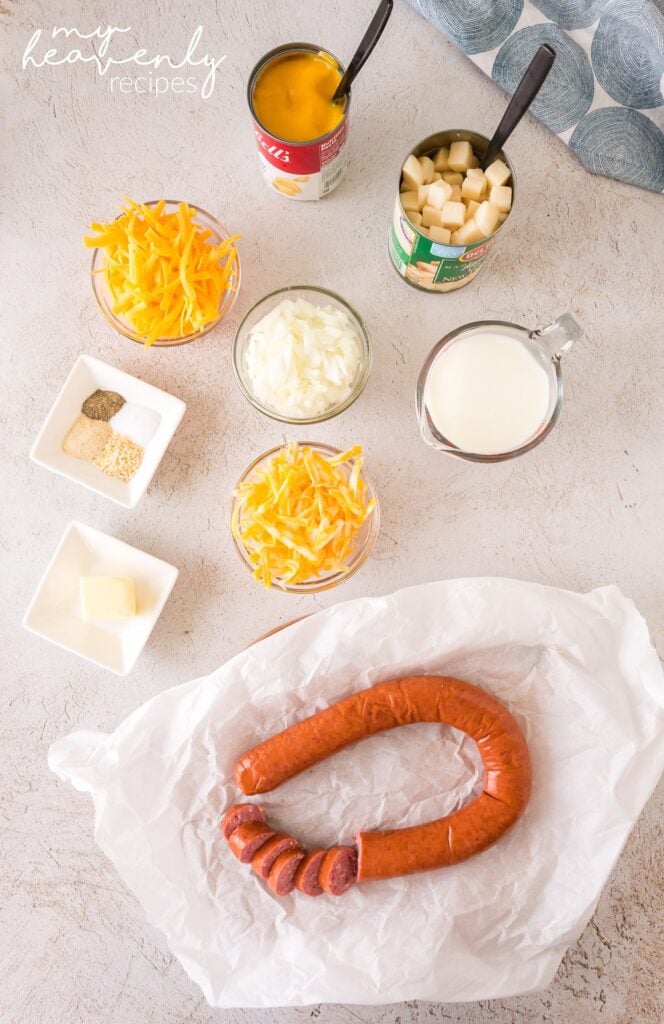 BAKER'S NOTES:
INGREDIENTS SUBSTITUTIONS

For the onions, I like to chop them small. They give the perfect flavor and blend better with the potatoes. I have a picky eater who does not like onions, when they are small, she does not notice them as much. If you like onions you can make them bigger pieces so you can enjoy them in a bite with potatoes.
For this recipe, I used canned potatoes (the main reason is I never remember to thaw the frozen kind). You can definitely use frozen diced (breakfast) potatoes (32 oz. bag). When using them make sure they are thawed in the fridge before using.
Cheese: I like to shred the cheese at home as it melts better. But you can use a prepacked cheese of your favorite blend. Also, I would not recommend using Parmigianno as it will make the mixture too grainy
SKILLS

When serving you can add more cheese, and fresh herbs.
This recipe will have a good amount of liquid. It can easily be turned into a soup if at the beginning you add 1 cup of milk instead of ½.
Keep the leftovers in the refrigerator for up to 4 days.
To re-warm, in the microwave, in the air fryer (330 F for 4 to 5 minutes). Warm until you reach a nice temperature.
Serve with a side of veggie/garden salad
Great to enjoy on a cold day, add some red pepper flakes for a warm feeling.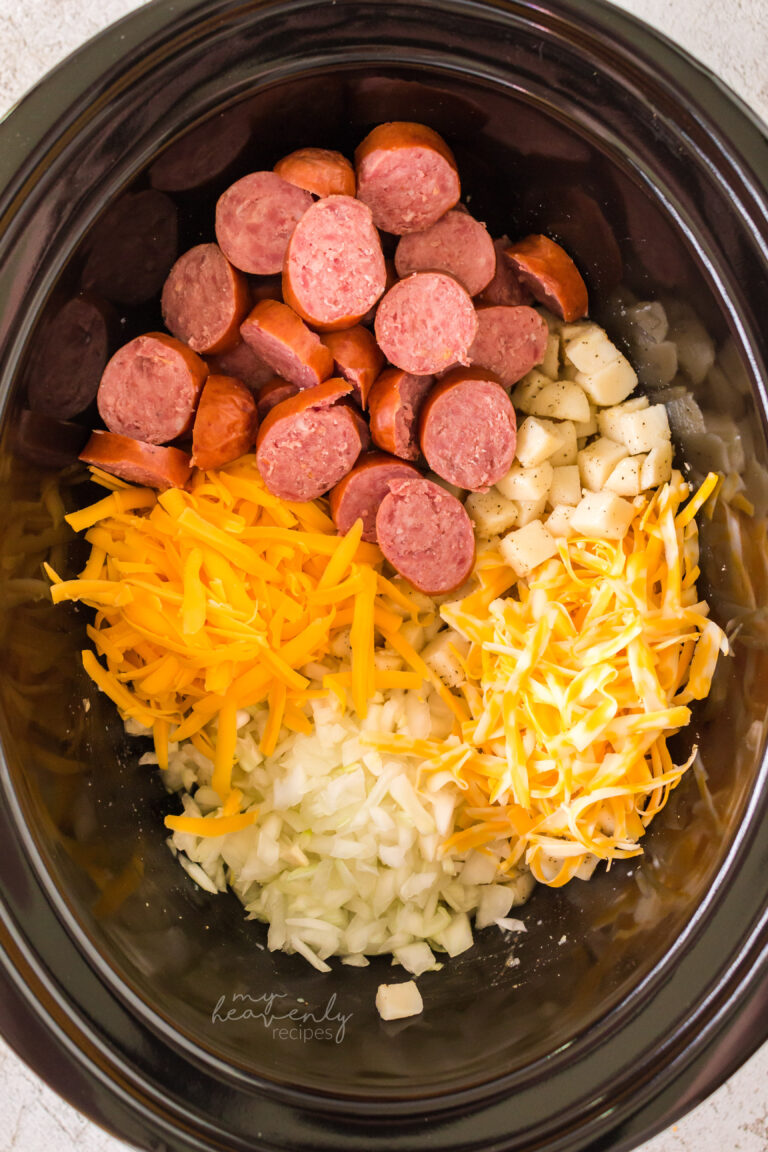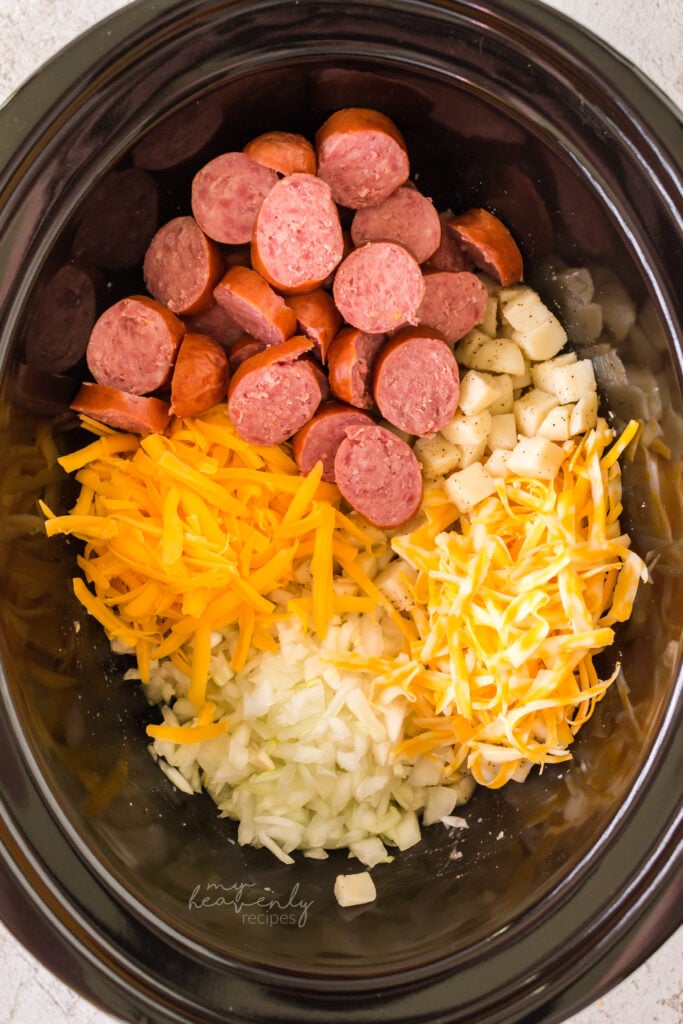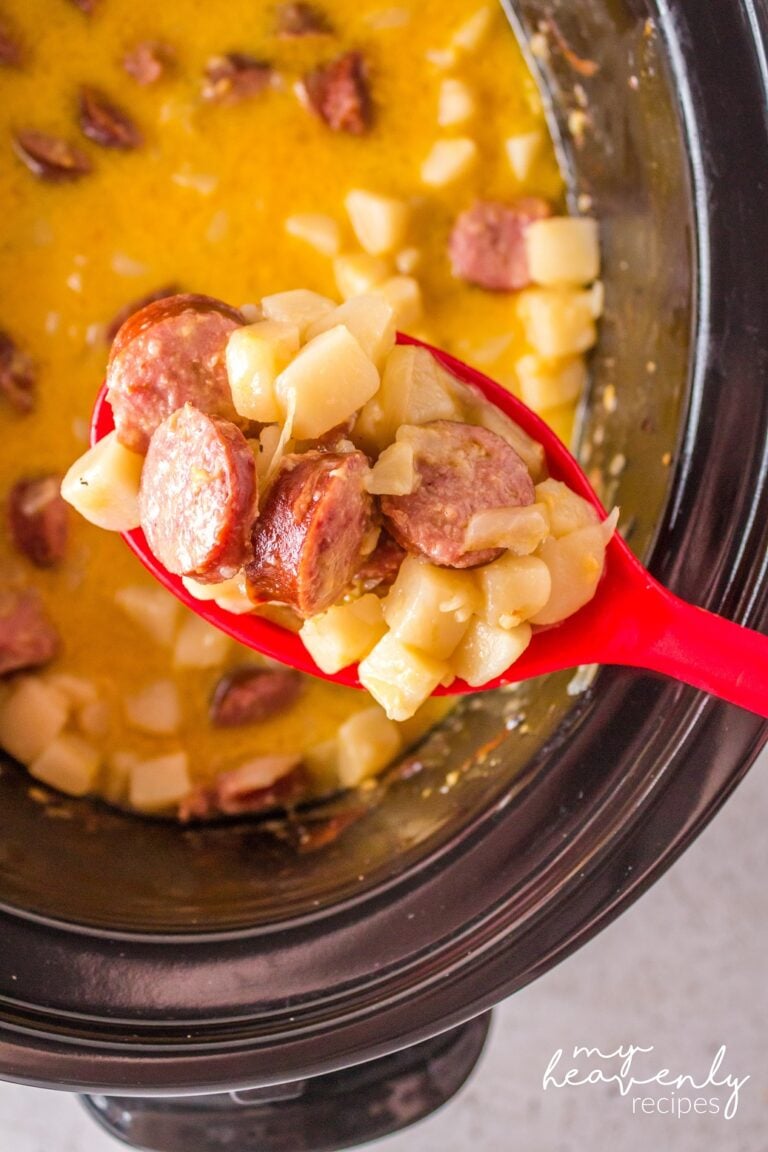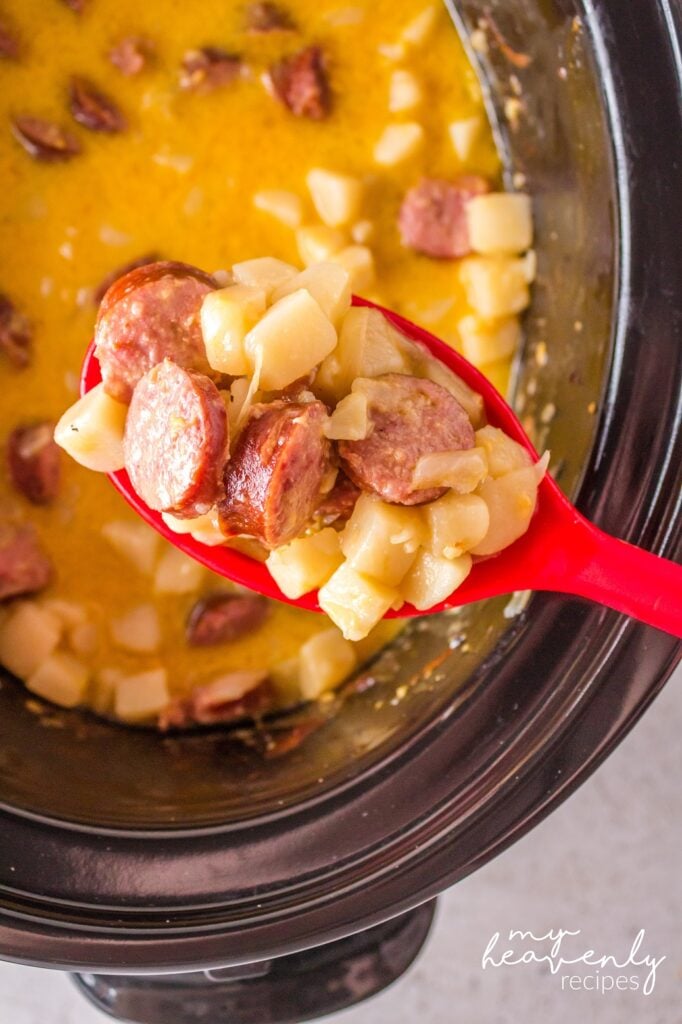 Crockpot Cheesy Potatoes and Kielbasa
Ingredients
12 oz Kielbasa

I used Beef Kielbasa, sliced into bite-size (about ½ inch thick)

2 tablespoons melted butter

I used salted butter, but unsalted will work perfectly

3 cans

14.5 oz. diced potatoes, drained (I used Del Monte Fresh Cut Diced New potatoes)

1 teaspoon salt

½ teaspoon pepper

1 teaspoon minced onion

1 teaspoon onion powder

½ cup chopped onions

I used sweet onions, but you can use white onions or red onions

3 cups fresh shredded cheese

I used 1 ½ cups Colby Jack and 1 ½ cups mild Cheddar. You may need more if you want to top each serving with cheese approx ½ cup.

1 can

10.5 oz. cheddar cream soup

½ cup milk

(I used 2% milk you could use whole milk but would not recommend heavy cream)
Instructions
Spray the slow cooker liner with non-stick spray.

Add melted butter. Pour the potatoes and the spices. Mix to coat.

Add the sliced Kielbasa, chopped onions, and cheese. Mix well.

Add the cheddar cream soup and the milk and mix until all ingredients are well blended together.

Cover and cook on high for 3-4 hours or low for 5-6 hours until the potatoes are nice and soft.

Serve and enjoy with your favorite toppings!