Best Chicken Pasta in the Crockpot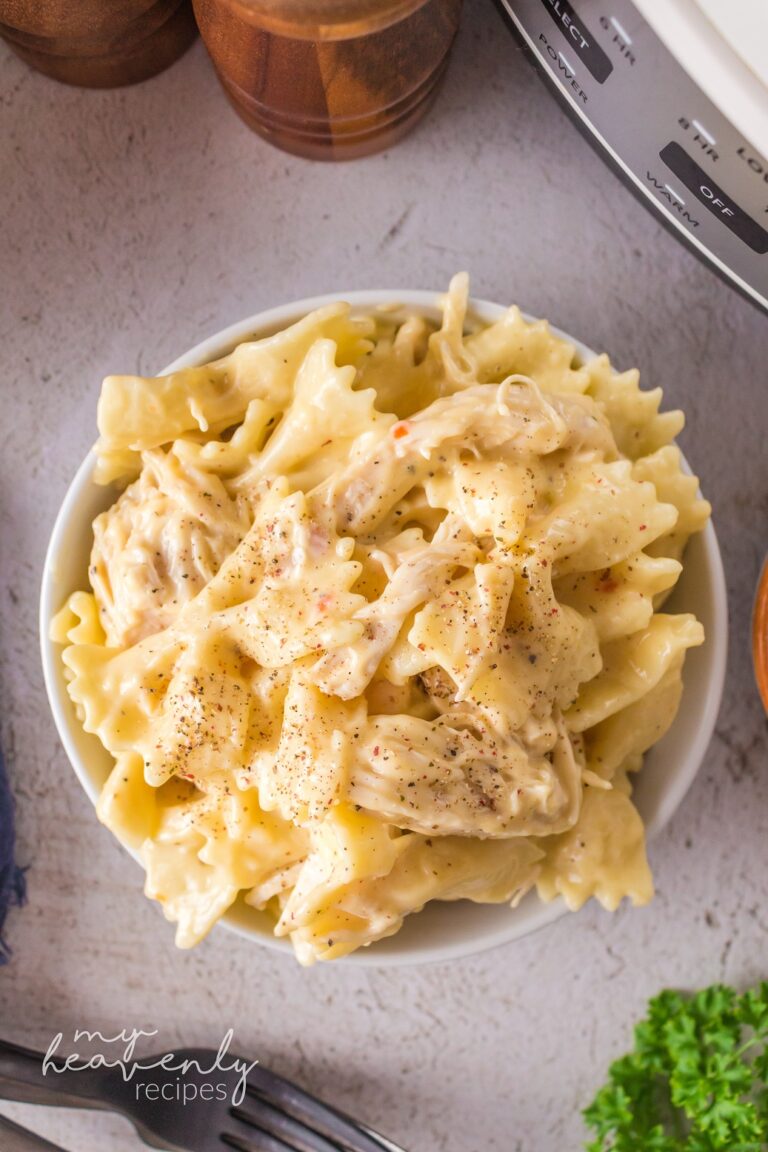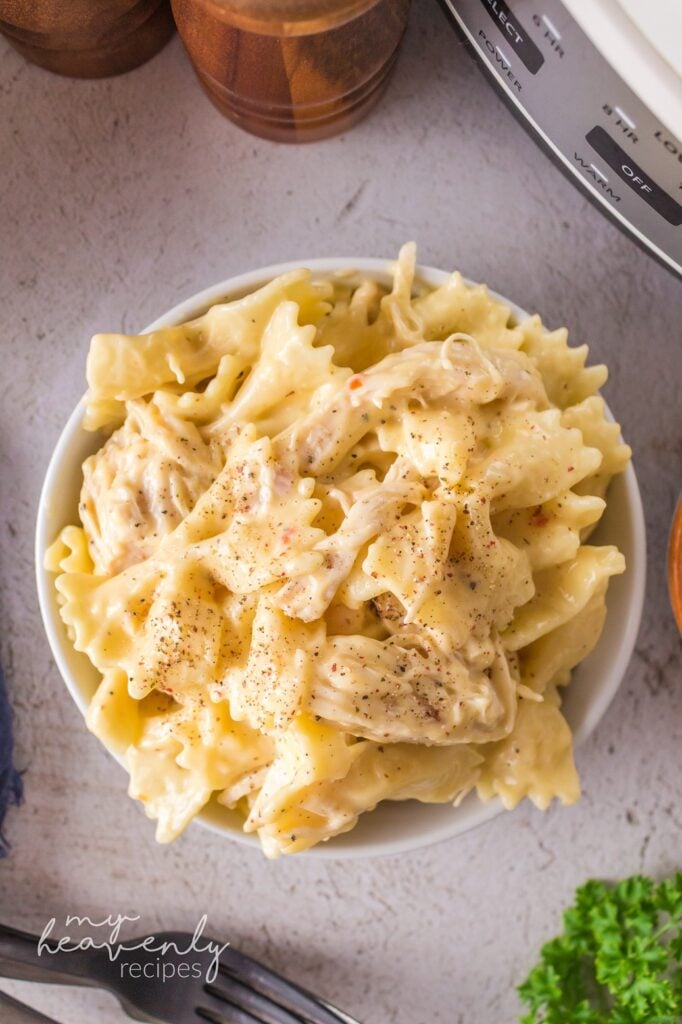 Honestly, this is one of the best slow-cooker pasta recipes we had in a while and I have tested many!! It is creamy and flavorful but not overpowering. My younger kid, the picky eater called it "Chicken Alfredo without dishes". It is creamy, and coats your mouth.  There are so many variations that can be done.  Make sure to try our crockpot Olive Garden chicken pasta too!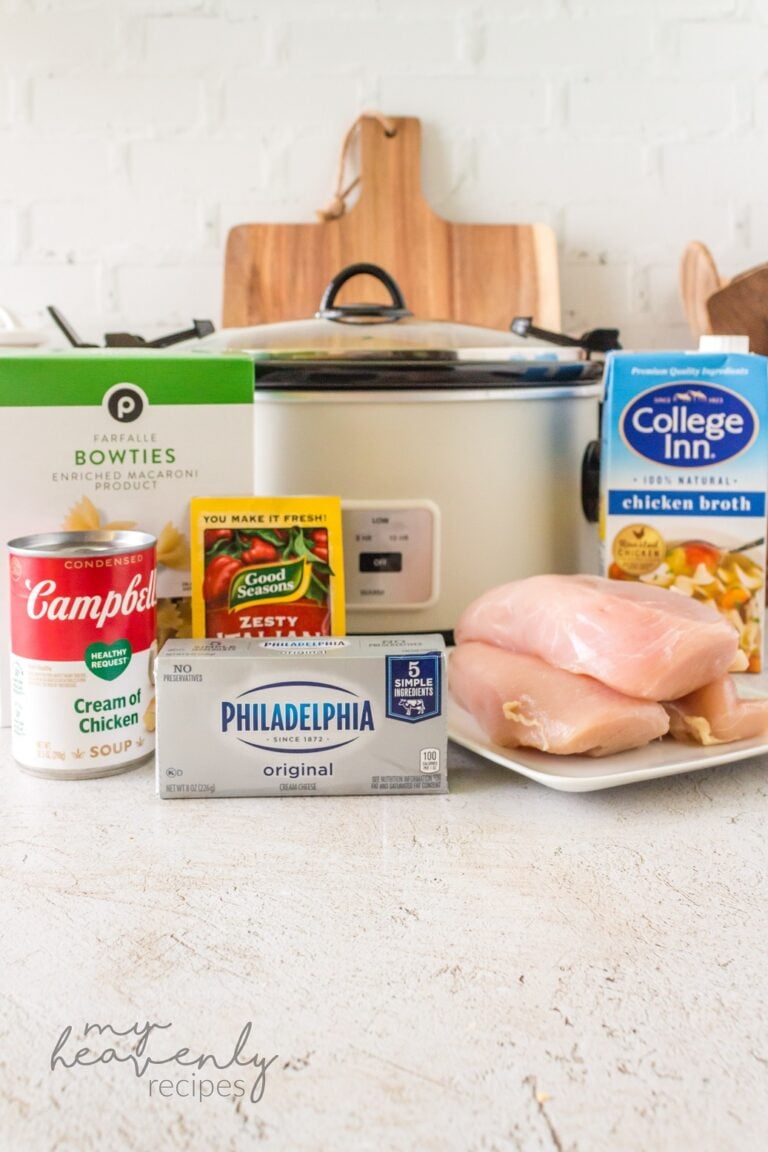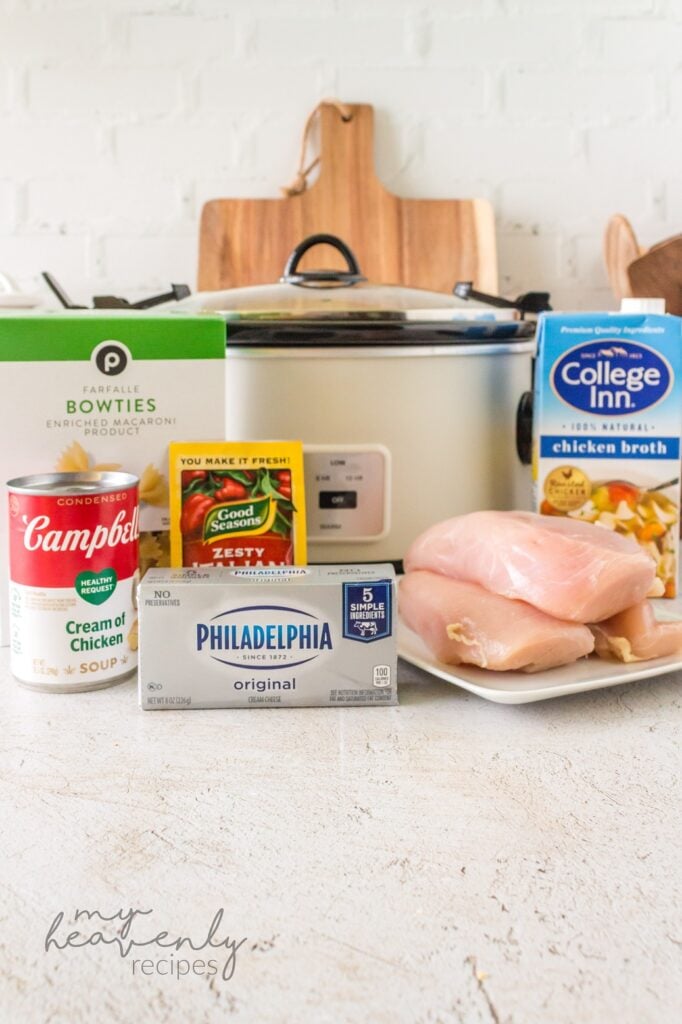 What ingredients do I need to make this creamy chicken pasta?
3 Boneless chicken breasts
1 envelope 0.6 oz. Zesty Italian dressing
Condensed cream of chicken
Chicken broth
Half a block of cream cheese
16 oz bow tie noodles (or any really)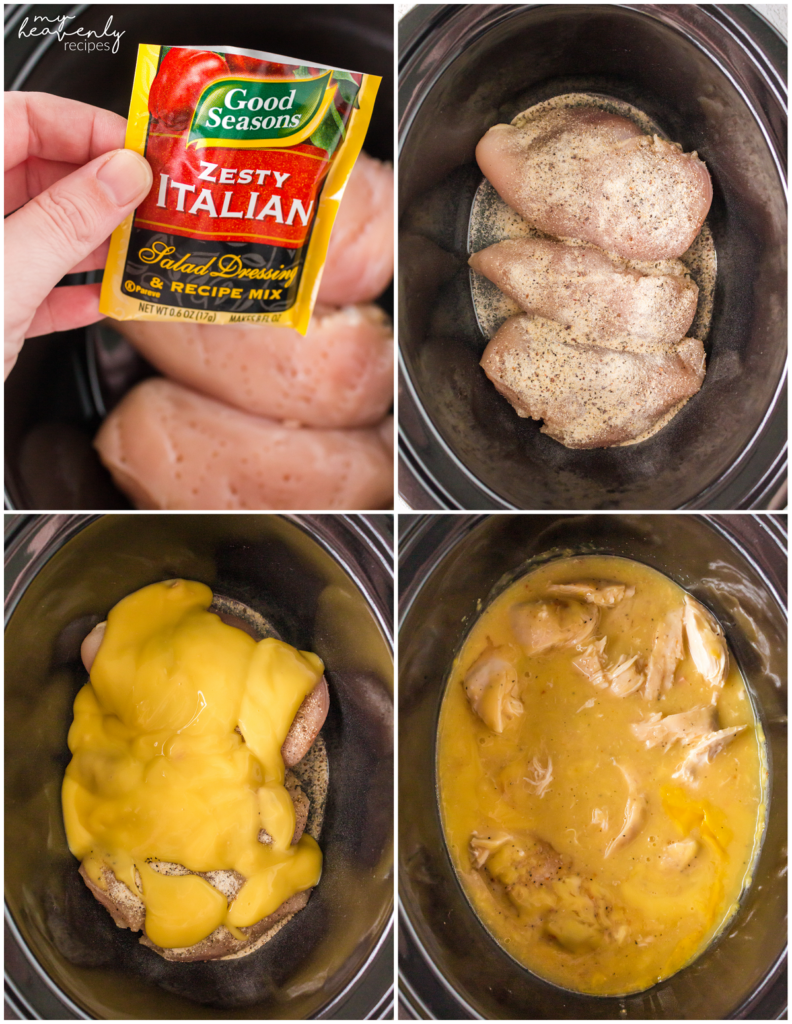 Important: When mixing the pasta with the chicken cream, serve immediately. Don't keep on warm as it will still cook the pasta and when you get to it the pasta will be overcooked and mushy.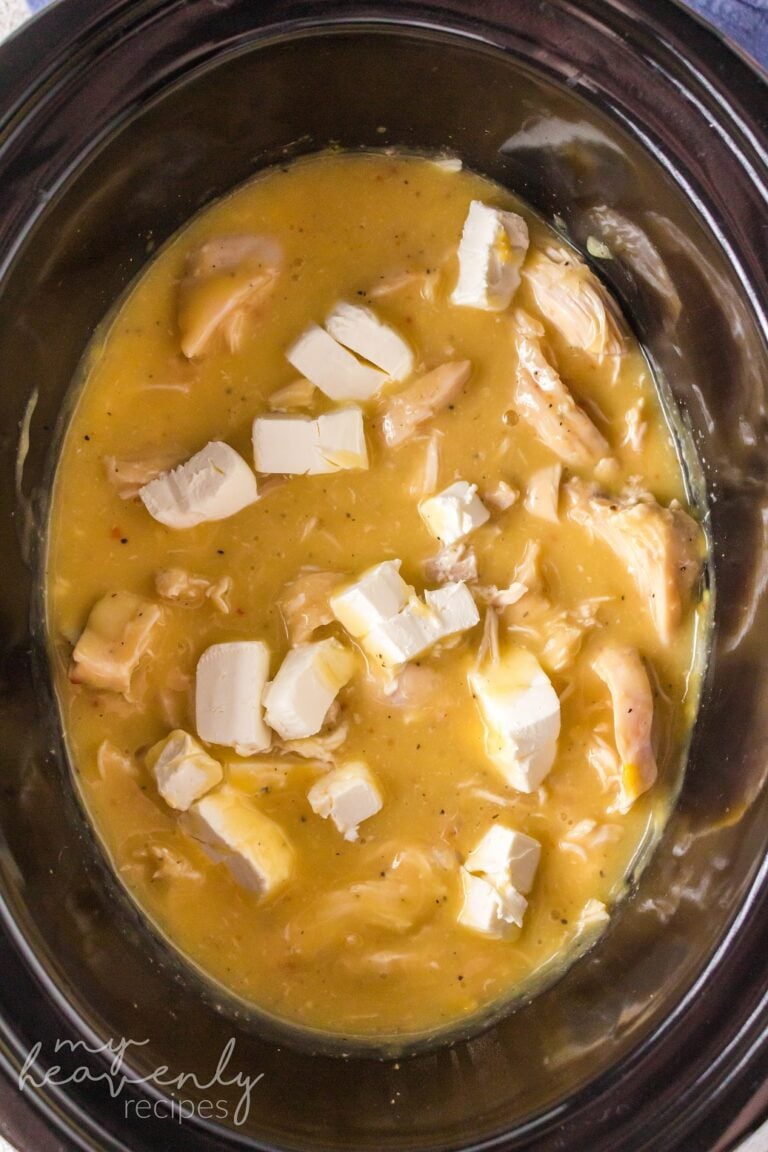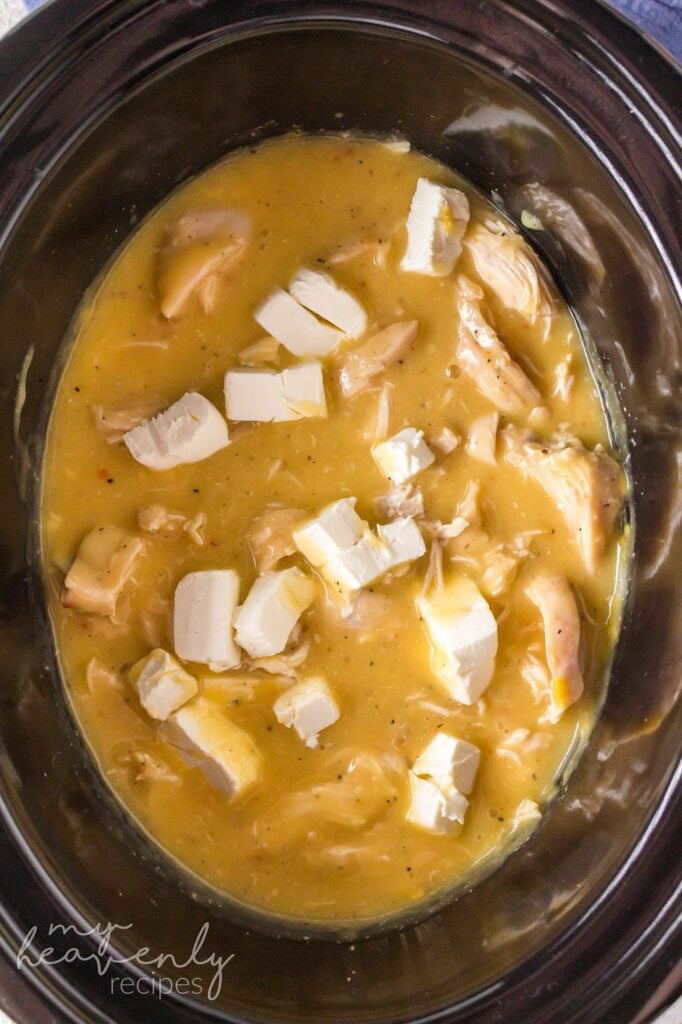 Side dish: Add some veggies to the pasta, serve with a side salad (we did Ceasar and the kids had a veggie salad), grilled asparagus
Use leftovers: Leftovers of this recipe were even better the next day. You can easily warm them up in the microwave or in a pan. We also tested it out in the air fryer. Placed my portion in a Ramekin, sprinkled some cheese on top and warmed it up at 330 degrees F for 4 to 5 minutes which was warm enough for me.
Storage: Store the leftovers in an airtight container in the fridge for up to 5 days.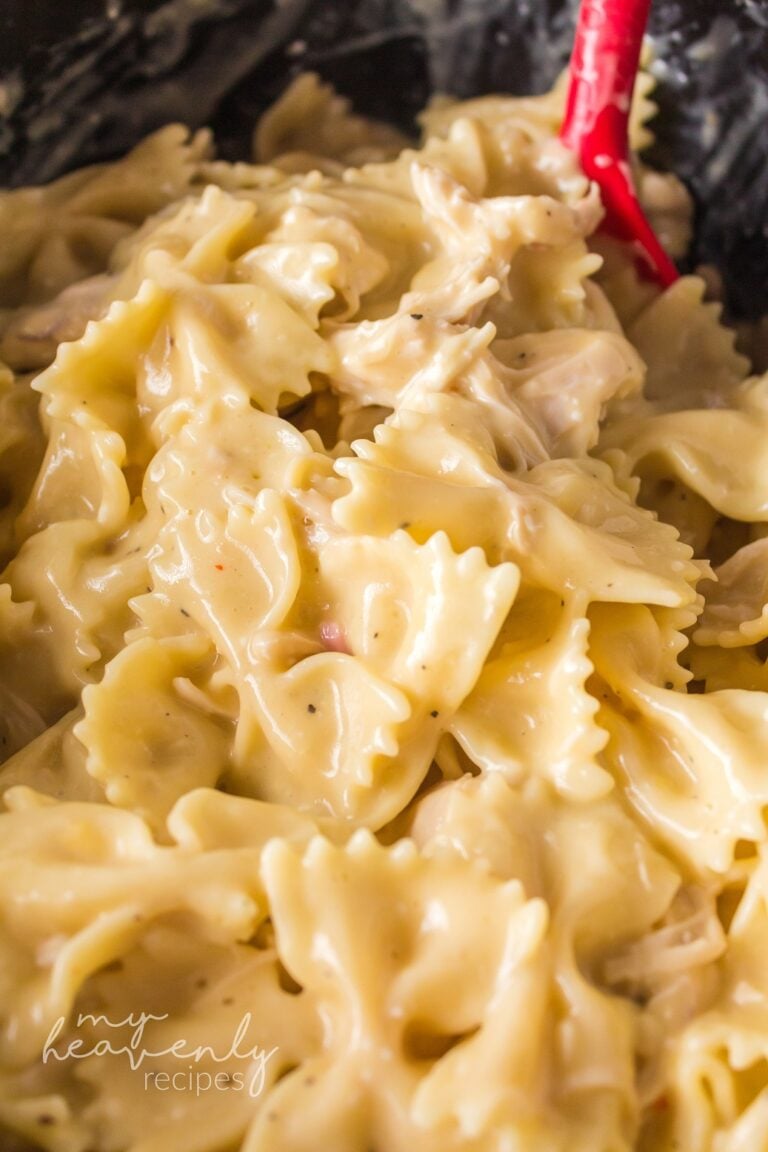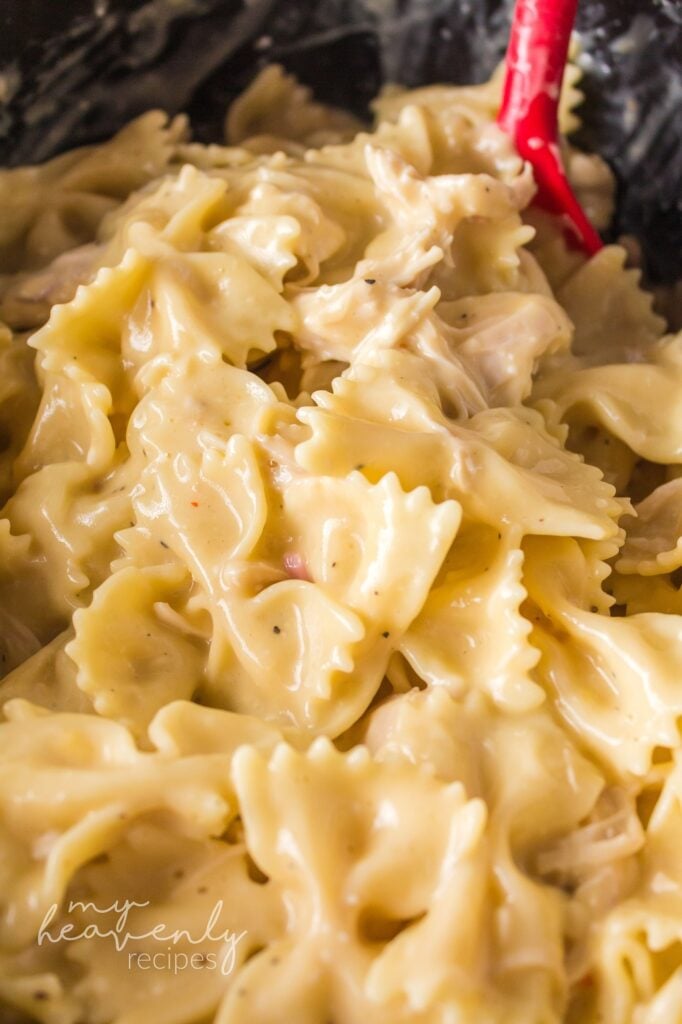 Have fun with the recipe:
Make it spicy: Add a pinch of cayenne pepper, red pepper flakes
Make it kid-friendly: Sprinkle some cheese on top when serving and add their favorite vegetable to the pasta.
Make it Deluxe: When serving add some fresh herbs or sprinkle some fresh grated Parmigiano.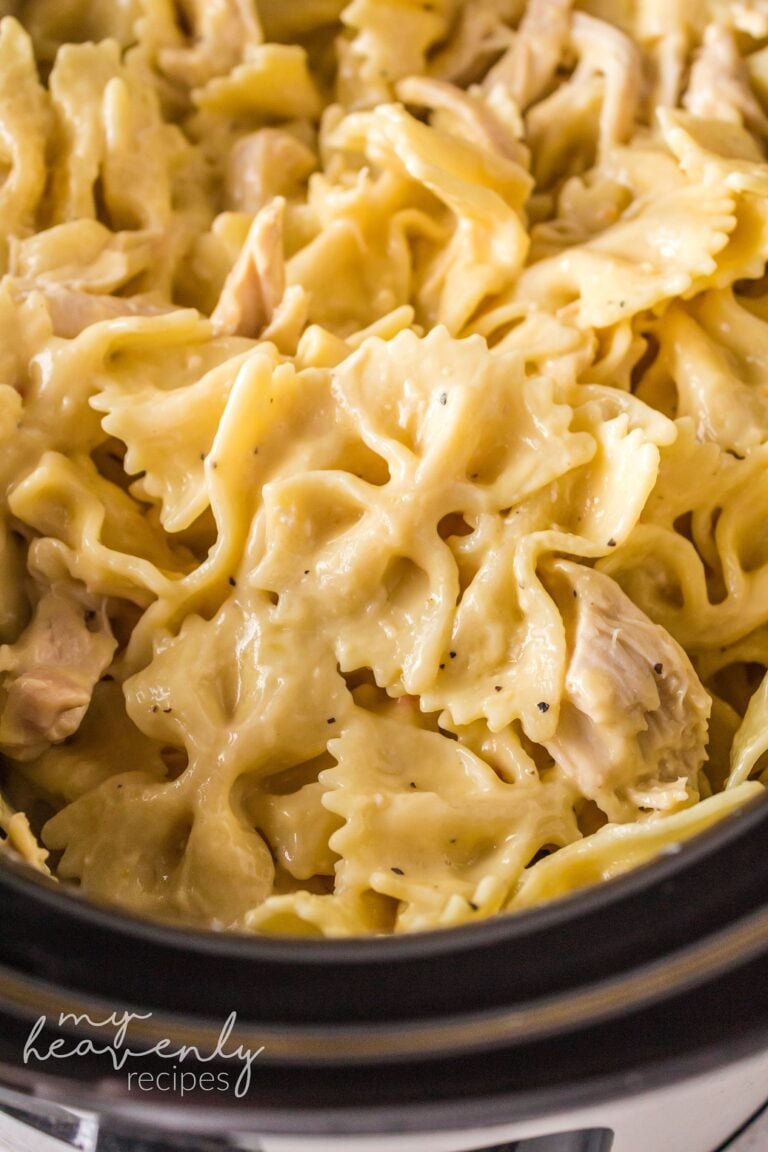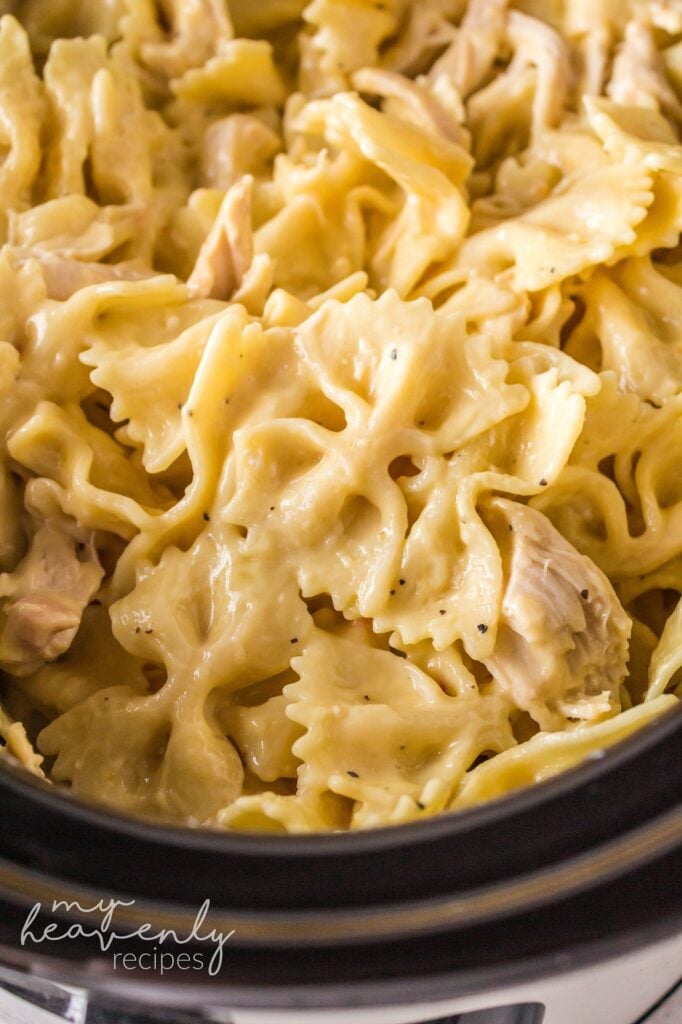 Crockpot Zesty Italian Chicken Pasta
Ingredients
2

pounds

about 3, skinless, boneless chicken breasts

1

envelope

0.6 oz. Zesty Italian dressing

2

cans

10.5 oz. condensed cream of chicken

⅓

cup

chicken broth

4

oz

half a block cream cheese, room temperature

1

box

16 oz. cooked pasta. I used bow ties
Instructions
Place the chicken breasts in the slow cooker liner.

Poke each breast with a fork 3 to 4 times.

Sprinkle the zesty Italian dressing on the chicken breasts.

Add the condensed cream of chicken and chicken broth.

Cover the slow cooker and cook on high for 3 hours or until the chicken reaches an internal temperature of 165 degrees F.

30 minutes before the end of the cook, place your cream cheese on the counter. I have noticed if I bring my cream cheese to room temperature it will melt more evenly in the broth/cream.

Cook your pasta according to the directions on the package.

Once the chicken has reached 165 degrees F shred the chicken using 2 forks.

Add the cream cheese to the broth and cover for 10 extra minutes or until the cheese is melted.

Add the cooked pasta to the slow cooker. Mix to coat the pasta.

Serve immediately and Enjoy!