This post may contain affiliate links, read our
Disclosure Policy
for more information. As an Amazon Associate I earn from qualifying purchases, thank you!
How to Make Mini Egg Fudge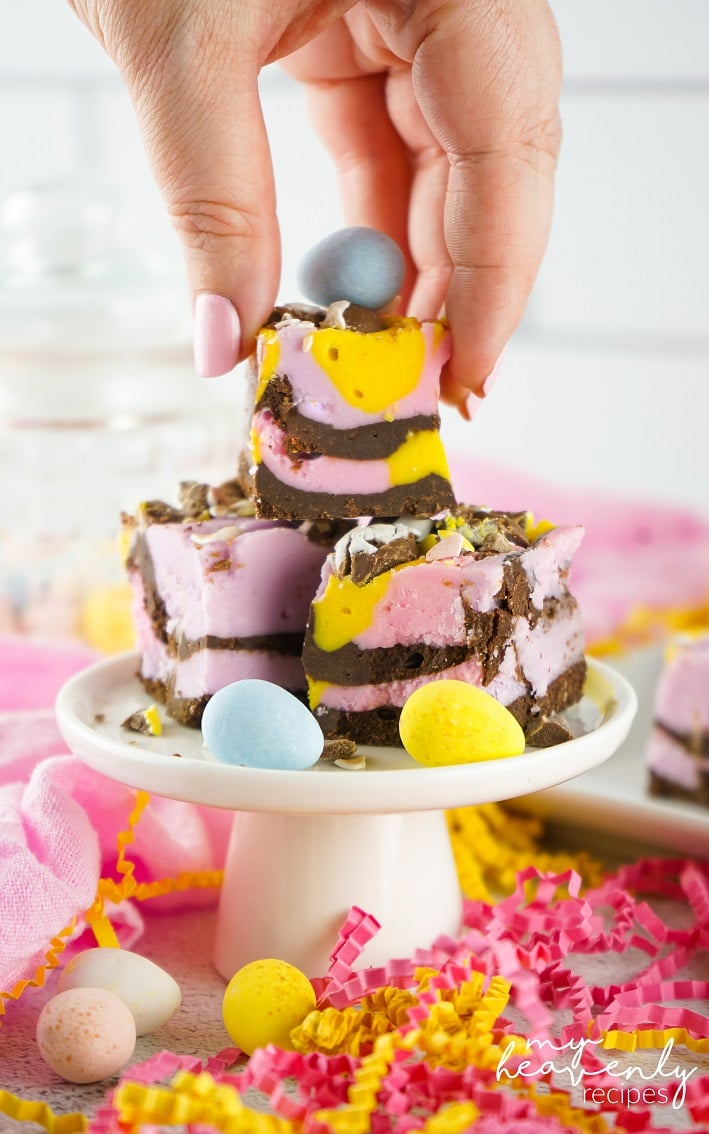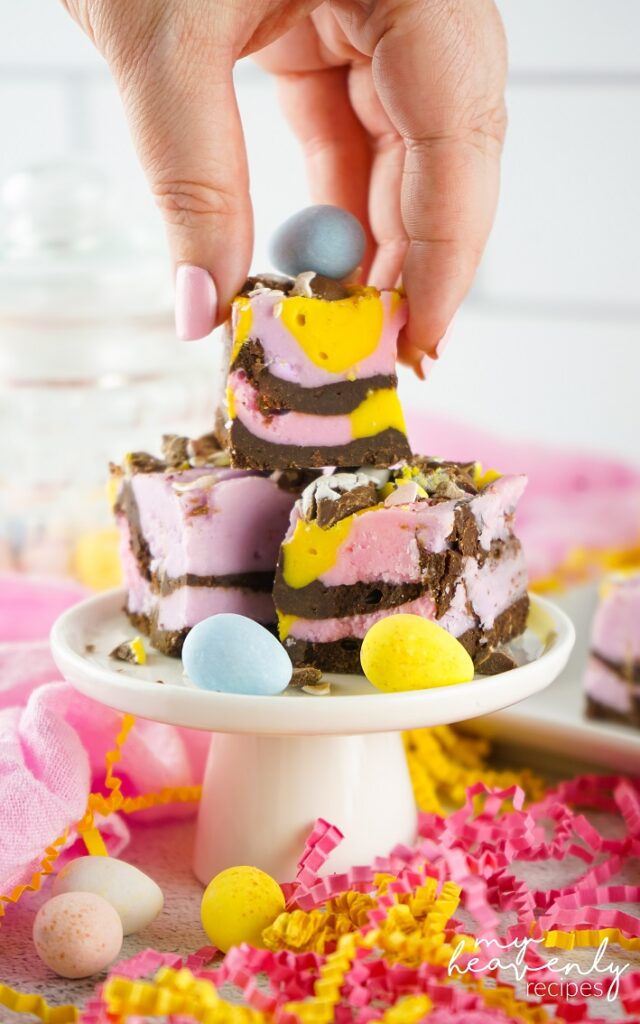 Looking for a fun and colorful Easter dessert idea!? Try our Easter egg fudge! It's so bright and tastes amazing!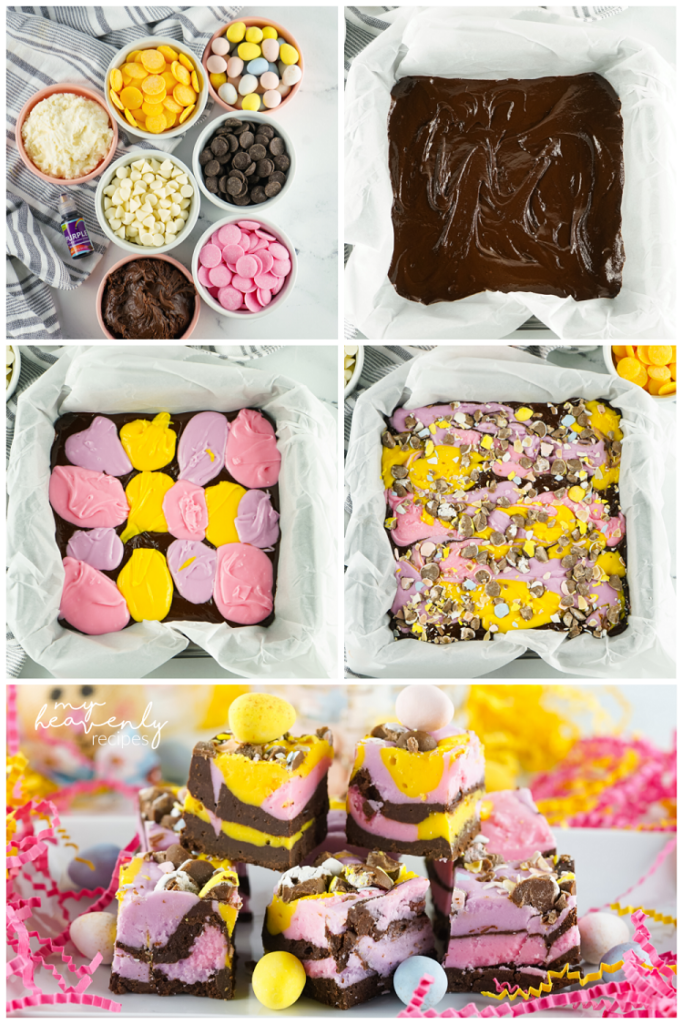 Who doesn't love Cadbury mini eggs for Easter? They give the perfect crunch to the fudge.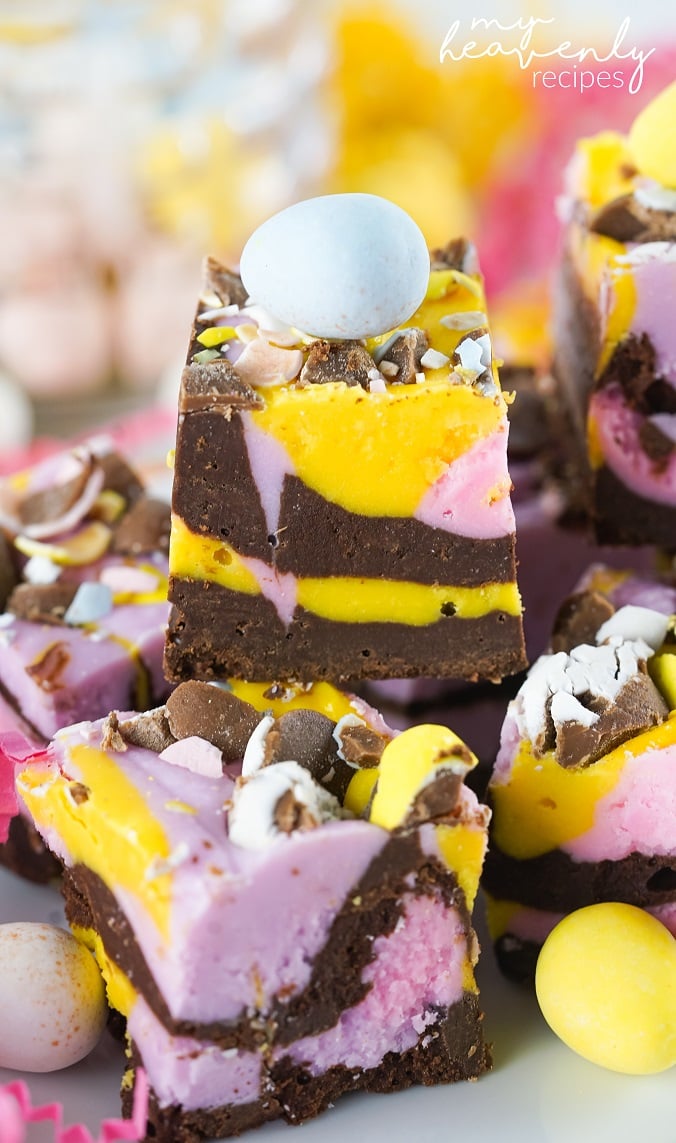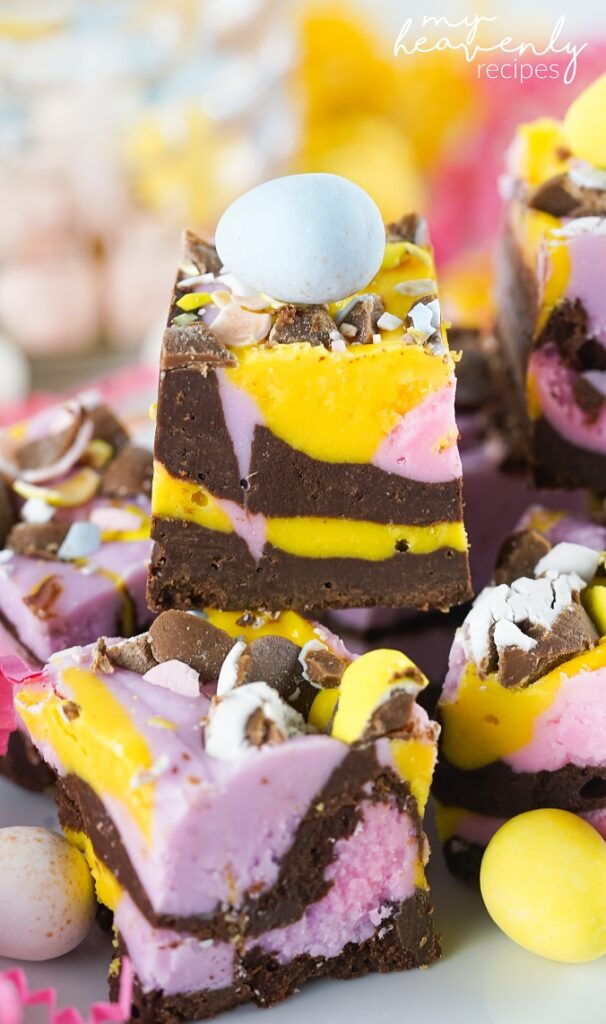 You can choose any colors you'd like using candy melts to make a couple batches. These look fantastic on a white platter for an Easter party. Enjoy!
Easter Fudge
Make some pretty pastel easter egg fudge using cadbury mini eggs and chocolates!
Ingredients
Ingredients:
1 ½

Cups

Chocolate Chips

1

Container Chocolate Frosting

16 ounces

1

Container Buttercream Frosting

16 Ounces

½

Cup

Light Pink Candy Melts

½

Cup

Yellow Candy Melts

½

Cup

White Chocolate Chips

¼

Cup

Mini Chocolate Eggs

2

Drops Purple Oil Based Food Coloring
Instructions
Place all four types of chocolate in their own, medium, microwave-safe bowl. Microwave each one for 2-3 minutes, stirring every 30 seconds so they don't burn, until they're smooth, without lumps, when stirred.

Remove the lids and foil from the frosting containers and place them in the microwave for one minute, one at a time. Stir well.

Place a third of the frosting in the pink, a third in the yellow, and a third in the white. Mix each color vigorously and until fully combined.

Add the chocolate frosting to the chocolate chips and stir vigorously.

For the white, add the purple food coloring and stir until no color streaks appear.

Line a 9×9 pan with parchment paper. Start pouring in the colors, starting with the dark chocolate, and alternate for about 3 different rounds, making sure to tap the entire pan with each layer to make it settle.

Place the mini chocolate eggs in a baggie and beat with a rolling pin or similar item until they're small chunks.

Sprinkle over the top of the fudge and lightly press the pieces into the fudge.

Place the fudge in the fridge for about 3 hours or until solidified.

Slice into 1×1 squares or chunks and enjoy!
Notes
Tips:
You can remove the food coloring and white chocolate chips in place of light purple candy melts, if you can find them. I didn't have luck finding them at my local stores, but they could possibly be ordered online, if you find that easier.
I used dark chocolate chips, as I like those better. However, you can use milk chocolate if preferred. You could even use white chips!
If your chocolate turns out dry or hard, it means too much chocolate was used. Be sure to measure out your ingredients as too much chocolate will make the fudge crumbly.
Your chocolate will seize just a little when the frosting is added. This is normal and actually makes it easier for you to spoon out portions to mix up the coloring.
If desired, add some flavored extract to the frosting after it's been melted and stir well. This will give your fudge a nice flavor beyond just chocolate.
Be sure to use oil based food coloring and not water based. If you don't, your chocolate will seize and be unusable.
If you're not getting the shade of purple you want from the oil based food dye, try adding a couple drops of blue. This should get a better purple, if need be.