This post may contain affiliate links, read our
Disclosure Policy
for more information. As an Amazon Associate I earn from qualifying purchases, thank you!
This Gingerbread Man Parts & Snowman Craft will be so much fun for the kids to make during their holiday break!  I like to make these and pass them out to my kids' classmates at their holiday party so that they have fun stuff to do after school ends.  They are also fun for kids to do during playdates during the holiday season.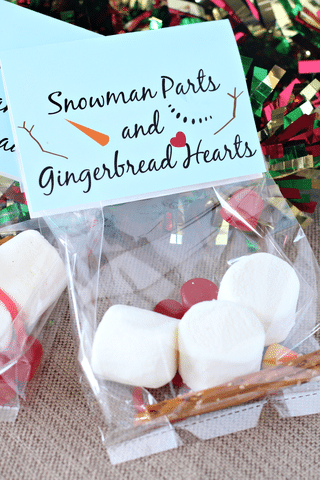 I love to keeping fun crafts on hand for the kids and this Gingerbread Man Parts & Snowman Craft is perfect for this time of year!  I mean, what kid doesn't love snowmen?  They are so much fun to build in real life, as a craft, or as food!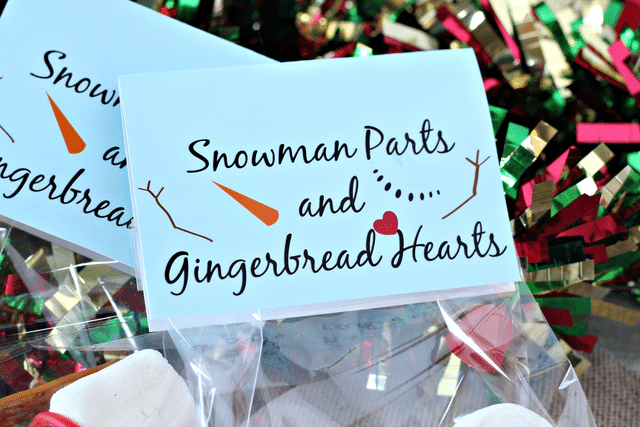 Gingerbread Man Parts & Snowman Craft is fun for adults to get into as well!  If you are one of those parents that like to get involved in activities with your kiddo, this is a great one to do together.  It's lots of fun for everyone!
Will Gingerbread Man Parts & Snowman Craft be a good gift? Yes, it will!  Not only do I like handing these craft kits out to my kids' classmates, but I also really enjoy giving them as gifts to neighbor kids, nieces and nephews, and friends' kids.  They are inexpensive to give and they keep the kids busy having fun!
WHY IT WORKS:
It's a fun craft for kids to do with friends, with mom and dad or even by themselves.

A great goodie bag gift to hand out during kids' holiday parties.

You can hand them out as gifts to kids in your life.  They will love this fun holiday craft that keeps them busy.
CRAFT VARIATIONS:
The beauty of the kids having these little craft kits is that they can create them however they want.  Following the rules is great, but be sure to let their creativity shine through.
CRAFTER'S TIPS:
Be sure to keep the kit at room temperature until it's time to create.  You don't want your marshmallows too soft!
WHAT YOU'LL NEED TO MAKE GINGERBREAD MAN PARTS & SNOWMAN CRAFT



Printable Provided
Plastic Treat Bags
Marshmallows
Pretzel Sticks
Red "Dots" Candy
Twizzlers Pull and Peel
Candy Corn
Mini Chocolate Chips
Glue Stick
Tape
HOW TO MAKE GINGERBREAD MAN PARTS & SNOWMAN CRAFT

Start by saving the printable provided to your phone.

Use your local supermarket to make "instant prints". Print off as many as you need. (Best if printed in 4×6, but can go as large at 5×7.)
Fill each treat bag with 3 marshmallows, 2 pretzel sticks, 1 candy corn, ½ of a twizzlers pull and peel strand,  and several mini chocolate chips.

Fold the top of the plastic bag down half way and tape it to secure.
Flip your printable over and cover entire backside with glue.

Lay the top of your bag down on the glue, about ½ up the printable.

Fold the printable in half, and press all sides down to secure.
Let the glue dry completely.

Pass out treat bags and let the kiddos enjoy building snowmen!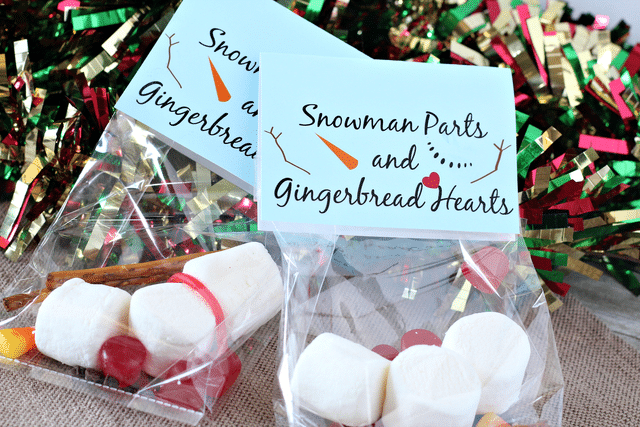 Other Holiday Recipes and Crafts You'll Love: