This post may contain affiliate links, read our
Disclosure Policy
for more information. As an Amazon Associate I earn from qualifying purchases, thank you!
Our Playroom Makeover is FINALLY ready for you to come check it out! C'mon in, pull up a seat, let me grab you a drink and let me show you some playroom ideas that won't break the bank!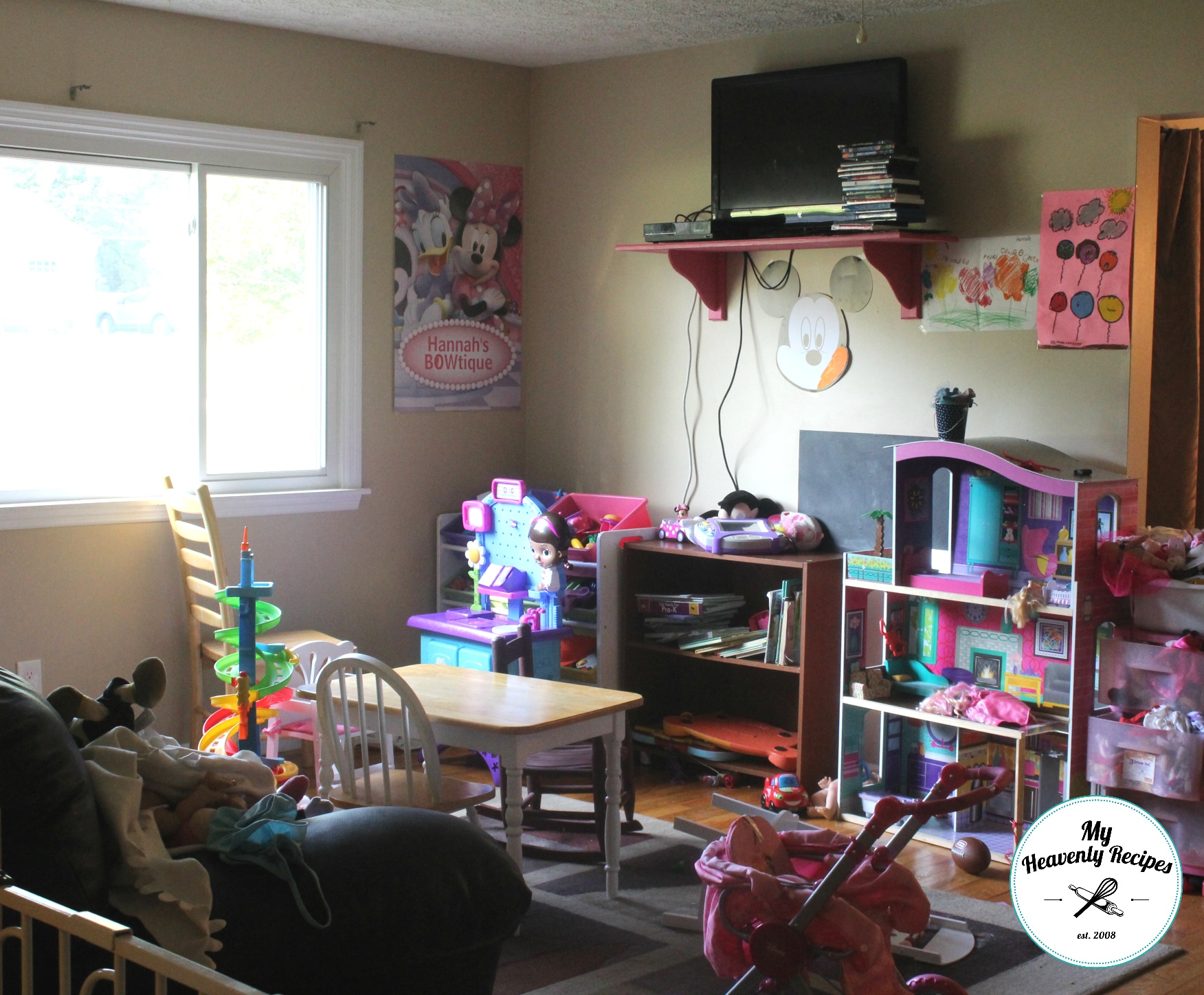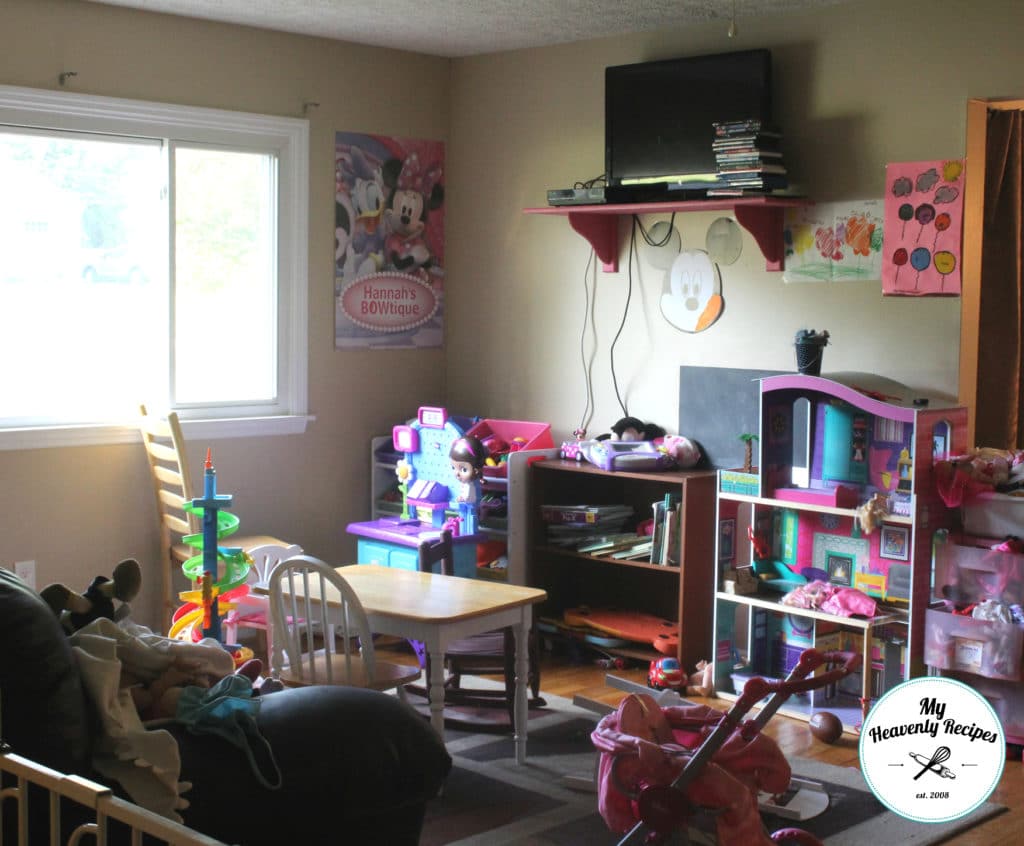 Alright ya'll. Are you ready for this?!? I know I was!!!
This is what our Playroom looked like before. It was a hot mess. There was shit EVERYWHERE. I couldn't take it any longer. So what else does a Mom do right after Christmas?!? That's right….head to IKEA!
Now I want to tell you prior to this I had never been to Ikea. I had been on Pinterest and saw that some of these amazing DIY women were taking the Billie Bookcases and turning them into built ins. Originally that was my plan too….until I walked around the entire store and got an idea.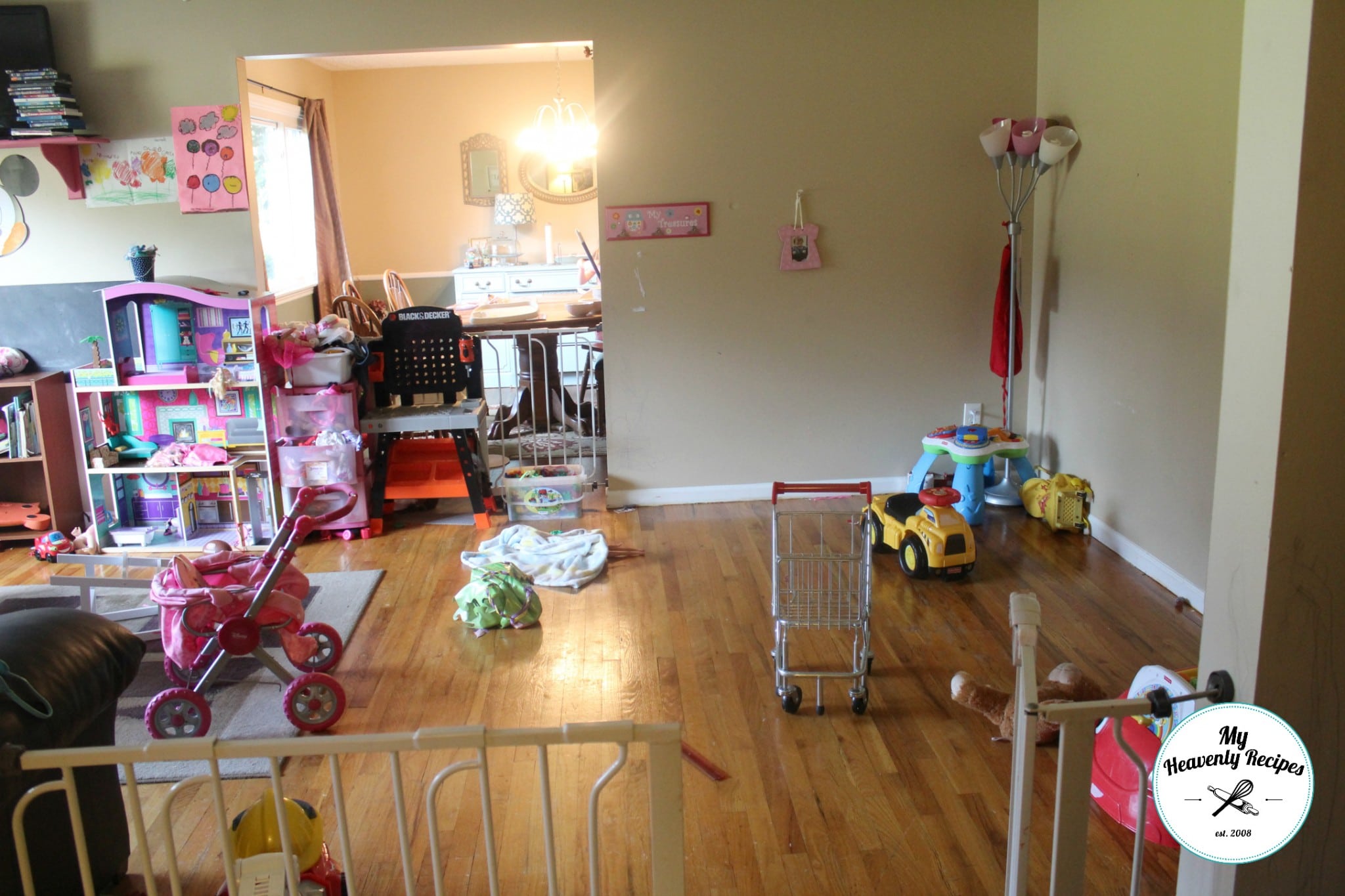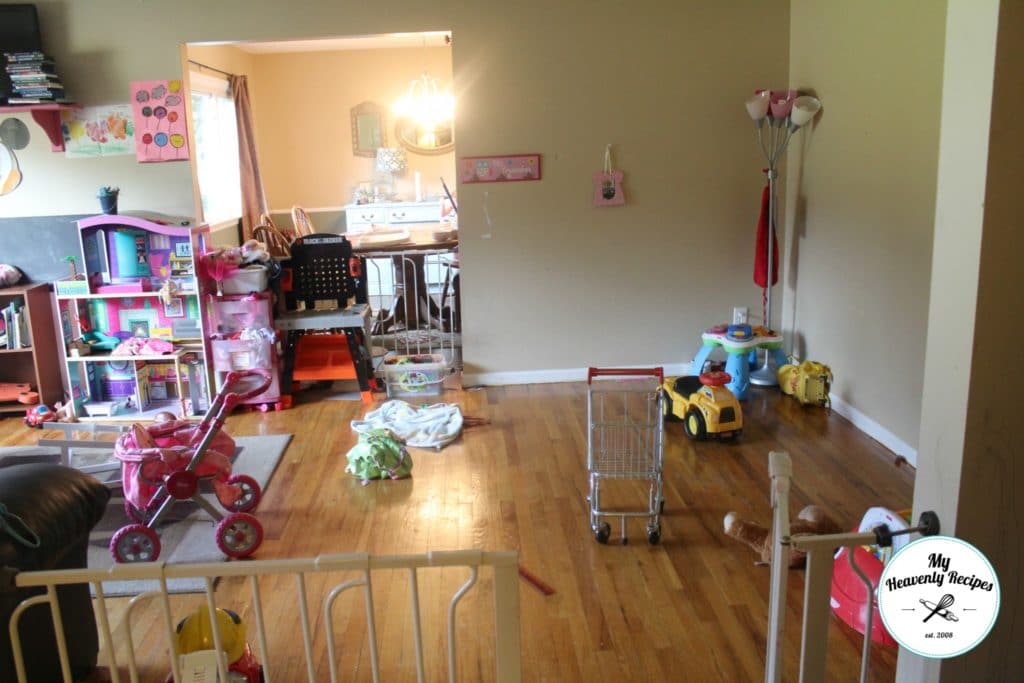 Now my ideas are typically pretty elaborate plans that I have in my head. When it comes to executing them, I often seek help from the Hubster…I mean he is my partner 'n crime and he should totally get these whacky ass ideas right?!? I'm pretty sure that's why he put a ring on it afterall 😉
Once I told him my plan he began to see the light! He had tried talking me into the SEKTION kitchen cabinets with the HAGGEBY door, but, it just wasn't my style. It was to modern, to sleek, to clean lined. It just wouldn't have matched the style and decor of my home. It would've been out of place.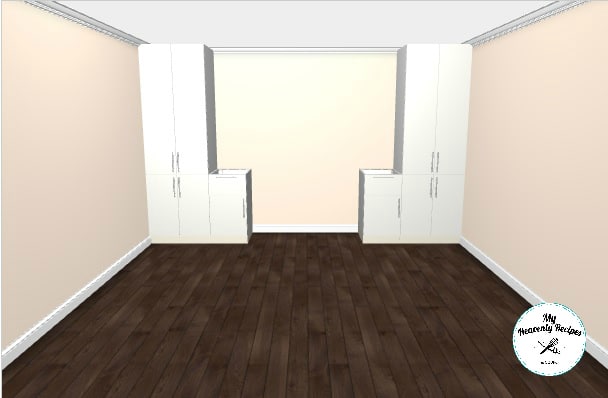 I ended up designing what Jas was after on the Ikea Home Planner, but, I couldn't justify the price with the doors that I was wanting. With the HAGGEBY doors the price was at $907 for everything in the picture above. So I changed out just the fronts to something more my style of country/rustic/sabby chic and the price went up to $1,575.
I was bummed. I started walking around and came upon the "Wardrobe" section. This is when I had my aha moment 😉 I came across the PAX System. The design was pretty close to the GRIMSLOV doors that I loved, but, for a fraction of the cost. However, I was loosing the height going all the way to the ceiling. My original idea was just to trim in the top with the Kitchen System since they were just 2″ shy of the ceiling. However, with the PAX system I was loosing the height by around 8″. Now for the price it justified it. Not to mention, nobody but Jas could reach up that high anyway. I already have a stool in every room in the house…I don't want one in the Playroom!
At the end of the day I chose the PAX Wardrobe Tyssedal white and ended up paying just under $1,000. I was able to design the inside of the cabinets how I wanted and can't be any happier with it, especially for the price. I made the one cabinet accessible for smaller toys, threw the girls Barbie Bin inside and able to hang up all of their play clothes. On the other side it's for for larger toys, a large toy bins, games, etc. Once it's clean up time the kids put everything away in the "cabinets" and Mommy is happy because I'm not tripping over toys!
Now this entire time I knew I wanted to also have a desk within the playroom. Whether I end up home schooling, kids wanting to color or do homework, etc. this gave them that space. I also added the ALEX Drawer cabinet unit which was $79 to help support the "butcher block top" that I also purchased at IKEA for a crazy $60 for a 6 foot piece 😉
I am so glad that I am a "grease monkey". Can I just ask what the hell is up with the pictures when it comes to building Ikea stuff? For the love…
I had Jas help me build this "box" to try and connect the two pieces and also house the cable box and dvd player. However, I think that baby is coming down and going to be replaced with something else….I just haven't figured out with what yet….any ideas?!?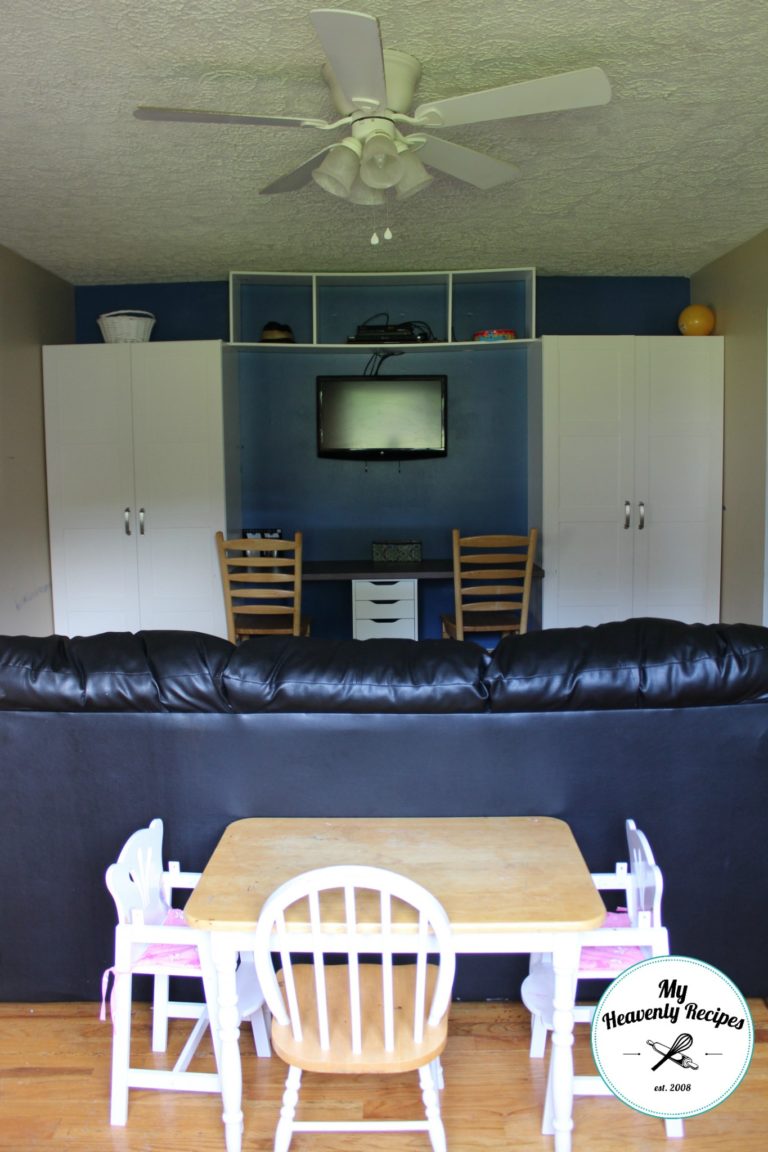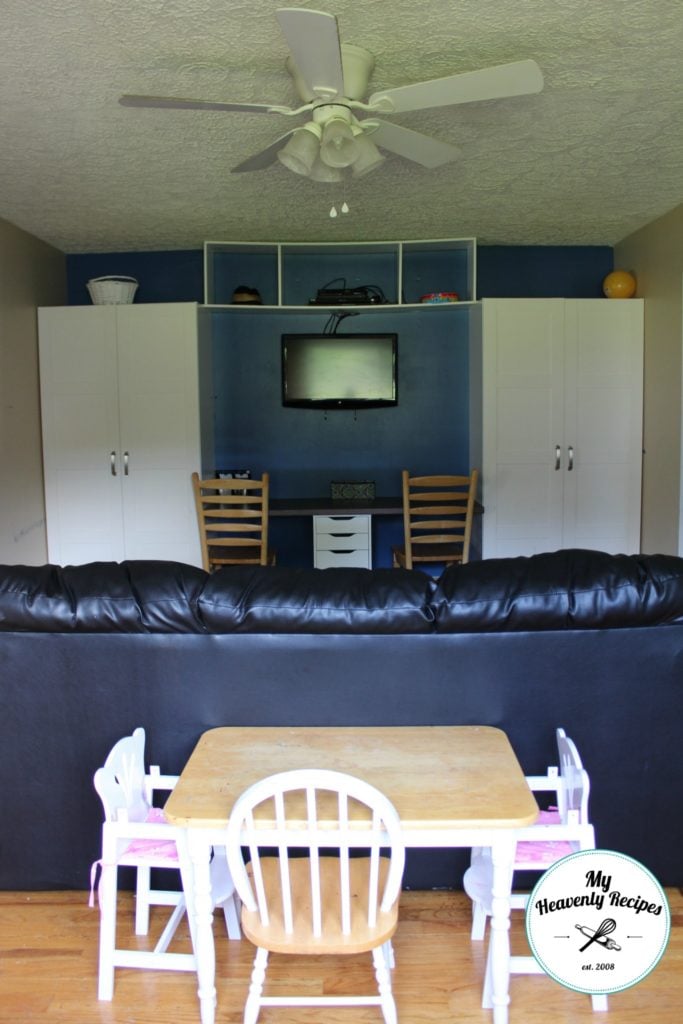 Check out the Playroom Table Makeover that I did for just a few bucks!
I LOVE the playroom makeover and how it turned out. The toys are kept at bay and I don't have to see it all. I hope to get the floors done sometime soon to match the stain in the dining room and get a new area rug….the current one is covered in Playdoh!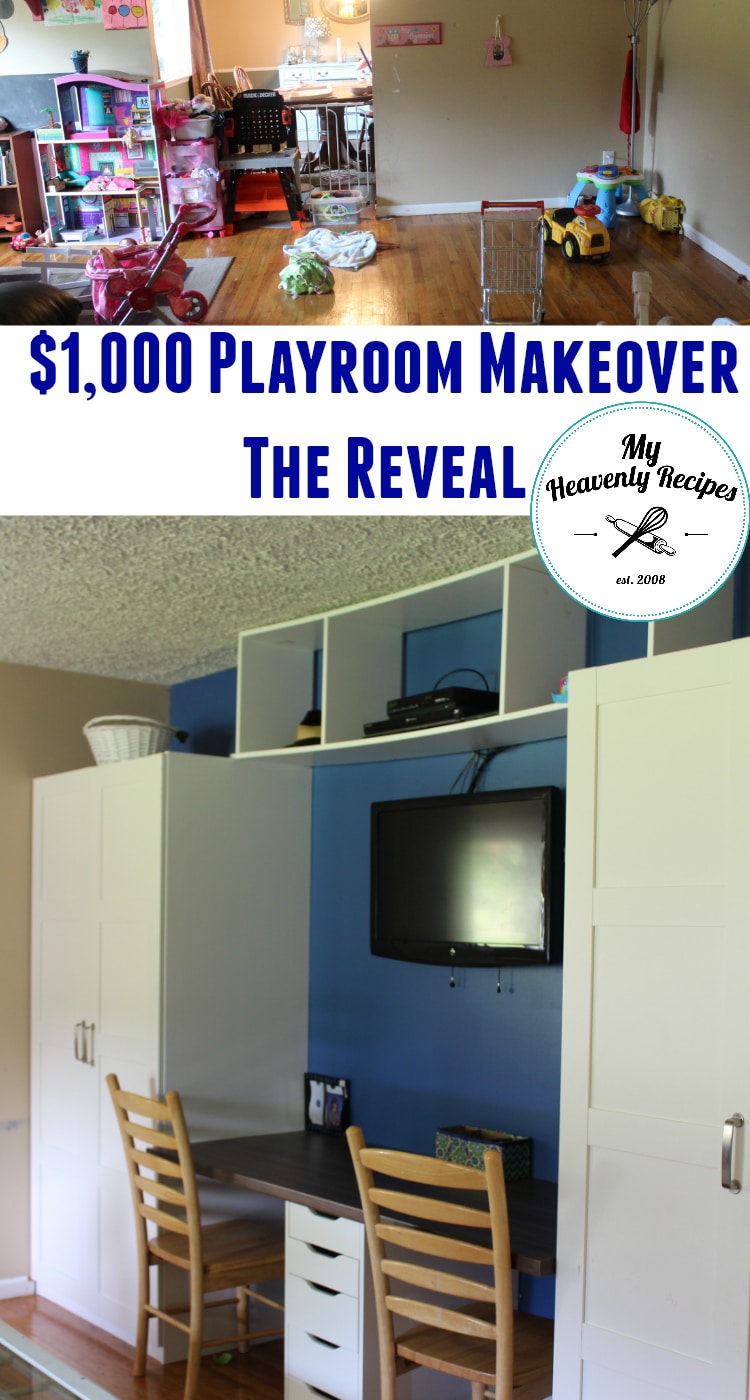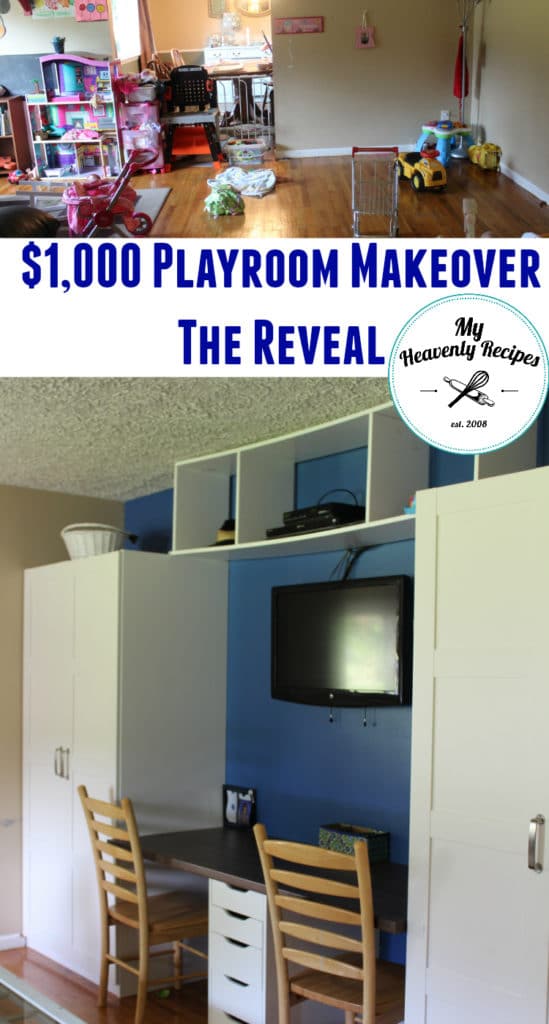 I'm beyond thrilled with how all this came out. It has been dragging on now for about a year, but, I've also been dealing with my foot injury and surgery. I'm so glad that I finally got to write this all up for you and hope that it inspires you to recreate this in your own home and make it work for you. Sure the bookcases are a lot cheaper, but, at the end of the day everything is typically organized and put away…and Momma doesn't have to see it!