This post may contain affiliate links, read our
Disclosure Policy
for more information. As an Amazon Associate I earn from qualifying purchases, thank you!
Sausage Hash is a savory breakfast recipe that the entire family will agree is perfectly delicious!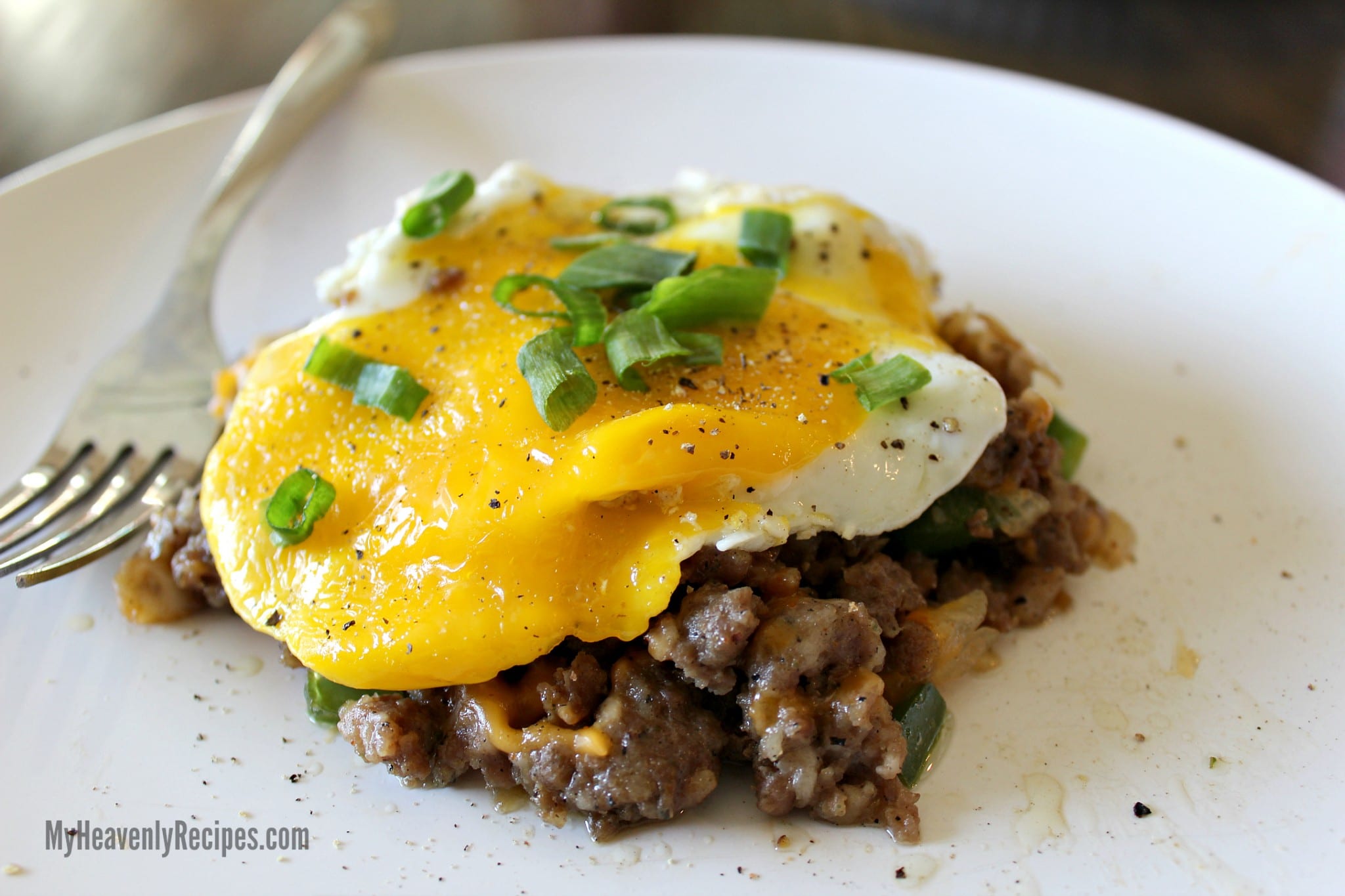 Alright guys. There are recipes that you just wing, and this Sausage Hash is one of them.
It was a Sunday morning when all was calm in the house. I was sitting in my spot on the couch enjoying a nice cup of coffee while gathering recipes that I needed to create for ya'll. The Husband woke with the children and all hell broke loose. One of the littles was screaming for DUNKIN DONUTS. One was asking for biscuits and gravy and the other one asked for sausage hash.
There was no winning this battle….at all!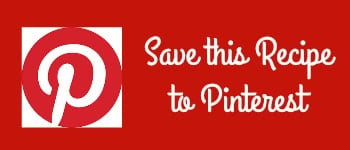 So Jas made sausage, toast and eggs along with some oranges. Oranges make the world right in our house! It's our calming food and one that everyone always agrees on. Since I still can't stand on my leg for long, I suggested he make this recipe and I'm so glad that he listens. 🙂 It was pretty damn good.
How do you make sausage hash?
Now we didn't have hash browns or any sort of potato in the house, but, I recommend serving sausage hash over the top of some sort of potato for a more filling breakfast…that was my initial idea.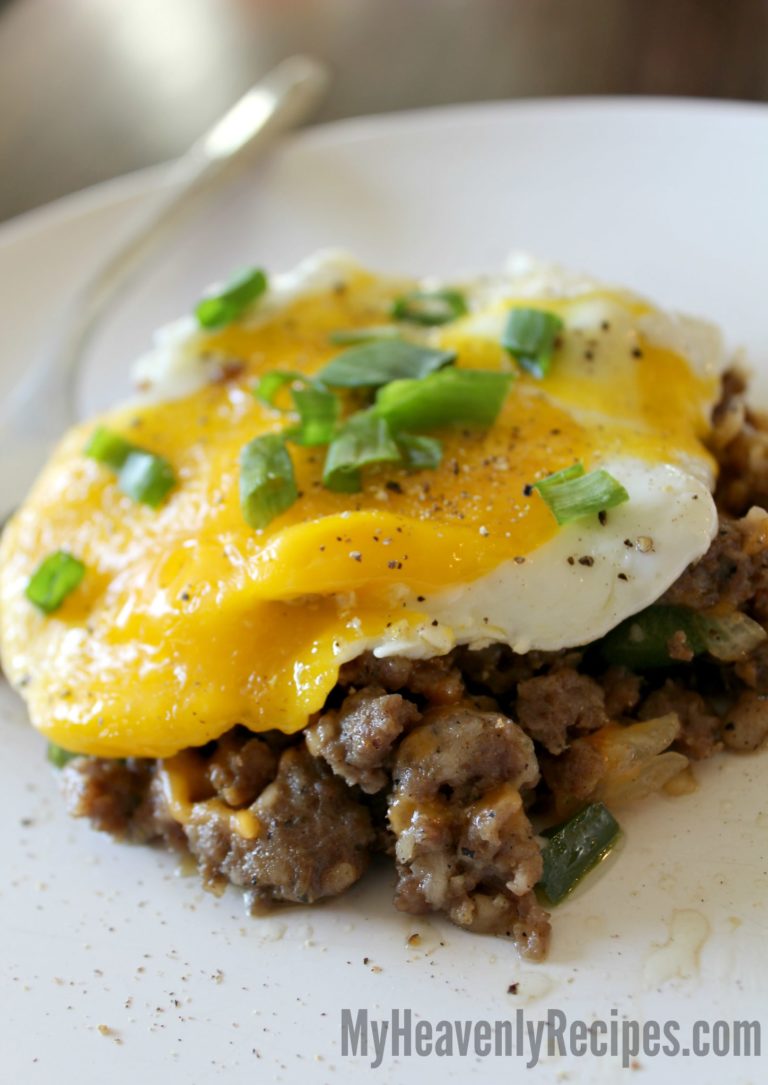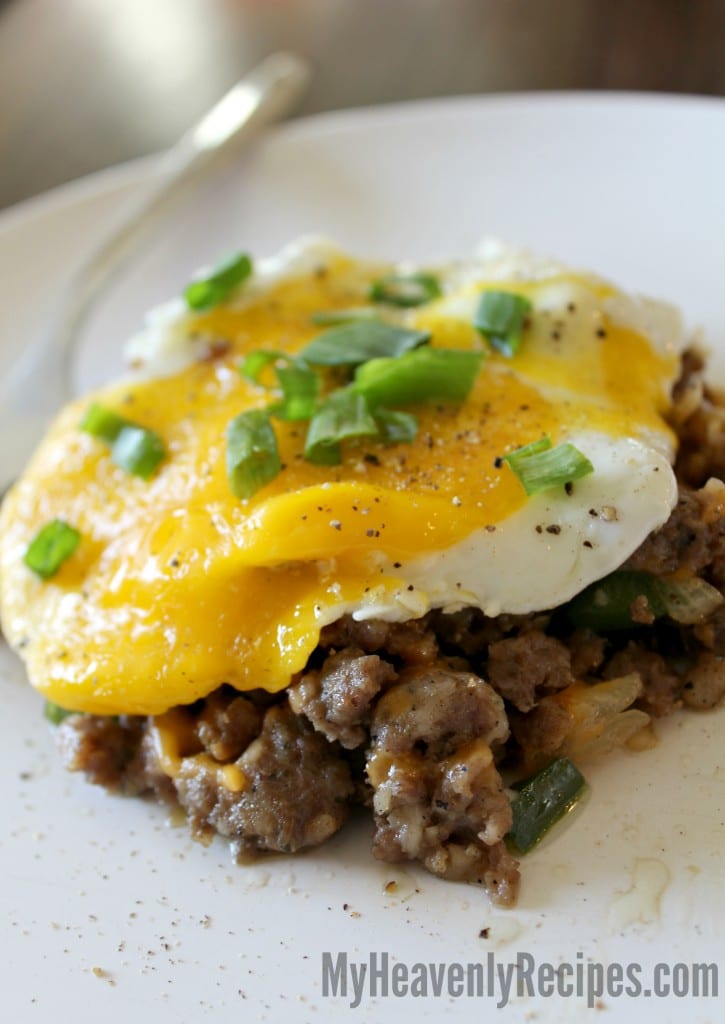 However, if you don't have any potatoes, you can very easily serve this savory breakfast hash with homemade biscuits, in a whole wheat tortilla or just plain like we did.
Sausage hash has quickly become a great breakfast recipe that we've doubled up on. It makes for a quick and easy breakfast on crazy mornings!
More Sausage Recipes to Try:
WW FreeStyle Plan: 7 SmartPoints per serving
Sausage Hash
Sausage Hash is a savory breakfast recipe that the entire family will agree is perfectly delicious!
Ingredients
1

Roll Bob Evans Sausage

1

Green Onion

Diced

1

Yellow Onion

Diced

Pinch

or two of Shredded Cheese

Salt & Pepper to Taste

Cooked Egg

Over Easy
Instructions
In a large skillet cook green peppers and onion in skillet. After 4-5 minutes add in sausage and brown, drain.

While sausage mixture is draining make eggs over easy with salt and pepper.

Enjoy over a biscuit, in a whole wheat tortilla or over potatoes!