This breakfast sandwich recipe comes together in 10 minutes for an easy breakfast that the whole family will love! Fluffy scrambled eggs, sausage and cheese, served on toast.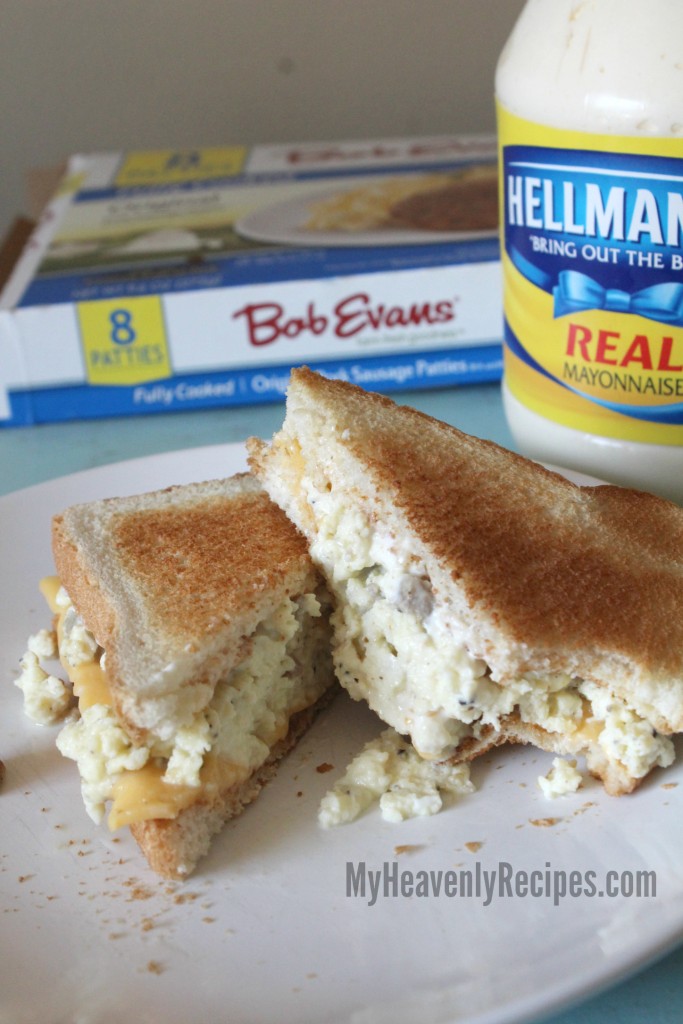 One of my all time favorite, quick and easy breakfasts are these Sausage, Egg and Cheese Breakfast Sandwiches.
When we lived at our first house it was a crazy time for Jason and I. Our lives were about to be changed forever with the arrival of our first daughter, new homeowners and J will still racing at the time as well as working on side jobs constantly.
Our lives were pretty damn chaotic and food was often eaten out. We ate out more times than you could count in a week. We were young, uneducated and just trying to live a fast paced life.
Fast forward to today – 8 years later – we are now in our 30's and all the wiser!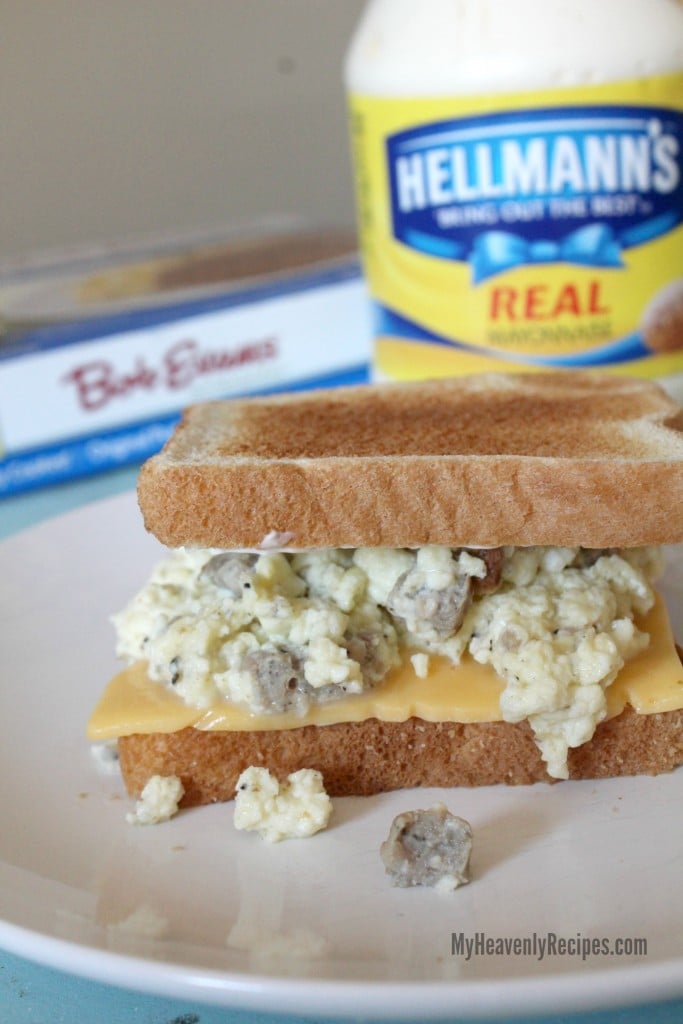 Now I will say that our kids don't eat eggs…I don't know why. I've tried. And tried. And tried again.
Adding cheese to the eggs.
Cream.
Fried eggs.
Scrambled.
Over Easy.
They just won't get down with eggs.
However, they will eat sausage and these Bob Evans Sausage Patties are their favorite. They are also mine because they literally cook up in 30 seconds. Plop a fruit salad and a piece of toast on their plate and they are happy campers….
Now I need a little extra at breakfast, so I created this Sausage, Egg and Cheese Breakfast Sandwich recipe. I used those ingredients because it literally was what we had on hand.
How to Make the Easy Breakfast Sandwich Recipe
You can create the breakfast sandwich recipe any way you like. For me, scrambling eggs is just quicker for these sandwiches. I throw the scrambled egg and diced sausage patties into the skillet and cook. While it's cooking, toast up a couple pieces of bread, slather it with mayo, place a piece of cheese and I'm almost done.
See how easy that was?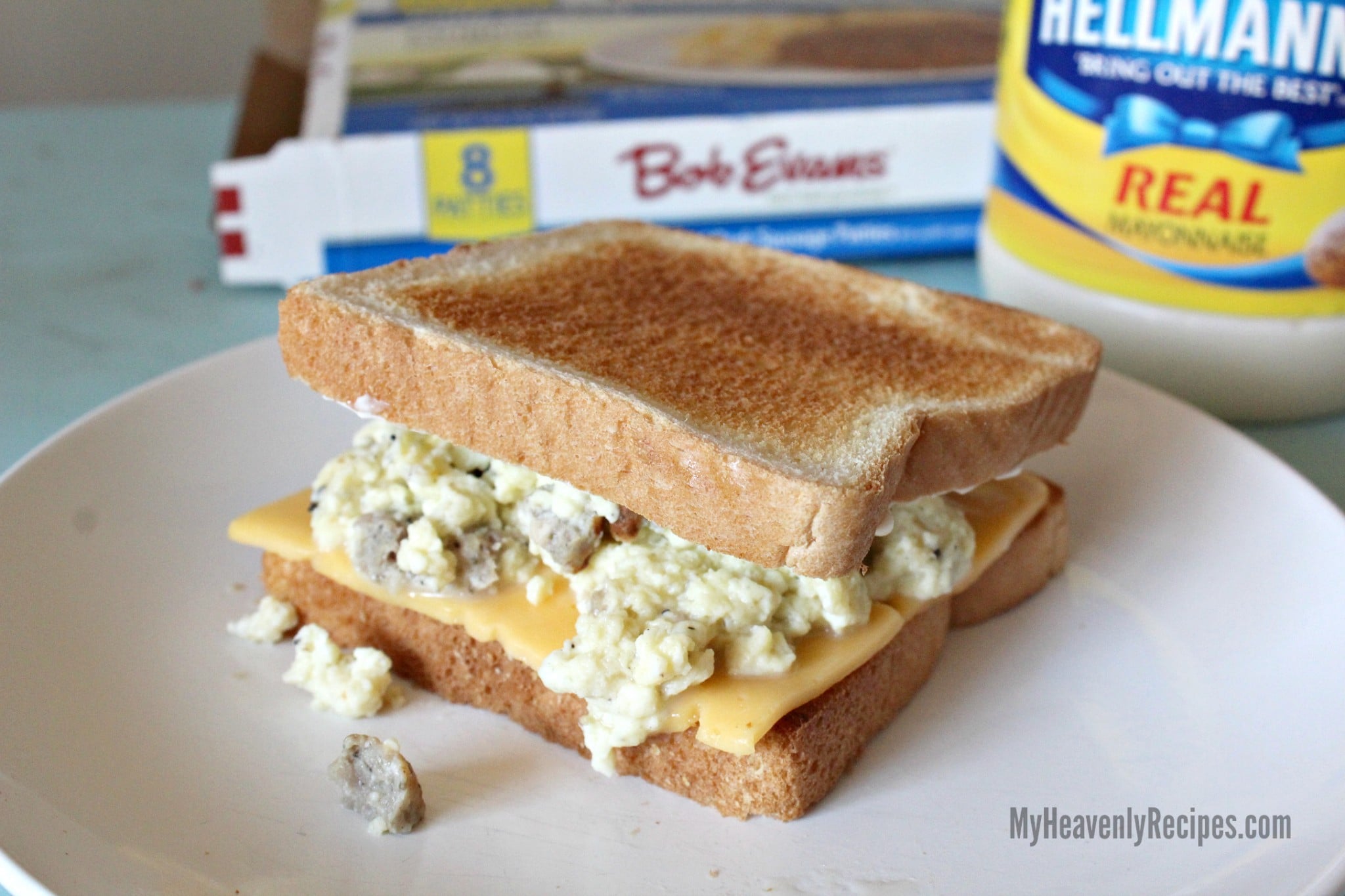 Now once the scrambled eggs cook up and the sausage is heated it's time to plate on the toast and create a sandwich for the each of us. I'll grab whatever fruit the scavengers didn't take and we eat.
I hope you enjoy this easy breakfast sandwich recipe!
Is that how it goes in your house too?!?
Breakfast Sandwich Recipe with Sausage
A quick and easy egg, cheese and sausage breakfast sandwich recipe that comes together in just 10 minutes!
Ingredients
4

Bob Evans Sausage Patties

diced

3

Eggs

1

C

Milk

4

Bread Slices

or tortillas

Salt and Pepper To Taste

2

Slices

American/Colby Cheese

1-2

TBSP

Hellman's Mayo
Instructions
In a large bowl whisk eggs and milk for scrambled eggs. Sprinkle with salt and pepper.

Place in skillet and cook with the diced Bob Evans Sausage Patties.

While the eggs and sausage are cooking toast up 4 slices of bread.

Place cheese on two slices of bread and Hellman's Mayo.

Once egg mixture is complete place mixture on bread, top with cheese bread slice.

Enjoy!
Nutrition
Calories:
565
kcal
|
Carbohydrates:
17
g
|
Protein:
27
g
|
Fat:
41
g
|
Saturated Fat:
14
g
|
Cholesterol:
222
mg
|
Sodium:
1134
mg
|
Potassium:
471
mg
|
Fiber:
1
g
|
Sugar:
5
g
|
Vitamin A:
9.2
%
|
Vitamin C:
1
%
|
Calcium:
24.6
%
|
Iron:
16
%
Be sure to Submit a Recipe so that I can feature it on the site once you've made this dish! See you soon 😉
Enter your Name and Email Address Below to receive a email when a new recipe is published!
I PROMISE I won't sell your info to those scammer people!