This post may contain affiliate links, read our
Disclosure Policy
for more information. As an Amazon Associate I earn from qualifying purchases, thank you!
Love brownies with chocolate chips? Love Oreos? Then I have the most perfect Oreo brownie recipe that you will ever need.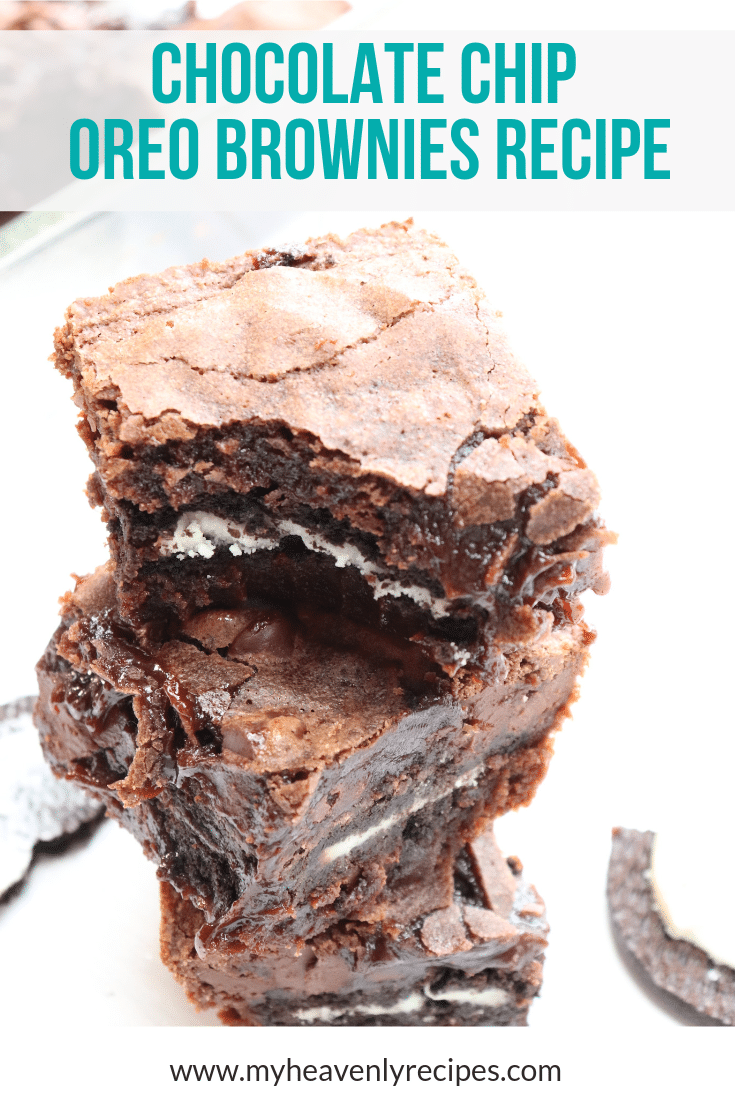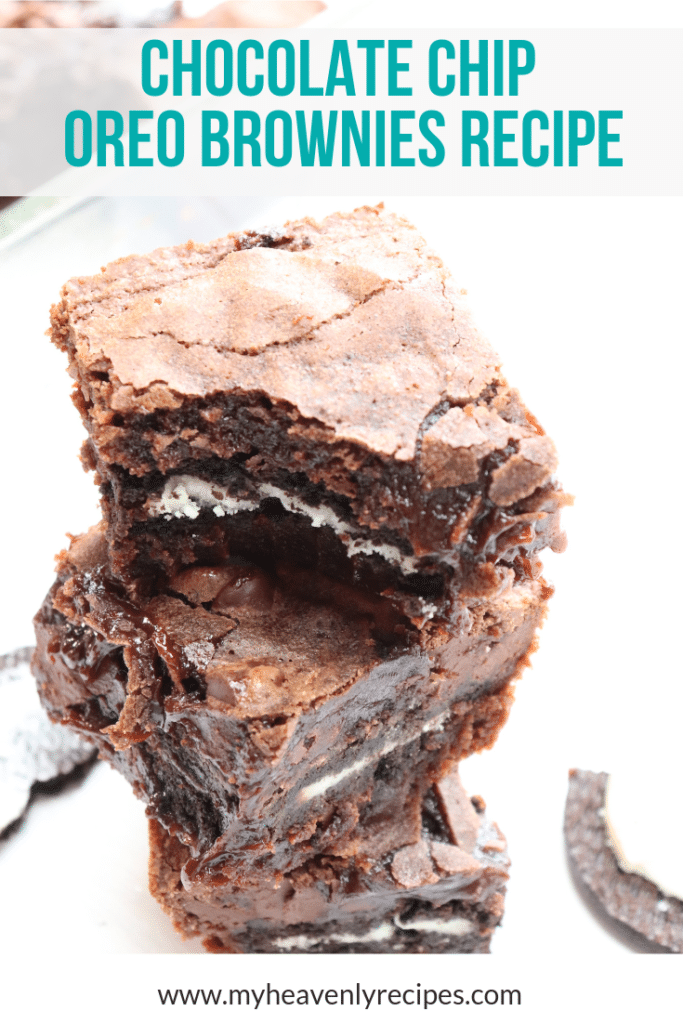 You want Heavenly, I'll give you Heavenly with these Chocolate Chip Oreo Brownies! They are truly one of the best decadent but easy dessert options you'll find!
What to Serve with Chocolate Chip Oreo Brownies
Oreo Brownies are great for dessert any night of the week. Before serving brownies, you want to have a delicious and healthy dinner first. Why not try:
Variations to Oreo Brownie Recipe
Because these brownies are seriously a heavenly Oreo Dessert, there are a lot of ways to change them.
Change the chips: You can add peanut butter chips or mint chips or any kind of chips you like
Peanut butter sauce
Caramel Sauce
Nuts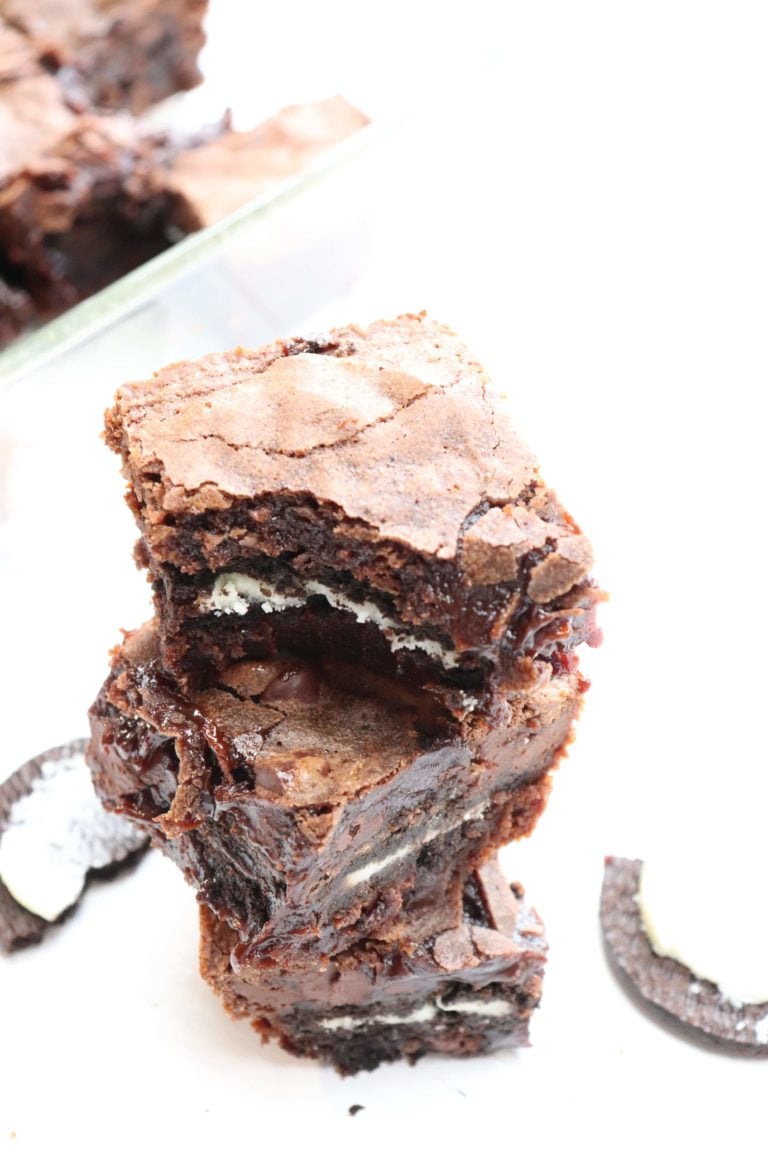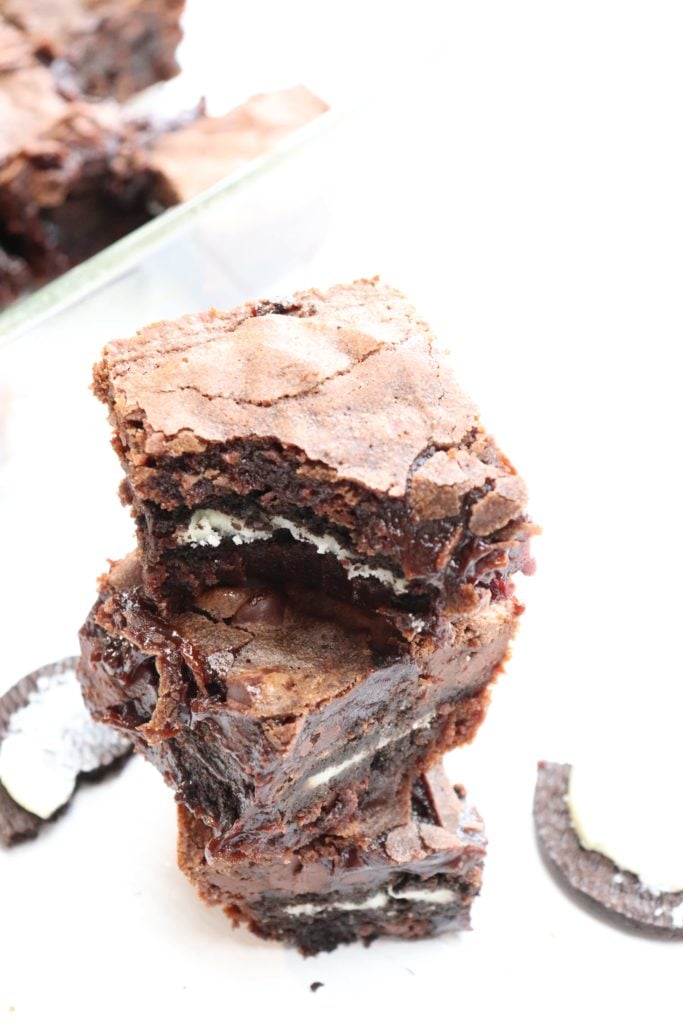 Ingredients for Chocolate Chip Oreo Brownies
Duncan Hines Brownie Mix made per instructions on box
Nestle Semi-Sweet Morsels
Oreos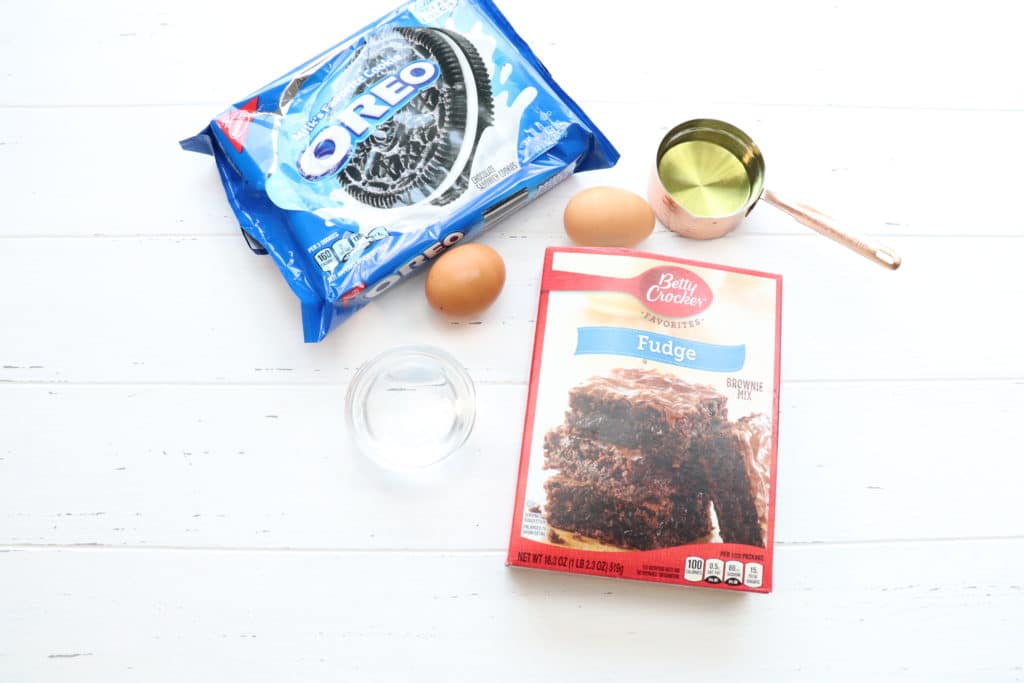 Warning! You will need an extra super duper tall glass of milk to go alongside these brownies. Hell, you might need a glass of milk just reading this recipe. You can grab a glass of milk, I know you are drooling. ANd then read on to see how to make this heavenly Oreo dessert.
How to Make Oreo Brownies
Mix the ingredients together per the instructions on the back of the Duncan Hines box. I believe it's ⅓ C water, ⅓ C Oil and 1 egg for a brownie-like batter.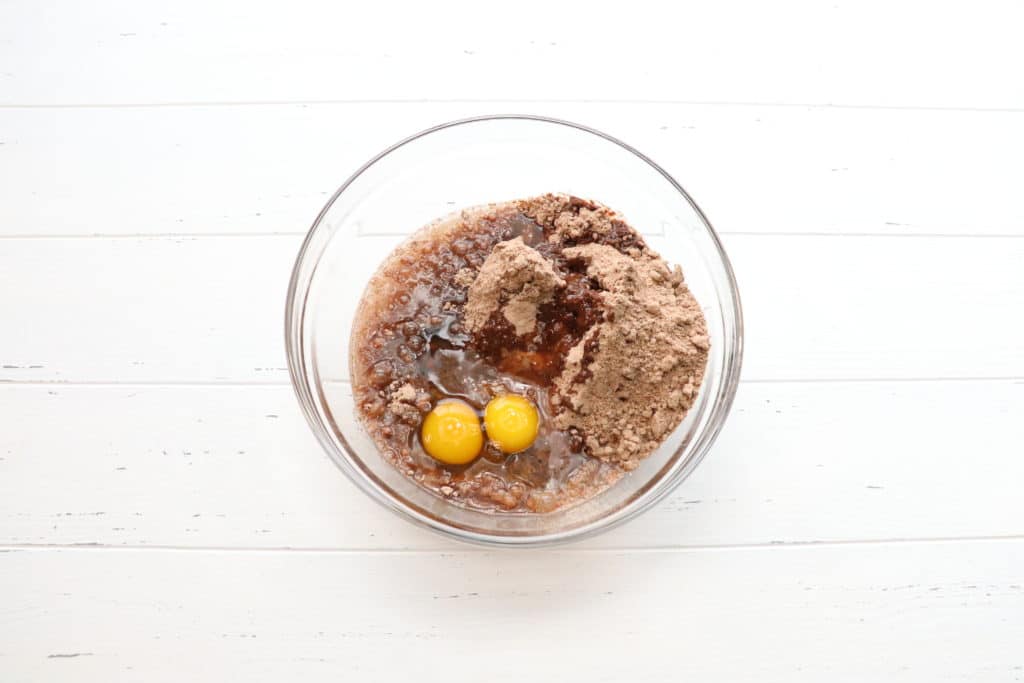 Add in a bit of Nestle Semi-Sweet Chocolate Chips.
NOTE: Now I have tried the "cheaper" version and I've come to find that they leave an aftertaste in the mouth. So buy the real deal here people… well, whenever you need a chocolate morsel, just buy NESTLE!
Placed little less than half the batter in the bottom of a 9×9 baking dish that has been lightly sprayed with BAKING spray.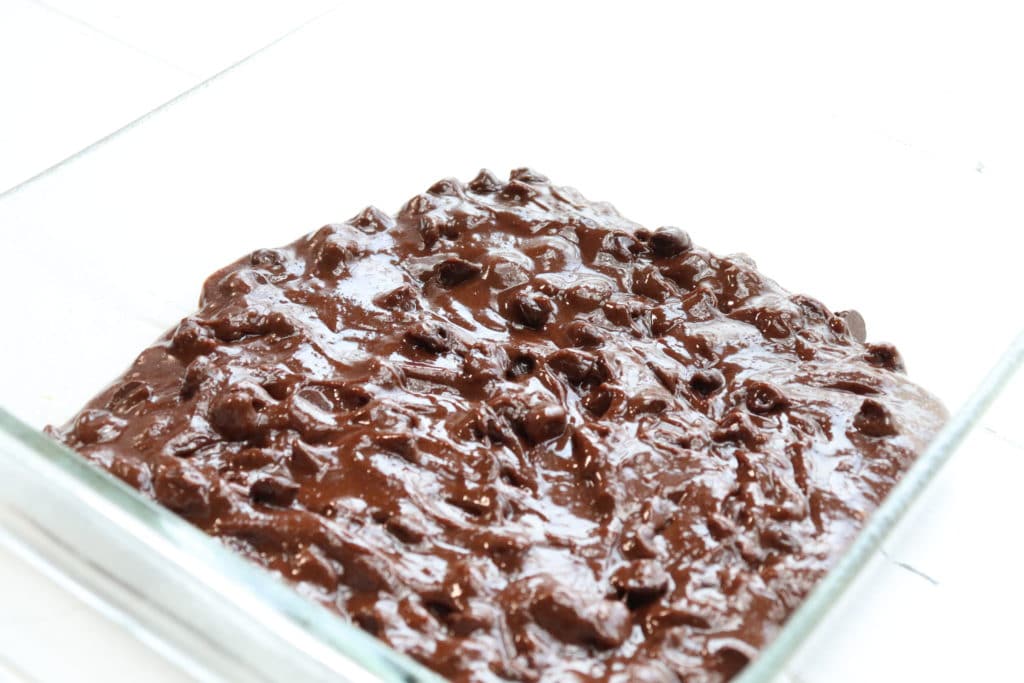 Here's where the surprise comes in people! As you can see from the image I layered 16 Oreo's on top of the brownie batter.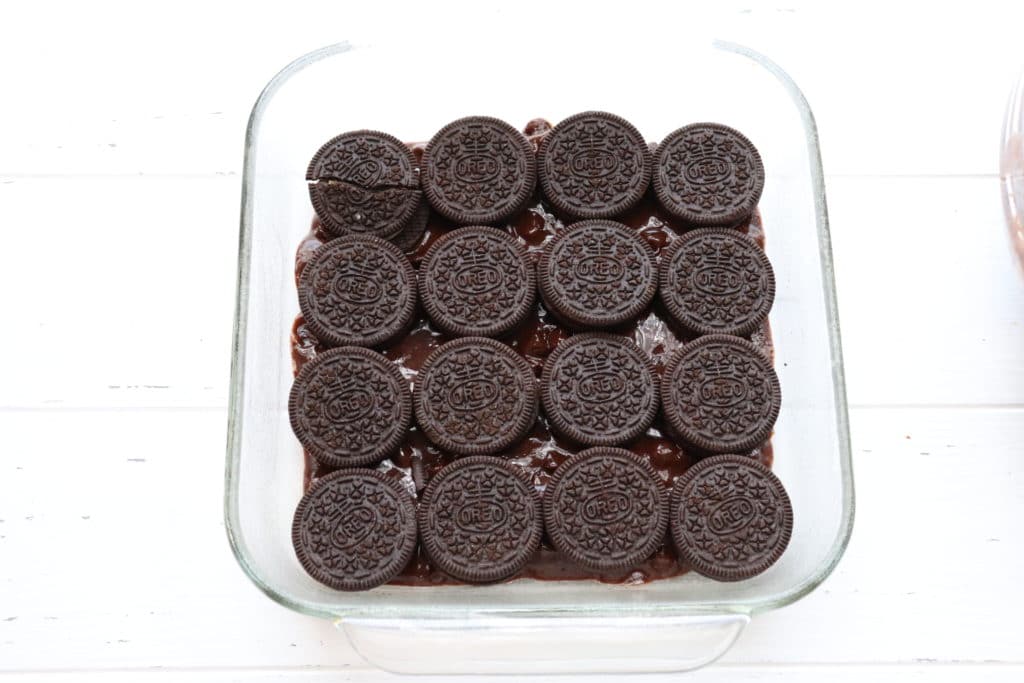 It's heavenly isn't?!?
Next poured the rest of the brownie batter over the top of the Oreo's ensuring that every single cookie was covered.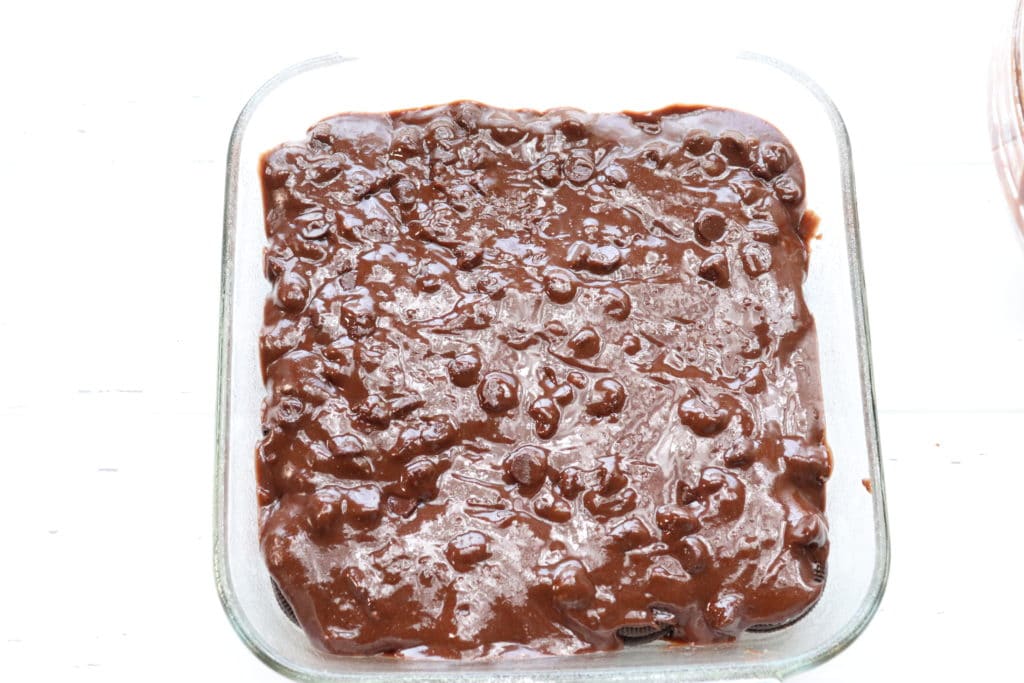 Placed in a 350-degree oven and let it bake away for about 18 minutes. I use a convection oven for my baking so the process is a lot quicker!
What comes out is a decadent dessert that will leave you wanting more…Now if you are paying attention here you can cut 16 brownies perfectly so that the Oreo is in the middle of each piece. Ok – I may need to head into the pantry and see if I have any Duncan Hines brownie mix and Oreo's left… I love to see what you are creating in your kitchens!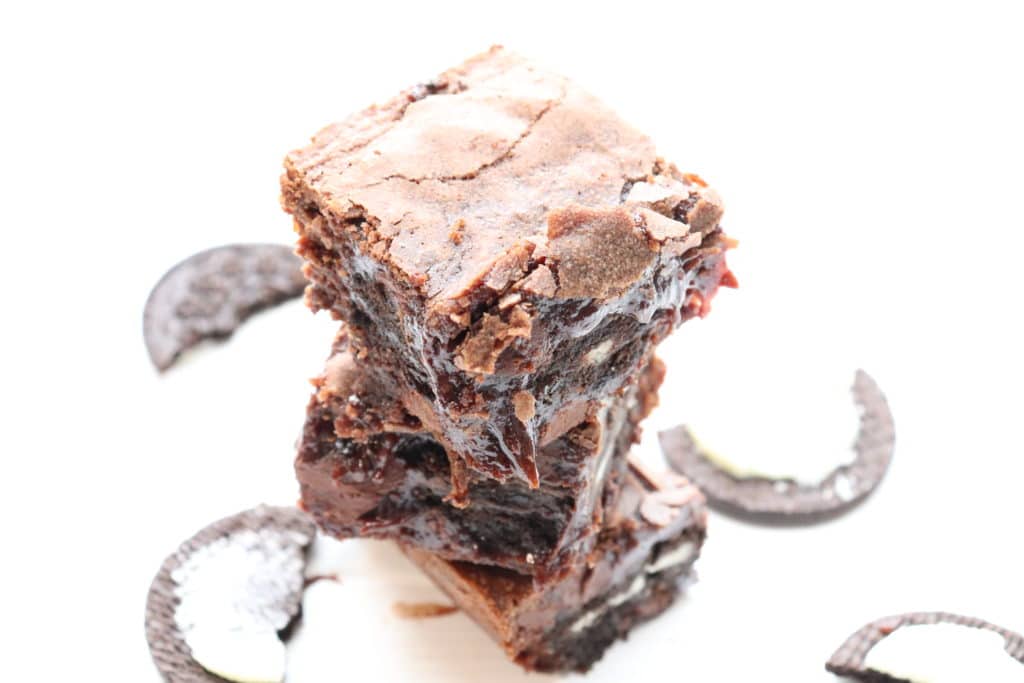 This recipe for Oreo brownies is 12 Weight Watchers SmartPoints each on the Weight Watchers Freestyle program.
After you make these Chocolate Chip Oreo Brownies, you'll want to try out some of our other favorite brownie recipes:
Chocolate Chip Oreo Brownie
A Oreo Brownie Recipe that is sure to please the crowd this weekend.
Ingredients
Duncan Hines Brownie Mix

made per instructions on box

1 ½

C

Nestle Semi Sweet Morsels

16

Oreos
Instructions
Preheat oven to 325.

Whisk the brownie mix together per the ingredients on the box.

Next add in the Nestle Morsels.

Spray a 9×9 baking dish with baking spray.

Spoon in a little less than half of the brownie batter into the dish.

Place 16 Oreo's onto the top of the batter.

Spoon and spread the remaining batter over the top of each Oreo.

Bake for 15-20 depends until a toothpick comes out clean.

Let the brownies cool completely and then cut a piece for each Oreo.

Enjoy with a tall glass of milk!