This post may contain affiliate links, read our
Disclosure Policy
for more information. As an Amazon Associate I earn from qualifying purchases, thank you!
Brownies from scratch are a dessert to make for someone special! This recipe for mint brownies is made from scratch. They're rich, chewy brownies with a crackly, crumbly top!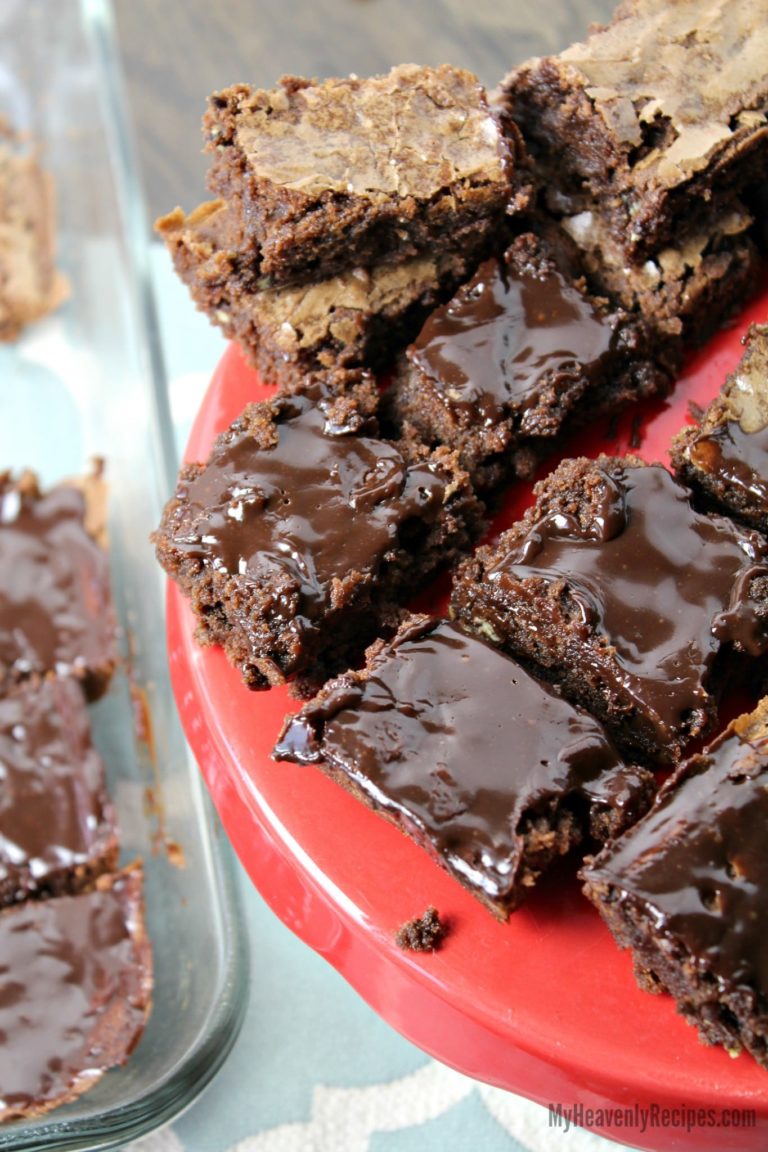 Did you know that when you have "belly issues" you should smell or consume mint? It really does work! We use our Peppermint Green Tea quite a bit in this house when a belly is hurting, upset or needs to be calmed down. In addition, I should know considering I suffered from Hyperemesis with the two littles!
Anyway.
With I was pregnant with Beanies I thought it was OK to eat brownies….daily! Like I had an obsession. At the end of the pregnancy, I realized I had gone from 125 pounds to 201. I was freakin' devastated. I cried. And cried. And cried. Then I just lived with myself because taking care of my first child was exhausting.
Fast forward to today and I've lost a good 50 pounds and am happy with where I am weight wise. I am recovering from surgery and know that I won't be this size for very much longer. Once I'm able to get up and about, I'll drop any excess weight, so that's the positive that's constantly in the back of my head. Ideally, I'd like to lose about 20-25 pounds and maintain that weight. It would put me pretty damn close to that 125 I was previous to getting pregnant with our first child.
Anywho.
Mint Brownies from Scratch
When the kids need to be kids or just need a sweet treat, I like to make brownies from scratch. If we are having guests over or wanting to take something sweet to camp to share with our friends I'll whip up my Bakery Style Fudge Brownies simply because they make a hell of a lot!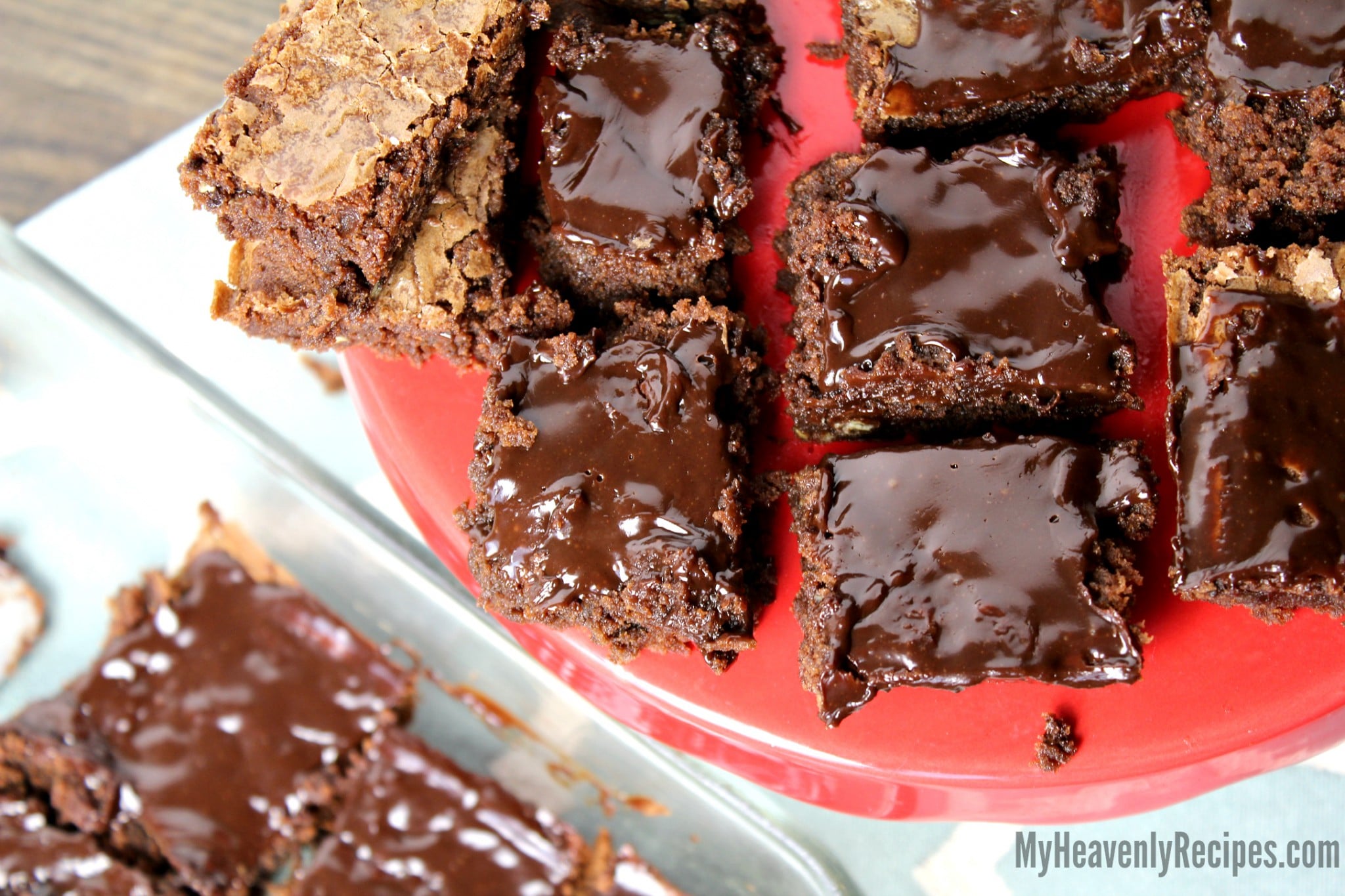 Now I ended up topping half of the mint brownies with Chocolate Ganache, simply because it was an excuse to use up the ganache that I had made for the No Bake Peanut Butter Pie recipe. I didn't want it sitting around any longer, otherwise I would've just taken a spoon and secretly sat out in front of the refrigerator on my scooter in the middle of the night and then having regrets the next morning…
I will say that all of the kids LOVE these mint brownies! In fact, Beanies wanted to take one to school with her the next day so her breath was minty fresh. I really just think that was an excuse to include a treat in her lunch! I got "Cool Mom" points because I let her split one in half and sent her on her way!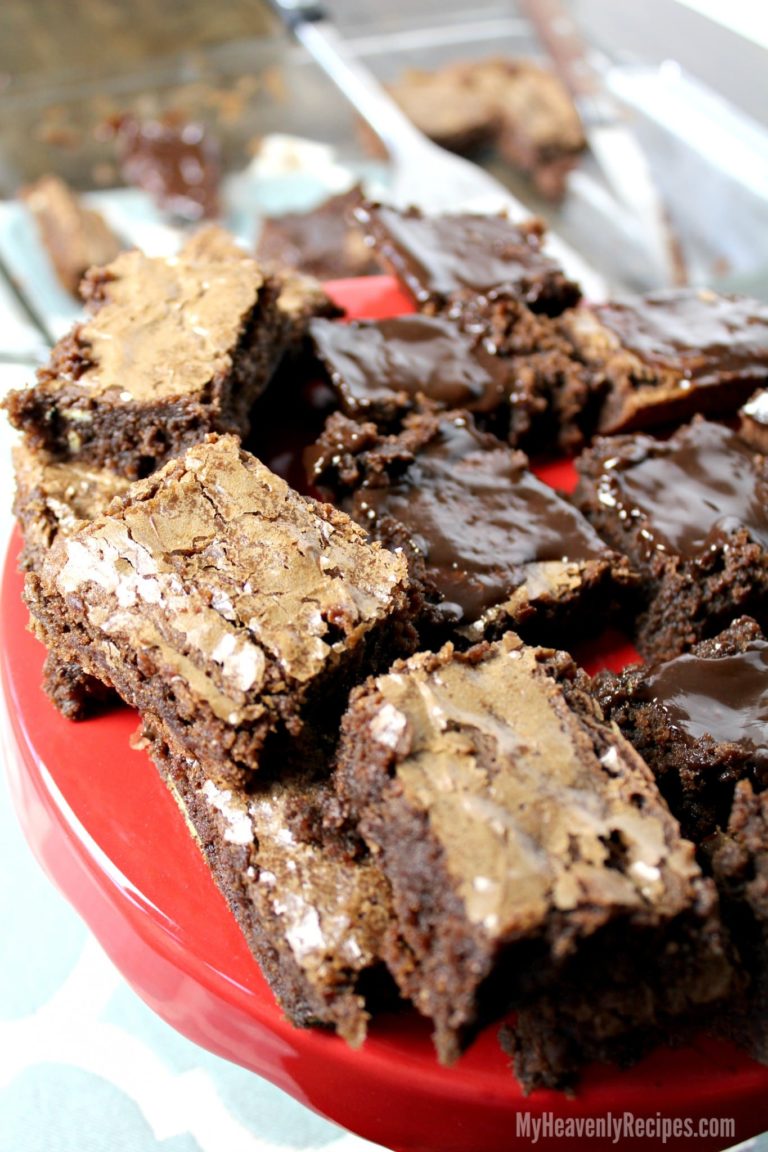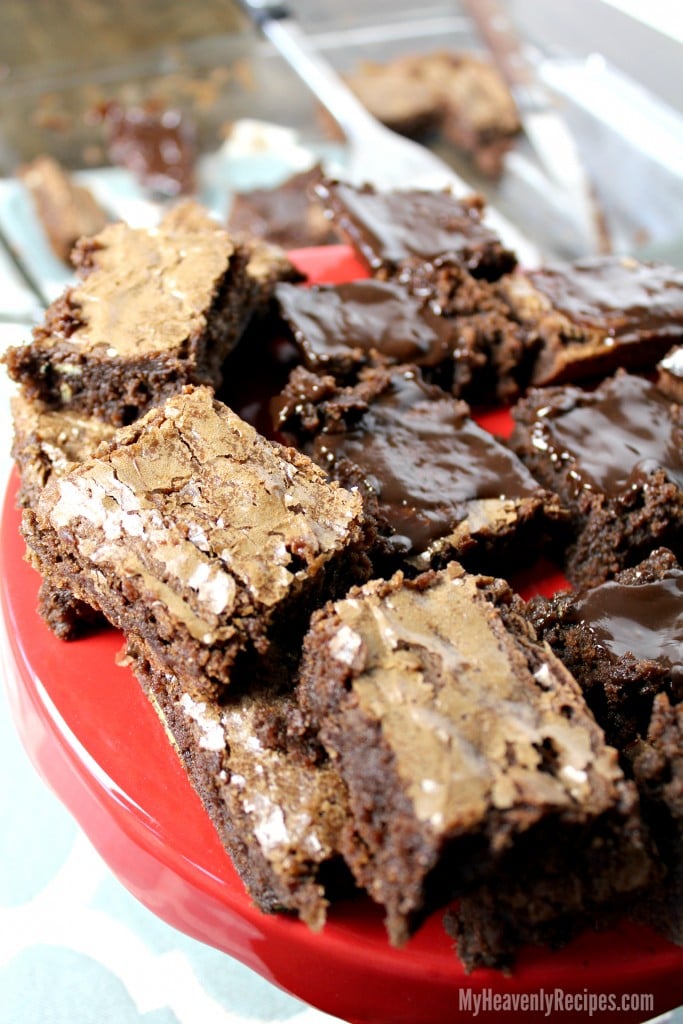 Do you see the crackled top on the mint brownies? YEAH! That's what brownies from scratch are supposed to look like!
Now I will tell you that if you don't like mint, you don't need to put them into the brownies; they'll still be amazing. Rather than putting a cup of Semi Sweet Nestle Morsels in the recipe, double it and put TWO cups in!! You'll have rich brownies from scratch that your family will go crazy for.
You may even get bedrooms clean in a record time…just sayin'!
How do you make brownies from scratch?
Follow the easy brownie recipe below and you'll have mint brownies made from scratch, just in time to share with your family for dessert.
Mint Brownies from Scratch
This recipe for mint brownies from scratch creates rich, chewy brownies with a crackly, crumbly top! The best brownies to make for someone special!
Ingredients
1

C

Unsalted butter

room temp.

2

C

Pure Cane Sugar

4

Large Eggs

1

TSP

Pure Vanilla Extract

1 ¼

C

Unbleached All Purpose Flour

¾

C

Unsweetened Caco

½

TSP

Baking Powder

1

Package Andes Mints

chopped

1

C

Nestle Semi Sweet Morsels

2 C if not using Mints
Instructions
PREHEAT Oven to 335.

Grease a 9x13 glass pan.

In a large bowl mix butter and sugar until light and fluffy.

Next add in one egg at a time and mix until combined, repeat until all 4 eggs have been incorporated.

Add Vanilla and stir.

In a separate bowl add in flour, caco and baking powder, whisk until combined.

Gently stir the flour mixture into the butter and sugar mixture until combined.

Add in mints and/or morsels and stir until incorporated.

Place in greased baking pan and bake for 25-35 minutes.

Remove from oven and allow to cool.
Be sure to Submit a Recipe so that I can feature it on the site once you've made this dish! See you soon 😉
Enter your Name and Email Address Below to receive a email when a new recipe is published!
I PROMISE I won't sell your info to those scammer people!