This post may contain affiliate links, read our
Disclosure Policy
for more information. As an Amazon Associate I earn from qualifying purchases, thank you!
Your kid(s) back in school and you need school lunch ideas, right?!? C'mon in my friend, let me show you the way to healthy lunches!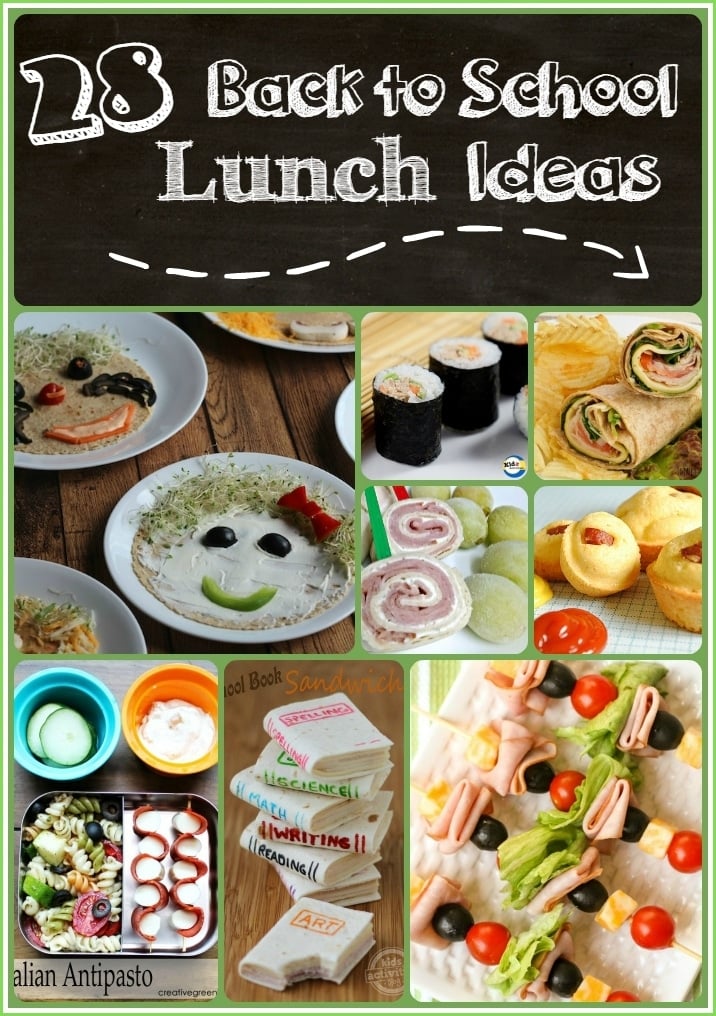 You are tired of making the same old jelly sandwiches just as much your kid(s) is tired of eating them. Get a little fun and creative this year with fresh foods that will get your child(ren) excited about packing their own lunch this year. When you pack their lunch you know exactly what they are eating, they are avoiding the sugary foods that are found in the lunch line and you can judge their food intake…I know for me knowing that my daughter isn't mowing down a Rice Krispie Treat is huge as well as seeing what her water intake was throughout the day with her lunch water and water bottle that she has at her desk!
Let's get to these school lunches shall we?
Two Healthy Kitchens | Healthy Chicken Salad with Grapes, Apples, and Tarragon-Yogurt Dressing
Totally the Bomb | Easy Hummus Turkey Wraps
Thrifty Jinxy | Southwest Turkey Wrap
Kelly Stilwell | Big Hero 6 Bento Box
Blommi | Chicken Taco Bento with Free Printable Lunch Box Notes
Drug Store Divas | Bacon Spinach and Tomato Sandwich (With a Bacon Weave)
Kids Activities Blog | School Book Sandwiches
Totally the Bomb | Gluten Free Chicken Sausage Corndog
Brittany's Pantry | Spicy Meat & Cheese Roll-Ups
Uncreative Mommy | Ham & Cheese Pinwheels
Creative Green Living | A Full Month of Sandwich Free Lunches
Housewife on a Mission | Tuna Cakes
Mom VS the Boys | Ham & Cheese Pinwheel Puffs
The Bright Side of Reality | Lunch Box Ideas: Out of This World
Moments With Mandi | Corn Dog Muffins
Enter your Name and Email Address Below to receive a email when a new recipe is published!
I PROMISE I won't sell your info to those scammer people!
Lil Luna |
Lunch Kabobs
Home Cooking Memories |
Tortilla Pinwheel Lollipops
Home Cooking Memories |
Malibu Chicken Tortilla Pinwheels
Kidz Activities |
Tuna Sushi Recipe
Kidz Activities |
Baked Zucchini Frittata
Glue Sticks and Gumdrops |
4 Cheese Pepperoni Pizza Bites
Catch a Tiger by the Tail | Mini-Calzones
Thrifty Jinxy |
Homemade Uncrustables PB&J
Mommy Gaga |
Healthy Turkey, Pesto, and Avocado Rolls
Blommi |
Copycat Panera Tuna Salad Sandwich Recipe
The Mama Maven |
5 Days of "Lunchable Style" Bento Lunch Ideas for Kids (No Sandwiches)
Two Healthy Kitchens | 
"Veggie Faces" No-Bake Vegetable Pizzas and Wraps
This Mom Can Cook |
Funky Monkey Bento Box Lunch Idea
I love to see what you are creating in your kitchens! Be sure to share the recipes you found on MyHeavenlyRecipes.com with me on Facebook, Twitter, Pinterest and Instagram.