How to Make Chicken Spaghetti Casserole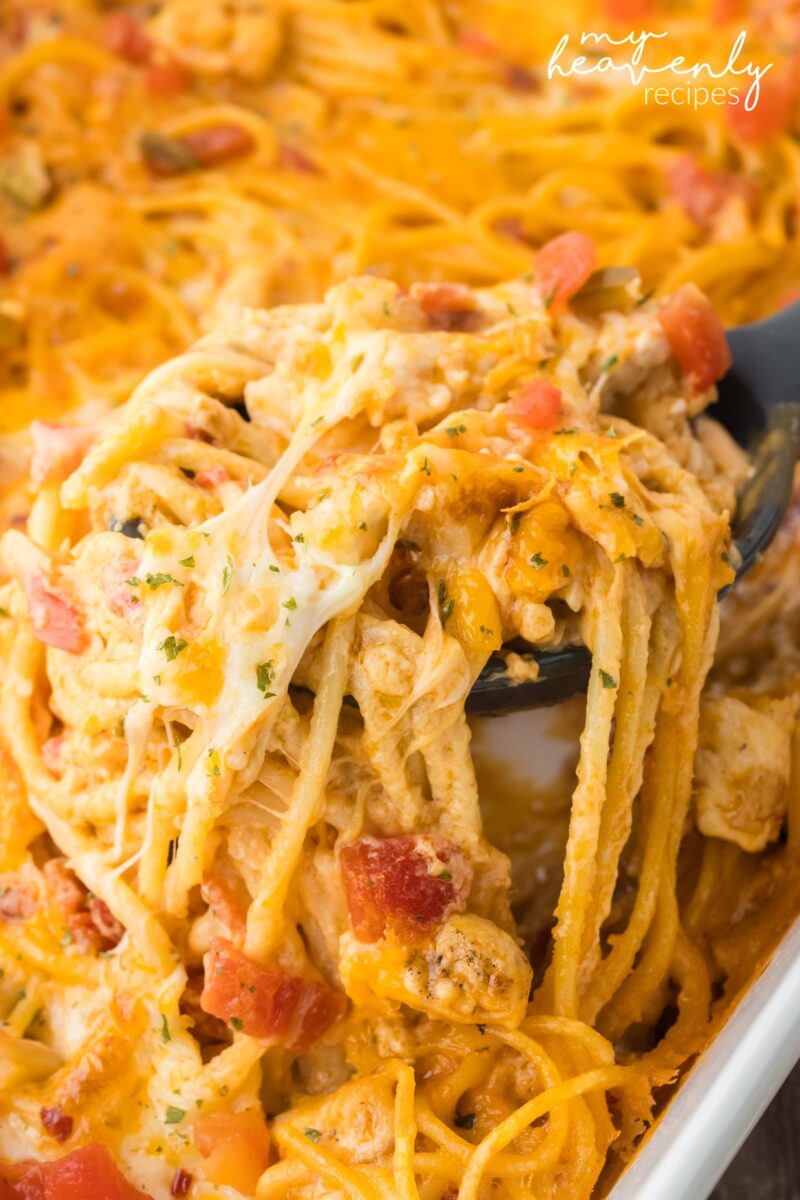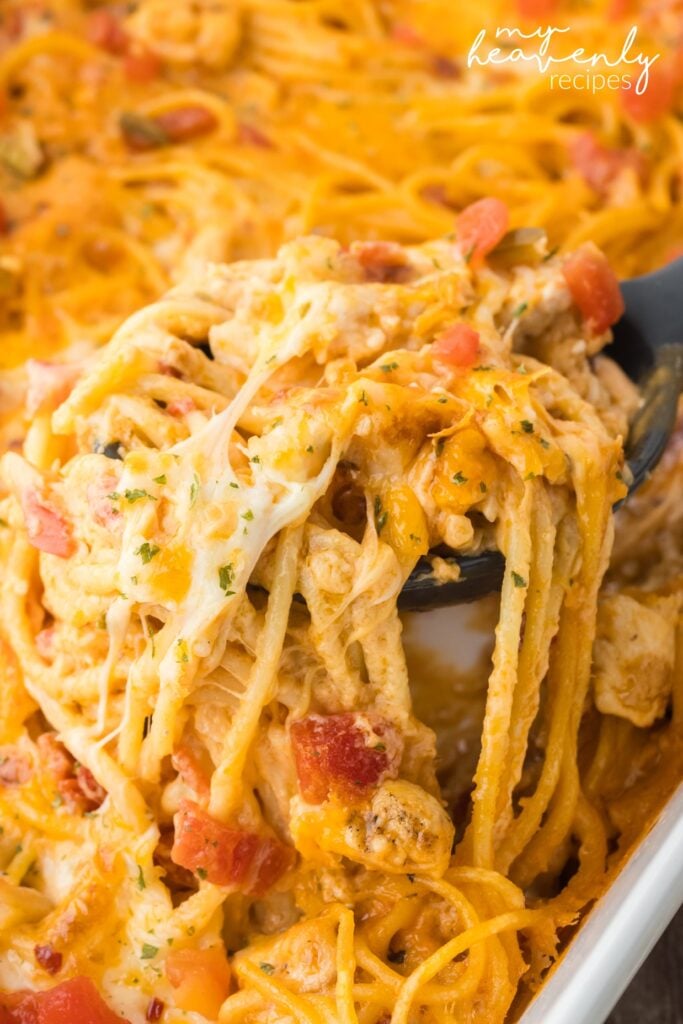 Instead of traditional spaghetti with hamburger, you must try this chicken spaghetti casserole! It's delicious and will be a new family favorite meal.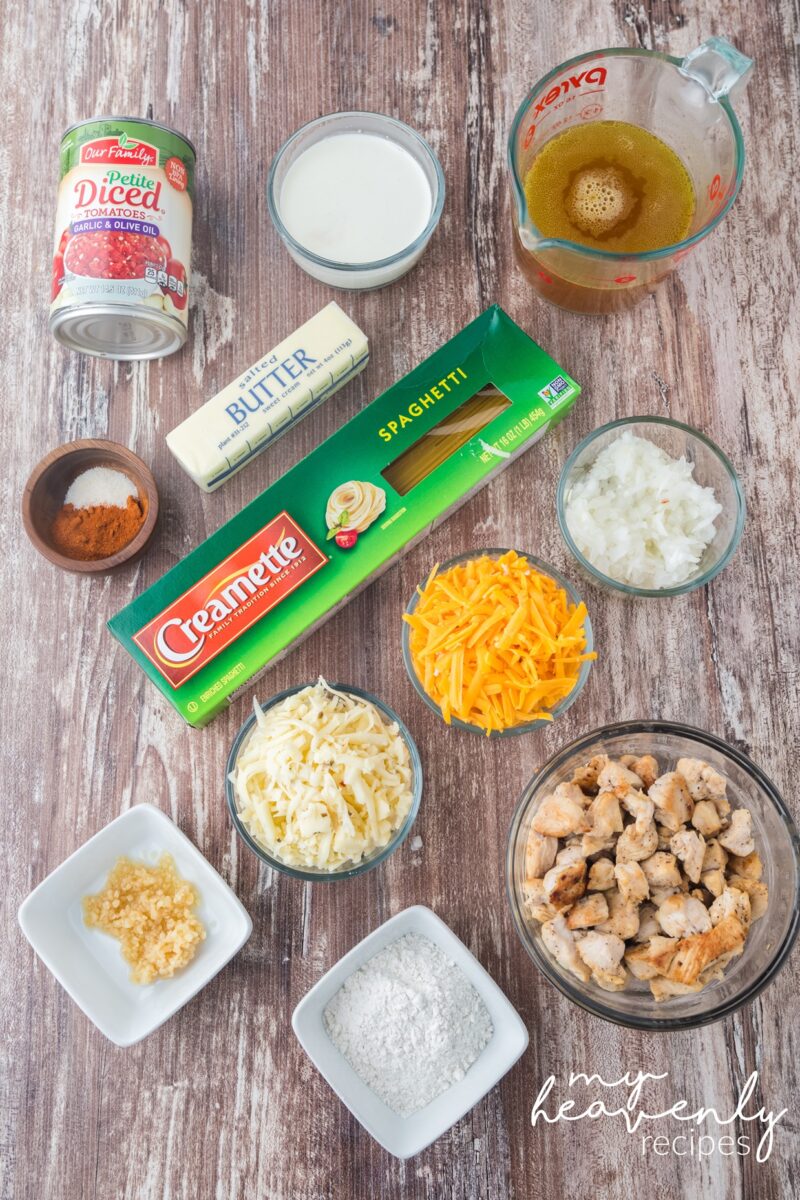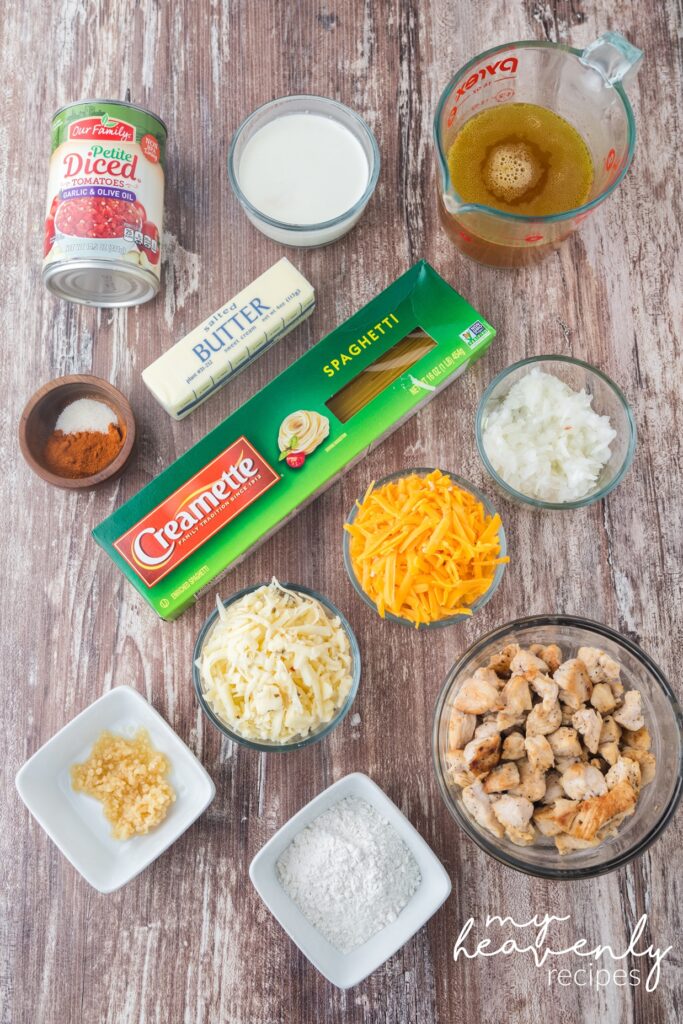 1. What ingredients will I need to complete this recipe? You will need the following ingredients: chicken, salt & pepper, cooking oil, butter, diced onion, minced garlic, flour, heavy cream, chicken broth, onion powder, paprika, cream cheese (optional), diced tomatoes, cheddar cheese, pepper jack cheese and spaghetti.
2. What supplies and baking equipment will I need?
You will need the following supplies: Large sauce pan, baking dish if pan is not oven safe , cheese grater, measuring cups and spoons, and stirring spoon.
3. How long will it take to make this recipe? It should take you approximately 20 minutes to gather your ingredients and prepare recipe. Cook time is about 15 minutes. Bake time is 25 minutes.
4. How should store my spaghetti? Store spaghetti in an airtight container in the refrigerator.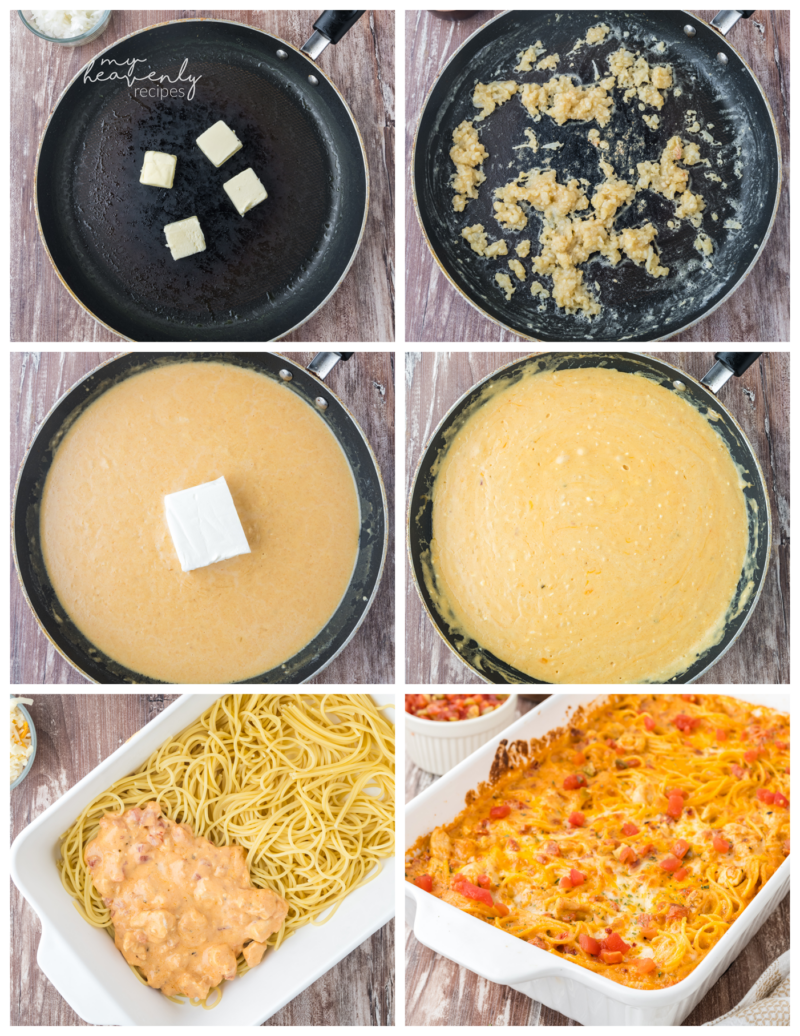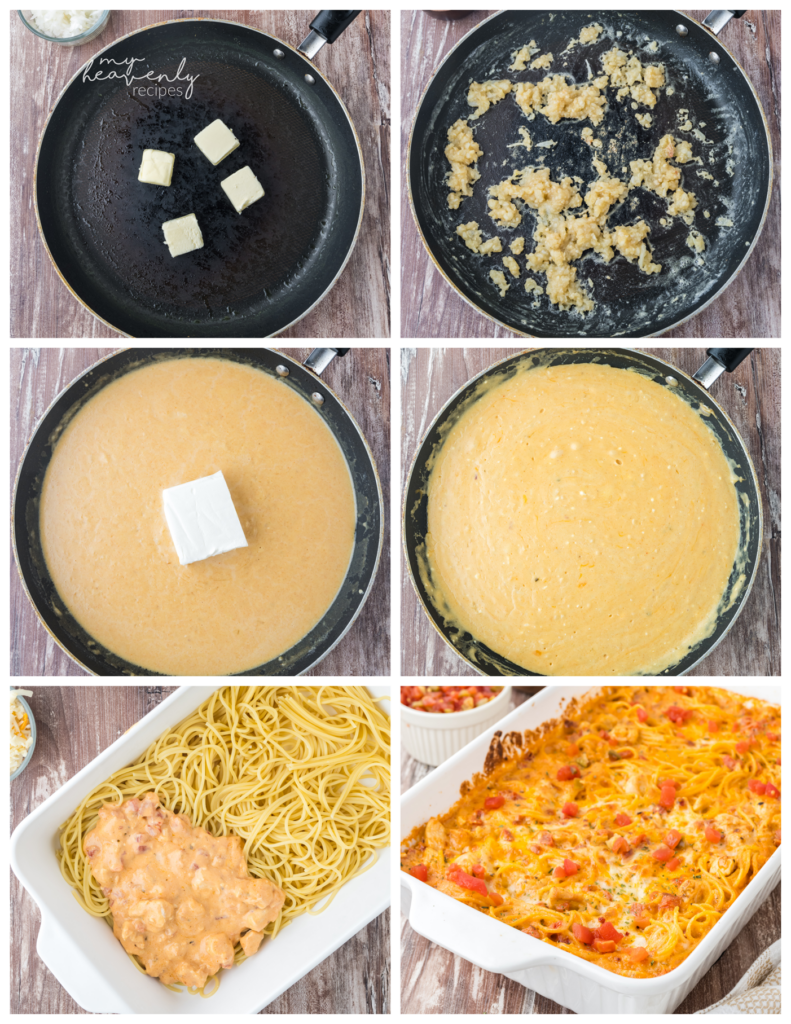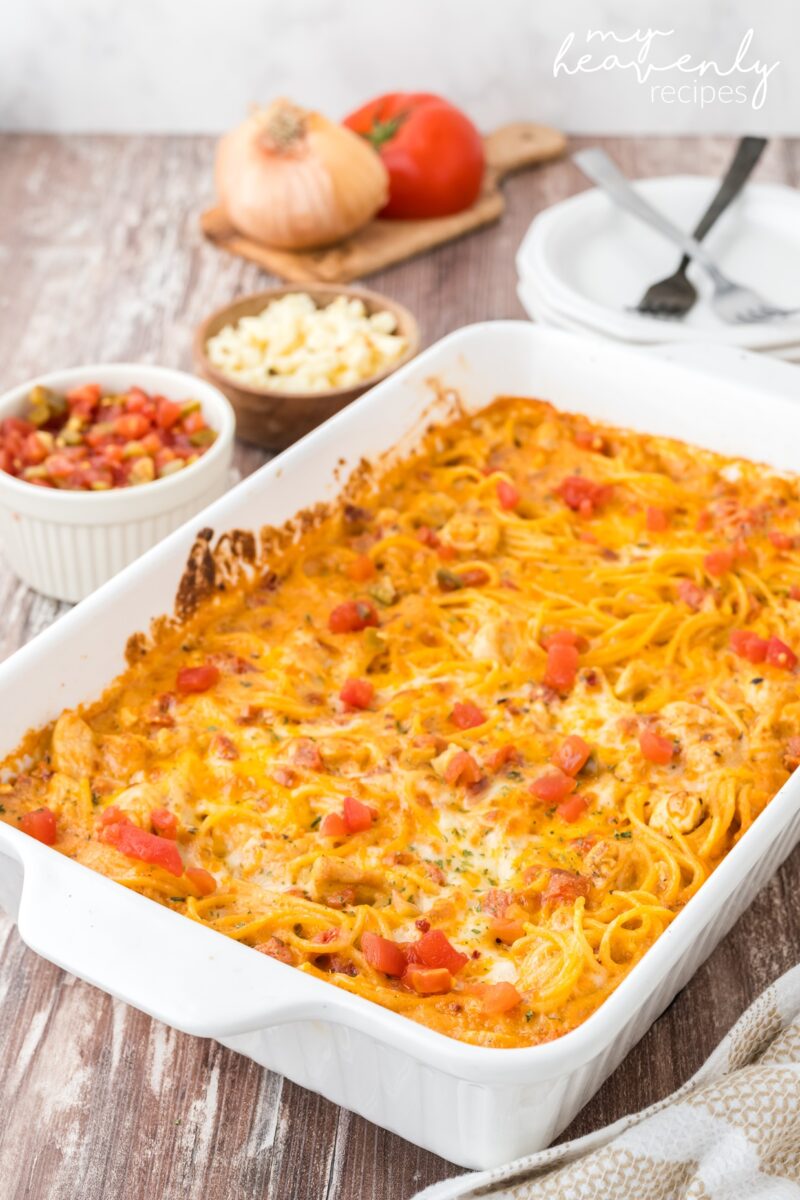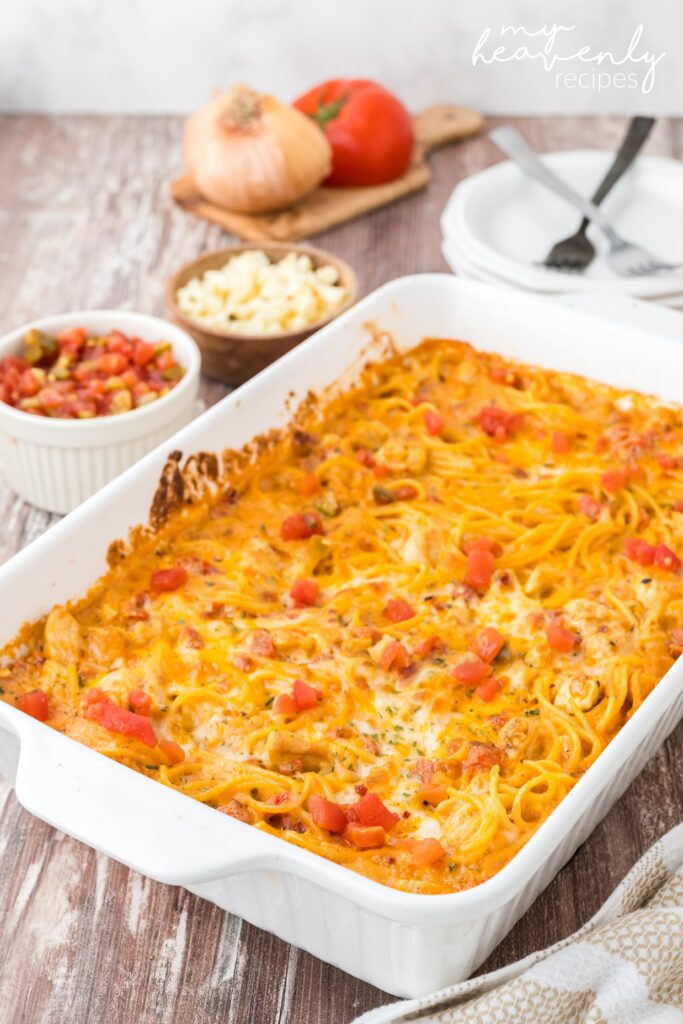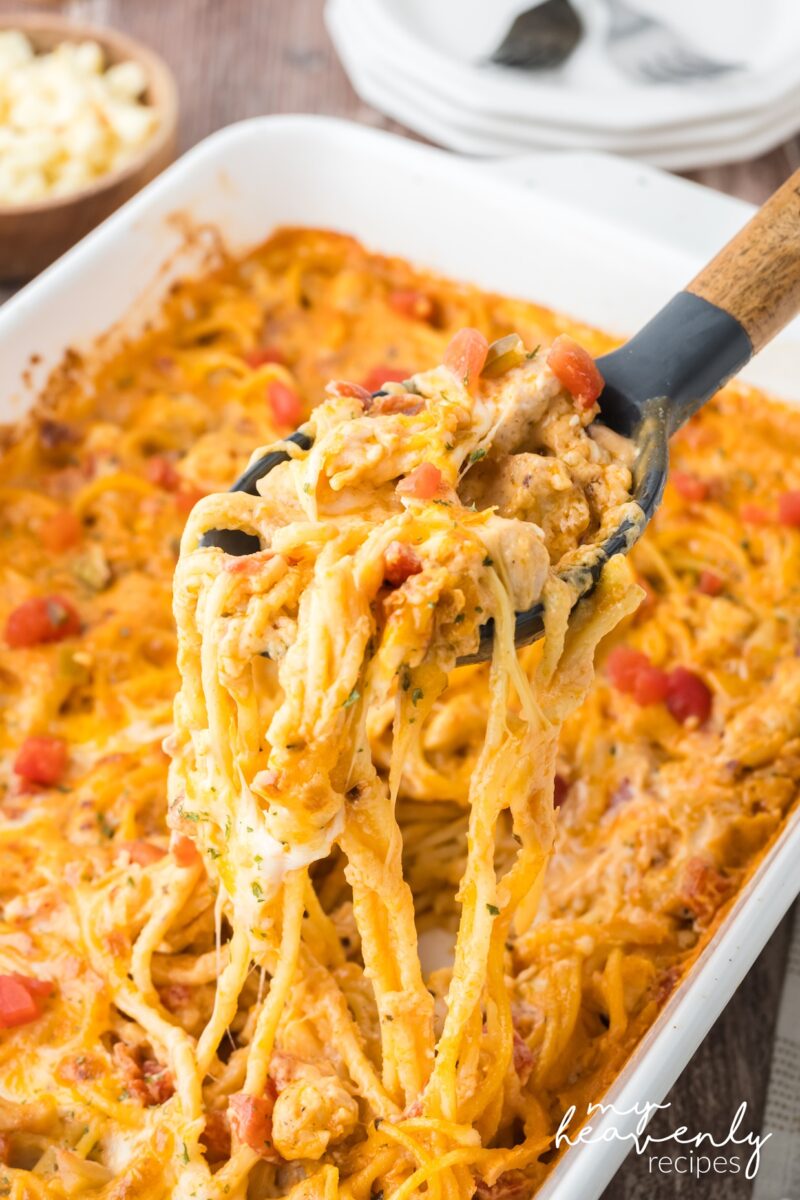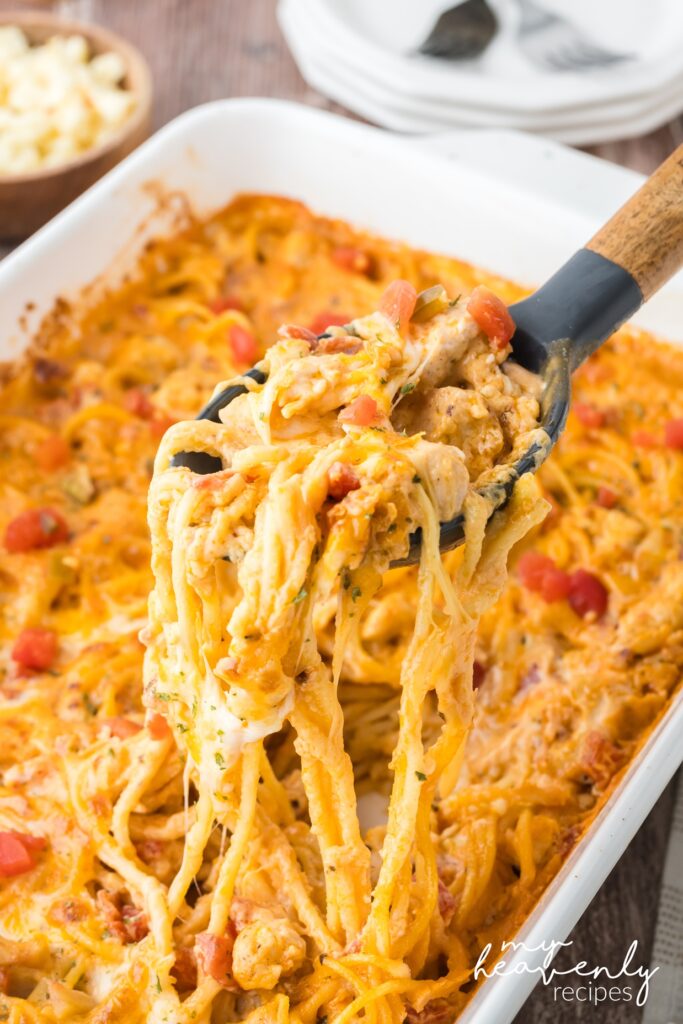 Chicken Spaghetti
Ingredients
2

cups

cooked diced chicken breast

¼

cup

butter

½

cup

diced onion

1

tablespoon

minced garlic

¼

cup

flour

½

cup

heavy cream

1 ½

cups

chicken broth

1

teaspoon

garlic powder

1

teaspoon

onion powder

1

teaspoon

paprika

4

oz

*cream cheese

optional

1

cup

cheddar cheese

1

cup

pepper jack cheese

14.5

oz

can diced tomatoes

8

oz

spaghetti noodles
Instructions
Preheat oven to 350 degrees and prepare a baking dish if you do not use an oven safe pan to cook dish in. Fill a large pot with water and bring to a boil to cook spaghetti in.

In large frying pan, at low/medium heat, add butter and melt. Add onion and cook for 2-3 minutes. Add garlic and cook for an additional 1 minute. Add flour and cook out for 1 minute.

Add heavy cream to chicken broth (make sure broth is in a 2 cup measuring cup) and add onion powder and paprika to measuring cup and stir. Add mixture to pan slowly and cook until broth comes together and thickens, about 3-5 minutes.

Drop spaghetti into boiling water and cook until just a little under done.

While the spaghetti is cooking, finish sauce in frying pan by adding cream cheese (if using) and stirring until smooth. Reduce heat to low and continue to stir for a few minutes to reduce heat. Add ½ of the cheddar cheese and ½ of the pepper jack and stir until smooth.

Once sauce is smooth, add tomatoes (liquid as well) and chicken and stir until everything is smooth. If sauce seems thick at this point add a little more chicken broth to loosen it.

If using a baking dish add drained spaghetti to dish just short of being completely cooked. Add cheese sauce over spaghetti and stir until evenly distributed. If using the pan to bake in, add spaghetti to pan and stir together. Cover with tinfoil

Place baking dish or pan in oven and bake in the oven for 20 min. Remove the foil and broil for 2 additional minutes. Remove and Enjoy!!
Notes
Gather all ingredients at once and prepare pans ahead of time. Use room temperature ingredients.
You can use different types of cheeses if you have a preferences. Cream cheese is optional in this recipe because if you do not like a super rich cheesy dish that would be the ingredient to leave out.
Choose canned tomatoes with extra ingredients like onion, garlic or chilies for a little extra kick.
If the sauce needs a little loosening use a little more chicken broth.
If you are using raw chicken here is a cooking tip. Dice raw chicken breast into bite size pieces, salt and pepper to season.  Add 2 tablespoon of cooking oil (vegetable, olive or peanut) to a large frying pan (oven safe if you have one) and heat to medium heat.  Add diced chicken to pan and cook until done.  Remove chicken from pan and set aside.