Edible Chocolate Chip Cookie Dough Footballs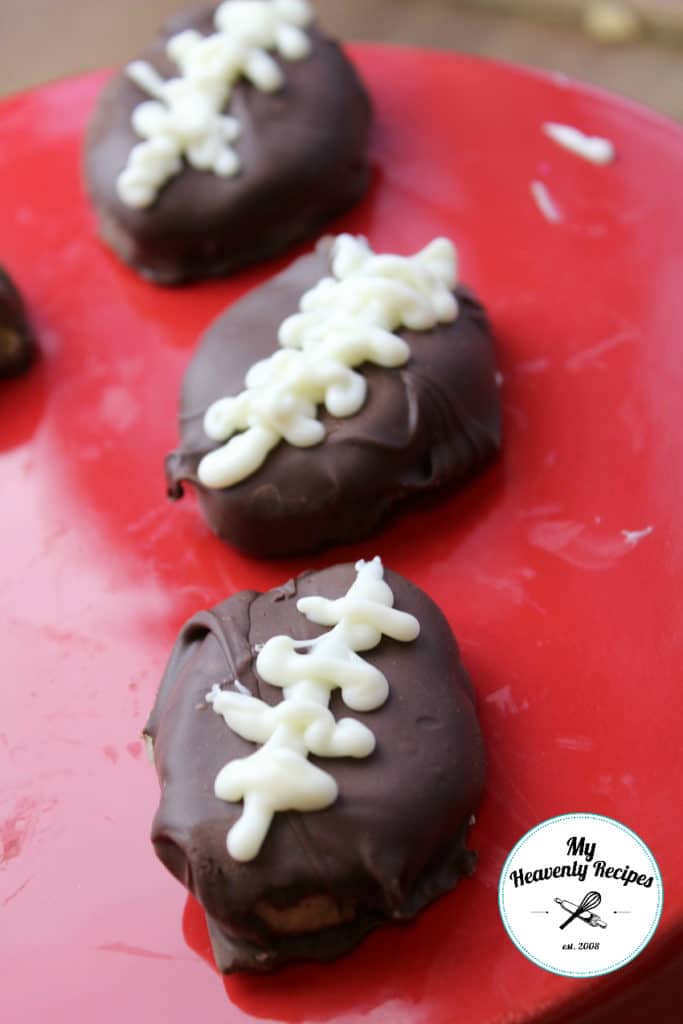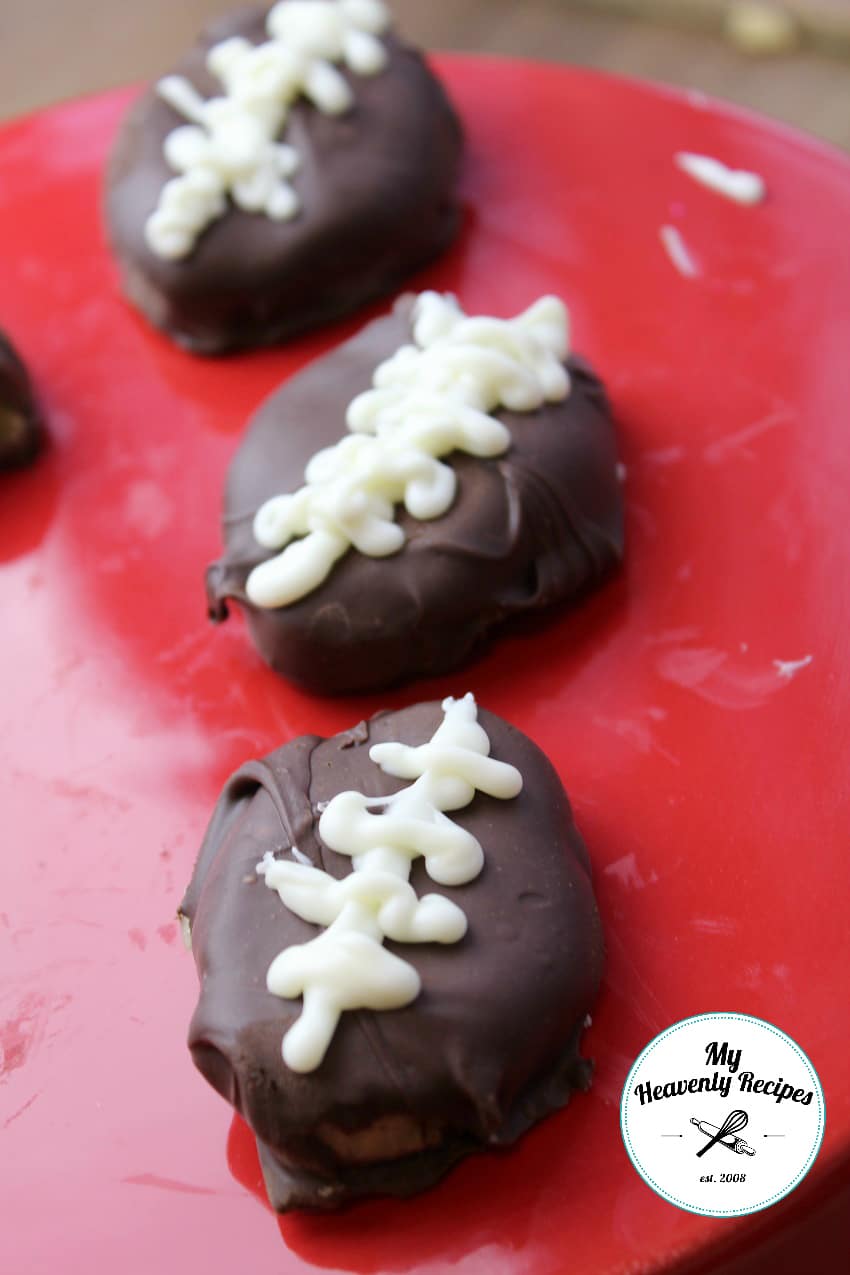 Use this Chocolate Dipped Eggless Cookie Dough Football recipe as a guide to recreating your own footballs, Eggs, Hearts or any other shape that you can think of. These are always a hit at our parties. Not to mention, I love the fact that these chocolate dipped eggless cookie dough recipe can be made into any shape, dipped into chocolate and then froze (once cooled down). This way you can make them ahead of time and not worry about making them the day of. I actually think they are better after they are frozen because they aren't as soft as when they are first made.
)
Check out the video the kids and I made of our Chocolate Dipped Eggless Cookie Dough Footballs!
Whether you are getting ready for a Football Themed Birthday Party or a Super Bowl Party these little Chocolate Dipped Eggless Cookie Dough Footballs are A LOT of fun! The little kids were surrounding the table and helping make this fun recipe as I was recording. They may have also taken a few nibbles or two 😉
Now, I will tell you…I LOVE to create the Eggless Cookie Dough recipe and come up with different shapes. It's a thick dough so it can handle pretty  much anything you throw at it. For instance, if you want a heart dipped shape, do the exact same thing we did here with this Chocolate Dipped Eggless Cookie Dough Recipe. You'll just use a different shaped cookie cutter…speaking of cookie cutter, here's a little tip:
Use METAL Cookie Cutters when you can! I used a plastic football shaped cookie cutter and it broke as it couldn't take the pressure of cutting through the chocolate chip. Hence the reason for me using a Pampered Chef Biscuit Cutter in the video.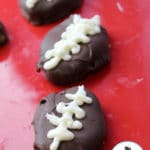 Edible Chocolate Chip Cookie Footballs
Ingredients
1

C

Brown Sugar

1 1/3

C

Unbleached All Purpose Flour

1/2

C

Nestle Semi Sweet Chocolate Chips

1

Stick

1/2 C Unsalted Butter, Softened

1/4

tsp

Salt

1

tsp

Pure Vanilla Extract

2

C

Semi Sweet Morsels
Instructions
In a large bowl (or stand mixer) cream together butter and sugar until fluffy.

Stir in flour, salt and vanilla extract.

Using a large spoon or spatula stir in chocolate chips.

Lay ball of dough onto a flat surface and roll out until about 1/2" think. Use a Cookie Cutter to make your shapes, set aside.

Melt 2 C of morsels in a microwave safe bowl, stirring every 30 seconds.

Place football shaped dough one a time into chocolate, covering.

Lay on a piece of parchment paper to dry.
Now what shapes will you be making out of this super simple and easy Chocoalte Dipped Eggless Cookie Dough recipe? I can't wait to see what you come up with, so be sure to share it with me on Social Media: Instagram, Twitter, Facebook and Pinterest.