Everything you need to know about how to use the Instant Pot  – In the past few years, there has been a new kitchen appliance that has taken over as the go-to kitchen gadget to have. The Instant Pot has become a must-have in many kitchens.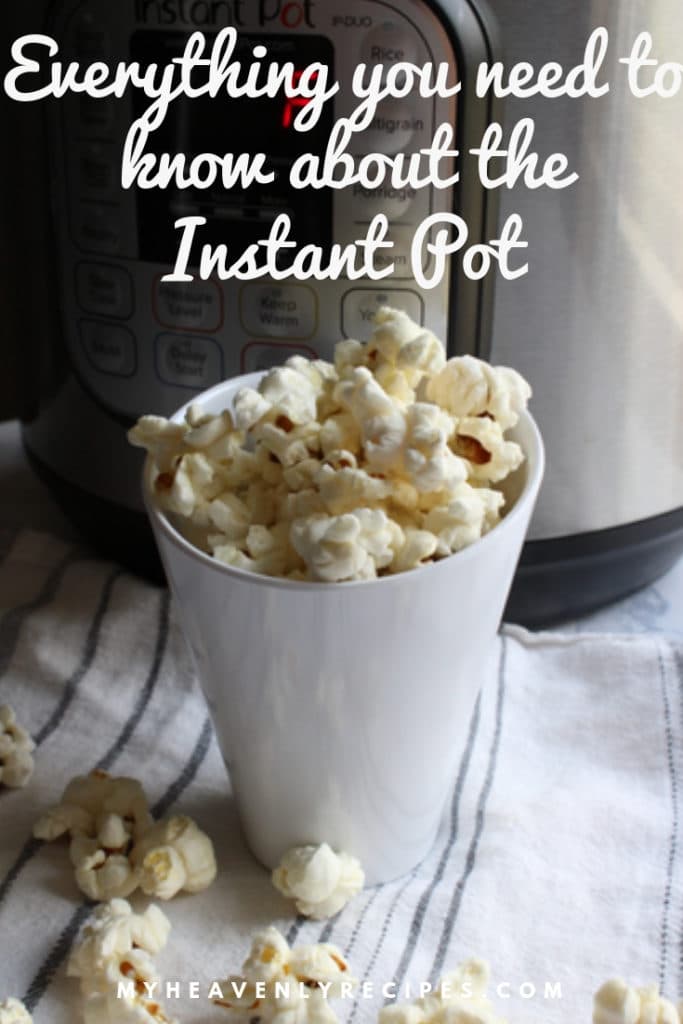 What is the Instant Pot and why do you need to have it?
The Instant Pot is a multi-use kitchen appliance. It does many things. It is the one kitchen appliance that can replace many of the ones you already have, creating a more streamlined organizational system in your kitchen. It is all of these things all in one:
Pressure Cooker
Slow Cooker
Rice Cooker
Sauté/Browning Pan
Steamer
Yogurt Maker
Warming Pan
What is the Instant Pot?
Most of the things you hear about the Instant Pot is talking about it as a pressure cooker. What takes the Instant Pot above and beyond the other pressure cookers is that it does more than just work as a pressure cooker. It takes the place of all those other machines, which can make your life much easier.
Instant Pot Pressure Cooker
When using a pressure cooker, you can make flavorful meals in very little time. Things that you would normally have to cook for hours in the oven or slow cooker to get the deep flavors and tender meats, can be done in less than an hour. It is also great if you forget to take something out of the freezer for dinner. You find yourself staring at all of the frozen meats and wonder if it would easier to just order take out. With the Instant Pot, you can take frozen meat and have it done in no time.
The Instant Pot can also cook just about anything. It can be used to make potatoes that come out fluffy inside. It can be used to cook vegetables. You can pressure cook almost anything and dinner is done in very little time. Sometimes as little as 10 minutes.
The Water Test
When you first get your Instant Pot pressure cooker, before cooking your first meal, you should do the Water Test. What is the Instant Pot Water Test? The Instant Pot water test is a way to learn how to work the Instant Pot and it allows you to make sure that everything is working correctly with the Instant Pot.
How to do the Instant Pot Water Test
After removing all of the Instant Pot components from the box, put the pot together. This is really just making sure you have taken any instructions out and making sure that any accessories are out of the inside of the Instant Pot. Make sure that the removable bowl, the inner pot,  of the Instant Pot is in place. This is the pot that all the food is cooked in. Make sure that the cord is plugged in. Add 3 cups of water to the inner pot. Make sure the sealing ring is in place. If it is in correctly, it should not be able to be removed easily. Place the lid on the Instant Pot. Turn the lid clockwise until it is fully closed. The Instant Pot chimes with the lid is closed completely and once again later when you open the Instant Pot lid. Turn the steam release valve to "Sealing" Next, select Pressure Cook. Use the +/- buttons to set the time you want for the pressure cooking. IN this case, you want to select 5 minutes. After 10 seconds, the Instant Pot will start to preheat. The timer display will switch to say "On" while it is heating and coming to pressure.
While the Instant Pot is reaching full pressure, you might hear steam coming through the steam release valve. That's ok. Once the pressure point is reached, the steam will not come out of the valve. Once the cooking time has been reached, the Instant Pot will change to its Keep Warm setting. From start to finish this process should take about 20 minutes. While many recipes call for allowing the Instant Pot to do a slow release, in this case, since you are not actually cooking anything, you can do a Quick Release venting method.
To do the Quick Venting method, turn the sealed valve to open. This will release the steam. If the Instant Pot is spitting through the release valve, you can close it and try again in a few minutes.
The Sealing Ring
If you plan on living out of your Instant Pot, be sure to keep a few on hand. They are inexpensive and worth having on hand as they tend to get stinky and sometimes moldy from not properly cleaning.
Grab your sealing rings now!
Safety Concerns with the Instant Pot
Because the Instant Pot is a pressure cooker, it has raised some concerns with people. Many people remember the scary stories of things that can go wrong with a pressure cooker from previous generations. The Instant Pot has created a way to take these concerns away. There are many safety features when it comes to the Instant Pot that are designed so that the pressure cooker is safe.
Safety Tips for the Instant Pot
Fill the Instant Pot correctly. It is important to fill the Instant Pot correctly. You need to make sure to not overfill it. This can lead to too much pressure in the pot. As a rule of thumb, you should only have the Instant Pot filled 2/3 of the way full. There is a line inside the inner pot that shows 2/3. When cooking something like rice or beans, or even dried vegetables, anything that expands when it cooks, only fill the inner pot to about halfway.
When adding the food to the Instant Pot, make sure to add a minimum of 1 c of liquid. Without this liquid, the pot can not pressurize correctly. Also, watch foods that might foam as it cooks. The foam can cause the steam release valve to get clogged and this can create too much pressure inside the pot. Instant Pot recommends only cooking things like, cranberries, cereals, applesauce, and noodles, as well as other things that can foam when the Instant Pot recipe says it is ok.
Make Sure the Lid is on Properly
It is important that the lid is on properly before any pressure cooking starts. Check to make sure that the sealing ring is in place and does not have anything like debris in the way. Make sure that the lid is on straight and correctly. Make sure that when you have closed the lid that you hear the chime to indicate that it closed correctly. Make sure the display does not read "Lid". Also, the system starts 10 seconds after you press the buttons, so make sure the lid is in place before pressing the cooking buttons.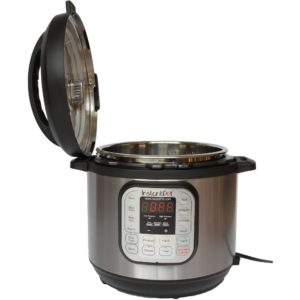 The Lid Fits
After the cooking process, be sure to place your lid in the "handle" of the Instant Pot. You can do this on either side. The moisture from the steam in the lid will drip down and could possibly ruin your countertops or surface you are cooking on. So, be sure to put it in the "holder" to prevent access water on your countertops.
Watch the Steam
You want to make sure you are not putting your hands or anything else that can get burned over the steam valve. The steam is very hot and it will burn you badly. Be sure that the Instant Pot is out of reach of children, as well. One concern I have is that many people say to "put a towel" over the knob where the steam is released. This is a big no no in my house! Putting a towel over the steam doesn't allow you to see exactly where the steam is being released and can cause you get to burned. Please, don't put a towel over the steam release valve!
Don't Open It
With old pressure cookers, you would have to fiddle and fuss with it. It did not have indicators to let you know what was going on and what stage things were at. Instant Pot has taken this need away. Do not open the pot to see what is going on. If the lid doesn't want to turn when you try it means the pot is still pressurized. It needs more time. Forcing it can cause a serious and dangerous problem. The pressure cookers have a natural release on them. Allow the pressure cooker to do it's thing naturally. Then, very carefully turn the steam release to allow any remaining pressure to exit before opening the lid.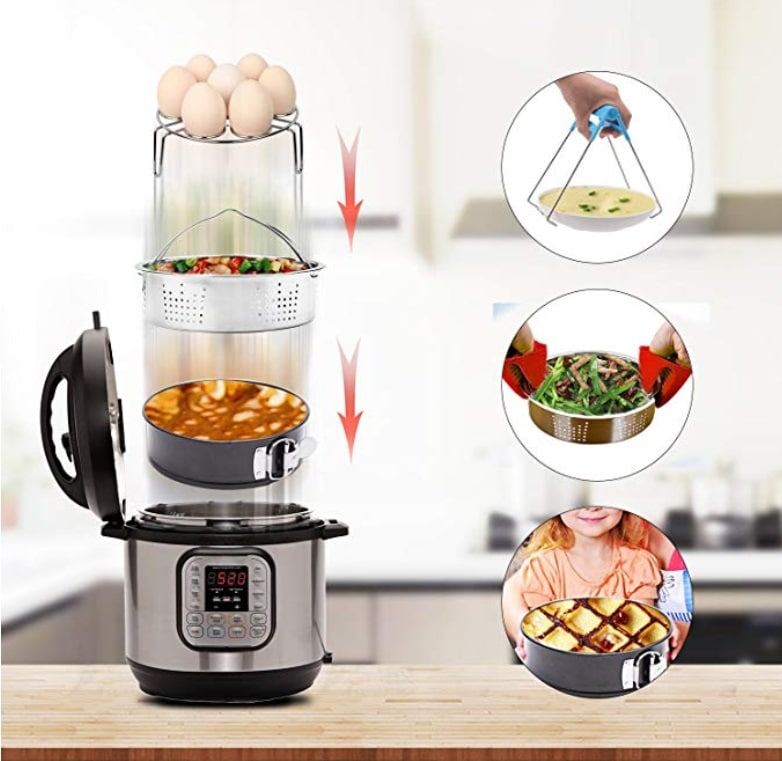 Instant Pot Accessory Heaven
I wish I had known about all the accessories that you can get for the Instant Pot! Like the 6″ Springform pan to make layered lasagna or cheesecake in would've been nice! Grab your accessory set NOW!
Using the Other Instant Pot Features
In addition to being a pressure cooker, the Instant Pot works as a slow cooker, a saute pot, a rice cooker, a steamer, and a yogurt maker. It can also be used as a warming pan. Each of these features is just like using a traditional version, except that it is all in one pot so it takes up less room in your kitchen. Once you have started to use your Instant Pot, you will find that it can be an all in one kitchen appliance that can make cooking every day an even easier task. There are many recipes that use the Instant Pot and once you get used to using it, I am sure you will want to start taking some of your favorite recipes and trying them in the Instant Pot.
Make some wine in your Instant Pot
When you are done playing around with your new toy, you may be interested in my friend David's process of how to make wine in your instant pot!
Our favorite Instant Pot recipes you should try:
Be sure to sign up for our newsletter as we will be sharing a NEW Instant Pot Recipe every Sunday!
Try These Reader Favorite Instant Pot Recipes
Quite a few of our Instant Pot Recipes have been very popular across social media. Here's a few of our readers favorite instant pot recipes that we hope you'll also try!