This post may contain affiliate links, read our
Disclosure Policy
for more information. As an Amazon Associate I earn from qualifying purchases, thank you!
These Painting Rice Krispies will easily make it to your collection of go-to desserts! The kids will love these for sure.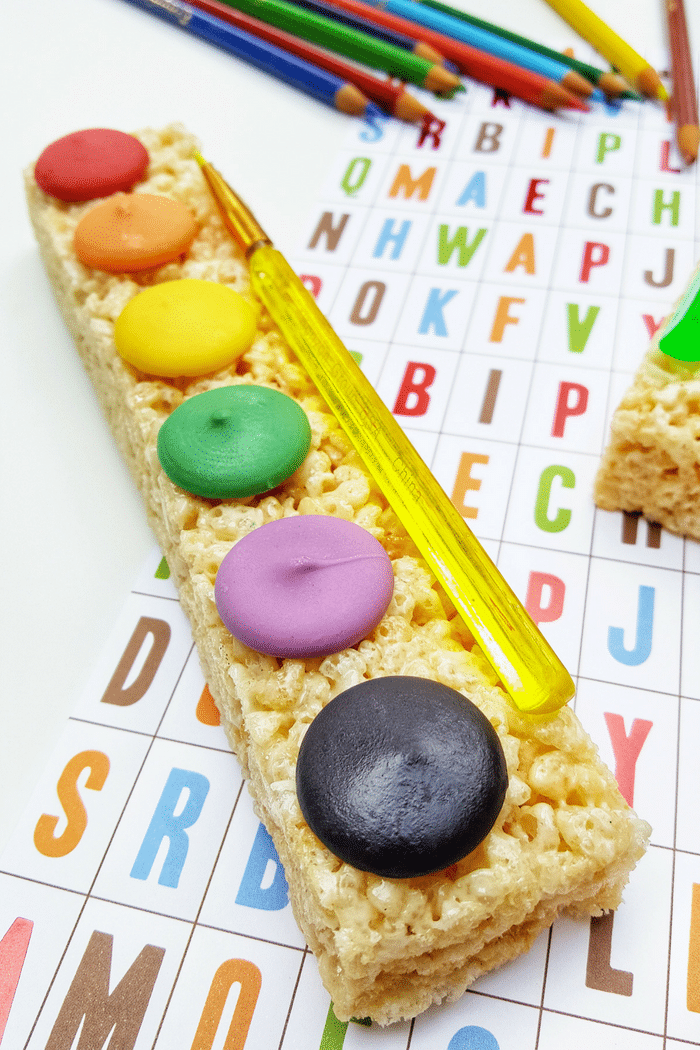 Painting Rice Krispies will become one of your kids' favorite treats to make on weekends! Nothing brings the family together quite like a fun recipe like this. The moment your kids see the materials and ingredients you'll be taking out, they'll immediately volunteer to help!
These colorful Painting Rice Krispies are great for themed parties and any-day surprises. Imagine what else you can create with this basic recipe? If you're hosting a children's party, you can even make the decorating process as one of the kids' activities. You'll earn the award for coolest parent and your kids' friends will be raving about these desserts for days!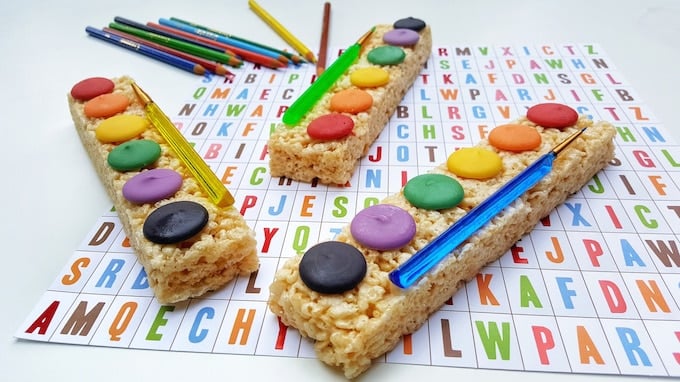 Why it works:
Melted butter and marshmallow combined together make a simple and sweet dessert that everybody will love!
Rice Krispies add crunch to the sticky marshmallows. Kids are sure to love them!
The colored chocolate coating on the Rice Krispies immediately grabs everyone's attention.
Recipe Variations:
For starters, if you'd like to melt the chocolate for a more realistic "fresh paint" effect, you can also add some candy sprinkles! It's a simple way to add more color and fun!
If you can't find Rice Krispies in your local stores, you can use other similar cereals like Fruity Pebbles!
You can use this same method and make it fit other themes like St. Patrick's Day, Valentine's Day,
Halloween and Christmas! Can you imagine these treats in clover and heart shapes; and maybe with Jack-o-Lantern and ghost faces? All it takes are cookie cutters, different colors of melted chocolate and your imagination.
For Easter, mold the Rice Krispies into egg shapes! You can choose to dip half of it or the whole thing in colored melted chocolate. Pepper them with sprinkles and chocolate to create your cute designs.
Take making Easter eggs up a notch by making it hollow on the inside and filled with more treats! Using a toy egg, press the Rice Krispies against the shell and let it cool. Then you can decorate them however you want!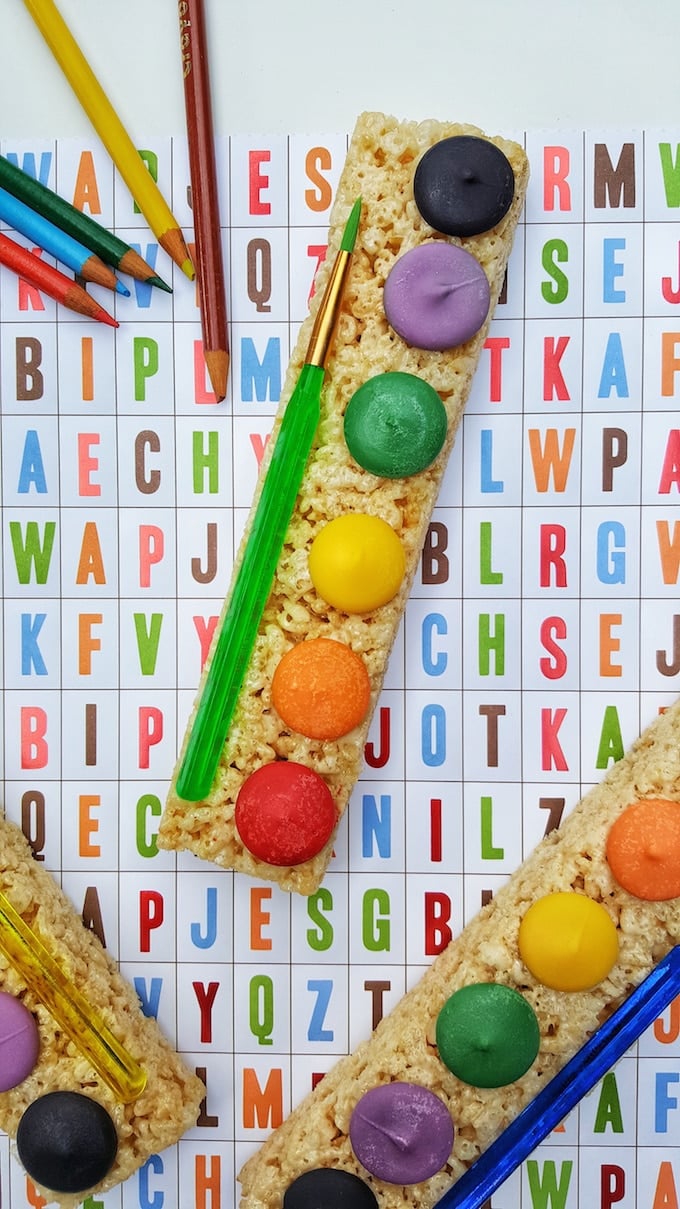 Tips for making the artsiest Painting Rice Krispies:
Make sure the Rice Krispies are packed together well to prevent them from crumbling and falling off.
If you will be coloring the Rice Krispies to create differently themed treats, make sure that it's evenly coated. We all want to achieve the perfect look!
What you'll need to make Painting Rice Krispies: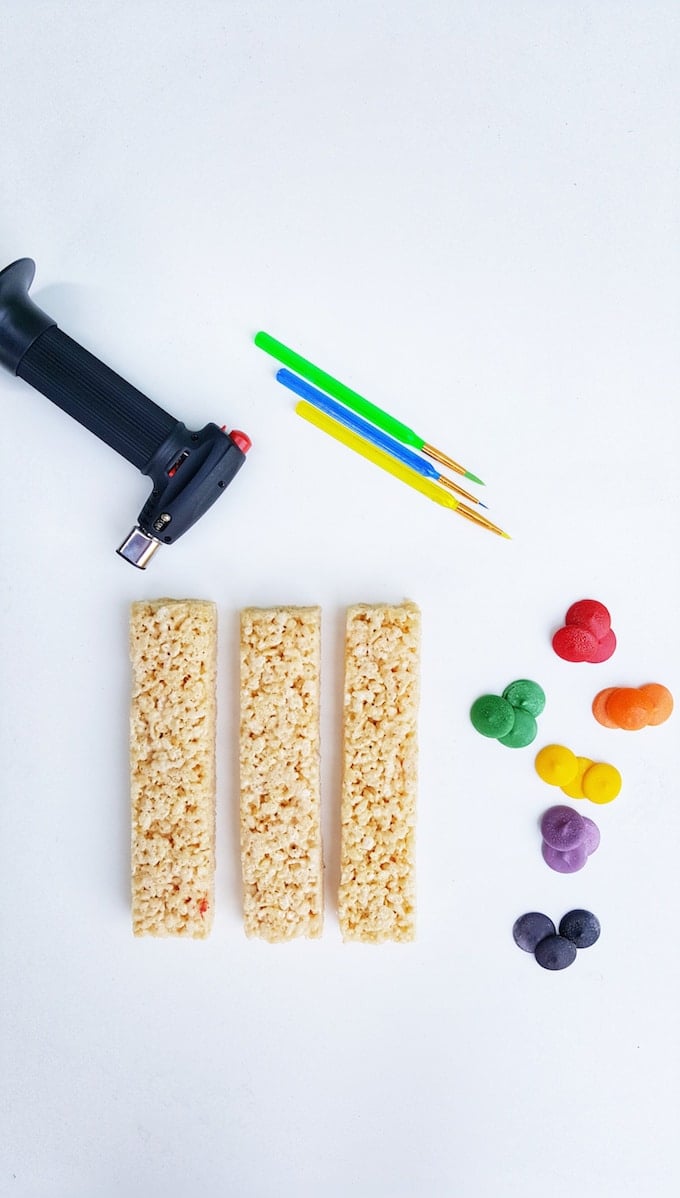 Extra Long Rice Krispy Treats (or two regular sized treats placed together)
Wilton Candy Melts in at least 6 different colors
Paintbrushes or red licorice for decoration
How to make these rice Krispy treats:
Place the Wilton candy melts in colored order on one side of the treats.
Quickly pass over the melts with a butane torch, or place in the microwave for 15 seconds to give it a shiny "paint-like" look.
Serve with a paintbrush for decoration, or a piece of licorice to complete your watercolor set!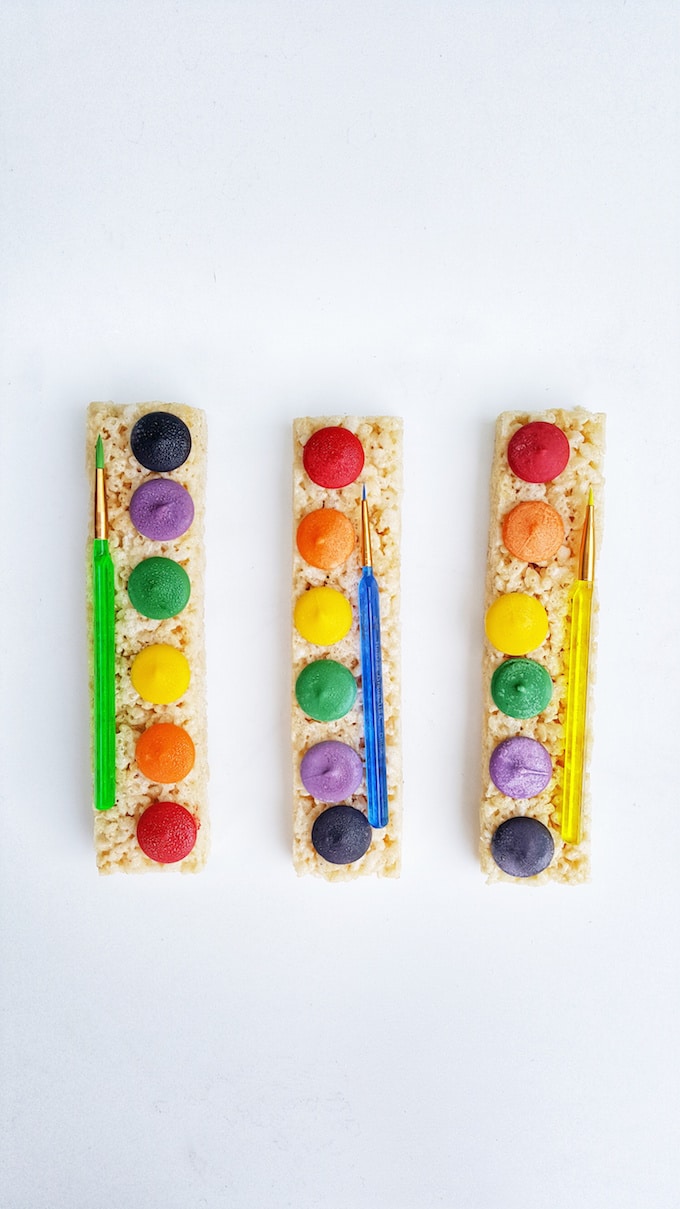 Other artsy recipes you'll enjoy making:
Try These Reader Favorite Dessert Recipes
Quite a few of our Dessert Recipes have been very popular across social media. Here's a few of our readers favorite dessert recipes that we hope you'll also try!