I'm so excited to announce our first EVER, Fan Friday Recipe! Every Friday I'll be sharing a new recipe that YOU have submitted! How do you submit a recipe you ask? It's easy, head on over to the Submit Your Recipe page and share it with me. You can upload a image directly and I'll get it scheduled. If you have a website feel free to include the link and I"ll show you some <3!
Our first Fan Friday Recipe comes from a My Heavenly Recipes Facebook fan – Barb B!
Barb is sharing her families Specken Ditens recipe.
Now I've never heard of Specken Ditens before. I'm willing to bet that you haven't either! So I asked Barb where they came from or what they were and her response was "This [recipe] came from with my Grandmother from Germany. They are suppose to bring you luck in the New Year!".
I'm pretty sure we can use some good luck in the Loehner household so I'll whipping these bad boys up as soon as I can get the chance. Will you be whipping up these Specken Ditens or better yet, have you made this recipe before?
4 cups white flour
2 cups rye flour
3 cups raisins
2 eggs beaten
1 cup sugar
1 1/2 cups dark sugar
1 tsp cinnamon
2 tsp salt
1 tsp cardamom
4 tsp anise [liquid ]
1 heaping tsp soda
3 cups milk
3 cups water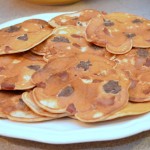 Speckditens
Ingredients
4

cups

white flour

2

cups

rye flour

3

cups

raisins

2

eggs beaten

1

cup

sugar

1 1/2

cups

dark sugar

1

tsp

cinnamon

2

tsp

salt

1

tsp

cardamom

4

tsp

anise [liquid ]

1

heaping tsp soda

3

cups

milk

3

cups

water
Instructions
In a large bowl whisk together white flour, rye flour, raisins, sugar, dark sugar, cinnamon, salt, and cardamom.

Once dry ingredients have been whisked add in anise [liquid ], soda, milk, water and eggs.

Then heat up, butter and fry the speckditens up just you would pancakes.
Be sure to Submit Your Recipe so that I can feature it on the site! See you soon 😉
Enter your Name and Email Address Below to receive a email when a new recipe is published!
I PROMISE I won't sell your info to those scammer people!