Every Sunday night I sit down with my family and ask for any special requests for breakfast, lunch and dinner for the week. Typically I get the same response of "it doesn't matter" or "I don't care" and on those weeks it's pretty much left up to my imagination. I sit down with the calendar and plan meals around the activities that we have going on that day. On nights where we are running to gymnastics, have errands or know it's going to be a busy night I plan for easier meals that don't require much attention.
This week this what my Meal Plan looks like. I have a chalkboard on my pantry door that helps keep me organized. Along with the day and what we are having for each meal that day I have any activities, doctors appointments, etc. set up so that everything is in my view at once. This also answers any questions on "What's for dinner?"!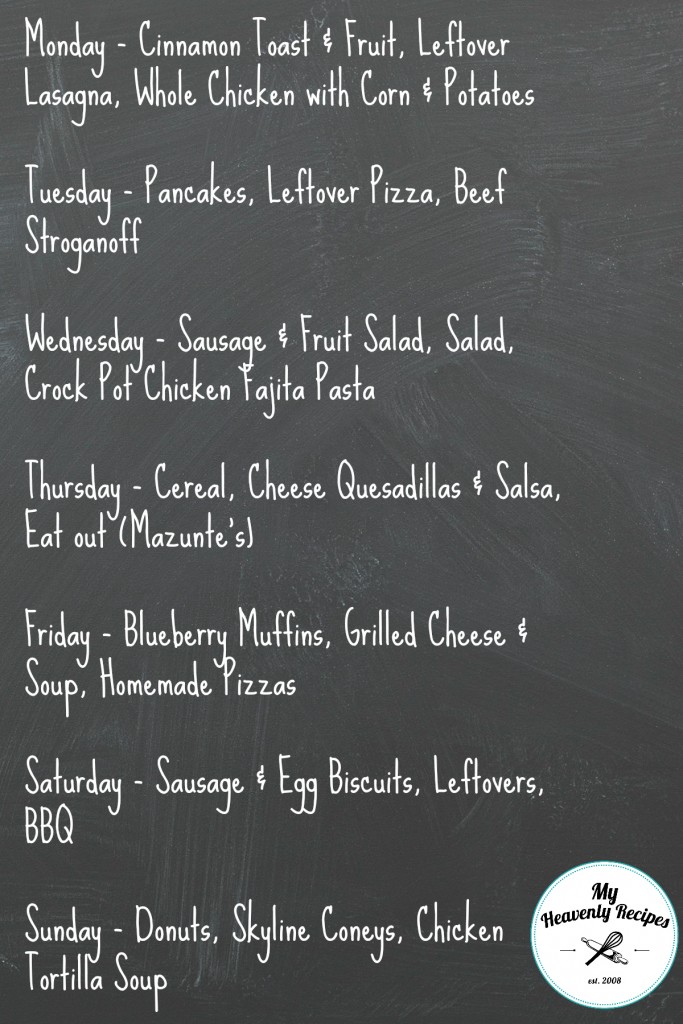 If you would like to make the recipes I am in blue be sure to click on them and print out the recipe with a list of the ingredients.
Homemade Lasagna

Homemade Pizza Dough
Homemade Pancakes
Beef Stroganoff
Crock Pot Chicken Fajita Pasta
Chunky Lime Salsa
Blueberry Muffins
Chicken Tortilla Soup

Baked Chocolate Donuts
Homemade Spaghetti Sauce (Lasagna)
Monday – Cinnamon Toast & Fruit, Leftover Lasagna, Whole Chicken with Corn & Foiled Potatoes
Tuesday – Pancakes, Leftover Pizza, Beef Stroganoff
Wednesday – Sausage & Fruit Salad, Salad, Crock Pot Chicken Fajita Pasta
Thursday – Cereal, Cheese Quesadillas & Salsa, Eat out (Mazunte's)
Friday – Blueberry Muffins, Grilled Cheese & Chicken Tortilla Soup, Homemade Pizzas
Saturday – Sausage & Egg Biscuits, Leftovers, Pulled Pork Adobo BBQ
Sunday – Baked Chocolate Donuts, Skyline Coneys, Chicken Tortilla Soup
Now you can go to right click on the image above and print to create the very same menu. You also have the option to print out a blank Weekly Meal Plan printable and combine some of the recipes above with your families favorite recipes. You'll want to print out each of my recipes and keep attached to your meal plan so that you don't have to waste time coming back to look for the recipes later. Just do it now before you forget…K!?!
The third option is to purchase this Weekly Meal Plan Menu 1 for just $5. This week you'll receive 12 recipes in one instant download along with a COMPLETE shopping list 😉 You can file away the recipes for later, use to create recipes this week or print and give to a friend who is in need of a lifestyle change and to start cooking in their own kitchen.

Whatever the reason, this takes quite a bit of time and I would love to be compensated for my time and the convenience on your end — the reason I'm charging a small fee 😉 Also, keep in mind you are supporting a small woman owned business and the money is going back into the site for website development, making the site faster for your experience and to bring you super cool things as the site grows 😉
I appreciate you for stopping by and supporting my passion no matter how big or small!