How to Make Antipasto Skewers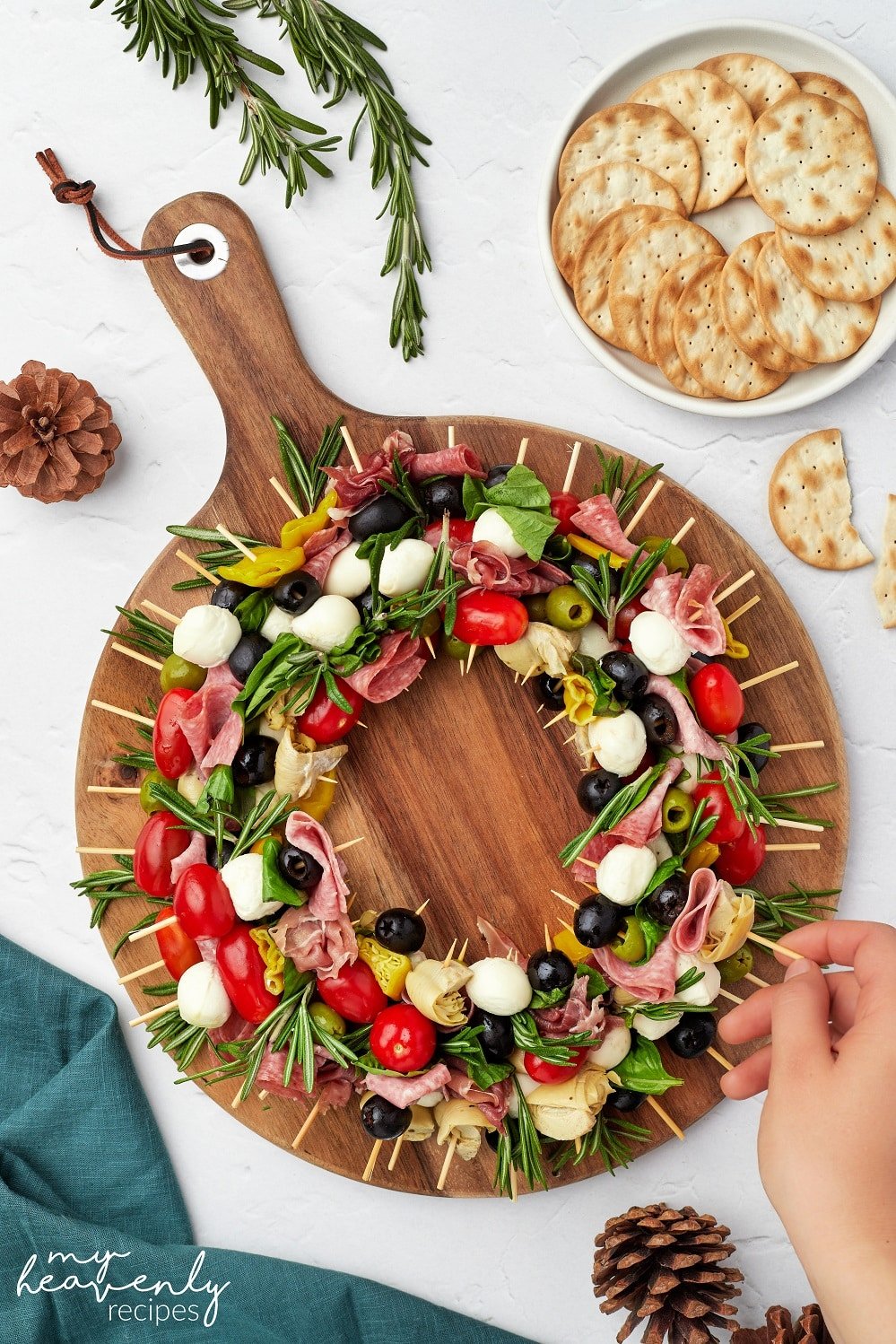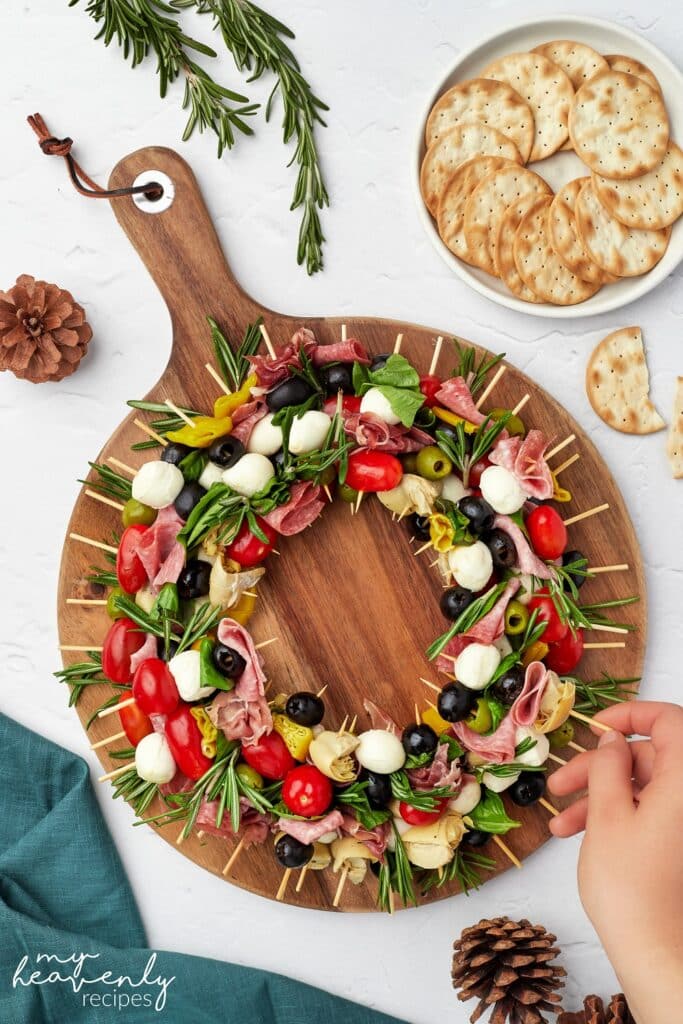 Make a gorgeous antipasto charcuterie wreath for your holiday guests this year! You use toothpicks so they can just grab them and go. These antipasto skewers are great for Christmas or Thanksgiving finger food appetizers. Make sure to check out all our other appetizer ideas!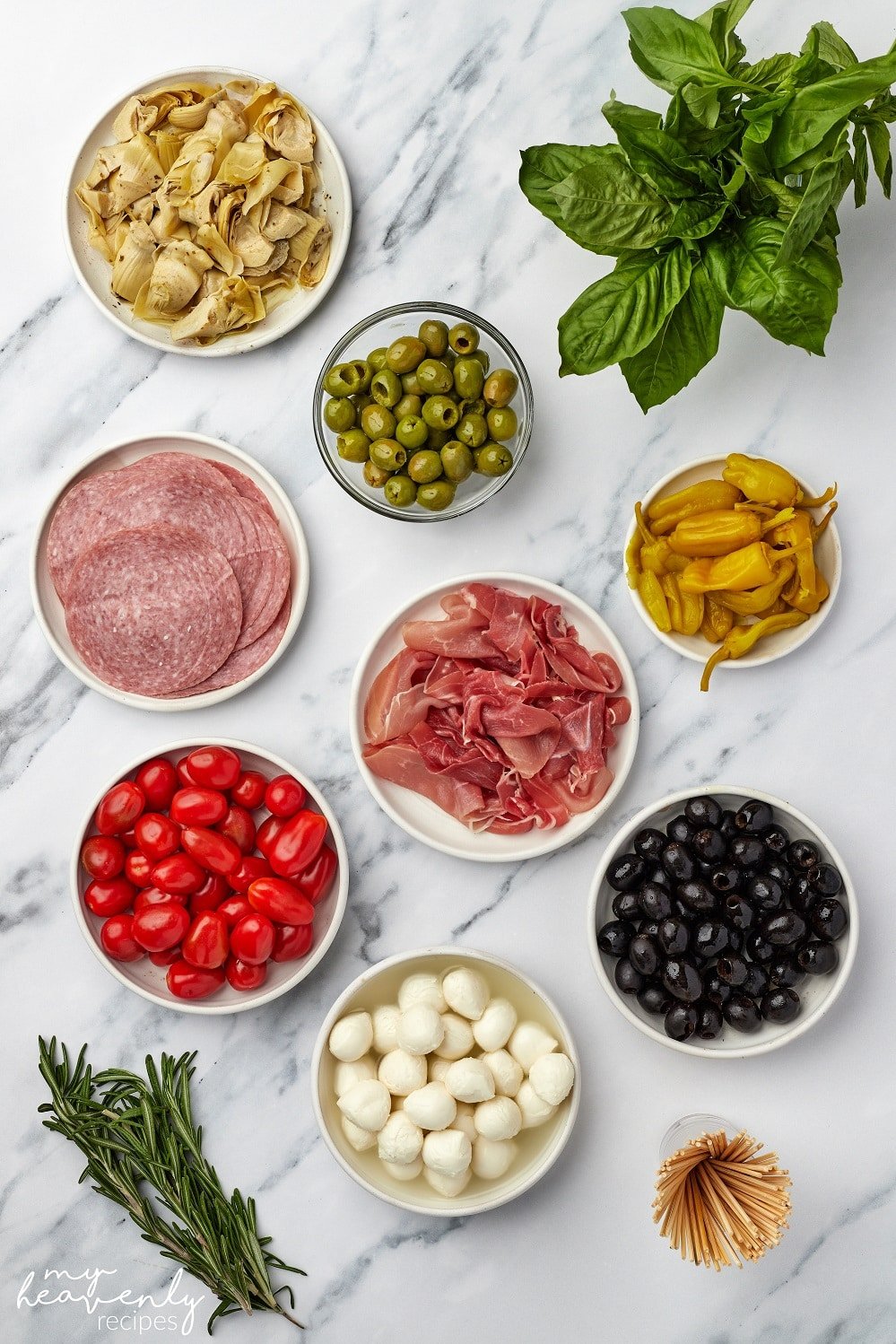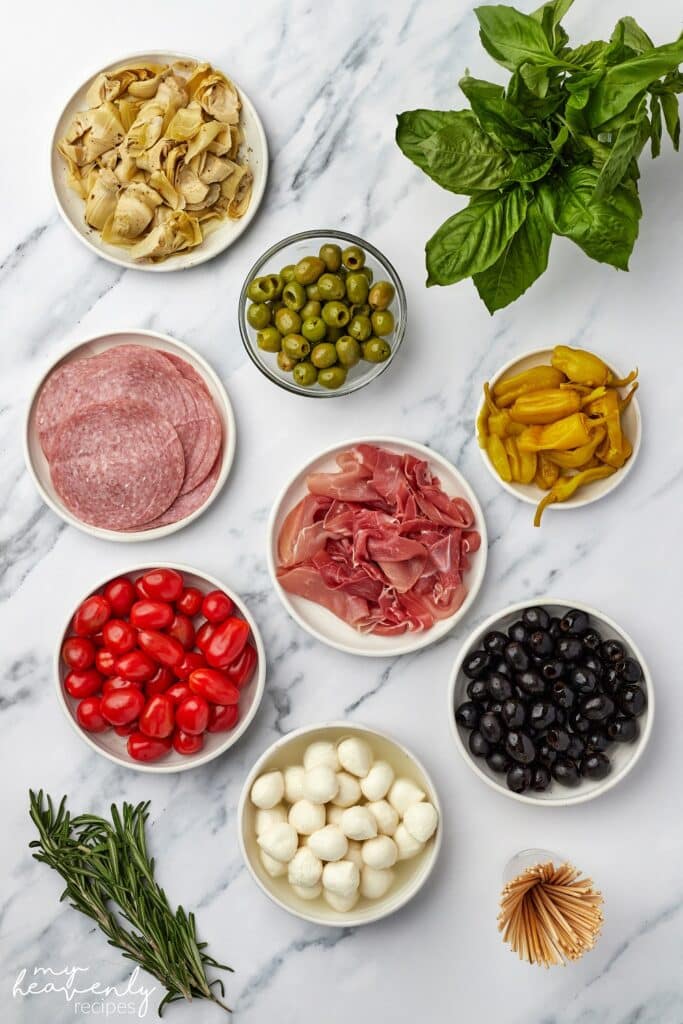 NOTES & FAQs:
Description

This antipasto/charcuterie wreath…

has a wide variety of flavors and textures! It has salty olives, spicy pepperoncini, savory meats, smooth and creamy cheese, and a touch of freshness and snap from the tomato and basil is an easy appetizer that looks impressive and inviting at your holiday get-togethers comes together in less than 30 minutes with zero cook time

Supplies Needed

A large round serving plate or board

4-inch bamboo skewers

If you cannot find 4-inch skewers, I recommend buying regular-sized wooden skewers and cutting them down to a smaller size. Unfortunately, toothpicks are too small!

General/Preparation

Optional serving suggestions: serve with balsamic vinegar, olive oil, bread, or crackers.

Ingredient Information, Substitutions

Salami & prosciutto

Salami and prosciutto are common charcuterie/antipasto meats, but you can use any other type of cured you prefer.

Some potential substitutions include pepperoni, coppa, soppressata, and pancetta.

Prosciutto usually comes in large, long slices. Slice into 1-inch thick strips to make it easier to place on the small skewers.

When placing the meats on the skewer, you can fold it a few times (like you would a piece of paper) to make it smaller, stay on the skewer better, and have a "fanned" appearance.

Castelvetrano olives

These green olives have a delicate, buttery, smooth flavor and texture. If you cannot find castelvetrano olives, any other type of green olive will do.

Black olives

Regular canned black olives work best here. I don't recommend substituting with Kalamata olives as they are brinier and stronger in flavor.

Ciliegine

These little mozzarella balls can be found in the deli section of most conventional grocery stores. They are about the size of a cherry tomato or a large marble and are perfect for these skewers. If you cannot find them, you can use any variety of mozzarella you like and cut it smaller as needed.

Pepperoncini

These can be found in the canned food section near the olives. If you want to slightly turn down the spice but still have a type of pepper, banana peppers would make a good substitute.

Fresh basil

The basil adds a fresh, herbaceous factor to the wreath! If you cannot find fresh basil, you could use spinach leaves for a touch of green, although the flavor will be different.

I don't recommend using any dried herbs in this recipe.

Grape tomatoes

Grape tomatoes can be substituted with cherry tomatoes or another type of small tomato of your choice.

Food Safety

Important notes if serving this dish at a party or outdoors in the heat, sourced from USDA:

Leaving food out too long at room temperature can cause bacteria to grow to dangerous levels that can cause illness.

Never leave food out of refrigeration over 2 hours. If the temperature is above 90 °F, food should not be left out more than 1 hour.

Storage & Making Ahead

For best results, I recommend making this and serving immediately. To make ahead, you can cover it with plastic wrap and store it in the refrigerator for up to 3-4 hours before serving.

Store any leftovers in an airtight container in the refrigerator for up to 24 hours.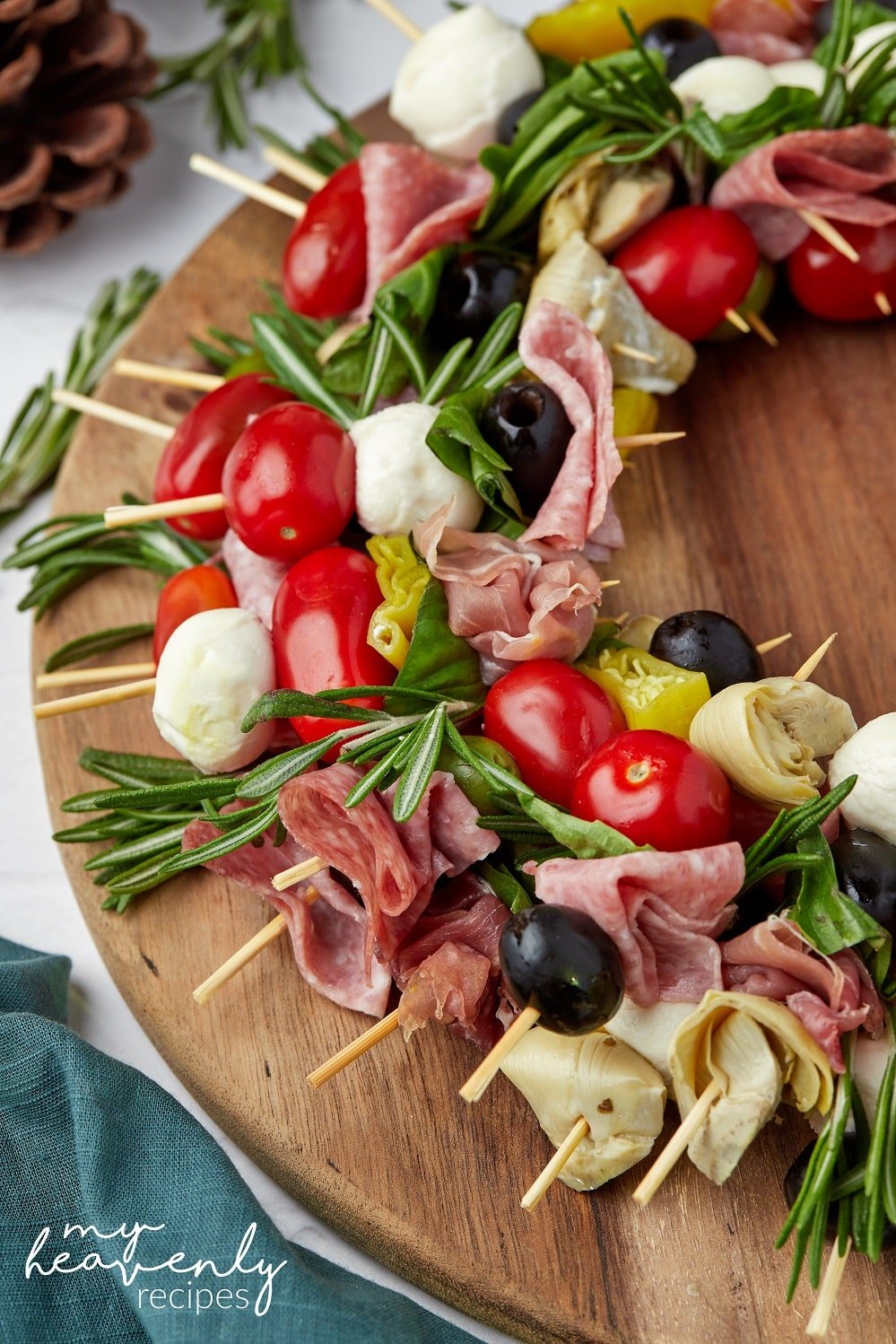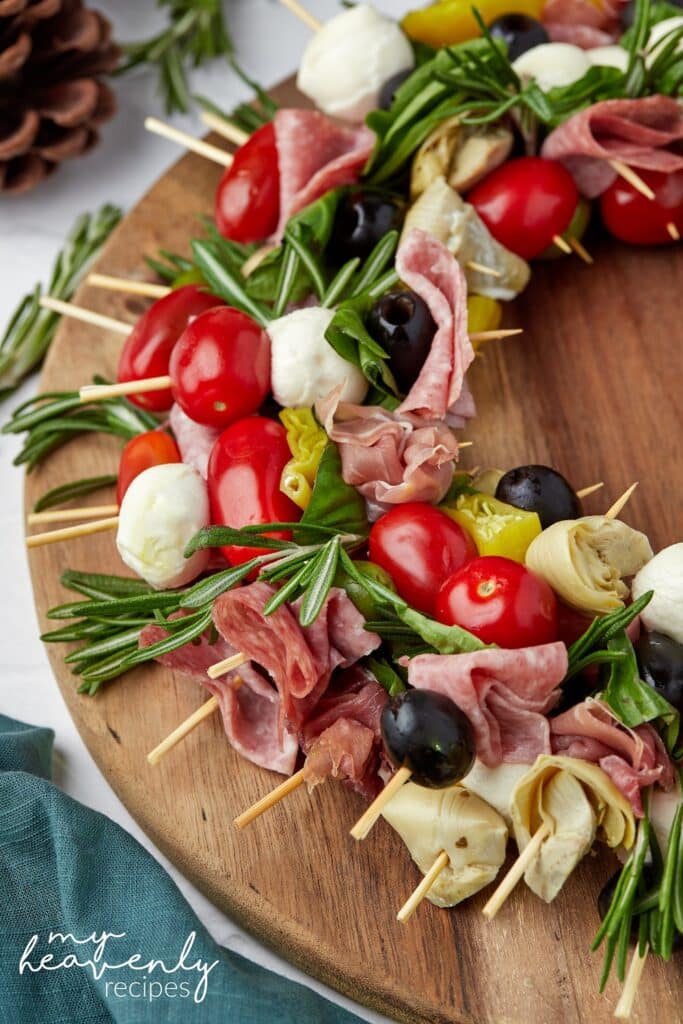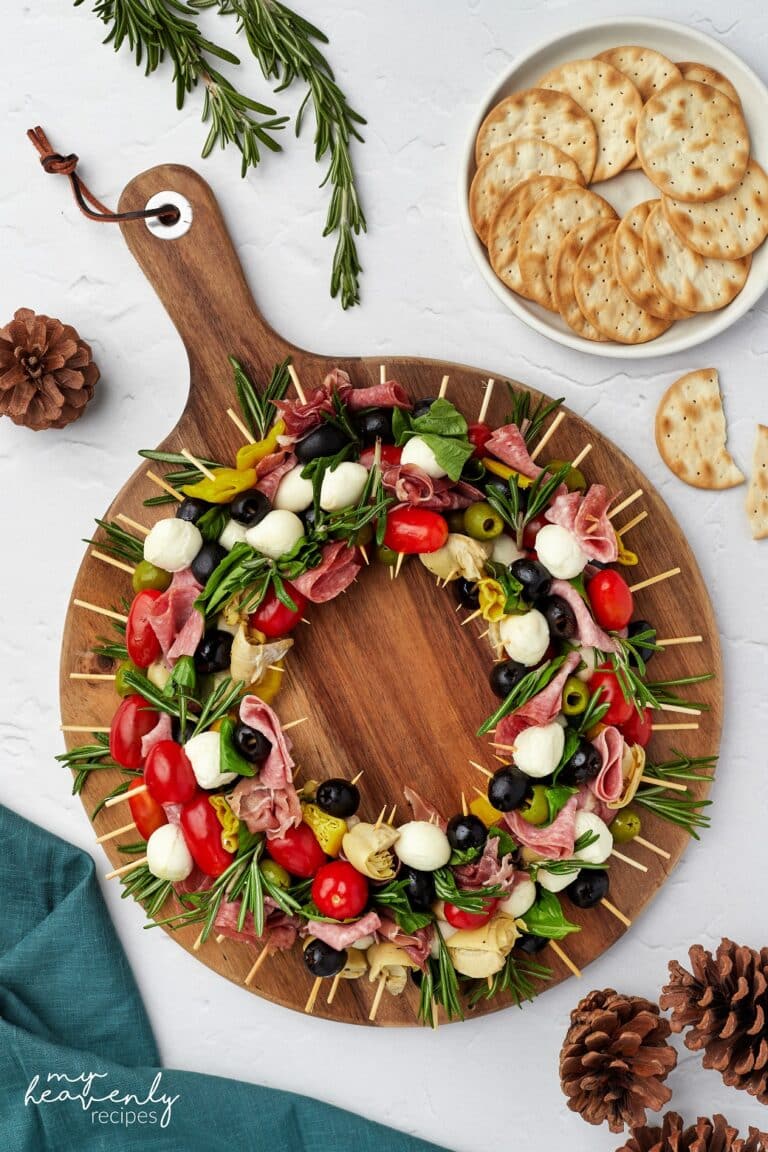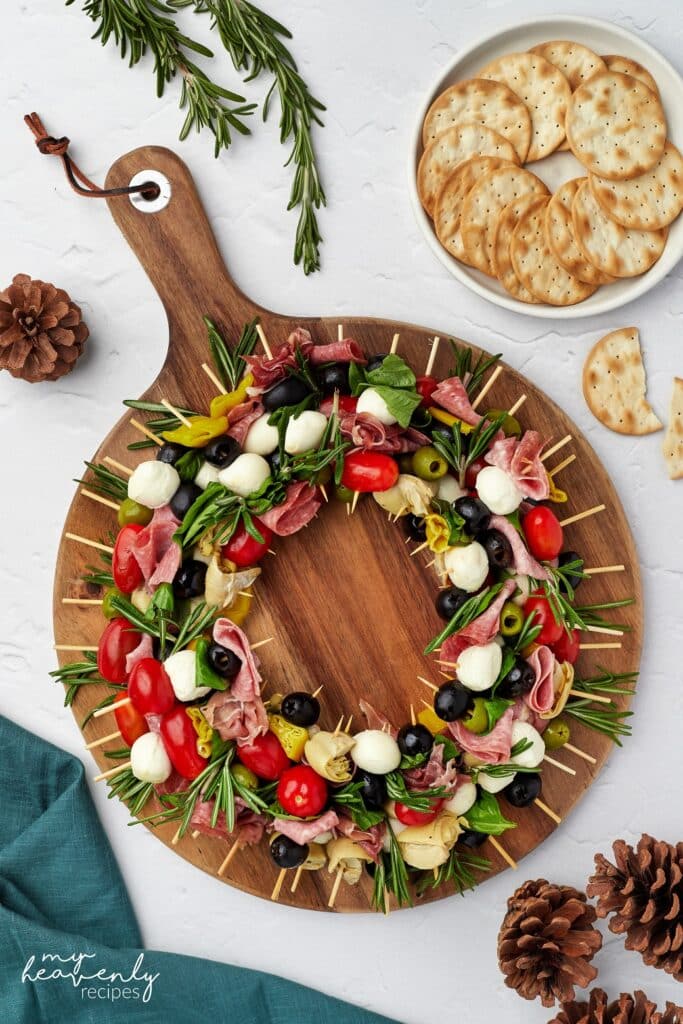 Antipasto Charcuterie Wreath
Ingredients
30-40 4-

inch

bamboo skewers

10

ounces

grape tomatoes

8

ounces

ciliegine

small mozzarella balls

8

ounces

pepperoncini peppers

drained and quartered

7

ounces

marinated artichokes

drained and quartered

6

ounces

medium black olives

pitted

5

ounces

castelvetrano olives

pitted

5

ounces

salami

halved

4

ounces

prosciutto

sliced into 1-inch strips

1

large bunch fresh basil leaves

1

bunch fresh rosemary

for garnish
Instructions
Begin by setting out all of the ingredients for the wreath.

Grab a skewer and add 4-5 different ingredients to it. The ingredients and order for each skewer are up to you – variation adds some visual interest and complexity to the final wreath!

Place one layer of skewers in a circular shape on your serving plate or board. Continue to create more skewers and place them on top of the first layer. Continue until you run out of skewers or ingredients.

Cut small sprigs of rosemary and place them randomly throughout the wreath.

Serve immediately.