This post may contain affiliate links, read our
Disclosure Policy
for more information. As an Amazon Associate I earn from qualifying purchases, thank you!
This Chocolate Covered Strawberries recipe and video tutorial will show you how to make them at home! They're a homemade Valentine's Day gift idea that your Valentine will love!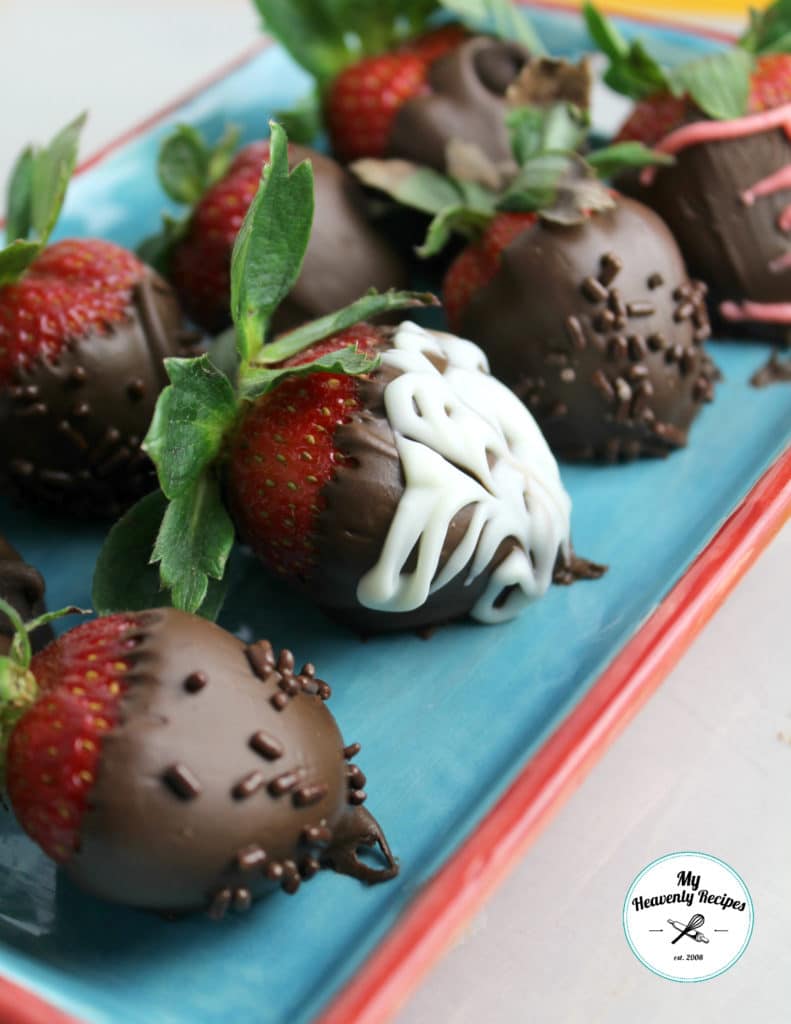 Are you looking to surprise your love with a little something extra special on Valentine's Day? Consider learning how to make Chocolate Covered Strawberries. They are super simple to make. If you can melt chocolate, you can make these delicious Valentine's Day treats!
I about had a heart attack when I saw the price of chocolate covered strawberries in my local grocery store! There were 4 measly strawberries in the package, dipped in chocolate for $6.99! Yes…$6.99! I mean, you can purchase an entire container of organic strawberries and a bag of semi-sweet Nestle morsels for that price!
So I made it my mission to come home and share with you a super simple Chocolate Covered Strawberries recipe. PLEASE, I beg you, don't EVER buy Chocolate Covered Strawberries again after this, OK?!?
Is It Necessary to Use Paraffin Wax?
Now, you don't have to, but, using paraffin wax will thin the chocolate out, making it a bit easier to work with. It also gives the chocolate a nice shine to it and makes for a wonderful presentation! If you don't have Paraffin Wax you can totally omit this as I did in the How to Make Chocolate Covered Strawberries video.
How to Decorate Chocolate Covered Strawberries
If you want to take your Chocolate Covered Strawberries up a notch, decorate them!
In the video below, I added semisweet morsels, making them look like a Tuxedo. They'd be perfect for a wedding. I also added Chocolate Sprinkles…because who doesn't love Sprinkles? I've also done white chocolate to look like a football and also white chocolate drizzled over a chocolate covered strawberry and took toothpicks to draw lines to create a cool look to them.
While the chocolate is still soft, decorate the strawberries with sprinkles, chocolate is always fun.
If using white chocolate to dip your strawberries in, they look fun with colored sprinkles for the kids!
Using white chocolate, pour in a Ziploc bag and snip the end of. Drizzle over the top of the dried chocolate dipped strawberry. Then using a toothpick drag chocolate from top to bottom, reverse the opposite side with dragging the toothpick from bottom to top. It makes for a fun design.
Ingredients to Make Chocolate Covered Strawberries
Strawberries
semisweet chocolate
Paraffin Wax or Coconut Oil (optional)
How to Make a Double Boiler to Melt Chocolate
Take a medium-size saucepan.
Place enough water in the bottom of the pan that went it begins to boil, WILL NOT touch the bowl.
Place a bowl over the saucepan. The lip of the bowl should hang onto the lip of the saucepan, allowing it to not fall or drop into the pan.
Water will begin to boil and the bowl will be hot to the touch. You'll also want to be careful of the steam from the boiling water.
Once the chocolate has melted, you can turn the heat down to low or remove from the heat completely.
You'll want to work quickly so that the chocolate doesn't firm back up.
Enjoy with a nice bowl of yogurt, ice cream or some bubbly with your significant other. I tend to make these a few times a year as a special treat and the girls LOVE it. They pretend to be fancy for a night!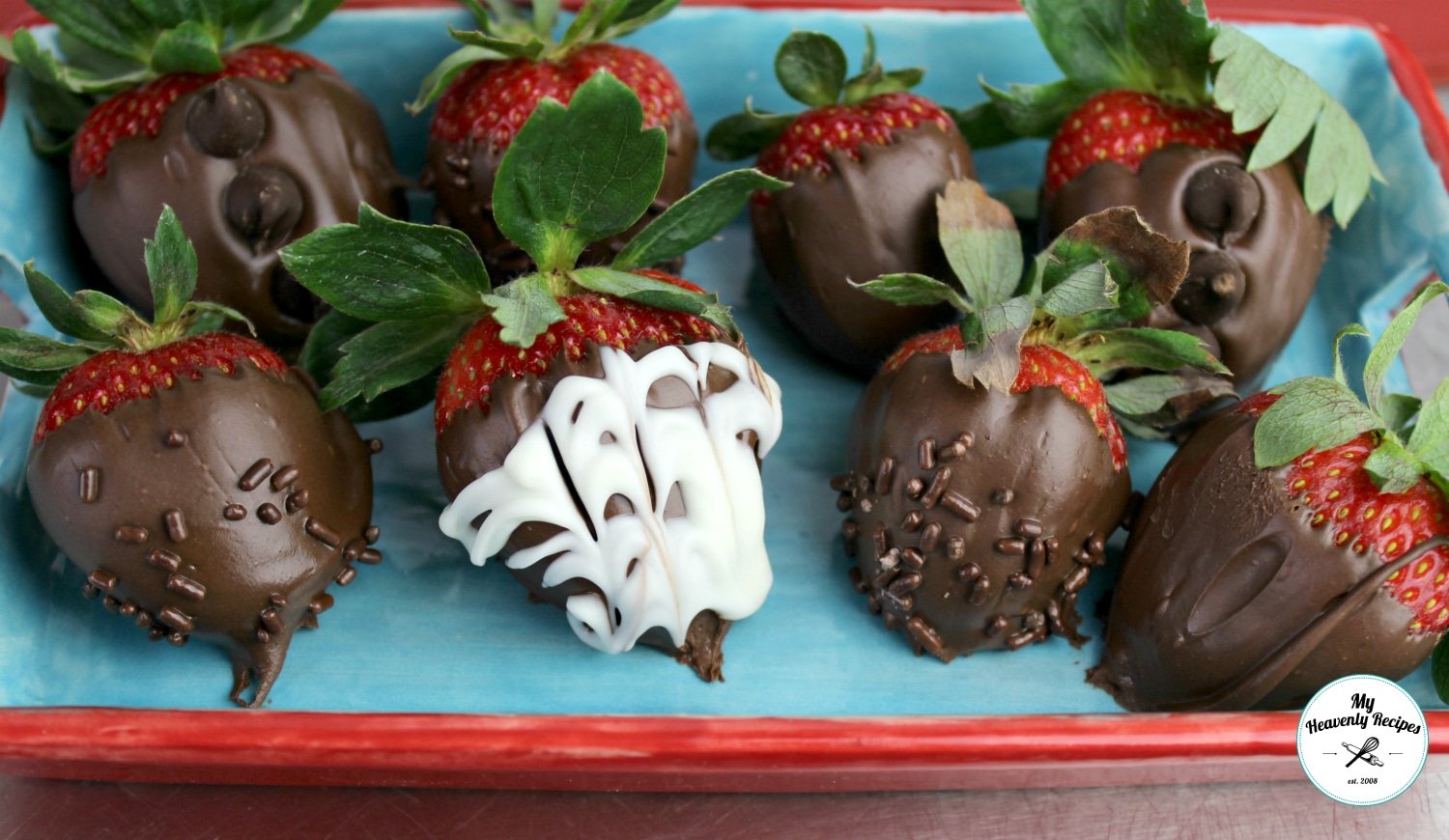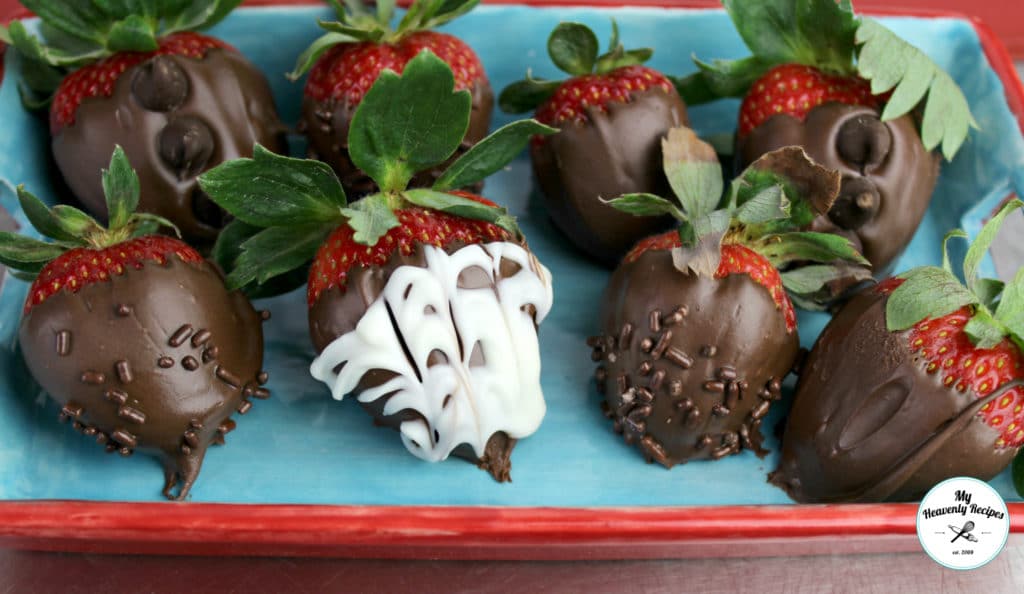 How to Make Chocolate Covered Strawberries
Rinse off the strawberries.
Using a paper towel, pat the strawberries dry. If the strawberry is not completely dry, the chocolate will not stick to it.
Using a double boiler (or microwave) melt chocolate and paraffin wax if you are using.
Stir constantly until the chocolate is melted and smooth.
Grabbing the leaf of the strawberry, carefully dip into the melted chocolate.
Place on wax paper or silicone baking mat to all to dry.
Other Chocolate Covered Recipes You May Be Interested In Trying:
How to Make Chocolate Covered Strawberries + Video
Chocolate Covered Strawberries are much more affordable when you make them at home. They are quick and easy to make for the loves in your life.
Ingredients
1

Package Organic Strawberries

washed and drained

2

C

Semi Sweet Chocolate

you can totally do a dark chocolate if you wish!

⅓

C

Paraffin Wax
Instructions
Over a double broiler melt chocolate and paraffin wax. (Double broiler is a sauce pan with a little amount of water and a pyrex bowl resting on top. Make sure the water DOES NOT touch the bowl.)

Ensure your strawberry is completely dry. Grabbing the leaf dip into the chocolate. Let the excess drip off.

Place on a sheet of wax paper to harden, 15-30 minutes.
Notes
Weight Watchers FreeStyle Plan:  4 SmartPoints per berry