Are you looking to surprise your love with a little something extra special today? Consider making your very own Chocolate Covered Strawberries. They are super simple to make. If you can melt chocolate you can make these!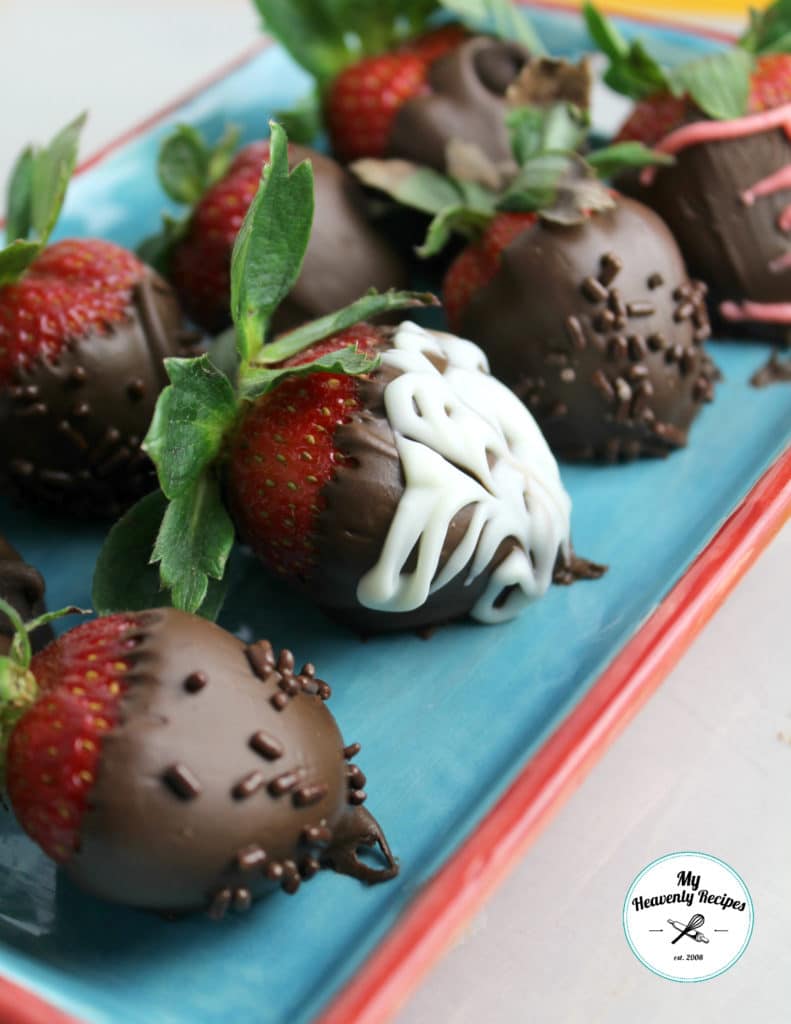 I about had a heart attack when I saw the price of chocolate covered strawberries in my local grocery store! There were 4 measly strawberries in the package, dipped in chocolate for $6.99! Yes…$6.99! I mean you can purchase an entire container of Organic Strawberries and a bag of semi-sweet Nestle morsels for that price!
So I made it my mission to come home and share with you a super simple Chocolate Covered Strawberries recipe. PLEASE, I beg you, don't EVER buy Chocolate Covered Strawberries again after this, OK?!?
I am a Indepedent Consultant for Pampered Chef. Items used in this video were:
1 Cup Prep Bowl Set $22
Now, you don't have to, but, using paraffin wax will thin the chocolate out which makes it a bit easier to work with. It also gives the chocolate a nice shine to it and makes for a wonderful presentation! If you don't have Paraffin Wax you can totally omit this as I did in the How to Make Chocolate Covered Strawberries video above.
Ingredients
1 Package Organic Strawberries, washed and drained
2 C Semi Sweet Chocolate (you can totally do a dark chocolate if you wish!)
1/3 C Paraffin Wax
Directions
Over a double broiler melt chocolate and paraffin wax. (Double broiler is a sauce pan with a little amount of water and a pyrex bowl resting on top. Make sure the water DOES NOT touch the bowl.)
Ensure your strawberry is completely dry. Grabbing the leaf dip into the chocolate. Let the excess drip off.
Place on a sheet of wax paper to harden, 15-30 minutes.
In the video I added Semi Sweet Morsels to make them look like a Tuxedo and would be perfect for a wedding. I also added Chocolate Sprinkles…because who doesn't love Sprinkles? I've also done white chocolate to look like a football and also white chocolate drizzled over a chocolate covered strawberry and took toothpicks to draw lines to create a cool look to them.
Enjoy with a nice bowl of yogurt, ice cream or some bubbly with your significant other. I tend to make these a few times a year as a special treat and the girls LOVE it. They pretend to be fancy for a night!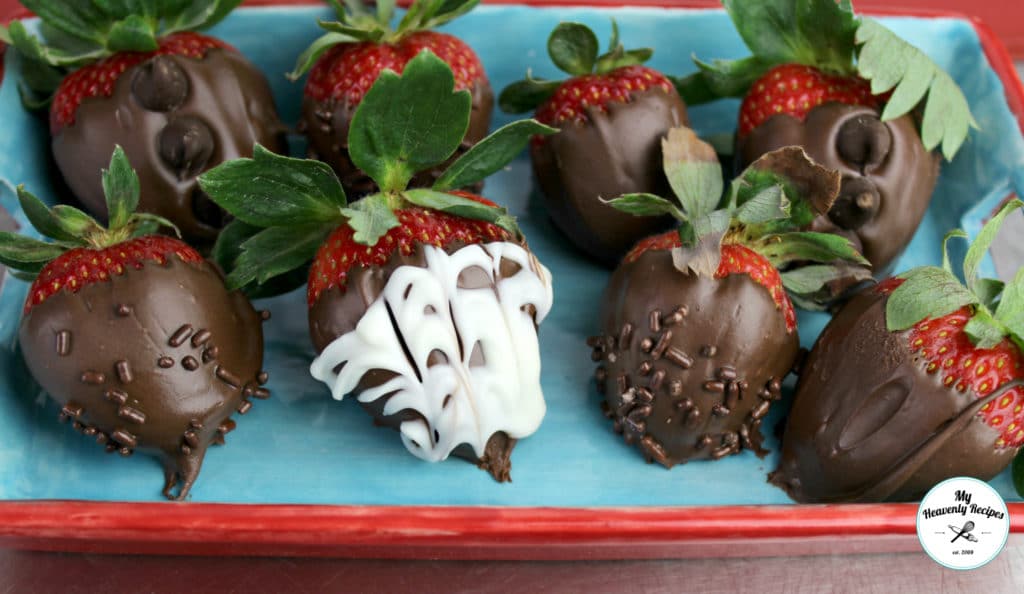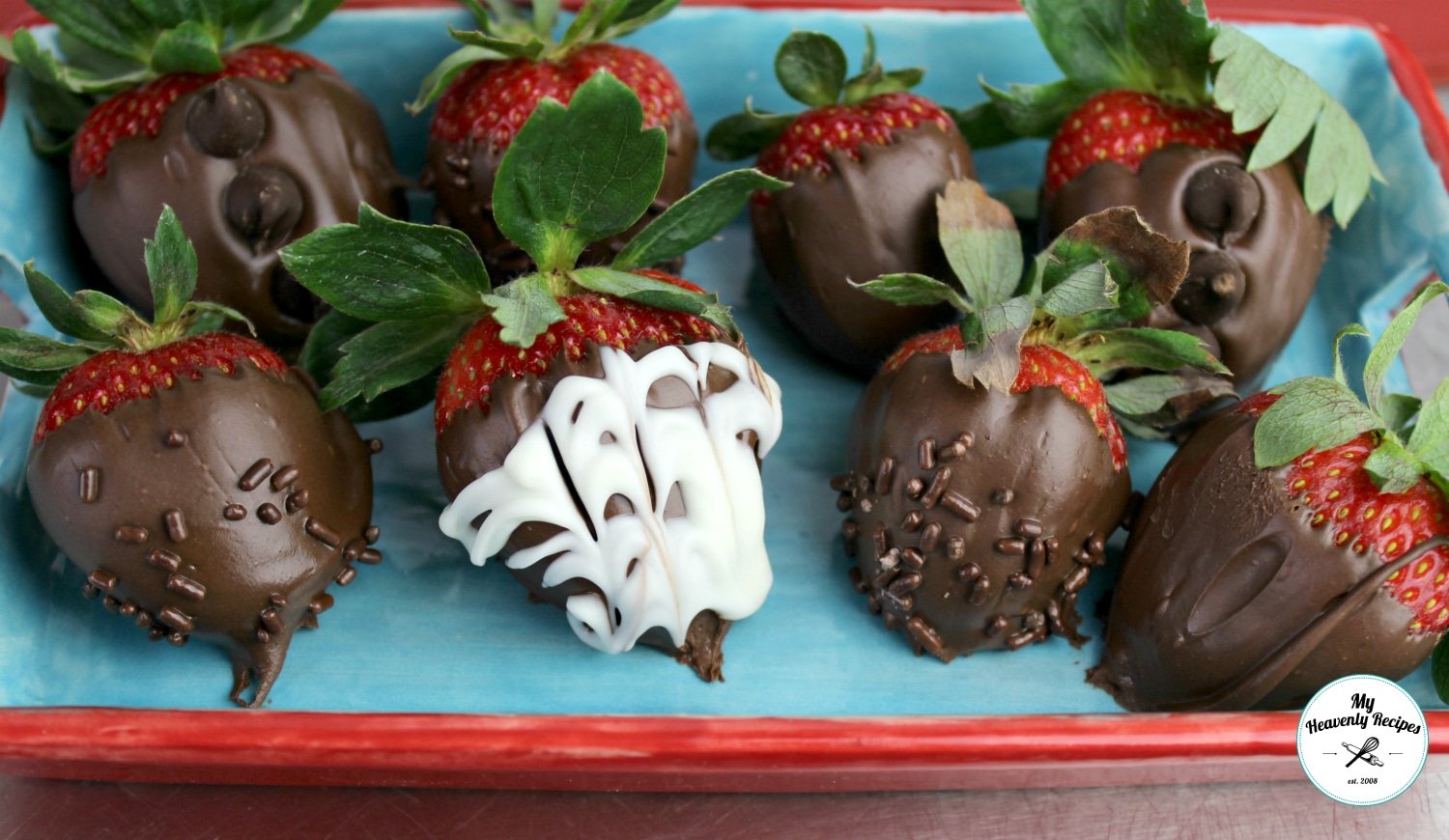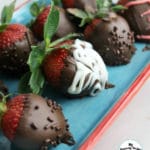 I love to see what you are creating in your kitchens! Feel free to share your results of this Chocolate Covered Strawberries Recipe with me on
Facebook
or
Instagram
. And, be sure to follow me over on
Pinterest
for more Heavenly Recipes.