This White Bread Recipe will become a staple in your home. Make two loaves, freeze the one you won't use right away and always have a loaf of fresh White Bread on hand.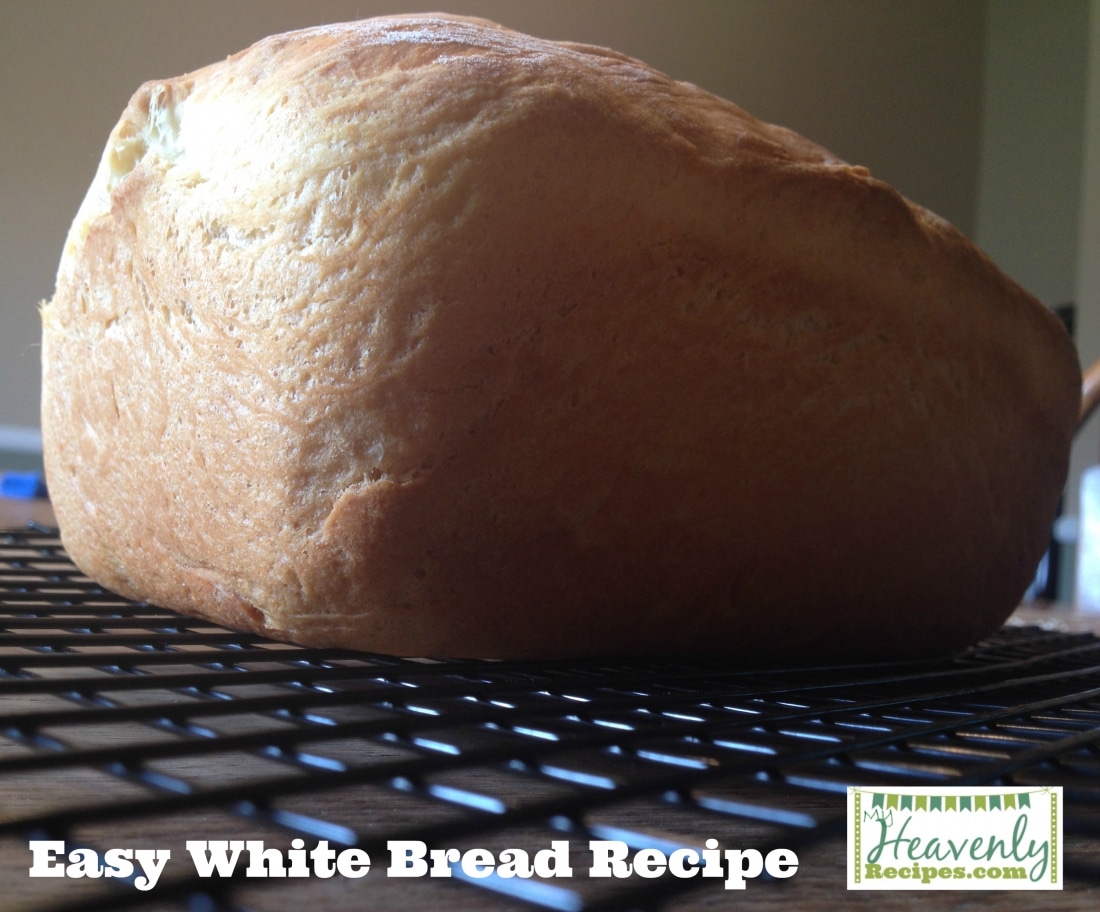 Years ago I would've told you I would NEVER make bread. It was much easier to pay $1.50 for a loaf of white bread and the cost/time factor totally outweighed itself. Time is money people and raising 3 children doesn't leave a lot of time for day dreaming let alone bread making. But, then came my research of GMO's & dyed foods. Check your white bread label…I am willing to bet there's corn syrup in it….who needs that in their bread?!?
I still wonder how the hell the Duggars do it….I mean I ACCIDENTALLY doubled up my kids ibuprofen last week. How do they keep track of 19 kids, I can't even keep track of 3!
Side Note: Everything went well. MSDS was very helpful and said she was within limit that her belly may end up a little upset….
Now I will tell you that I tried making bread without a stand mixture. Now it can be done, but, I'm spoiled and bought myself a KitchenAid Professional 6000 6 qt mixer a few years ago on Amazon.com for around $300 with attachments! I LOVE this thing. It stays on my countertop as I use it 3-4 times a week, sometimes more. I shred chicken with the paddle attachment, make breads, obviously use it for baking and whipping up homemade icing.
You can make this recipe without a stand mixer. Add water, yeast and sugar to a large bowl. Once the yeast blooms stir in the salt and the flour using a wooden spoon. Turn dough out onto floured counter top and knead for 10-12 minutes until dough is no longer sticky and holds its shape. Proceed with remaining instructions.
WW FreeStyle Plan: 4 SmartPoints per slice
Easy White Bread Recipe
This easy white bread recipe tastes amazing and is a breeze to make.
Ingredients
1 1/2

TBSP

2 packets Active Dry Yeast

2 1/2

C

Warm Water

2/3

C

Sugar

8

TBSP

unsalted butter

divided

1

TBSP

Kosher Salt

6-7

C

Bread Flour
Instructions
Melt 1/4 C of butter.

In a bowl add sugar and water.

Sprinkle yeast over the top of sugar mixture and work the yeast in with a wooden spoon. You are not stirring just allowing the yeast to bloom.

Let sit for 5-10 minutes until the yeast has doubled in size and becomes fragrant.

Add 1/4 C melted butter, 4 cups of flour and salt to sugar mixture.

Using a dough hook, mix on low until smooth.

Add remaining flour a cup at a time until a ball of dough forms.

Turn mixer on medium and knead dough for 5 minutes until the dough is a nice and smooth texture.

If your dough appears sticky add a sprinkle of flour at a time until it becomes tacky.

Flour a board or countertop and knead for 10-15 turns.

In a large bowl melt 1 TBSP butter.

Place dough into the melted butter and flip over to the other side gets coated.

Loosely cover with plastic wrap and a cloth over top. Allow to rise in a warm place until doubled in size, about 1 hour.

Punch dough down and shape into two loaves.

Place loaves in greased 9-in. x 5-in loaf pans.

Preheat oven to 350°. Bake for 30-35 minutes or until golden brown.

*If bread starts to brown too quickly, cover with aluminum foil. When bread is removed from the oven, brush with remaining butter. Serve and enjoy!

** Bread flour will achieve the highest possible rise and a chewier crumb, however you can substitute all-purpose flour.
Nutrition
Calories:
409
kcal
|
Carbohydrates:
68
g
|
Protein:
9
g
|
Fat:
10
g
|
Saturated Fat:
6
g
|
Cholesterol:
24
mg
|
Sodium:
704
mg
|
Potassium:
92
mg
|
Fiber:
2
g
|
Sugar:
13
g
|
Vitamin A:
5.7
%
|
Calcium:
1.6
%
|
Iron:
4
%
I love to see what you are creating in your kitchens! Feel free to share your results of this White Bread Recipe with me on Facebook or Instagram. And, be sure to follow me over on Pinterest for more Heavenly Recipes.