This Grilled Honey Chicken Breast recipe was inspired by our Texas travels. See how easy it is to make, it's just 2 simple ingredients.

Served with this Southwestern Grilled Street Corn Recipe here.
Check out my video for this Grilled Honey Chicken Breast below. It shows you just how easy it is to recreate in your own home!
One thing that I hear from ya'll is that you want simple recipes with ingredients you already have on hand. That's exactly what you get with this Grilled Honey Chicken Breast Recipe. It's seriously so simple you'll wonder why you didn't think of it previous to reading this recipe!
Alright so we visited Texas during Spring Break in Early April 2017. We arrived in Austin and enjoyed our first full day on Sunday down in Gruene. It was about a 40 minute drive from our hotel and TOTALLY worth the visit. We got to check out Gruene Hall where some of the most famous country singers have performed. The locals told us that Leann Rimes had been there two weeks previous to our trip. She randomly appeared and played a free performance. Apparently that's typical at Gruene Hall so you just never know who you may run into!
Housed next door is a old cotton gin building. Yes, Cotton in Texas is apparently a thing that us midwestern folks don't learn about! Anyhow, the Gristmill Restaurant sits above the Guadalupe River. In 1977 the owners found the property was for sale and decided to purchase this hidden gem. Since then they have been proudly serving some amazing food! I seriously can't wait to go back to Gruene and explore. I may even end up in the kitchen at the Gristmill and may never leave 😉
Anyhow, we sat down to eat amongst the oak trees on a Sunday afternoon. The atmosphere was unlike anything I've ever experienced. It was quaint, breezy and once the food came, mesmerizing! I was in Texas on "business" and told our waitress to bring us a sample of their best dishes. Well, apparently that saying "Everything is bigger in Texas" is the absolute honest to God truth! This is what we were served….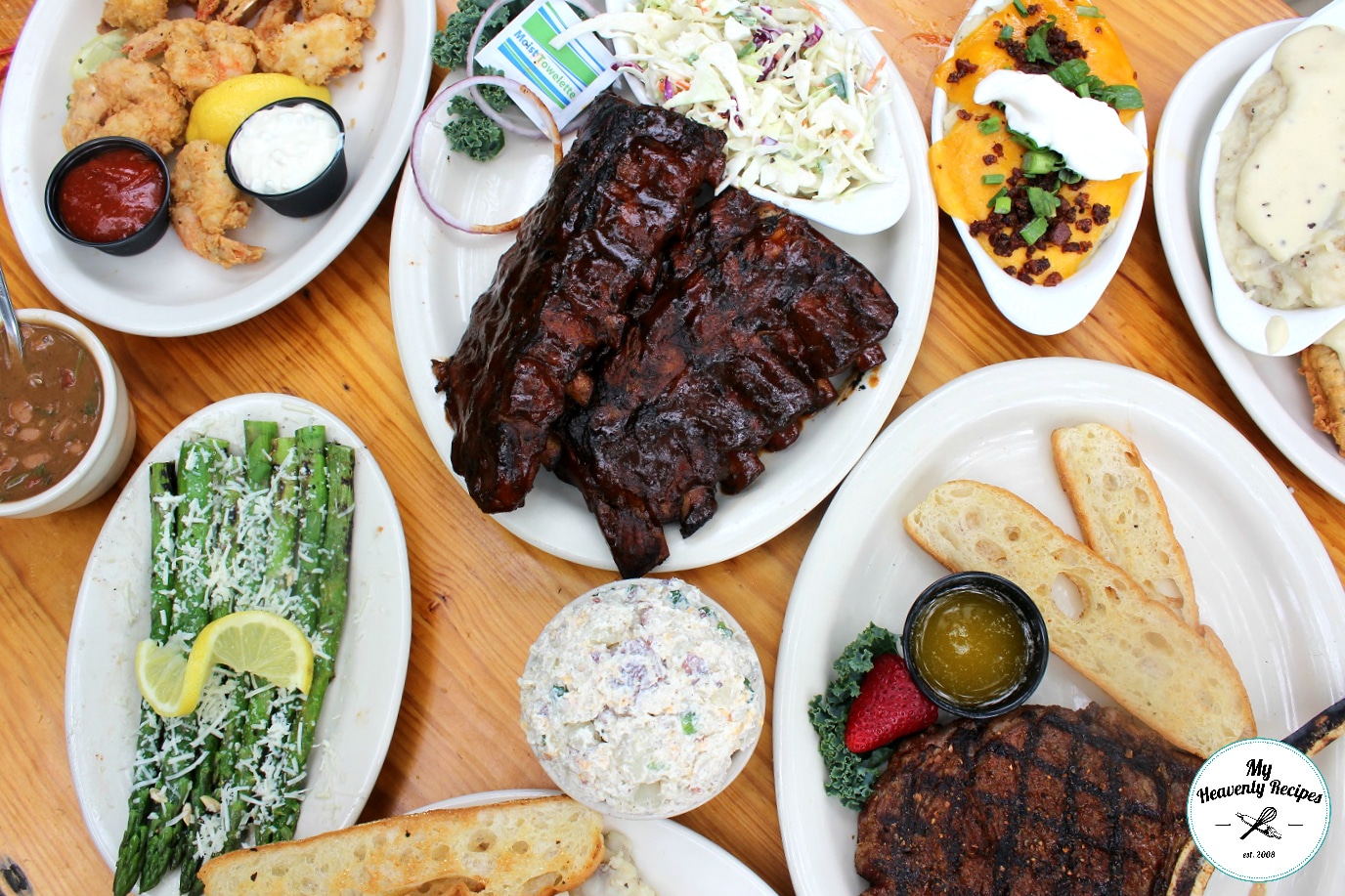 Now, the Cold Potato Salad was packed into the bowl and one of the first things I went after. In fact, it was so good I came home and recreated the recipe! Although, now I see that I didn't add shredded cheese to mine, so maybe that is an adjustment I'll need to make.
If you follow the My Heavenly Recipes Instagram account you'll have seen a video I did of the ribs. If not, just take a look:

I mean that was just pure perfection, right?!?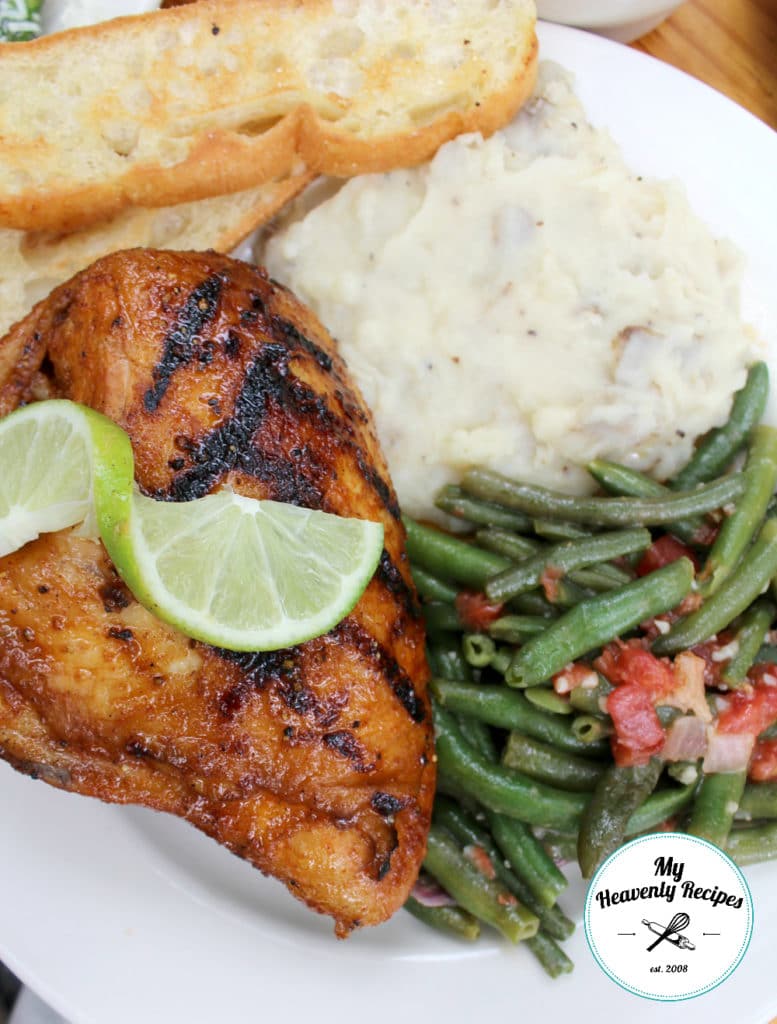 After I licked my fingers clean I moved onto the Grilled Chicken Breast that had been placed in front of me. I took a bite and just wanted to dive in with my knuckles and smuggle this baby into my bag and carry on with my day! When the waitress came back I had to ask her what the chicken was. She replied and I knew it was so simple that I had to come home and recreate this recipe and that's exactly what I did!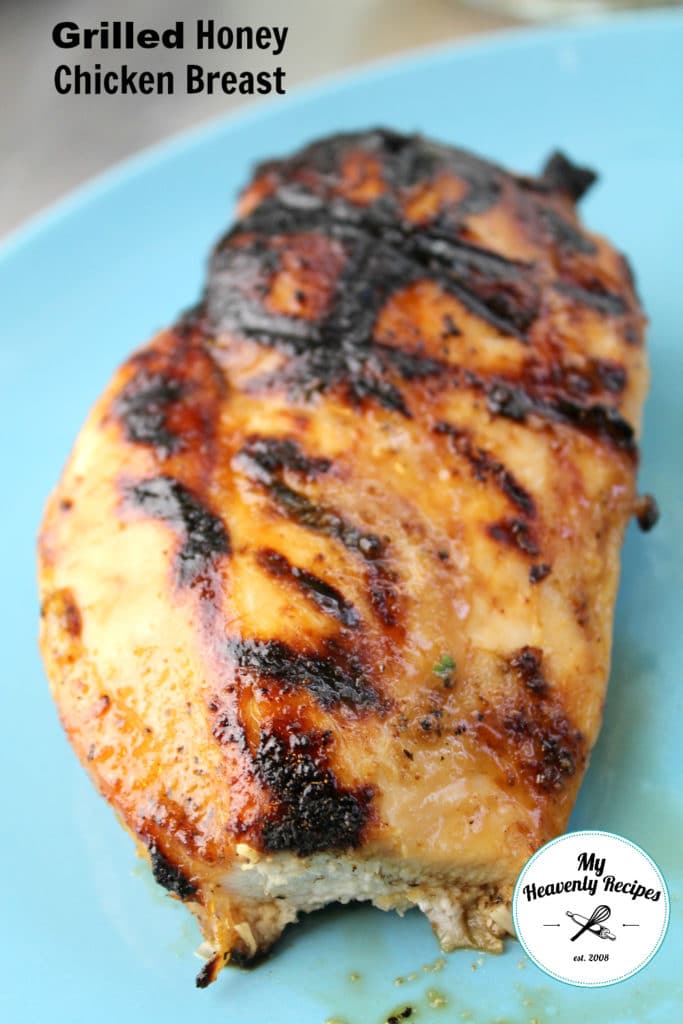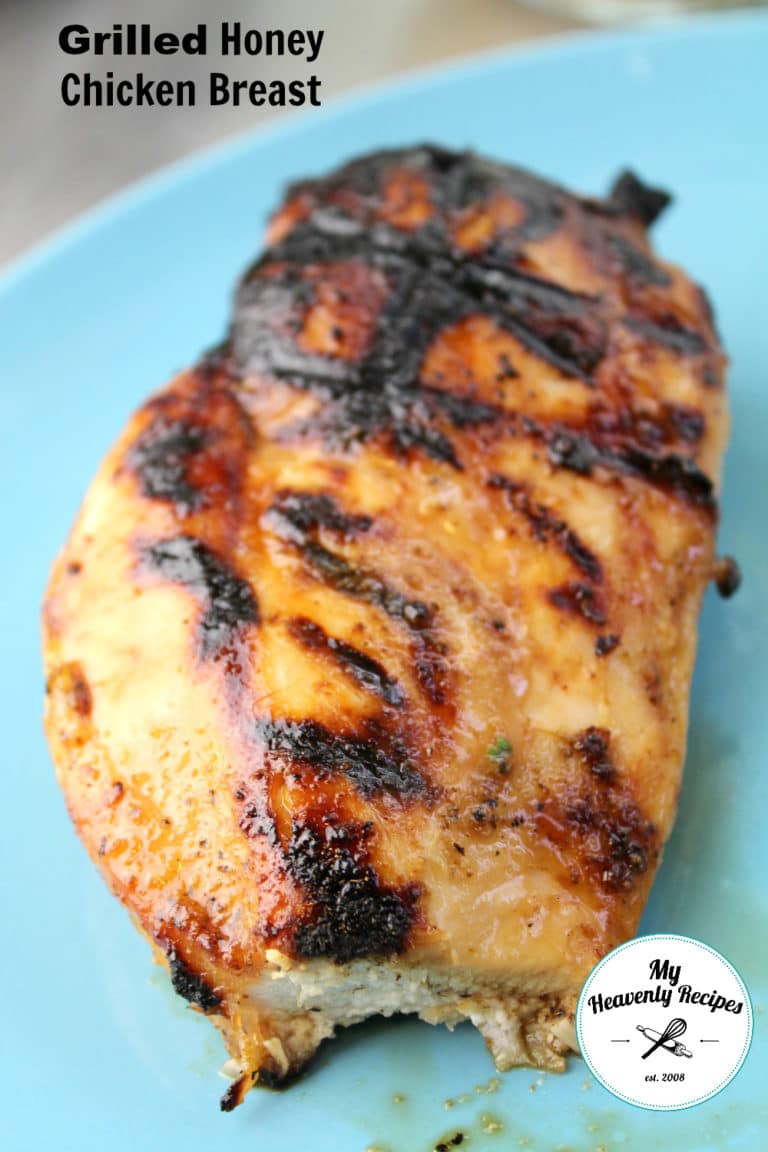 CHECK OUT THESE CHICKEN RECIPES YOU'RE SURE TO LOVE:
Weight Watchers FreeStyle Plan: 1 SmartPoint per chicken breast (counting only marinade that stays on chicken)
Grilled Honey Chicken Breast
This Grilled Honey Chicken Breast recipe was inspired by the Gristmill Restaurant in Gruene, Texas. Give it a try. It's to die for and makes for a perfect party food!
Ingredients
3

chicken breasts

1

C

Olive Oil

1

C

Honey

Steak Seasoning

Lime slice
Instructions
In a large ziploc bag place chicken breast, olive oil and honey.

Mix until incorporated and marinate in the refrigerator over night.

Place on a hot grill, sprinkle with steak seasoning and cook through.

Enjoy!
Nutrition
Calories:
863
kcal
|
Carbohydrates:
69
g
|
Protein:
24
g
|
Fat:
56
g
|
Saturated Fat:
8
g
|
Cholesterol:
72
mg
|
Sodium:
135
mg
|
Potassium:
462
mg
|
Fiber:
0
g
|
Sugar:
69
g
|
Vitamin A:
0.7
%
|
Vitamin C:
2.2
%
|
Calcium:
1.1
%
|
Iron:
6
%