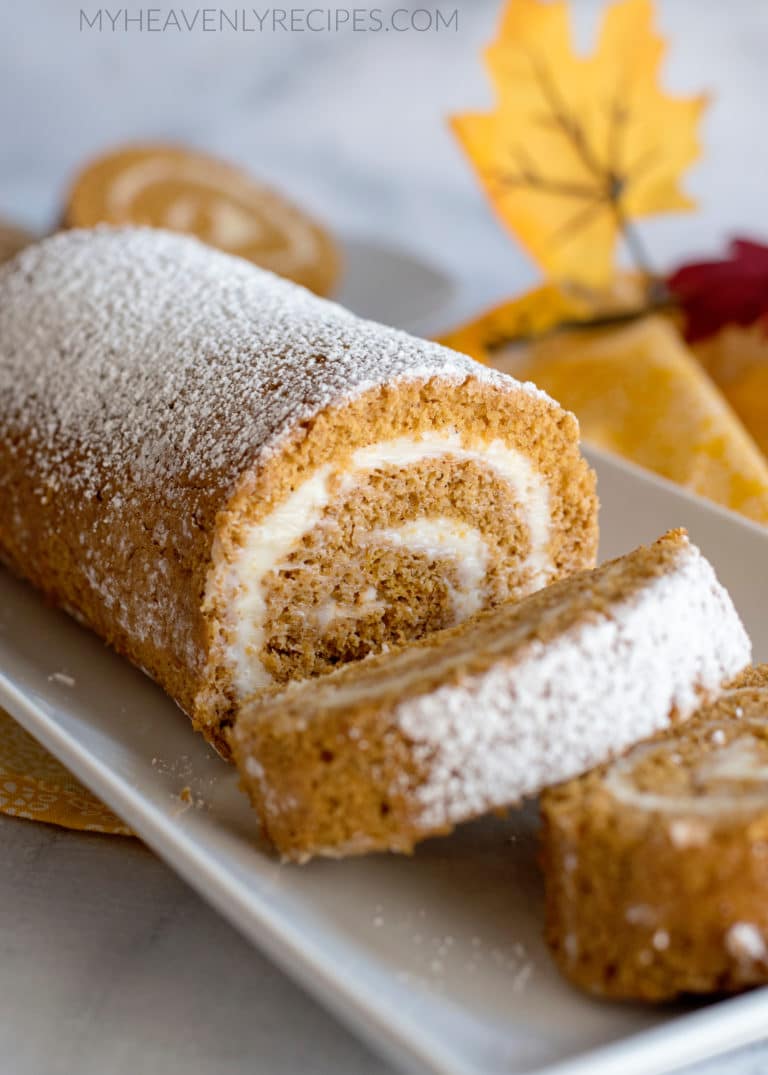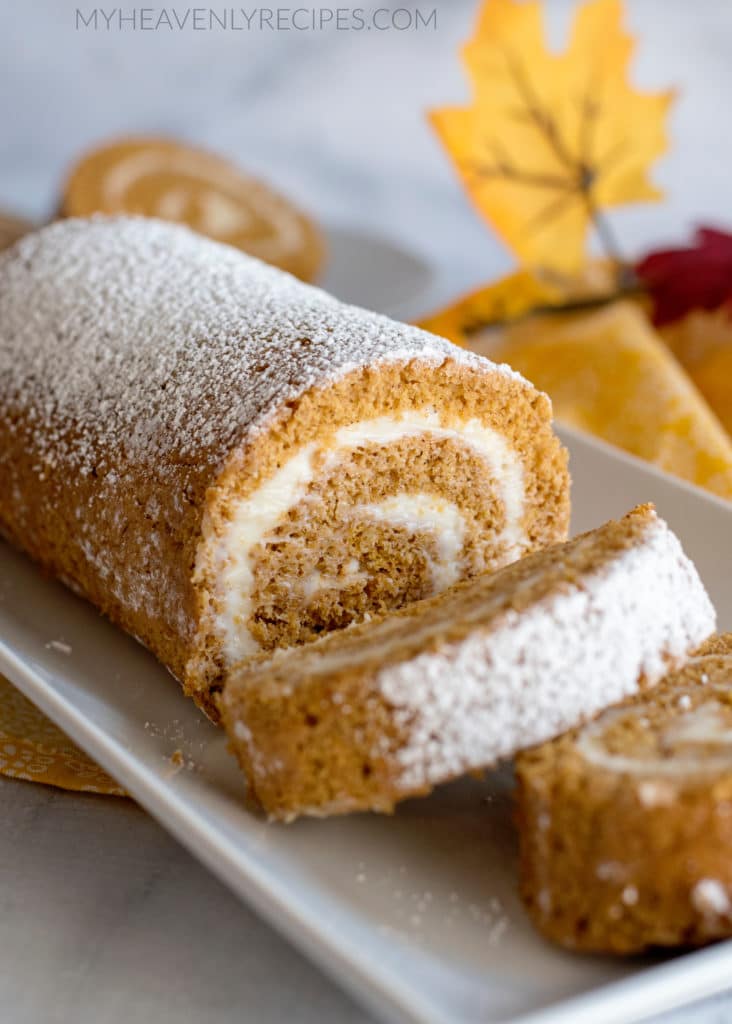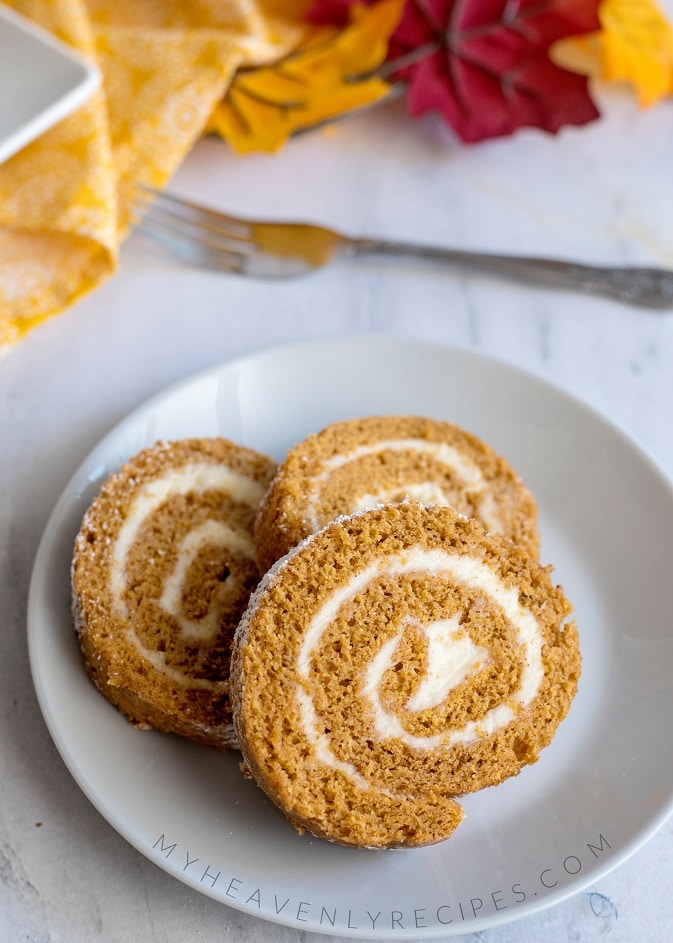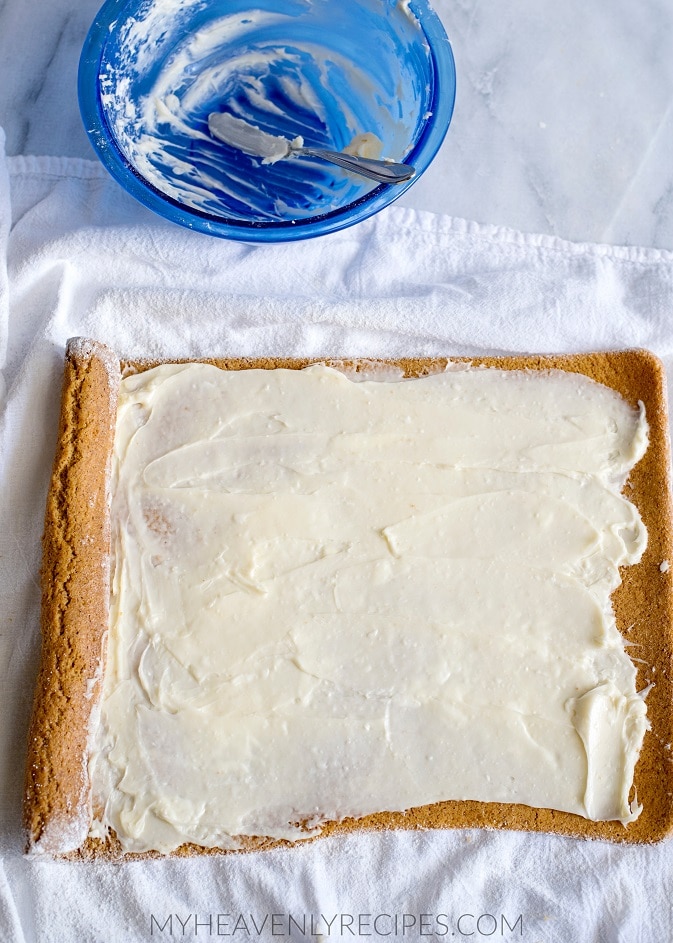 A pumpkin roll is one of the top requested cake recipes when the weather starts to turn cooler after a hot summer. So let me show you my easy Pumpkin Roll recipe. I'm excited to share it with you!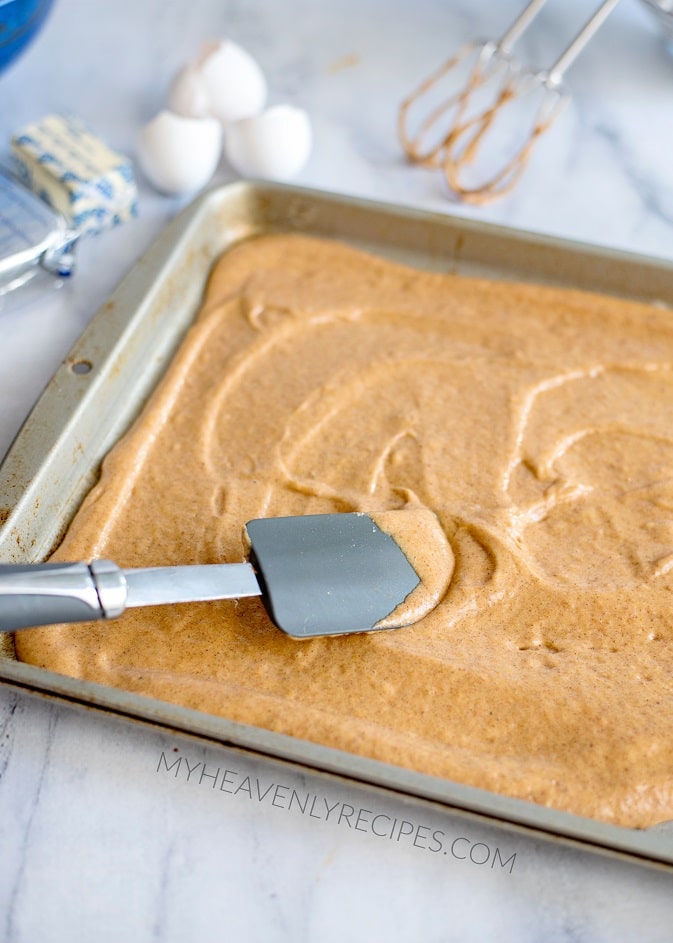 Pumpkin Roll Recipe Tips
It never fails that I make a Pumpkin Roll recipe or Christmas Yule Log and I'm questioned with how I am able to roll the cake without it falling apart. My first response is to stop man handling it! Baking is very gentle, precise and PATIENCE is needed….I don't know how I bake, because I have no patience, so maybe that part is a lie. 🙂
Anyway.
My tips to making to a perfect pumpkin roll are:
Use lots of powdered sugar; it will help you roll the cake into the towel.
Allow the pumpkin roll to cool completely before you put on the cream cheese mixture. This is important. If you try to ice the roll while it is warm, it will begin to tear the cake, so keep that in mind.
Now aren't you excited to head into the kitchen and create your very own Pumpkin Roll? I guarantee that this easy pumpkin roll recipe will impress your friends and family. If you have time, you can make a small business out of it every September! I actually have a friend who makes about 50 Pumpkin Rolls every September as friends and family begin craving them!
More Delicious Pumpkin Recipes to Try:
Pumpkin Cake Roll
A super delicious and easy Pumpkin Roll Recipe. You won't be purchasing these anymore and guarantee the your friends & family will put in their requests to you!
Ingredients
3 eggs

1 cup granulated sugar

⅔ cup 100% pure pumpkin

1 tsp lemon juice

¾ cup all purpose flour

2 tsp ground cinnamon

½ tsp salt

1 tsp baking powder

1 tsp ground ginger
Filling Ingredients
1 cup powdered sugar

½ tsp vanilla extract

4 tbsp unsalted butter – softened

8 oz cream cheese – softened
Instructions
Preheat oven to 350 degrees. Generously spray a large cookie sheet (approx. 12x17inches) or a jelly roll pan with non-stick spray.

Using a mixing bowl, or stand mixer, add the eggs and mix on high for 5 minutes. Add the sugar, pumpkin and lemon juice; mix until combined. Add in the flour, cinnamon, salt, baking powder and ginger; mix again until combined. Pour the batter into the prepared pan, lightly spread to the edges. Bake for 15 minutes.

While the cake is baking, lie out a tea towel and generously sprinkle with powdered sugar. A tea towel is the best towel to use for this.

When the cake comes out, immediately loosen the edges with a knife and flip the cake onto the powdered sugar tea towel. Starting at a short end of the cake, roll the cake up with the towel around it. Place the rolled cake onto a cooling rack for 20 minutes and prepare the filling.
Make the Filling:
In a medium sized bowl, mix the powdered sugar, vanilla, butter and cream cheese together.

After the 20 minutes, carefully unroll the cake and towel. Spread the filling inside of the cake and roll the cake back up without the towel. Place the rolled cake onto a large sheet of wax paper, fold up the sides and twist the ends up. Chill the cake for at least an hour before cutting. Before serving, dust the pumpkin roll with powdered sugar. Serve chilled and store in the refrigerator.
Nutrition