This post may contain affiliate links, read our
Disclosure Policy
for more information. As an Amazon Associate I earn from qualifying purchases, thank you!
Chocolate Chip Pancakes – Light and fluffy homemade pancakes that can handle the chocolate chips. This easy pancakes recipe will get the kids out of bed!
There are times when you just need chocolate chips in your life and these Chocolate Chip Pancakes are one of my favorite sweet treats to make….and eat!
I use to NEVER make pancakes from scratch. For me, it was easier to buy a box of the stuff that was at the grocery store and be done with it. Then came the time when I decided to try to make homemade pancakes from scratch. After I realized how EASY it was and I was capable of controlling the ingredients that were going into the batter I was hooked!
Check out my other recipes for pancakes: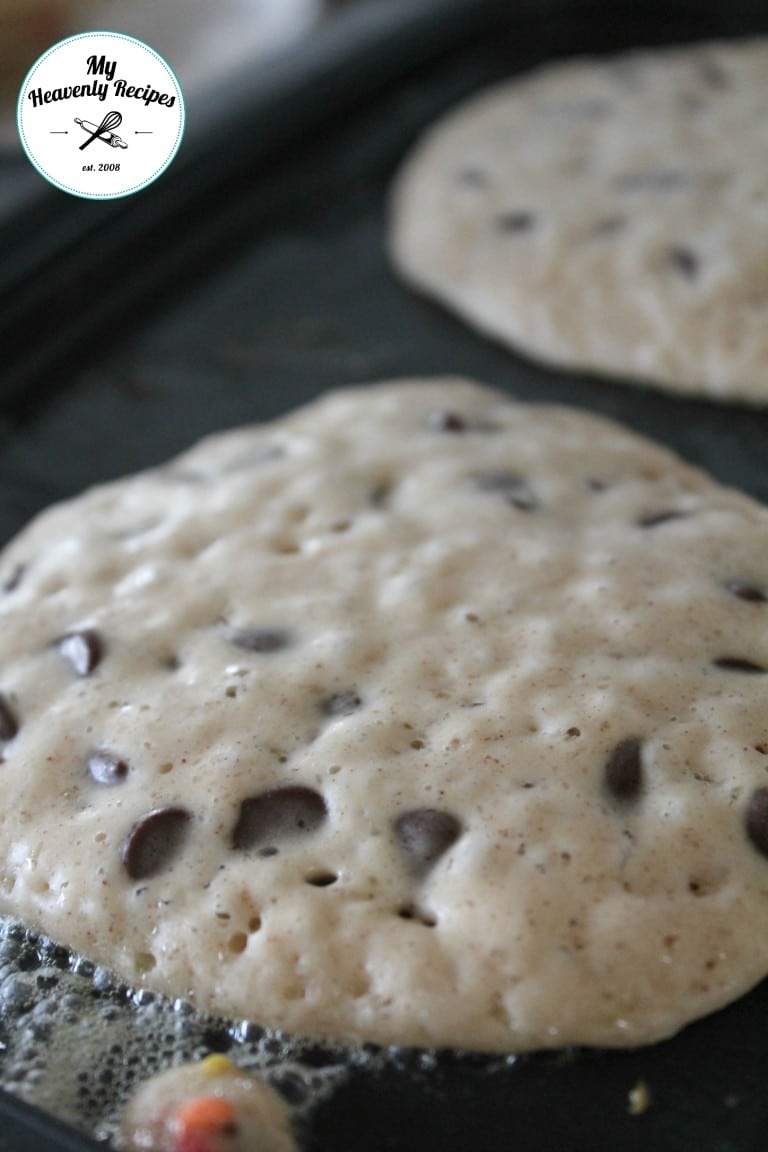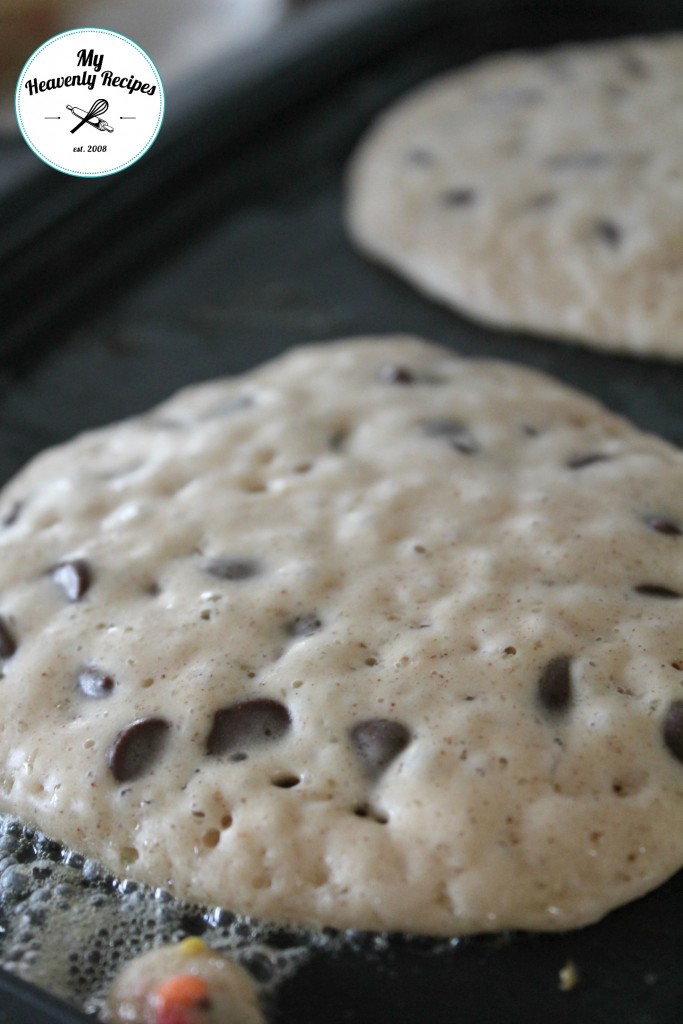 It's honestly so easy to make homemade pancakes, it's insane. I ALWAYS have the ingredients on hand and if not I use my Healthy Substitute Guide to get me through 😉 No eggs? No problem, substitute a banana or apple sauce. Out of oil? No worries my friend, add in applesauce or pureed fruit. Now I have complete confidence in you to recreate these Chocolate Chip Pancakes in your kitchen.
Why are my pancakes soggy in the middle?
I've gotten several emails from you asking why your Pancakes are never fully cooked or they are more well done on one side than the other. The TIP to cooking pancakes is this — when the pancake begins to bubble on the top and the sides it's time to flip. Then cook for another 3-4 minutes until it's golden brown on the other side. It should take no more than 6-7 minutes to make at least 4 pancakes.
Chocolate Chip Pancakes Recipe Ingredients
Here's what you'll need to make the delicious, fluffy homemade pancakes.
2 cups Flour
1 ½ Tbsp Baking Powder
4 Tsp Sugar
1 Tsp Salt
2 Eggs
½ cup Oil
2 cups Milk
1 Tsp Vanilla Extract
½ cup Semi Sweet Chocolate Morsels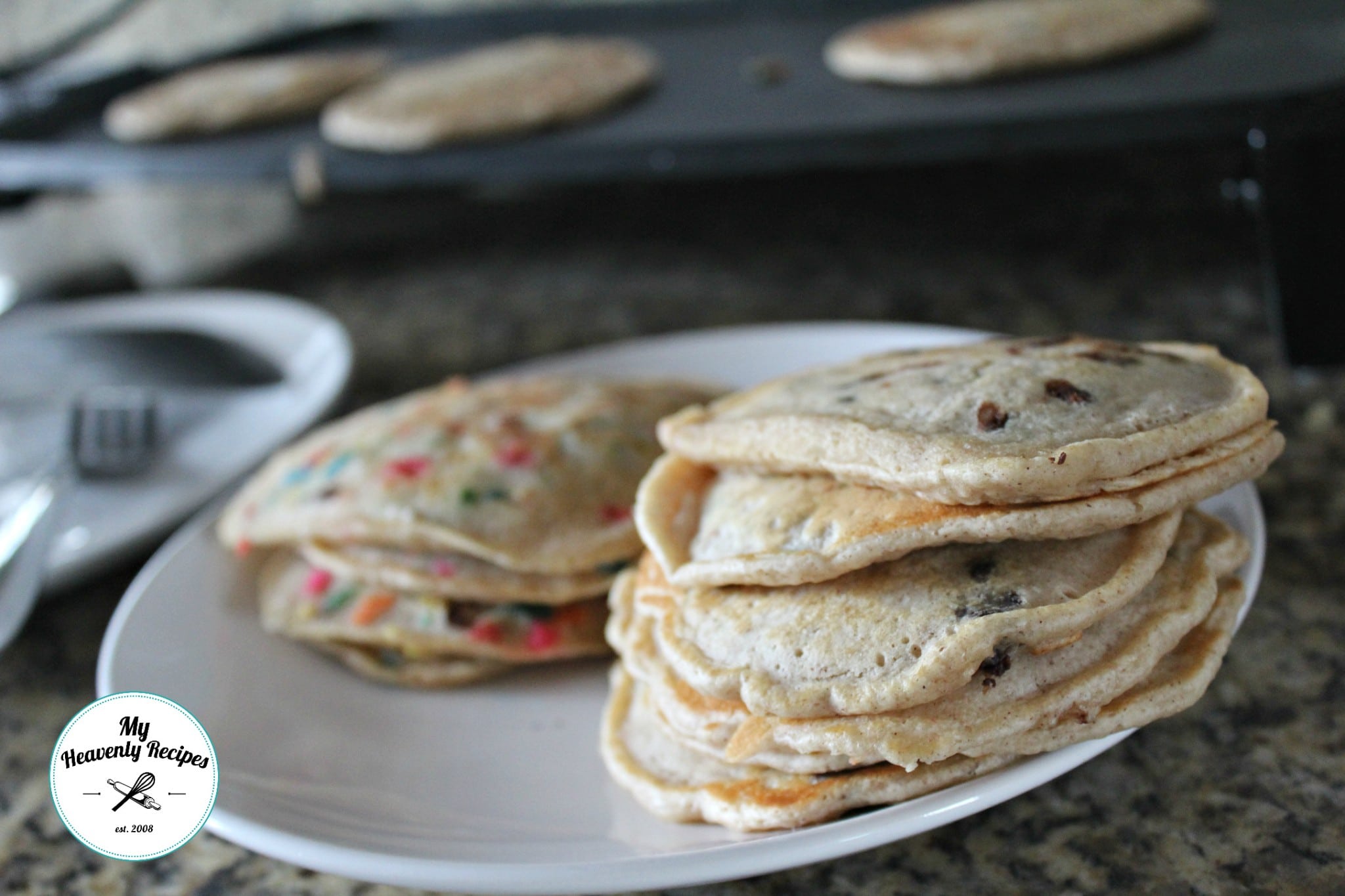 Now on this particular morning, I split the pancake mixture in half. adding chocolate chips in one bowl and Funfetti Sprinkles in another bowl. So I ended up with Funfetti Pancakes and these Chocolate Chip Pancakes.
I don't know what it is about Chocolate Chip Pancakes, but, it's hard to eat them any other way once you've made pancakes from scratch!
How to make homemade chocolate chip pancakes
Chocolate Chip Pancakes
These Chocolate Chip Pancakes will have the kids getting out of bed early!
Ingredients
2

C

Flour

5

TSP

Baking Powder

4

TSP

Sugar

1

TSP

Salt

2

Eggs

½

C

Oil

2

C

Milk

1

TSP

Vanilla Extract

½

C

Semi Sweet Chocolate Morsels
Instructions
In a large bowl whisk together flour, baking powder, sugar, salt and eggs.

Next add in eggs, oil, milk, chocolate chips and vanilla extract stirring until combined.

Heat a large greased skillet placing ⅓ C of pancake mixture onto the skillet for each pancake.

Once the pancake begins to bubble around the sides and the top it's time to flip to the other side and cook for another 3-4 minutes.

Should you have leftover pancakes you can place in a ziploc bag in the freeze for a quick and easy breakfast on a busy morning.
Notes
6 Weight Watchers SmartPoints
Be sure to Submit a Recipe so that I can feature it on the site once you've made this dish! See you soon 😉