This post may contain affiliate links, read our
Disclosure Policy
for more information. As an Amazon Associate I earn from qualifying purchases, thank you!
Making cold brew coffee at home is easy! Check out my Cold Brew recipe video tutorial and 3 Cold Brew recipes to get you started!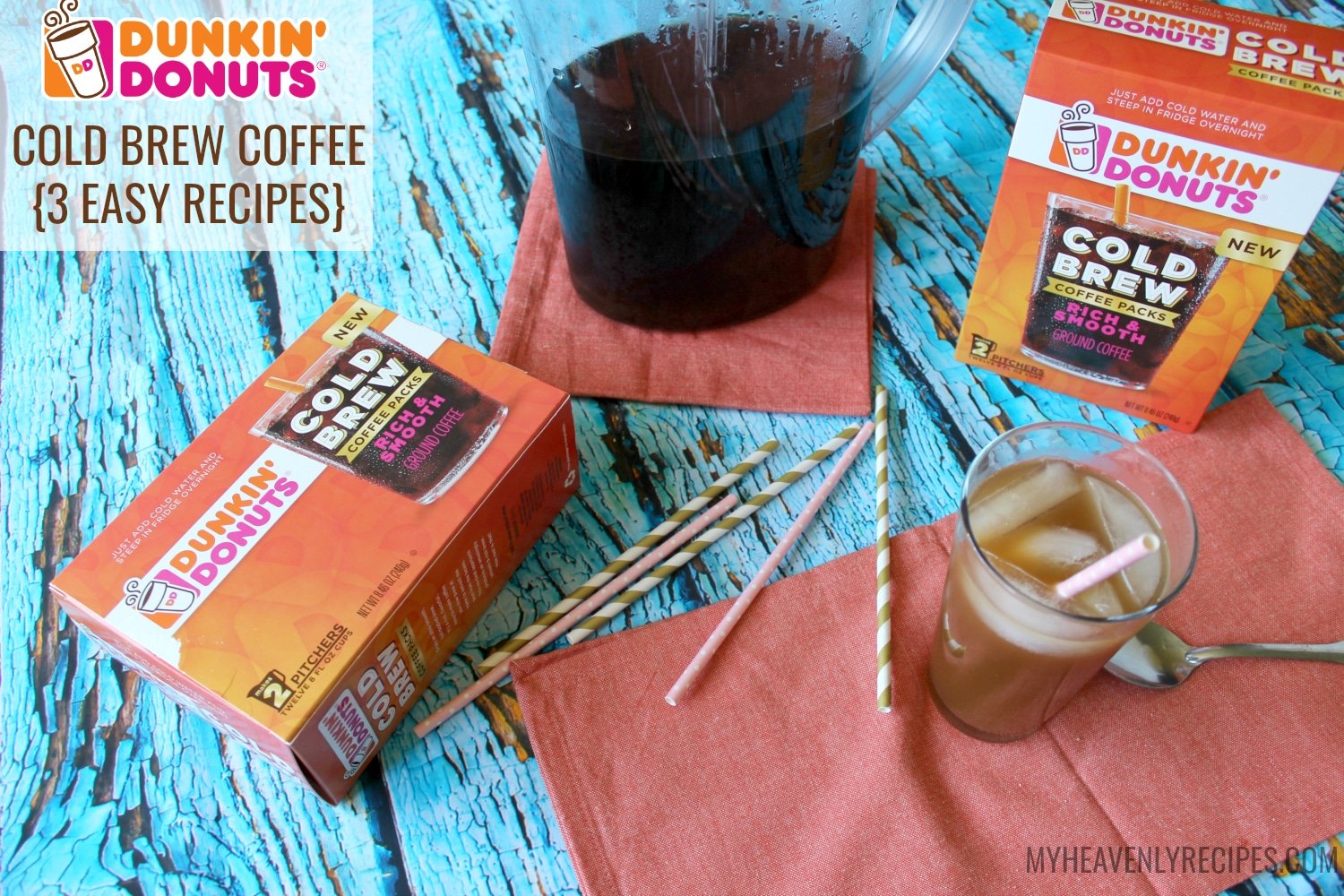 This is a sponsored conversation written by me on behalf of The J.M. Smucker Company. The opinions and text are all mine.
For those of you who know me personally, you'll know that I've been drinking Dunkin' Donuts® coffee since I met Jas, 16 years ago. Dear Lord, I'm getting old! It's my go to coffee to say the least.
One of my NEW favorite addictions is being able to make cold brew coffee at home. And now that DD makes Cold Brew coffee packets (it's in the coffee aisle at Meijer stores), I'm pretty much ADDICTED to drinking Cold Brew Coffee.
What is Cold Brew Coffee?
Before we get started, I want to give you a few definitions:
Hot Coffee – Drip brewed (or filtered) with hot water passing over the coffee beans collecting the flavor and oils to create your hot coffee.
Iced Coffee – Majority of the time is a hot coffee poured over ice and flavored.
Cold Brew Coffee – Cold water is used to steep the coffee beans for an extended period of time.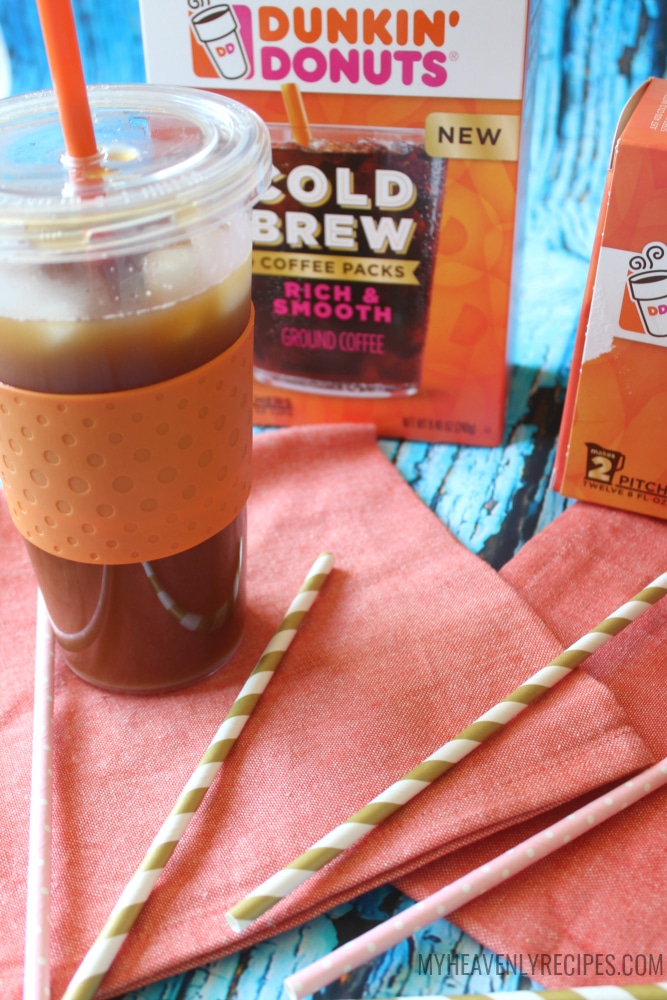 Benefits of Cold Brew Coffee
Now that you know the differences between the three major coffee categories let's show you the few benefits to drinking Cold Brew:
Cold brew coffee is less acidic, meaning it doesn't cause acid reflux like hot coffee.
You can make a batch that will last a week.
Cold Brew doesn't kill off the antioxidants in coffee since it's not being heated.
At the end of the day this all means that cold brew coffee will leave your body ingesting many more of the powerful antioxidants as well as protecting your body against harmful acid!
Cold Brew Coffee Ratio
When making cold brew at home from scratch, it can be difficult to achieve the perfect cold brew coffee ratio. The ratio of coffee grounds to water is subjective and depends on personal taste. You don't have that problem when you use pre-measured cold brew packs!
3 Cold Brew Coffee Recipes
Dunkin

'

Donuts Cold Brew Coffee
1 ½ C  Half & Half
¼ C Caramel Sauce
2 ½ TBSP sugar
Chocolate-Coconut Cold Brew
Dunkin Donuts

'

Cold Brew Coffee
1 C Cream of Coconut
1 C Half & Half
½ C Chocolate Syrup
and last, but not least, my FAVORITE…
Dulce de Leche Cold Brew
4 cups Dunkin Donuts

'

Cold Brew Coffee
6 ounces, fluid Dulce De Leche
1 cup Heavy Cream
2 Tablespoons Sugar
6 Tablespoons Chocolate, Grated
Another thing that I love about the Dunkin' Donuts Cold Brew is that it's so fun for brunches. I love setting up my buffet with different flavorings so that I can make an entire pitcher, but, all of my guests are also happy with being able to flavor their own cold brew. So, the next time you are hosting a brunch, keep that in mind!
Looking for a few recipes to go alongside your Cold Brew? Check these out:
(Click on image to be taken to recipe)
© The J.M. Smucker Company © 2016. DD IP Holder LLC (as to Dunkin' Donuts and all other trademarks, logos and trade dress of DD IP Holder LLC) used under license. Keurig, Keurig Hot, K-Cup, and the K logo are trademarks of Keurig Green Mountain, Inc., used with permission.