Caramel Popcorn
Alright ya'll! It's time to show you how easy it is to make your very own Homemade Caramel Popcorn…and I will tell you – IT IS ADDICTING! So consider that fair warning!!!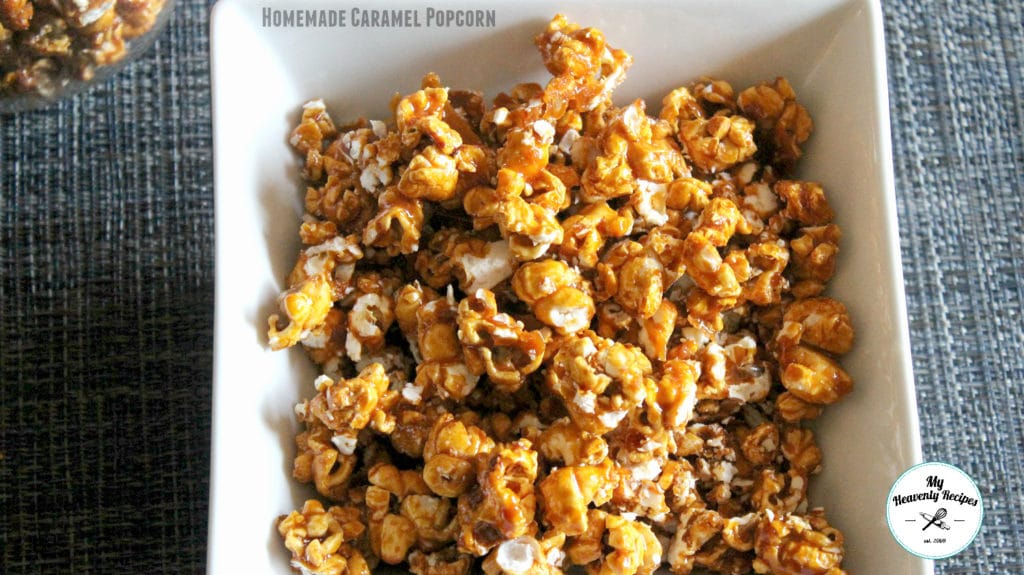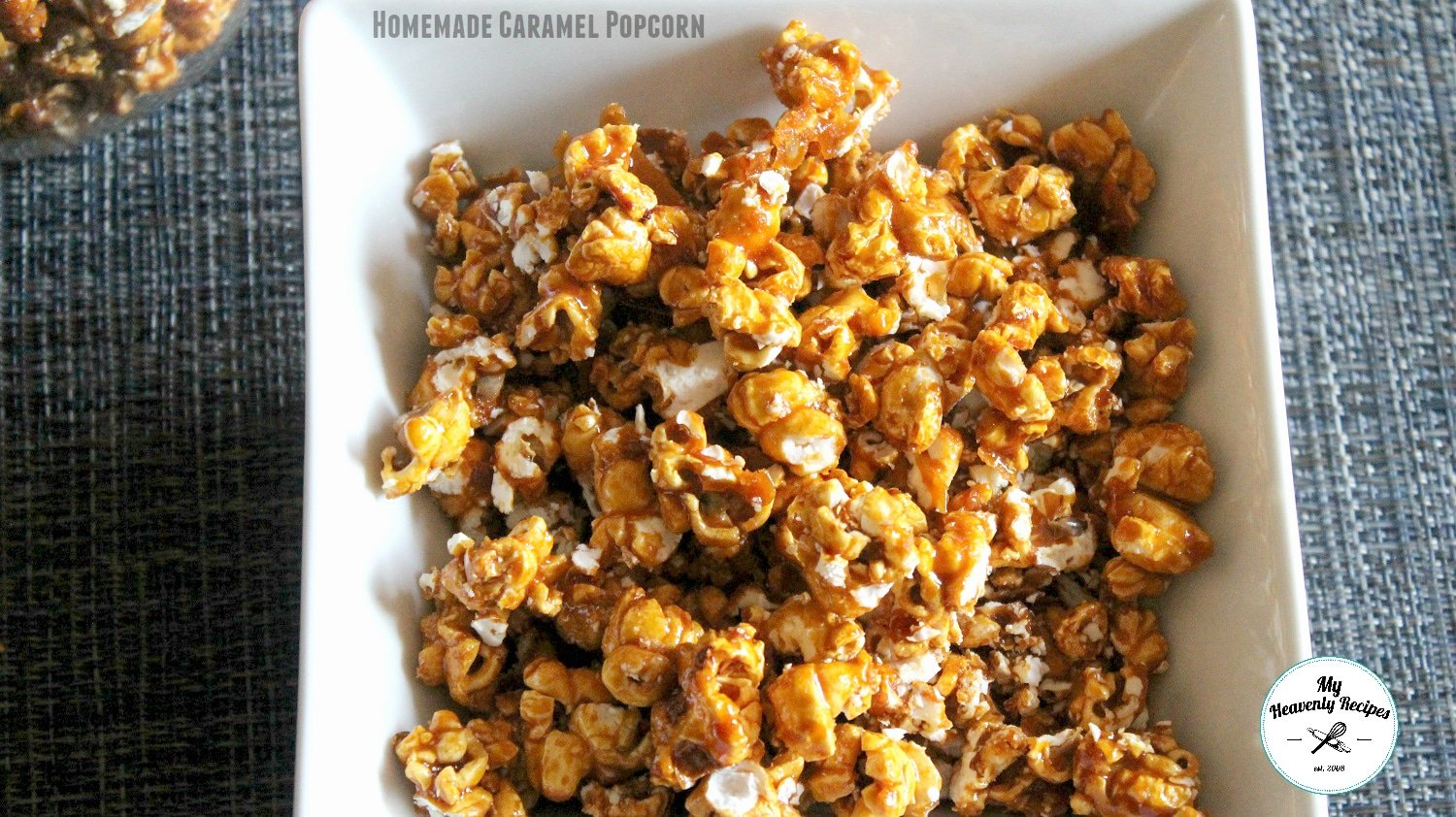 I am a Pampered Chef Director. I MUST state that upfront to be in terms with Pampered Chef Home Office.
One of my families FAVORITE Pampered Chef items right now is the Microwave Popcorn Maker. If you saw Beanies Facebook LIVE HERE you'll know that she LOVES this amazing tool! Not only are we leaving all the butter to the store bought popcorn, but, we are spending A LOT of time in the kitchen creating different flavors. Now Pampered Chef has released a Ranch Popcorn Seasoning and a French Toast Popcorn Seasoning. The kids really don't care for the Ranch, but, we love the French Toast! Honestly when we get bored we've been grabbing the Popcorn Maker and our jar of kernels to create different flavors.
For instance, the kids added their M&M's and a marshmallow mixture to the popcorn last week (we are going to play around with that recipe a bit and will bring it to you once we have it ironed out!). They also tried putting our Homemade Hershey Syrup on the popcorn….needless to say it needed something else. It was just ok….but, I think we can also make that one better!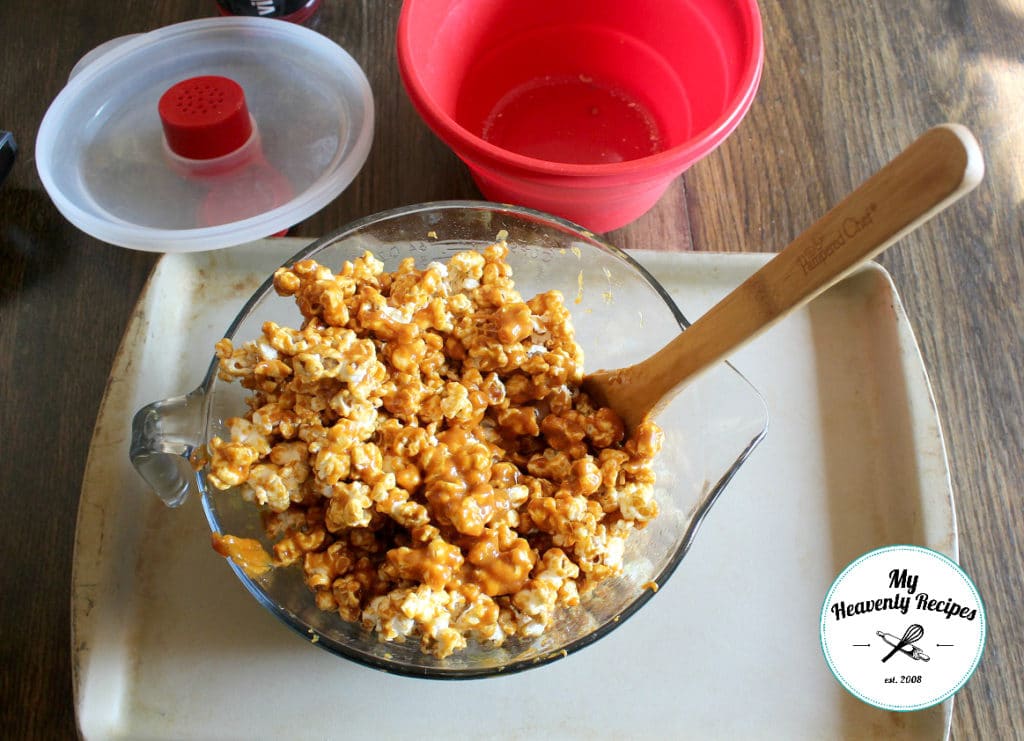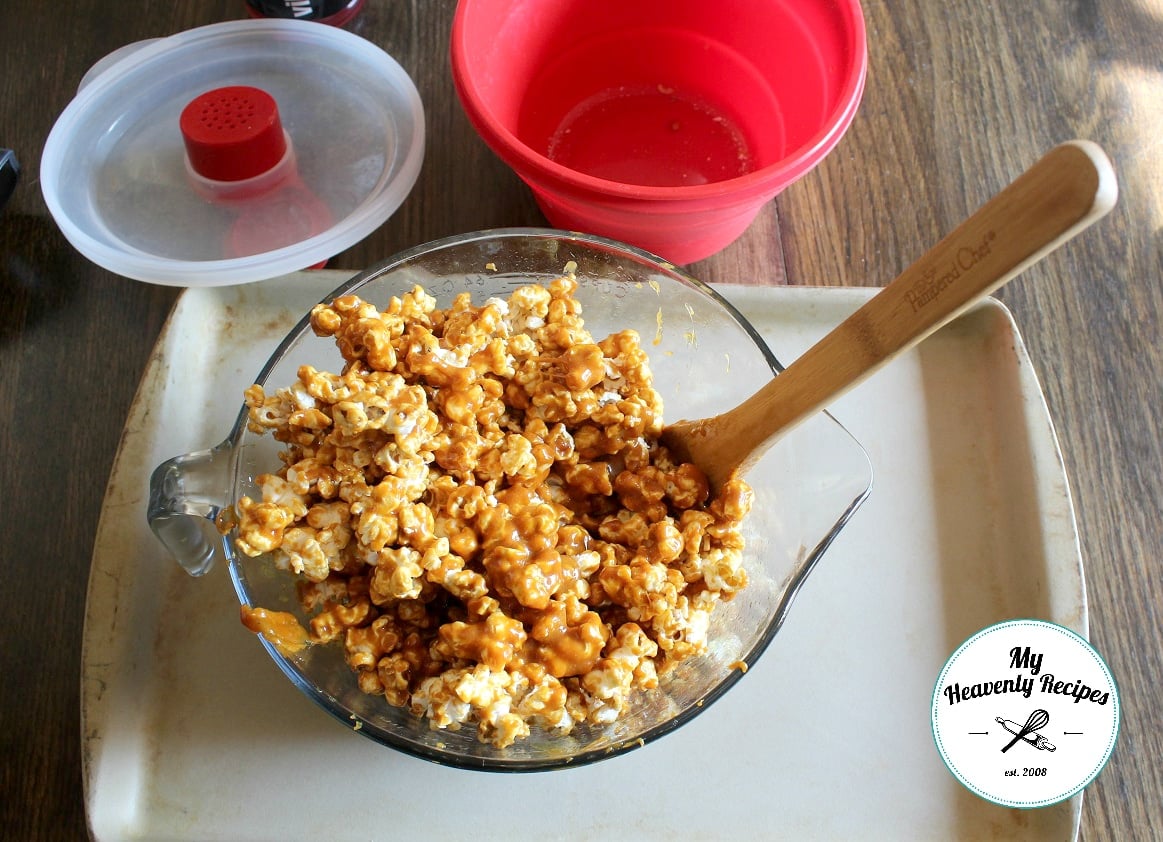 Would you want to receive this Homemade Caramel Popcorn as a gift?!?
 The tools I used to create this Homemade Caramel Popcorn was:
Ingredients
1 SCOOP KERNELS COOKED
1 C UNSALTED BUTTER
1 C LIGHT BROWN SUGAR
1/2 HONEY
1 TSP SALT
1/2 TSP BAKING SODA
1 TSP PURE VANILLA EXTRACT
Directions
PREHEAT OVEN TO 300.
PLACE THE POPCORN IN A LARGE BOWL.
MELT BUTTER, ADDING BROWN SUGAR, HONEY AND SALT.
INCREASE THE HEAT TO MEDIUM HIGH AND BRING THE MIXTURE TO A BOIL THEN LOWER THE HEAT TO MEDIUM.
BOIL FOR 3-4 MINUTES WITHOUT STIRRING.
ADD BAKING SODA AND VANILLA TO THE CARAMEL MIXTURE, STIRRING UNTIL YOU HAVE A THICK, EVEN, GLOSSY SAUCE.
SLOWLY POUR HALF THE CARAMEL SAUCE OVER THE POPCORN, WHILE STIRRING THE POPCORN. CONTINUE TO STIR THE POPCORN AND THE OTHER HALF OF THE SAUCE UNTIL IT'S ALL WELL COATED.
DIVIDE THE POPCORN BETWEEN THE TWO BAKING SHEETS AND SPRINKLE THE POPCORN WITH SALT.
PLACE IN THE OVEN AND BAKE FOR 30 MINUTES, STIRRING HALFWAY THROUGH.
ALLOW POPCORN TO COOL COMPLETELY, OR USE BUTTERED FINGERS TO CLUMP THE POPCORN TOGETHER TO FORM BUNCHES IF DESIRED.
One tip that I will give you is this — Add half the caramel mixture into the popcorn and stir. Then add in the remaining mixture and stir. Once it's on the Large Bar Pan toss it together a bit more if your pieces aren't fully covered. Once the popcorn is in the oven the mixture will melt into the cracks and crevices. If it does not once the popcorn has cooled a bit you can toss the popcorn again on the pan. You just want to make sure that there isn't HUGE clumps of popcorn because once the popcorn cools the caramel will harden.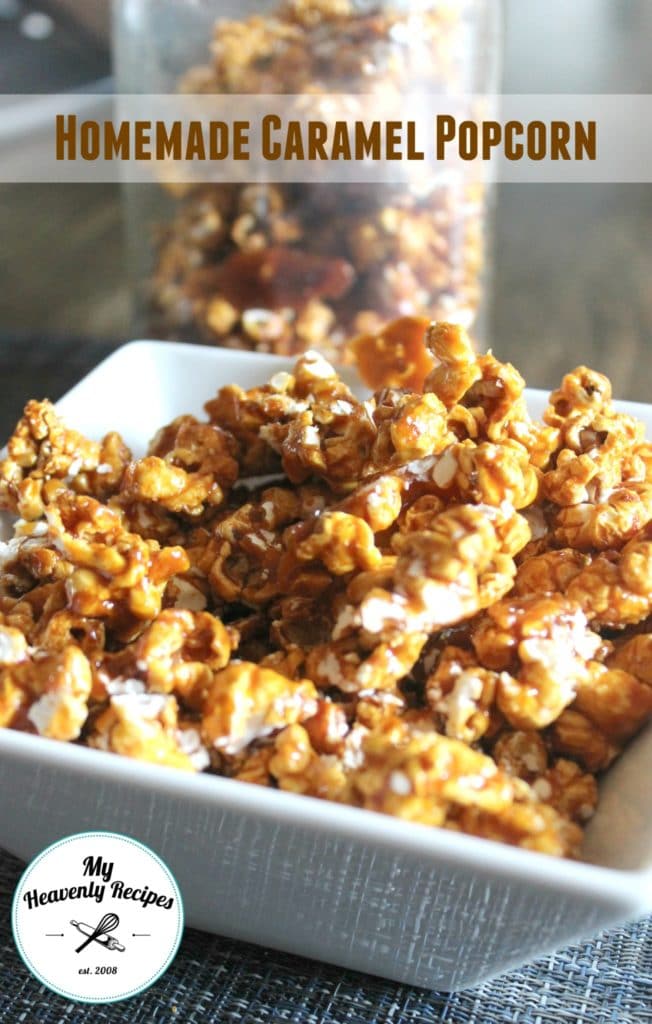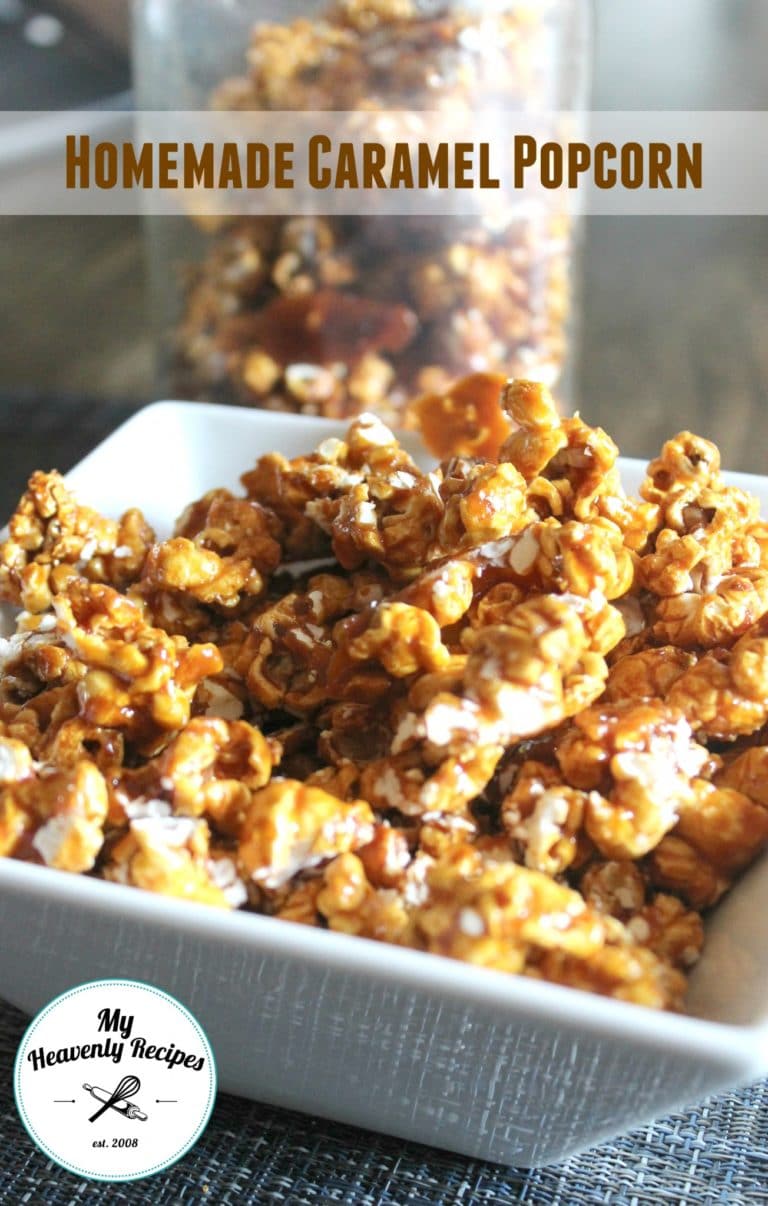 I went ahead and stored my Homemade Caramel Popcorn in two half gallon mason jars. If you are wanting to give as a gift you can tie a piece of ribbon around with a gift tag for a wonderful and inexpensive gift!
What's your ALL TIME favorite foodie gift you've ever received?
Other recipes made from the Pampered Chef Large Bar Pan: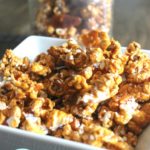 Homemade Caramel Popcorn
A delicious and heavenly Homemade Caramel Popcorn recipe that your friends and family will ask for all year long!
Ingredients
1

Scoop Kernels Cooked

1

C

Unsalted Butter

1

C

Light Brown Sugar

1/2

Honey

1

TSP

Salt

1/2

TSP

Baking Soda

1

TSP

Pure Vanilla Extract
Instructions
PREHEAT oven to 300.

PLACE the popcorn in a large bowl.

MELT Butter, adding brown sugar, honey and salt.

INCREASE the heat to medium high and bring the mixture to a boil then lower the heat to medium.

Boil for 3-4 minutes without stirring.

Add baking soda and vanilla to the caramel mixture, stirring until you have a thick, even, glossy sauce.

Slowly pour half the caramel sauce over the popcorn, while stirring the popcorn. Continue to stir the popcorn and the other half of the sauce until it's all well coated.

Divide the popcorn between the two baking sheets and sprinkle the popcorn with salt.

Place in the oven and bake for 30 minutes, stirring halfway through.

Allow popcorn to cool completely, or use buttered fingers to clump the popcorn together to form bunches if desired.
Nutrition Facts
Homemade Caramel Popcorn
Amount Per Serving
Calories 683
Calories from Fat 414
% Daily Value*
Total Fat 46g 71%
Cholesterol 122mg 41%
Sodium 761mg 32%
Potassium 141mg 4%
Total Carbohydrates 67g 22%
Protein 2g 4%
* Percent Daily Values are based on a 2000 calorie diet.