Caramel Popcorn
Alright ya'll! It's time to show you how easy it is to make your very own Homemade Caramel Popcorn…and I will tell you – IT IS ADDICTING! So consider that fair warning!!!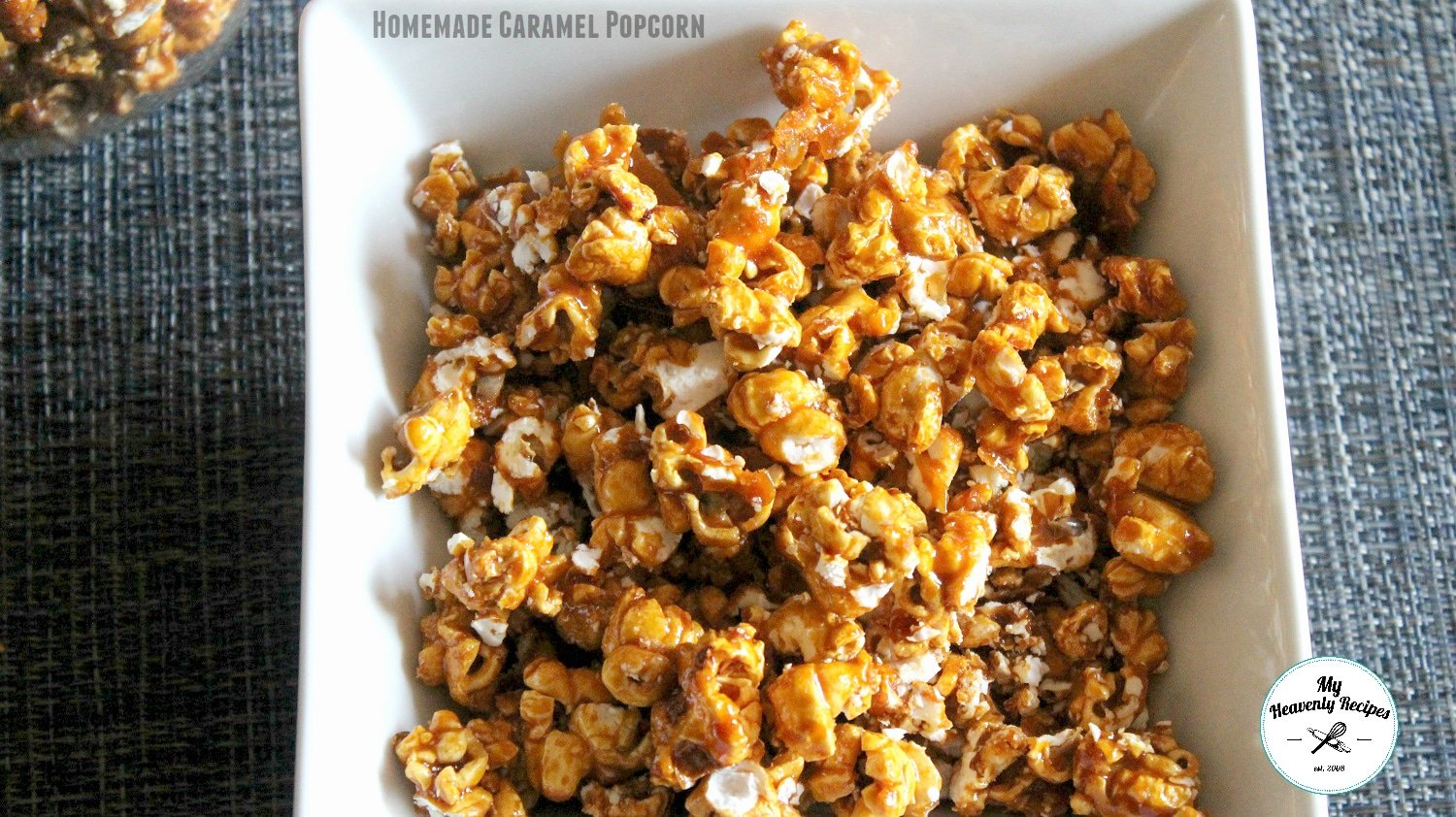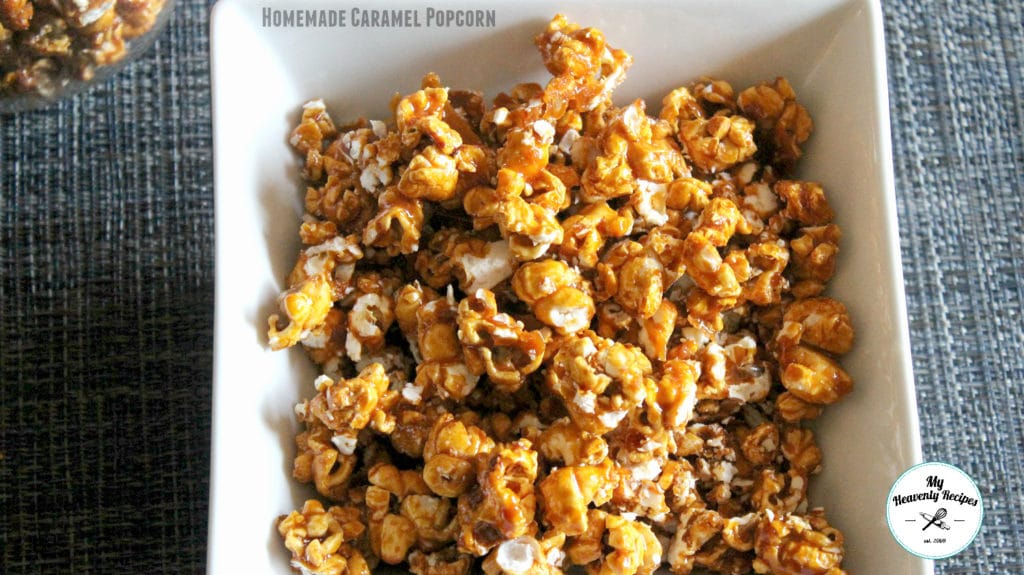 We love to experiment with different popcorn flavors. It's one of the girls favorite things to do when they are bored or when they come home from a long day of school.
I often keep a stockpile of popcorn, unbuttered and unsalted, in the pantry for this instance. Most of the time, they will throw in some chocolate chips, m&m's and sometimes even pretzels. Then they typically flavor it with sugar-free caramel sauce or our Homemade Hershey Syrup if it just needs a little bit more extra chocolate!
Watch how it's made…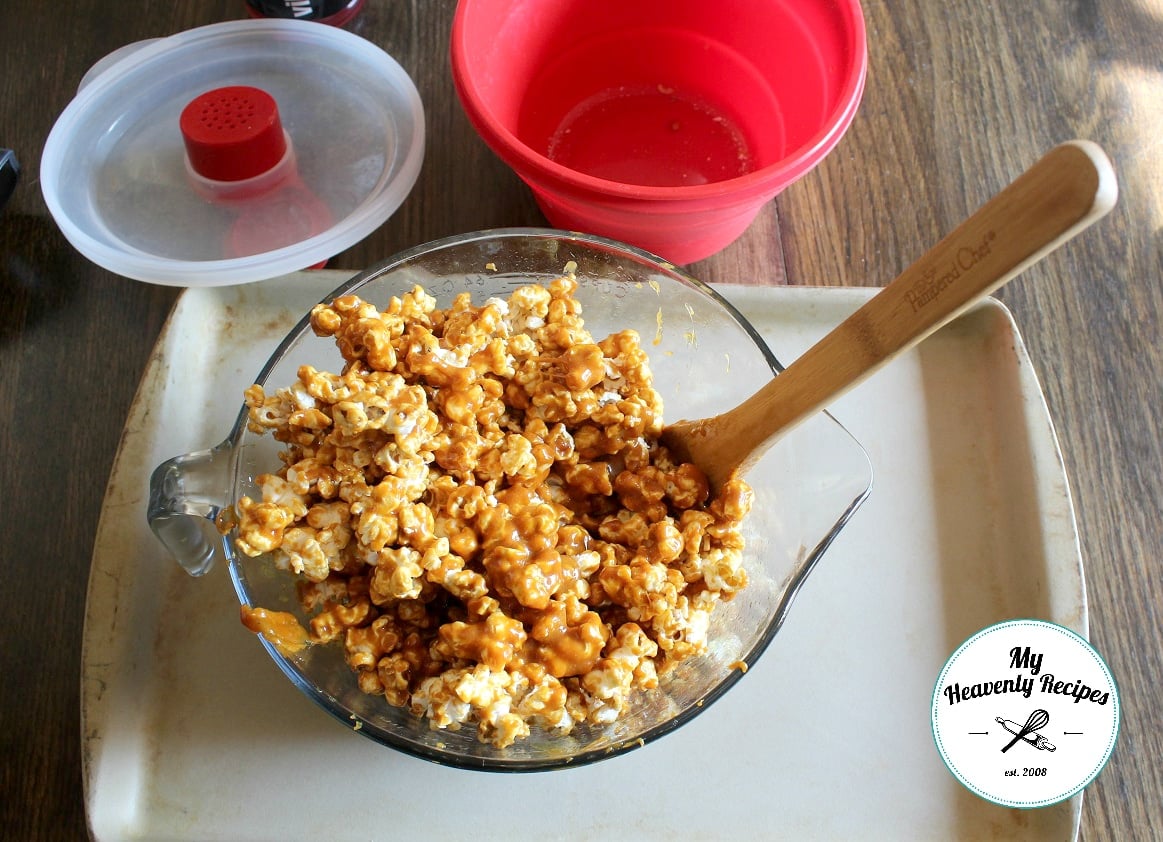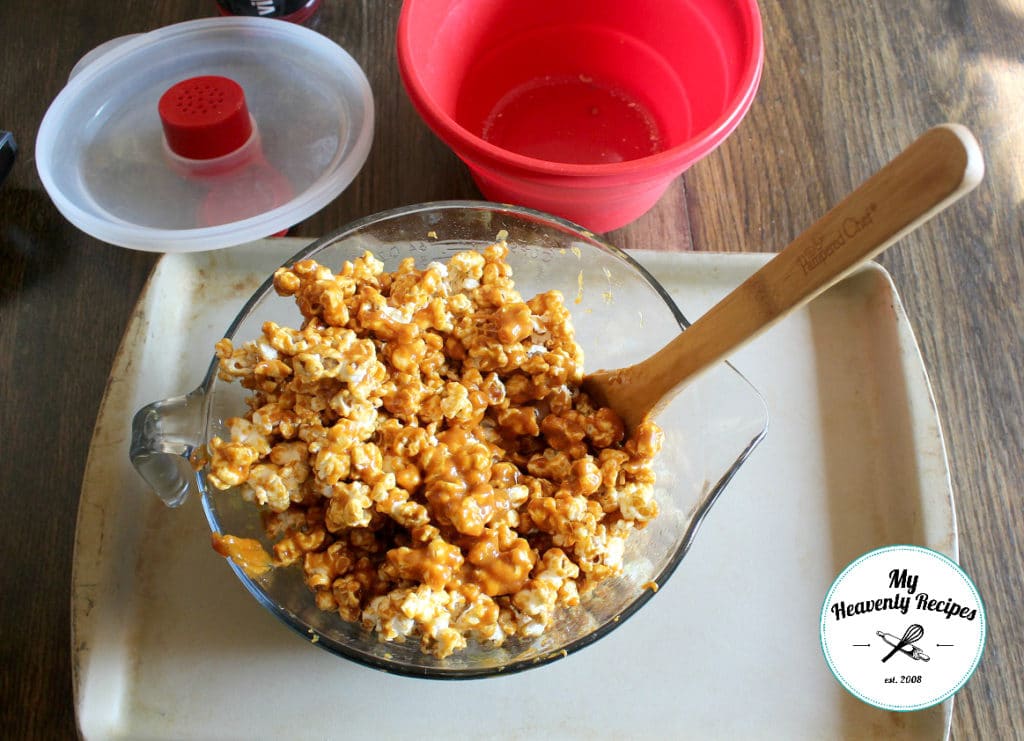 Would you want to receive this Homemade Caramel Popcorn as a gift?!?
Ingredients
1 BAG POPCORN, UNSEASONED, POPPED
1 C UNSALTED BUTTER
1 C LIGHT BROWN SUGAR
½ HONEY
1 TSP SALT
½ TSP BAKING SODA
1 TSP PURE VANILLA EXTRACT
Directions
PREHEAT OVEN TO 300.
PLACE THE POPCORN IN A LARGE BOWL.
MELT BUTTER, ADDING BROWN SUGAR, HONEY AND SALT.
INCREASE THE HEAT TO MEDIUM HIGH AND BRING THE MIXTURE TO A BOIL THEN LOWER THE HEAT TO MEDIUM.
BOIL FOR 3-4 MINUTES WITHOUT STIRRING.
ADD BAKING SODA AND VANILLA TO THE CARAMEL MIXTURE, STIRRING UNTIL YOU HAVE A THICK, EVEN, GLOSSY SAUCE.
SLOWLY POUR HALF THE CARAMEL SAUCE OVER THE POPCORN, WHILE STIRRING THE POPCORN. CONTINUE TO STIR THE POPCORN AND THE OTHER HALF OF THE SAUCE UNTIL IT'S ALL WELL COATED.
DIVIDE THE POPCORN BETWEEN THE TWO BAKING SHEETS AND SPRINKLE THE POPCORN WITH SALT.
PLACE IN THE OVEN AND BAKE FOR 30 MINUTES, STIRRING HALFWAY THROUGH.
ALLOW POPCORN TO COOL COMPLETELY, OR USE BUTTERED FINGERS TO CLUMP THE POPCORN TOGETHER TO FORM BUNCHES IF DESIRED.
One tip that I will give you is this — Add half the caramel mixture into the popcorn and stir. Then add in the remaining mixture and stir. Once it's on the Large Bar Pan toss it together a bit more if your pieces aren't fully covered. Once the popcorn is in the oven the mixture will melt into the cracks and crevices. If it does not once the popcorn has cooled a bit you can toss the popcorn again on the pan. You just want to make sure that there isn't HUGE clumps of popcorn because once the popcorn cools the caramel will harden.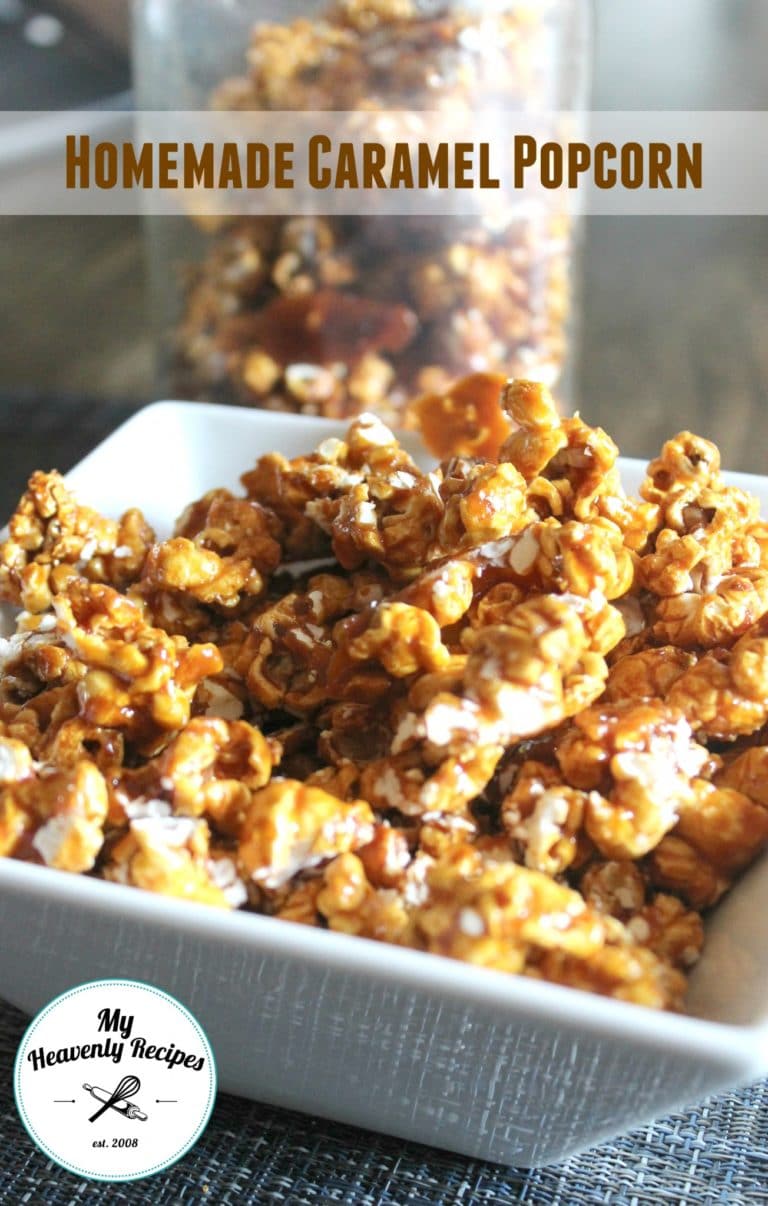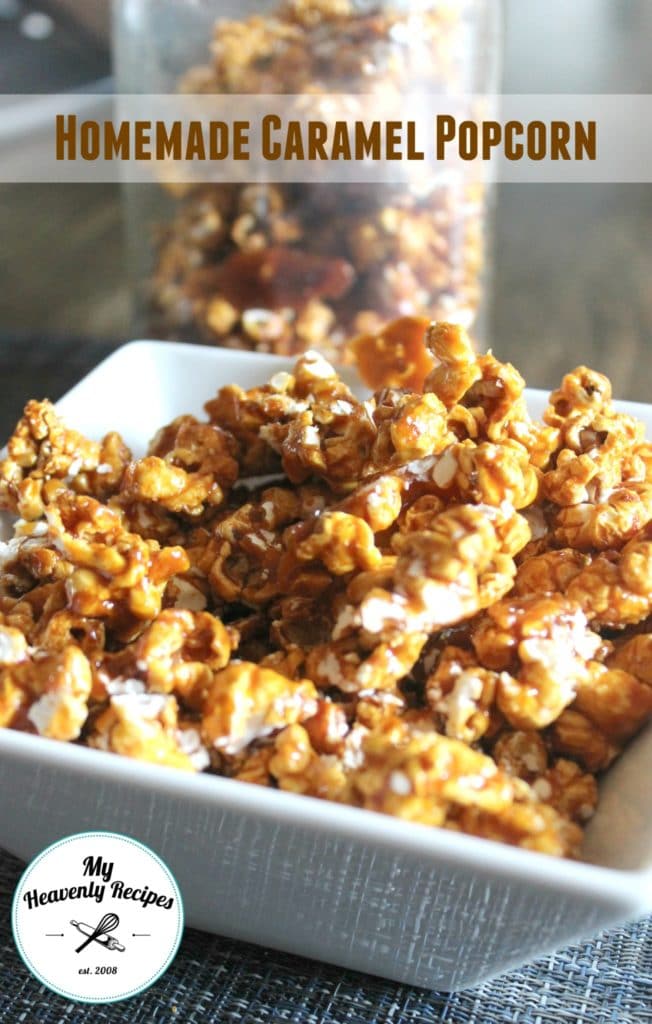 I went ahead and stored my Homemade Caramel Popcorn in two half gallon mason jars. If you are wanting to give as a gift you can tie a piece of ribbon around with a gift tag for a wonderful and inexpensive gift!
Other Recipes You'll Enjoy:
Homemade Caramel Popcorn
A delicious and heavenly Homemade Caramel Popcorn recipe that your friends and family will ask for all year long!
Ingredients
1

Scoop Kernels Cooked

1

C

Unsalted Butter

1

C

Light Brown Sugar

½

Honey

1

TSP

Salt

½

TSP

Baking Soda

1

TSP

Pure Vanilla Extract
Instructions
PREHEAT oven to 300.

PLACE the popcorn in a large bowl.

MELT Butter, adding brown sugar, honey and salt.

INCREASE the heat to medium high and bring the mixture to a boil then lower the heat to medium.

Boil for 3-4 minutes without stirring.

Add baking soda and vanilla to the caramel mixture, stirring until you have a thick, even, glossy sauce.

Slowly pour half the caramel sauce over the popcorn, while stirring the popcorn. Continue to stir the popcorn and the other half of the sauce until it's all well coated.

Divide the popcorn between the two baking sheets and sprinkle the popcorn with salt.

Place in the oven and bake for 30 minutes, stirring halfway through.

Allow popcorn to cool completely, or use buttered fingers to clump the popcorn together to form bunches if desired.
Notes
Weight Watchers FreeStyle Plan: 13 SmartPoints per serving
Nutrition
Calories:
683
kcal
|
Carbohydrates:
67
g
|
Protein:
2
g
|
Fat:
46
g
|
Saturated Fat:
29
g
|
Cholesterol:
122
mg
|
Sodium:
761
mg
|
Potassium:
141
mg
|
Fiber:
2
g
|
Sugar:
53
g
|
Vitamin A:
1450
IU
|
Calcium:
59
mg
|
Iron:
0.9
mg