This post may contain affiliate links, read our
Disclosure Policy
for more information. As an Amazon Associate I earn from qualifying purchases, thank you!
This is a sponsored post written by me on behalf of Smithfield®. The opinions and text are all mine.
Whether you are on the popular Keto Diet, looking to entertain guests, or just want a new recipe that you can throw on the grill this summer, these Smothered Smithfield® Yuengling® Brats and Veggies are where it's at!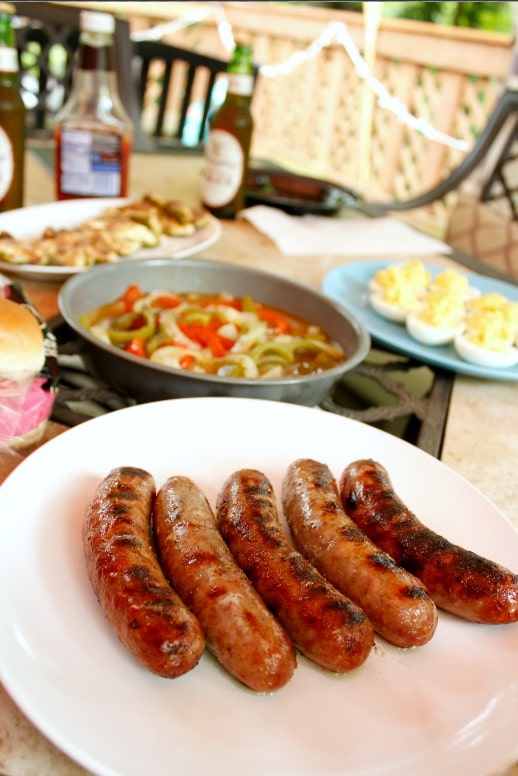 Are you like me and enjoy grilling once the weather breaks? Seriously, leave me a comment below and let me know how often you grill out & if you grill all year long! I'm interested to know 😉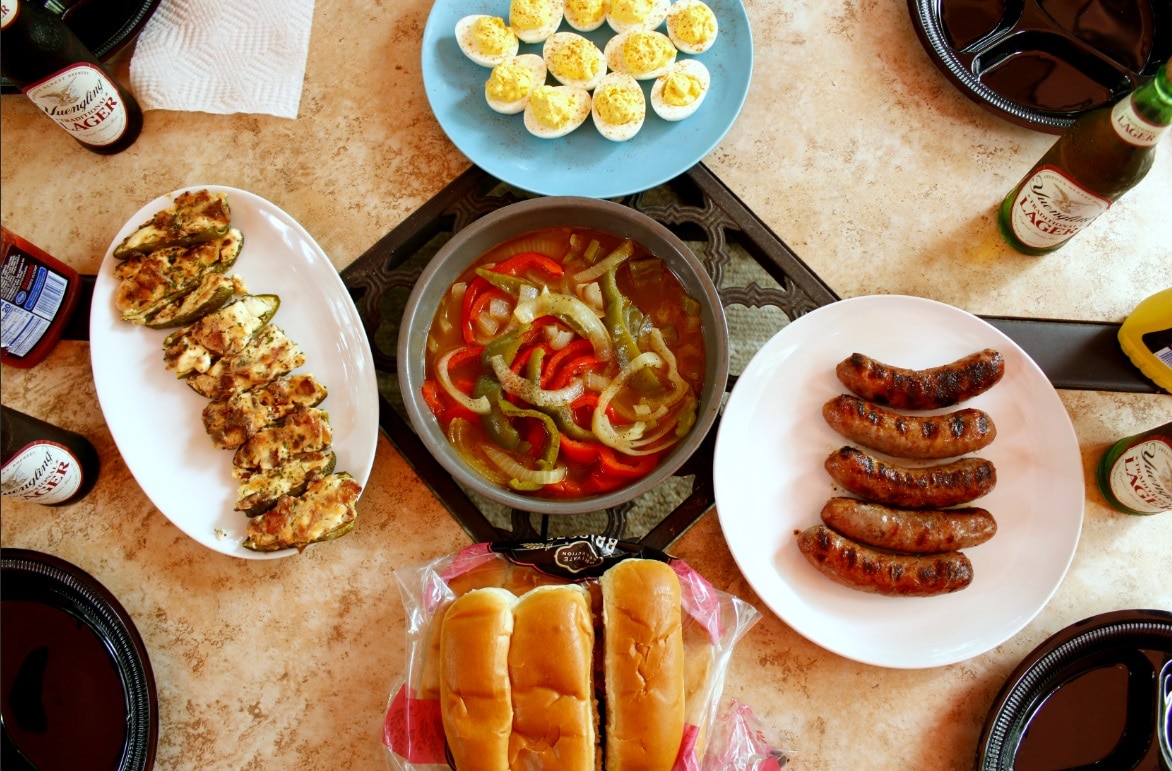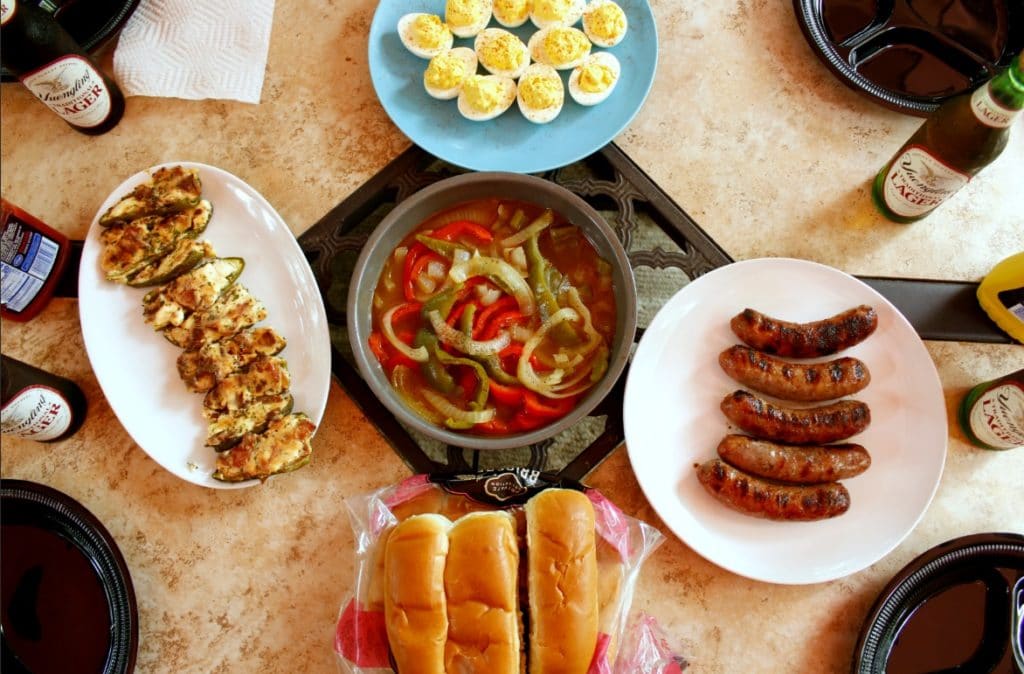 It seems that I do A LOT of my cooking on the grill and with that, comes all of my spring and summer recipes. Some of my friends call me out on this, but, I can only eat Deviled Eggs – in the summer. Just like my Italian Pasta Salad and of course Steak & Chicken Shish Kabobs. In fact, you won't find me eating soup, pot roast or any other heavy comfort food in the summer either! Go ahead and put me in that category with those people who don't like their food to touch on their plate! It's cool 😉
Now, if you are an entertaining fool when it comes to backyard BBQ's, swimming by the pool or just enjoy having friends and family over, you've got to serve up these Smothered Smithfield Yuengling Brats and Veggies. Here's why:
No clean up (can I get an amen?!?)
Less than 5 minutes of prep – if you can cut peppers and onions you are good to go!
You can hang with your guests as you grill dinner
Start a second grill and grill your entire meal
For me, I don't think entertaining has to be fancy. In fact, I'm not fancy at all! However, I do love to entertain and share the recipes that are coming out of my kitchen with friends and family. I mean hello, I do operate this yummy website, right?!?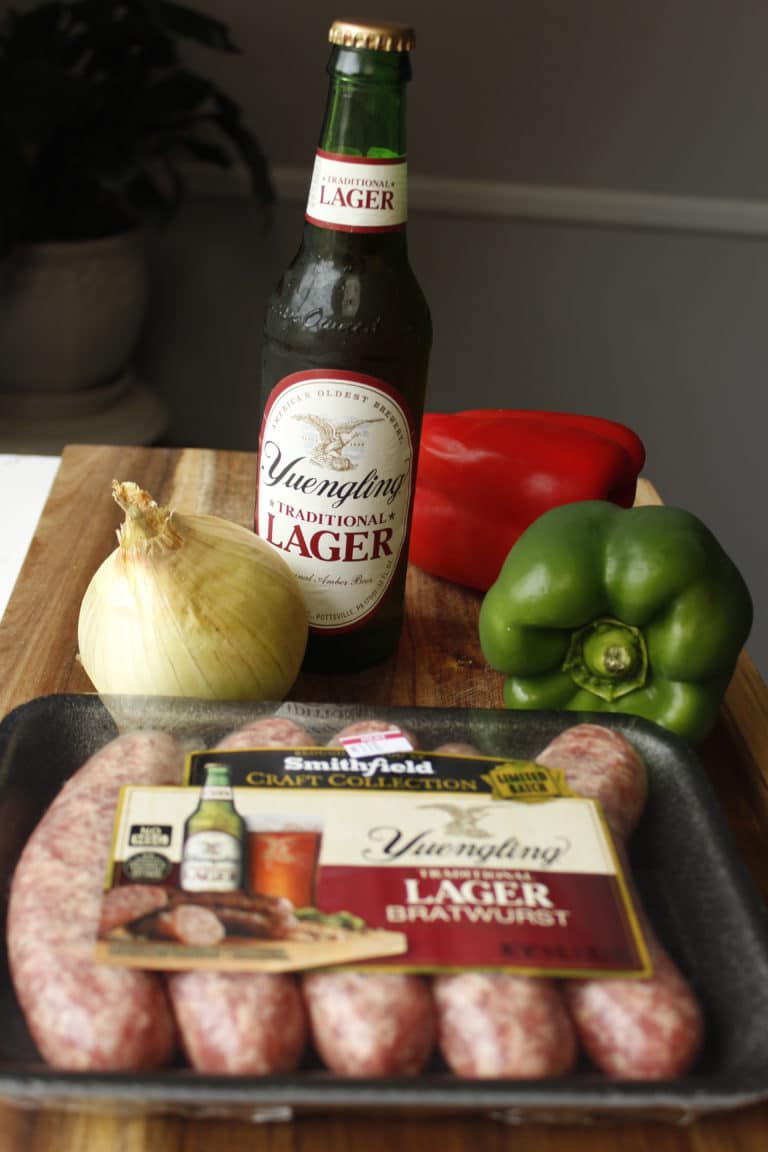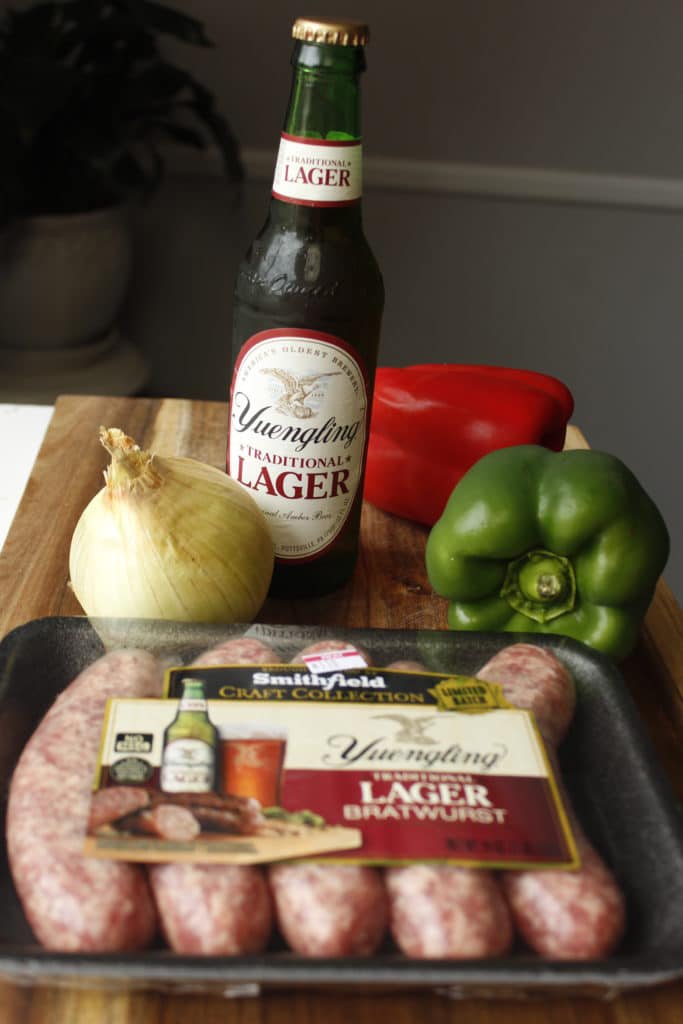 Oh and I don't know about you, but, when I entertain I have a cooler on the deck that is filled with Yuengling beer for the adults and juice for the kids. That way everyone can help themselves! I'll pop open a Yuengling and pour it over my peppers and onions that I chopped up, throw in a slab of butta and of course season the goodness with a little salt and pepper. Throw it on the grill about 20 minutes before the Smithfield Yuengling brats and then patiently wait…that's the hardest part!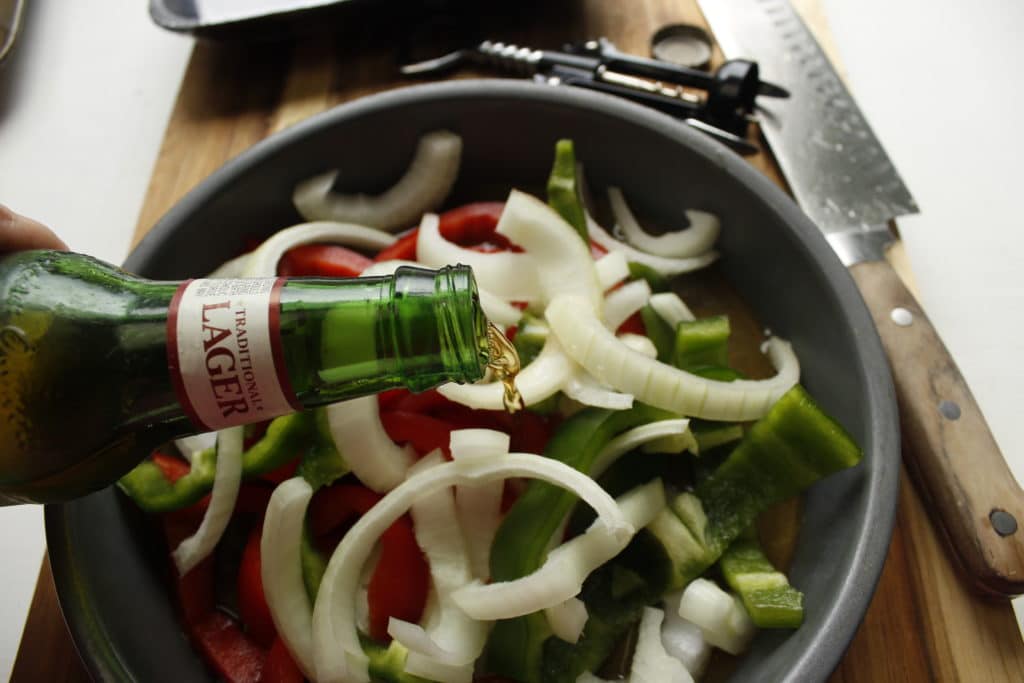 With the Smithfield bratwurst being infused with real Yuengling Traditional Lager, the peppers marinating away in the Yuengling Traditional Lager and you sipping on a Yuengling as you man the grill (or just watch) it's bound to be a good day, right?!?
The best part of grilling, is the cold beer in my hand!
Have you ever been to a backyard BBQ and had to man the grill? At my house, whoever is manning the grill, gets the beer. It's just the rule of backyard grilling. So break the top on the Yuengling and have a good time. That is what summer is all about!
Now before ya'll send me emails asking me about this yumminess – I'll answer a few questions!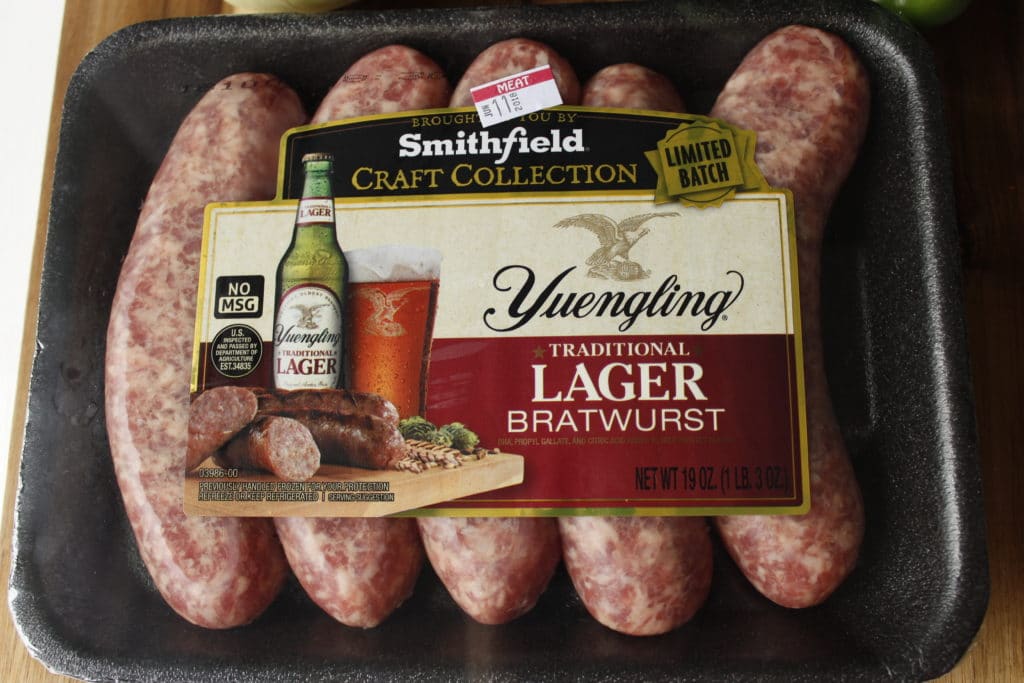 Where did you purchase these Smithfield Yuengling Traditional Lager Bratwurst?
They were in the refrigerated meat case at my local Kroger Store!
What are the Smithfield Yuengling Traditional Lager Bratwurst made of?
You can be assured that they are made with premium cuts of pork and a special blend of sweet and savory spices with no MSG!
I've never heard of Yuengling – what is it?
A few years ago as I was visiting family, I tried a Yuengling and ended up bringing two cases back to Ohio with me. However, the company now sells their beer in Ohio! I still don't understand why we had to wait so long, considering we are neighbors ;)!
Yuengling is America's oldest craft brewery (located in Pottsville, PA) and Smithfield (located in Smithfield, VA) is the ham capital of the world. Both come from towns with a slower, more thoughtful pace – grounded in tradition with a pride for their heritage. With that heritage comes an appreciation for quality, flavor and family; that's why Smithfield & Yuengling make the perfect pair.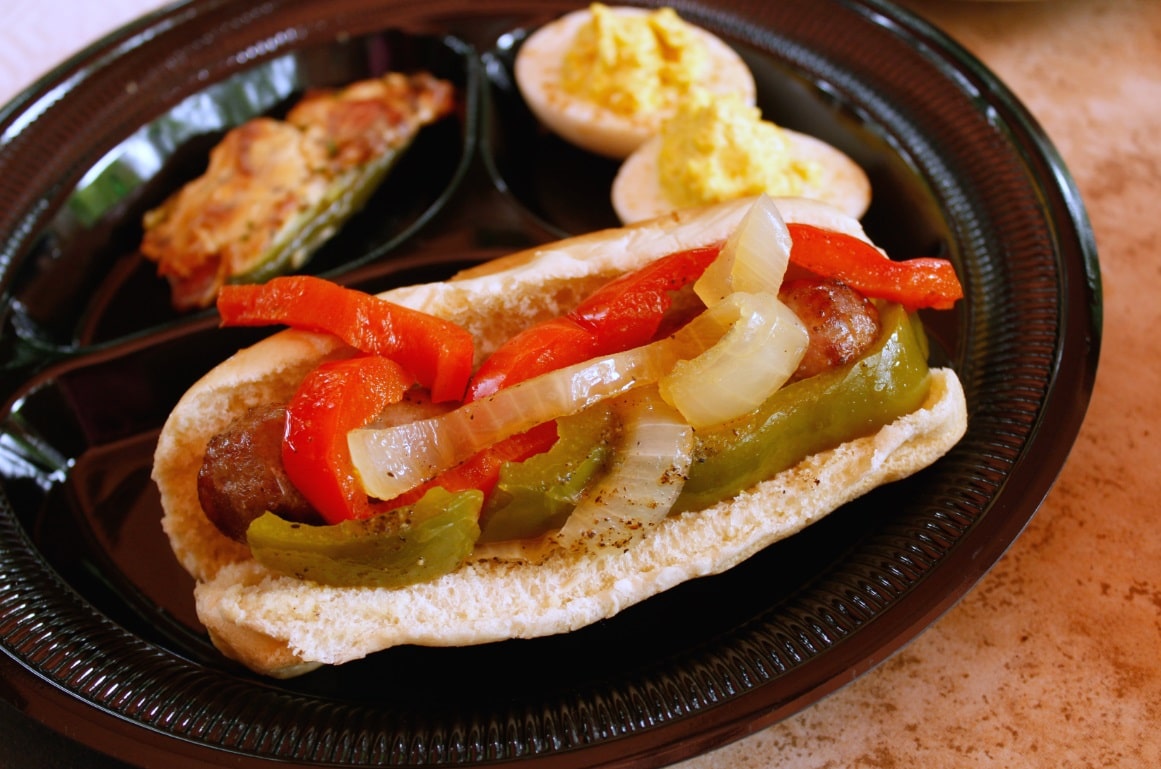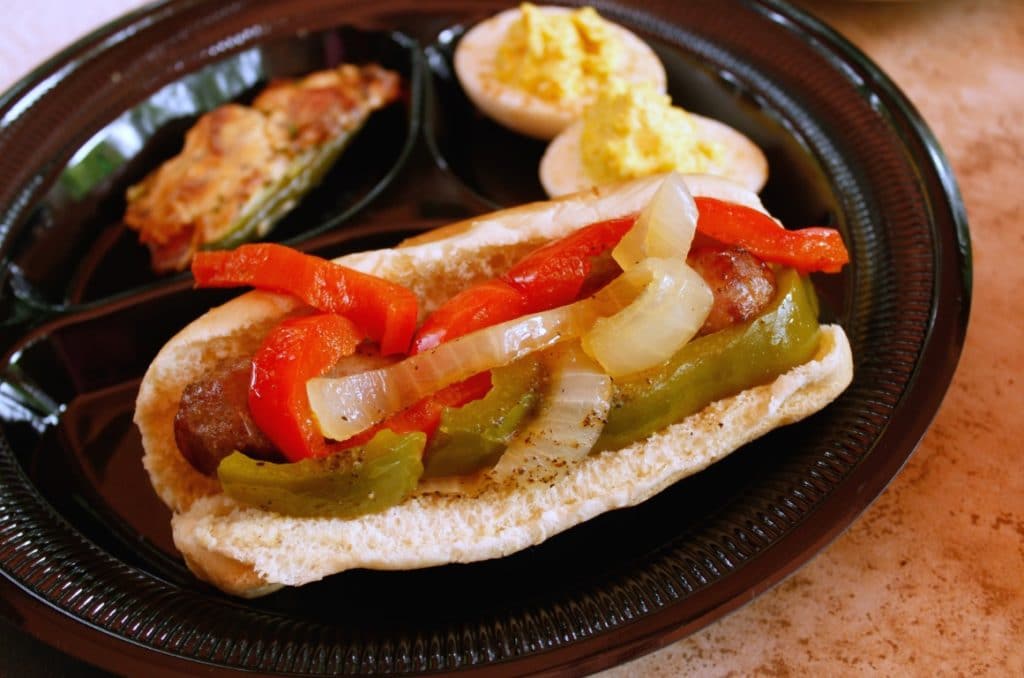 Don't you just want to sink your teeth into this bad boy?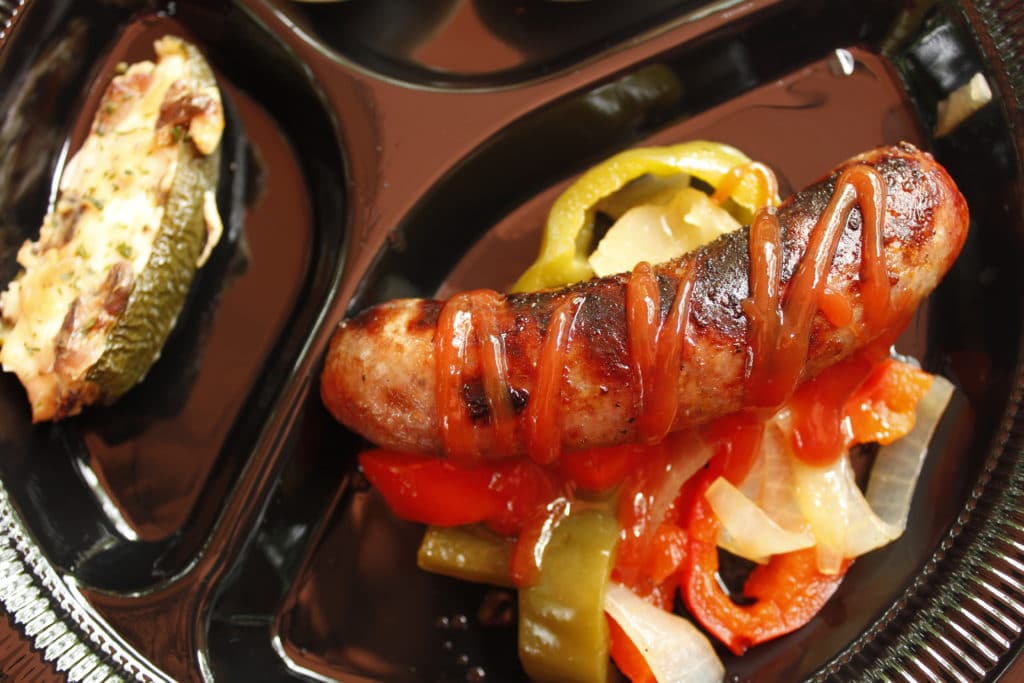 If you are like me and on a "keto diet" you can still totally enjoy these without the bun. They are simply delicious and you can still be part of what the party goers are eating, all ya gotta do is omit the bun! It's really that easy! Oh and make sure there's no sugar in any of the condiments and you are good to go! You can find Smithfield Yuengling Bratwurst at your local Kroger.
Smothered Brats & Veggies
Ready to entertain with good food that doesn't require a lot of prep or cook time? Hang out with your guests and let the food speak for itself with this super easy Smothered Brats and Veggies recipe!
Ingredients
1

Package

Smithfield Traditional Yuengling Lager Bratwurst

1

Large

Onion

Sliced

2

Large

Bell Peppers (any color)

sliced

1

Yuengling Beer

2

TBSP

Butter
Instructions
In a metal pan, place peppers, onion, beer and butter. Top with salt and pepper.

Cover pepper mixture tightly with aluminum foil and place on a preheated grill. Allow to cook for 10 minutes.

Drizzle brats with olive oil and season with salt and pepper. Place on hot grill and cook for 20-25 minutes, until cooked through.

Nestle brat in between bun, top with pepper mixture and your favorite condiments! Enjoy!