If you are looking for a tasty and quick party food to put together, these Bacon Wrapped Smokies are what you need!   They are the perfect party food. No need for utensils and c'mon, everyone loves bacon! These things will disappear quickly though, so make sure you have plenty.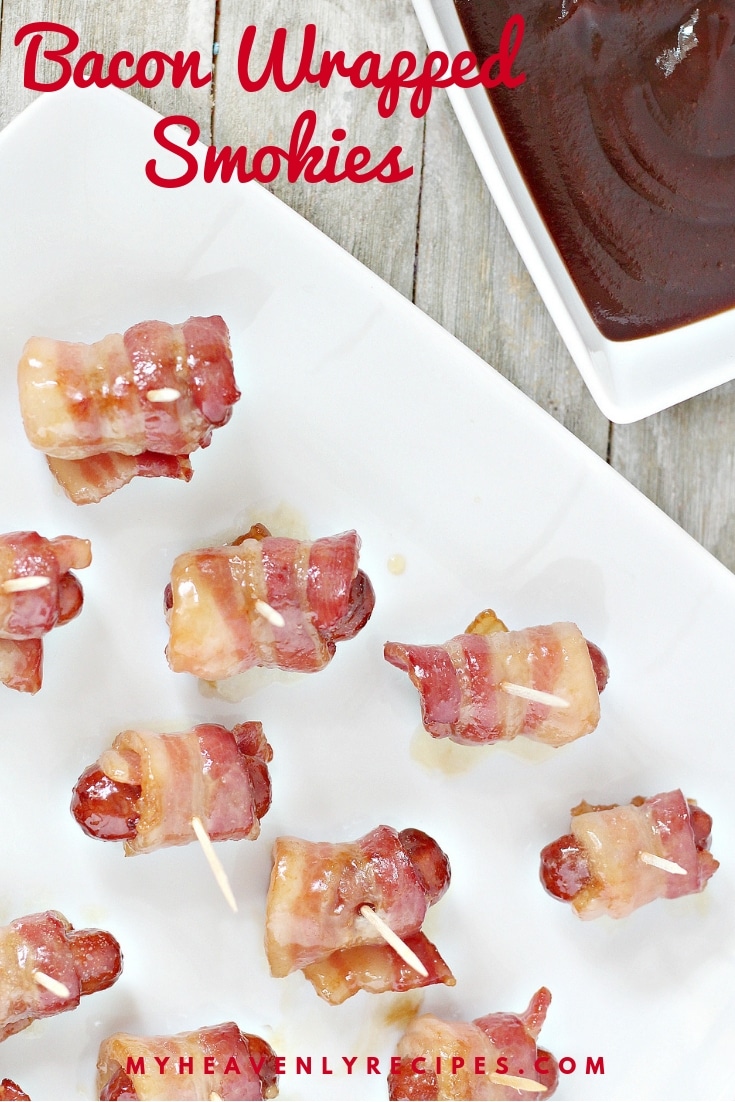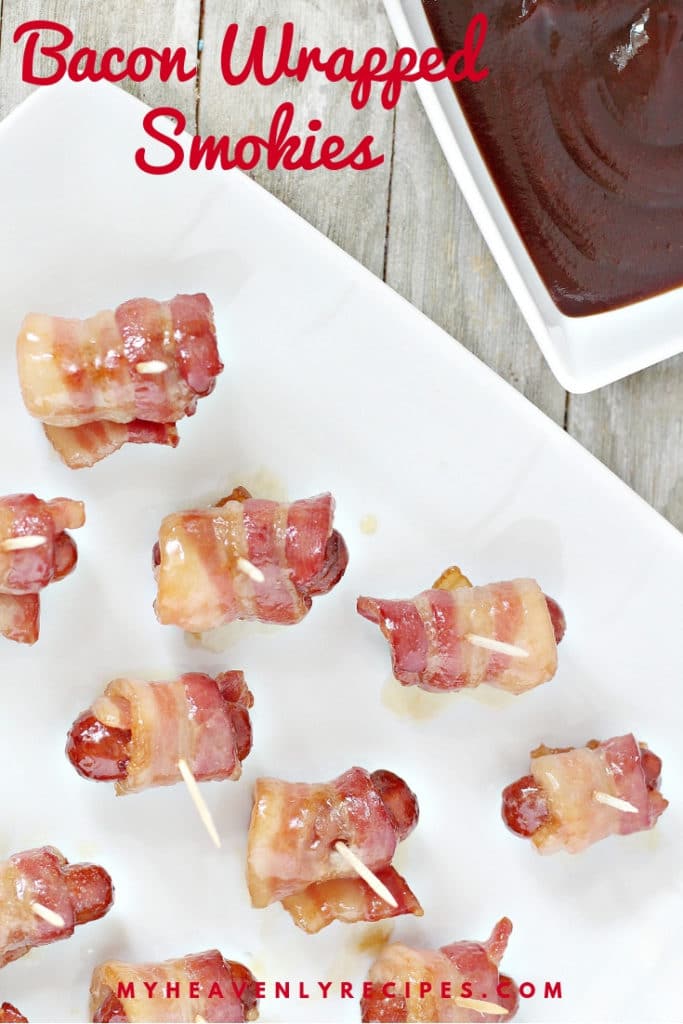 These Bacon Wrapped Smokies are really easy to make too.  You simply wrap your little smokies in bacon, add some homemade sauce and bake for about twenty minutes.  That is it! Sounds pretty easy, right? I love an easy dish that will please a crowd, don't you?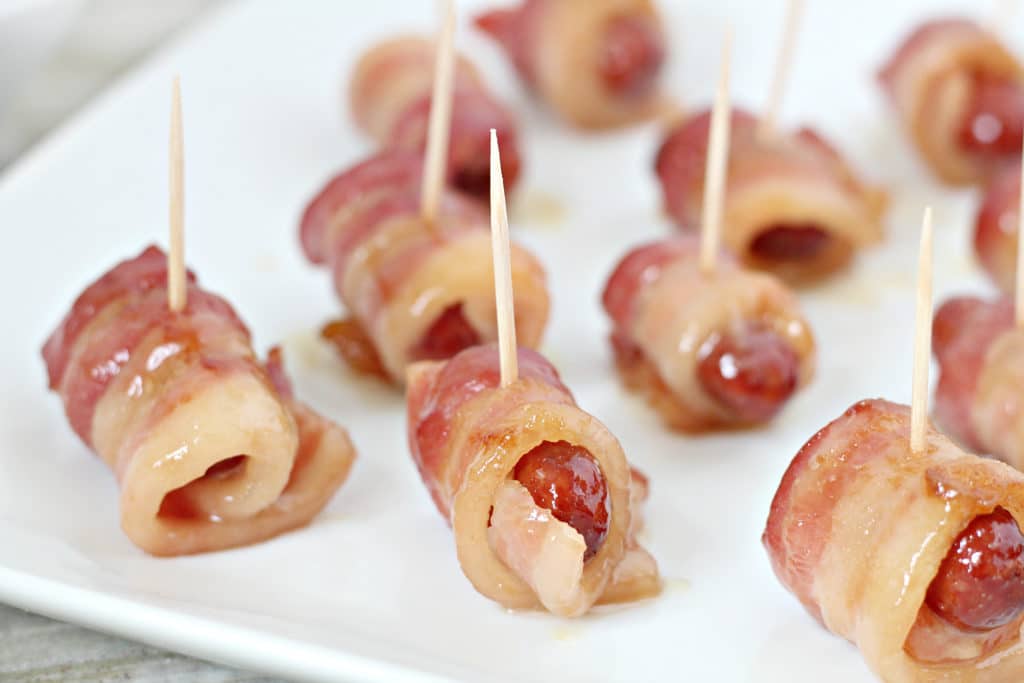 You don't need to be throwing a party to make them though feel free to fire up your oven and cook these for the family for an easy weeknight dinner. They would go great with a green salad and tots, or a tasty pasta salad.  You can even enlist the help of your family to make these for you, they are that easy.
Oh and you may also be interested in our Crock-Pot Lil Smokies. This is a even easier recipe, but, doesn't contain the bacon!
How long do you cook bacon wrapped smokies?
When making these bacon wrapped smokies, the total cook time is between 20-25 minutes. The smokies cook for 15-25 minutes and then the heat is turned up for another 5 minutes in order to help the bacon crisp.
Can Bacon Wrapped Smokies be made ahead?
Since these smokies are great for a party or get together, you might want to make them ahead of time so you can enjoy the party and not be stuck in the kitchen. Bacon wrapped smokies are easy to make ahead.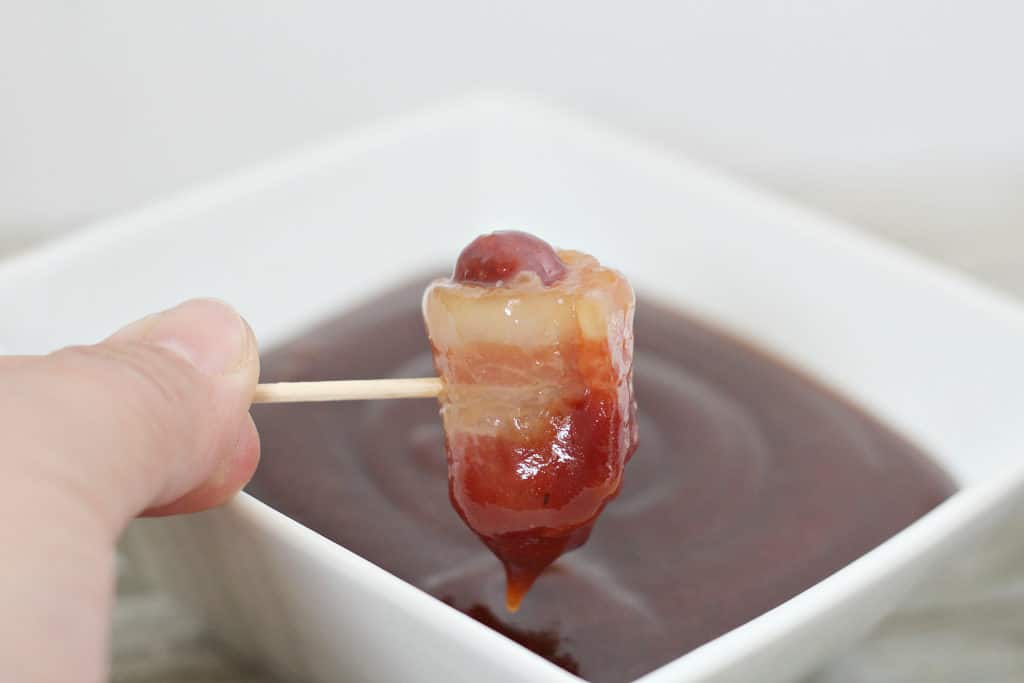 How do you keep Bacon Wrapped Smokies warm?
Bacon wrapped smokies are so good, you do not have to worry about keeping them warm. These delicious bite-sized morsels taste great even at room temperature. If you so want to keep them warm, you can use a slow cooker.
What happens if I don't have any toothpicks?
Not to worry! You can still make these bacon wrapped smokies, but, you'll need this tip first!
Bacon shrinks when it is cooked in the oven. Therefore, you'll want to ensure that you have enough bacon wrapped around the entire smokie. Before baking on the baking sheet, make sure to place seam side down. This will ensure that the bacon doesn't slip off the smokie during the cooking process.
I like my bacon a little more well done. Can you help?
I get it! As a family of 5, 3 of us enjoy a crisp bacon. You can simply leave the bacon in longer or increase the heat of your oven. For my gas oven, I put it on at 380° for about 25 minutes for a crisp bacon.
Each oven varies when it comes to the heat and the baking process. With plenty of experience you'll get the time dial in in no time!
INGREDIENTS OF BACON-WRAPPED SMOKIES
Bacon
Lil' Smokies
Butter
Brown Sugar
BBQ Sauce
VARIATIONS TO BACON-WRAPPED SMOKIES
You can omit the sauce if you are looking to cut down on sugar and/or carbs.  These taste pretty great on their own.

HOW DO YOU MAKE BACON-WRAPPED SMOKIES
Preheat oven to 375 F°
Cut the bacon into thirds and wrap each smokie

Place all the wrapped smokies in a single layer in a baking dish.
Then melt the stick of butter and then 1 cup of brown sugar and stir until mixed well.

Pour the butter and brown sugar mixture on the smokies and bacon.

Then take the other cup of brown sugar and sprinkle evenly over the Smokies.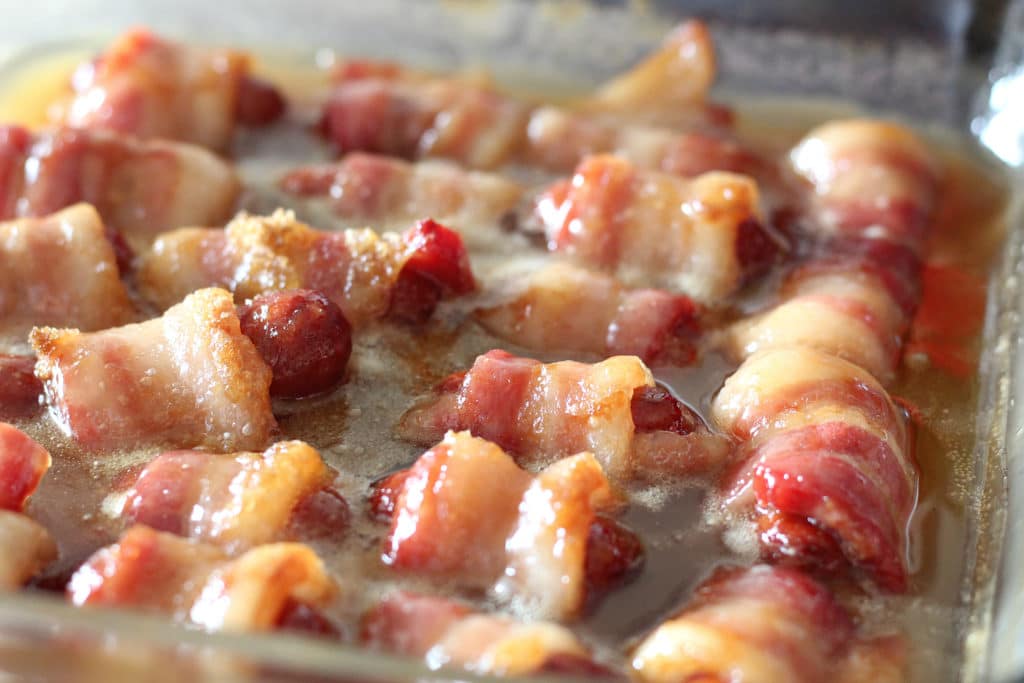 Bake them for about 15-20 minutes and then turn the heat up to 400° F for about 5 minutes or longer until the bacon becomes crispy.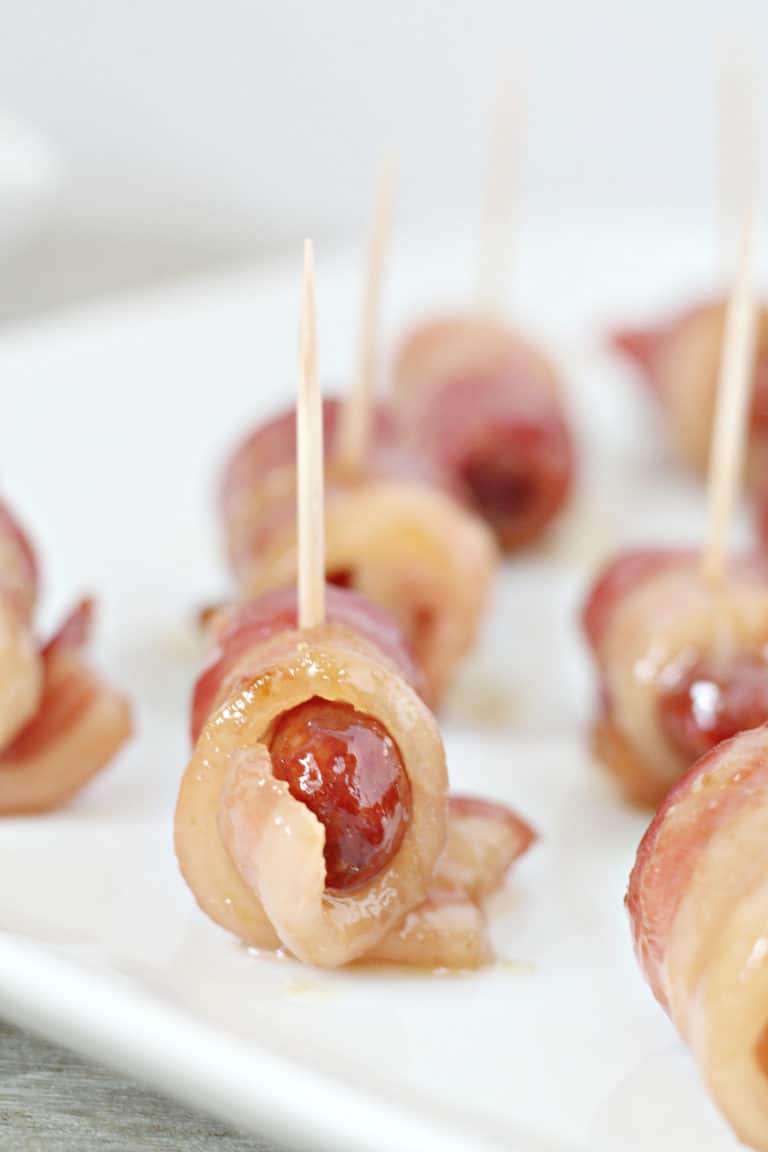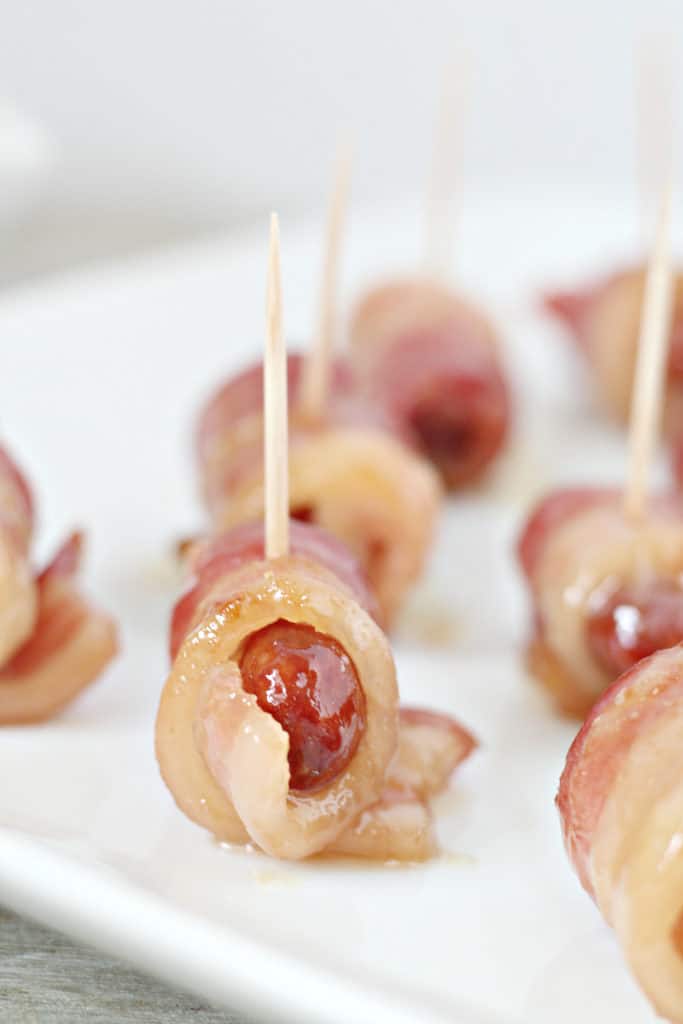 Other Recipes You'll Enjoy
BACON-WRAPPED SMOKIES
These Bacon Wrapped Lil Smokies are a flavor-packed party food!
Ingredients
1

pound

Bacon

Cut Into Thirds

1

pound

small sausages

Lil Smokies

½

cup

Butter

2

cups

Brown Sugar

2

C

BBQ Sauce
Instructions
Preheat oven to 375F.

Cut the bacon into thirds and wrap each smokie

Place all the wrapped smokies in a single layer in a baking dish.

Then melt the stick of butter and then 1 cup of brown sugar and stir until mixed well.

Pour the butter and brown sugar mixture on the smokies and bacon.

Then take the other cup of brown sugar and sprinkle evenly over the Smokies.

Bake them for about 15-20 minutes and then turn the heat up to 400F for about 5 minutes or longer until the bacon becomes crispy
Nutrition
Calories:
893
kcal
|
Carbohydrates:
111
g
|
Protein:
10
g
|
Fat:
45
g
|
Saturated Fat:
19
g
|
Cholesterol:
90
mg
|
Sodium:
1635
mg
|
Potassium:
468
mg
|
Fiber:
0
g
|
Sugar:
102
g
|
Vitamin A:
715
IU
|
Vitamin C:
0.6
mg
|
Calcium:
101
mg
|
Iron:
1.4
mg