This post may contain affiliate links, read our
Disclosure Policy
for more information. As an Amazon Associate I earn from qualifying purchases, thank you!
Learn how to cut cherry tomatoes in half with one simple step!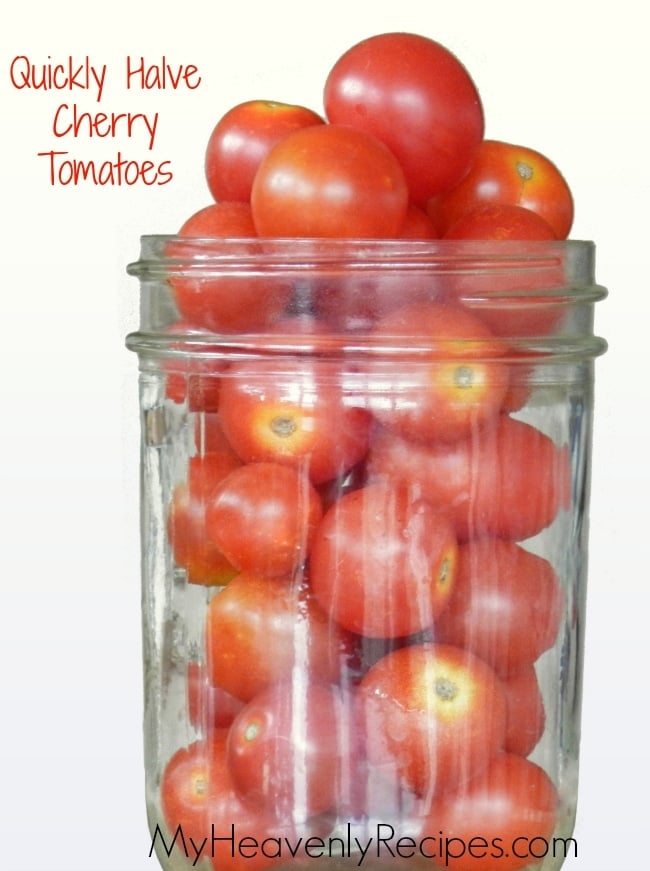 As a Stay at Home Mom, I'm in the kitchen A LOT. I've got three mouths to feed on a daily basis and not to mention their friends! So when it comes to snack time (we have them twice a day) they get to choose a fruit or a vegetable. If they choose fruit for morning snack time, they'll get a vegetable at afternoon snack and vice versa.
I will say that Beanie girl LOVES cherry tomatoes. TT girl gets cankers pretty easily and tends to shy away from them. If you've been around for a good bit then you know Bubby hasn't met a food he didn't like so we are good with him. So when they ask for cherry tomatoes at snack time Momma has got to cut them in half; it's the ONLY way they will eat them.
So instead of explaining to you how I cut cherry tomatoes, I figured it would be easier if I just made you a video.
How to cut cherry tomatoes quickly and easily
Now you may be a bit scared that you can't do this without cutting the palm of your hand. If you don't have confidence in your knife skills then you can use the top of a mason jar lid, a flat tupperware lid or even the bottom of a plate. Honestly, when I first started cutting like this I'd use a plate, but, I'm over it now and don't have time to grab plates!
If you have a lot of cherry tomatoes this is a super quick way to get the job done. I know when I make my Italian Pasta Salad ain't nobody got time to half each cherry tomato individually. If I didn't have this kitchen tip for halving cherry tomatoes I'd probably never make it simply because it's time consuming to cut a entire pint of cherry tomatoes in half!
Alright I've gotta get back to the kitchen! The kids are calling 🙂
I love to see what you are creating in your kitchens! Feel free to share your results of this Strawberry Smoothie Recipe with me on Facebook or Instagram. And, be sure to follow me over on Pinterest for more Heavenly Recipes.