This post may contain affiliate links, read our
Disclosure Policy
for more information. As an Amazon Associate I earn from qualifying purchases, thank you!
This slow cooker time chart will show you crock pot conversions for high vs low cooking times. Get this FREE PRINTABLE and our best crock pot recipes!
In the My Heavenly Recipes Reader survey, I heard ya'll loud and clear. You want more Crock Pot Recipes…so I figured while I'm working on that I'd provide you with this free printable slow cooker time chart.
Slow Cooker Time Chart Printable
To print this slow cooker time chart, just right click on the image, save it to your computer, then print it out.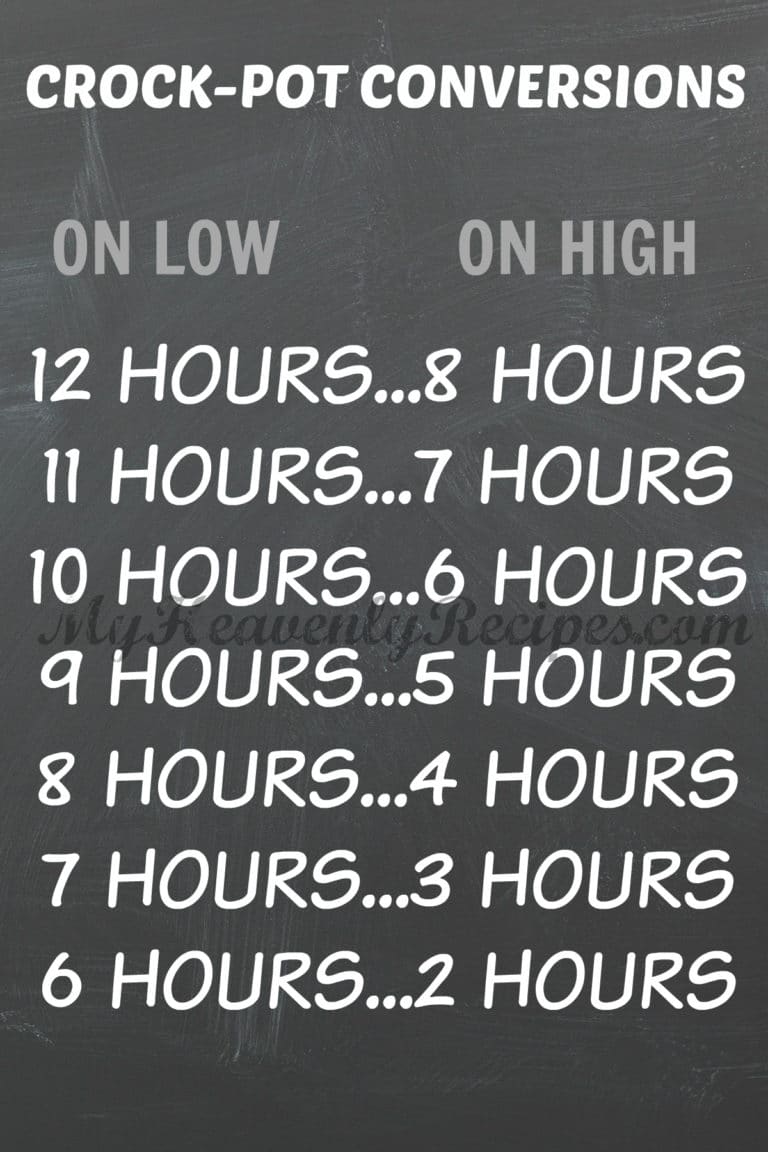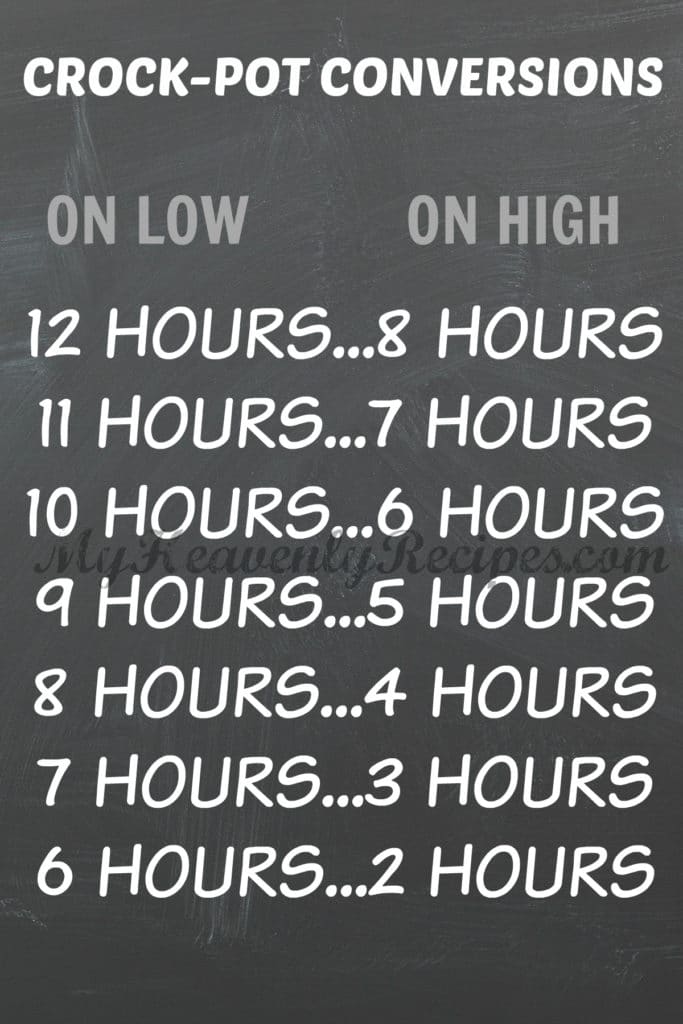 I seriously can't believe how many of you have asked for Crock-Pot Recipes. It seriously has blown my mind! While I don't necessarily use my slow cooker as my "go to", I have been using it more and more. So much so that I'm now converting a lot of my popular recipes into Crock-Pot recipes.
For instance, here are a few stove top dinner recipes I've converted to crock pot recipes:
One fasinating thing that I have become a little obsessed with is baking with my crock pot. Now I have found that the Casserole Crock Pot works best, because it doesn't burn the bottom of the cake. If you are using a traditional round or oval Crock Pot you may need to adjust your times. I say that each Crock Pot is a little different so just watch it. The edges may brown up or develop a crust, if that happens just stir the cake.
Now, you may be saying to yourself, why not just bake a cake in the oven. Well my friends, the Crock Pot cooks a lot longer so I either may not be ready for the dessert right then and there. I may need to serve it warm (with ice cream) and I also love the fact that it makes my entire house smell like a bakery all day!
Favorite Crock Pot Dessert Recipes:
Favorite Crock Pot Dinner Recipes:
I am also working on several other Crock-Pot recipes for ya'll, so stay tuned!  In the meantime, check out these other great Crock-Pot Recipes:
Do you have a favorite Crock Pot Recipe you'd like to share? If so, head on over to Submit a Recipe!
I hope you find the free printable slow cooker time chart helpful, too!