These Funfetti Pancakes are a great start to any morning. I typically make these Funfetti Pancakes on my child's birthday, as a surprise Breakfast Dinner and I freeze the leftovers for a quick breakfast on mornings when I just can't pull it all together. As Mommas we all struggle, might as well prepare for it, right?!?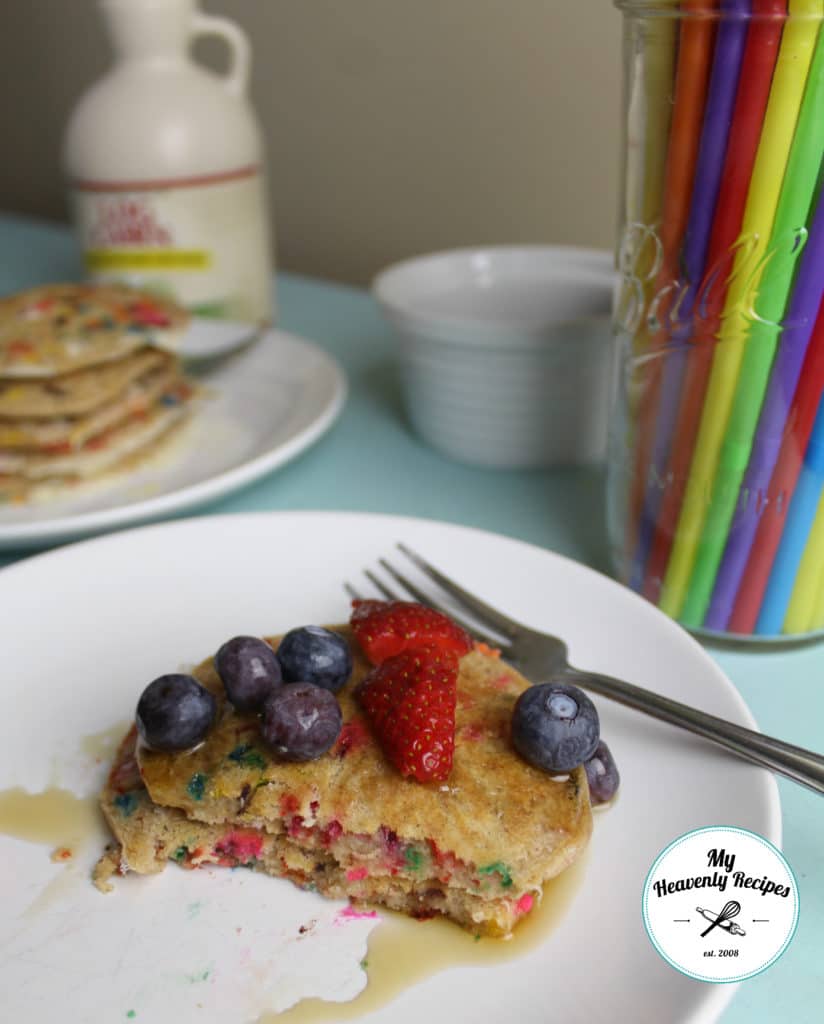 Once you make Homemade Pancakes, you'll never buy the boxed stuff ever again. I love how easy it is to make and I often double the batch on Sunday and freeze the rest for a quick breakfast on those busy mornings. All I do to reheat the frozen pancake is pop it in the toaster and breakfast is served!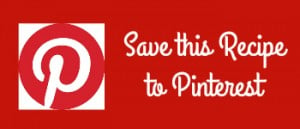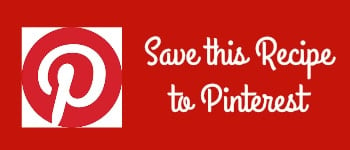 When we have special things to celebrate such as a birthday, a milestone in school or holiday I try and serve these Funfetti Pancakes. There's also nights when I just want to have a bit of fun and surprise the family! They LOVE Breakfast for Dinner and occasionally put this Funfetti Pancake recipe to good use. Then to make sure that Mom guilt doesn't kick in I top the pancakes with fresh blueberries and strawberries. Often times there's nothing left and I'm content with that!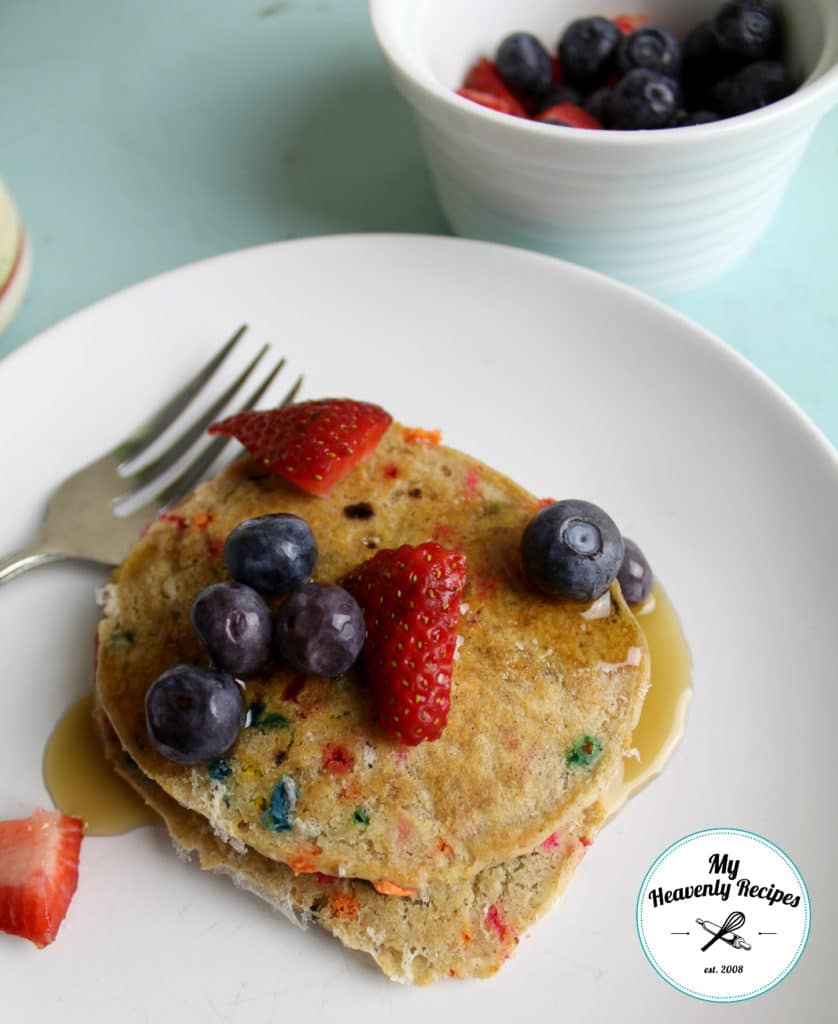 These Funfetti Pancakes are seriously so easy ya'll! If you don't happen to have funfetti sprinkles you can add in any sprinkles that you wish, chocolate chips, blueberries, whatever you wanna throw into them. They'll hold up, trust me on this 😉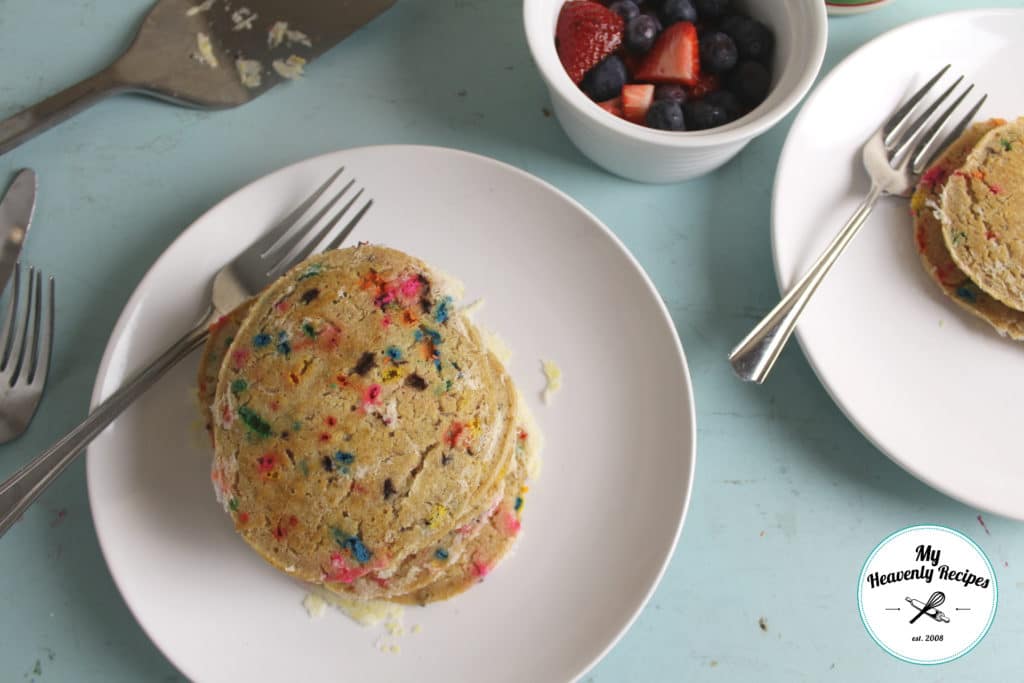 Aren't they just so fun and festive looking? I hope that you'll give these babies a try and they brighten up your day or week as much as they do ours!
Funfetti Pancakes
---
Marci Loehner | MyHeavenlyRecipes.com
Yields 18
These Funfetti Pancakes are fun and festive. They may for a great surprise on a child's birthday, holiday, or just because!
5 minPrep Time
10 minCook Time
15 minTotal Time
Ingredients
2 C Flour
5 TSP Baking Powder
3 T Sugar
1 TSP Salt
2 Eggs
1/2 C Oil
2 C Milk
1/4 C Funfetti Sprinkles
Instructions
In a large bowl whisk together flour, baking powder, sugar and salt.
Next add in eggs, oil, milk and funfetti sprinkles stirring until combined.
Heat a greased skillet, adding 1/3 C of pancake mixture onto the skillet at a time.
Once the top of the pancakes begins to bubble, 3-4 minutes, flip and allow the other side to cook through for another 3-4 minutes.
Repeat until the entire pancake mixture is gone.
If you have leftovers, place in a ziploc bag and store in the freezer. Heat in a toaster and serve like normal.
http://myheavenlyrecipes.com/funfetti-pancakes/