If you are looking for a carbonara recipe you've got to try this. It's super simple, contains leftover ingredients and is on the table in under 20 minutes.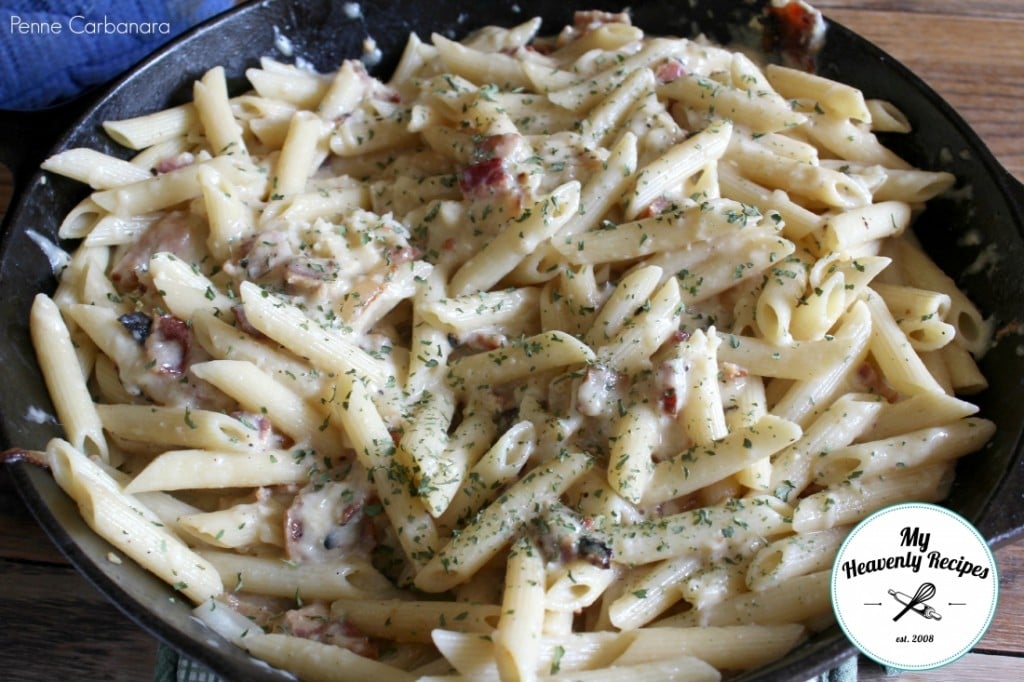 There's times when I am watching the Food Network where I see a chef cooking an amazing recipe. I think to myself "I can make that!" and realize I have all the ingredients to make it work in my kitchen for my families taste buds. That's pretty much what I did with this carbonara recipe!
You see I was glued to Giada Goes to Italy. It's apparent that Giada took off to Italy to be around family during her divorce. She seemed happy as did her daughter Jade…she's so cute!
Anyway she made her own Penne a la Carbonara Recipe with ingredients that are normal to her. For me, I hardly ever cook with panchetta (which was the star in her dish). However, I just so happened to have a cousin on panchetta…. leftover bacon! I had cooked the bacon in the oven and had some leftover bacon from that mornings breakfast so I used it. Giada also left out the garlic and I just think garlic makes a nice addition to any pasta dish so I added it in…because this is MY recipe yo and I can do what I want to!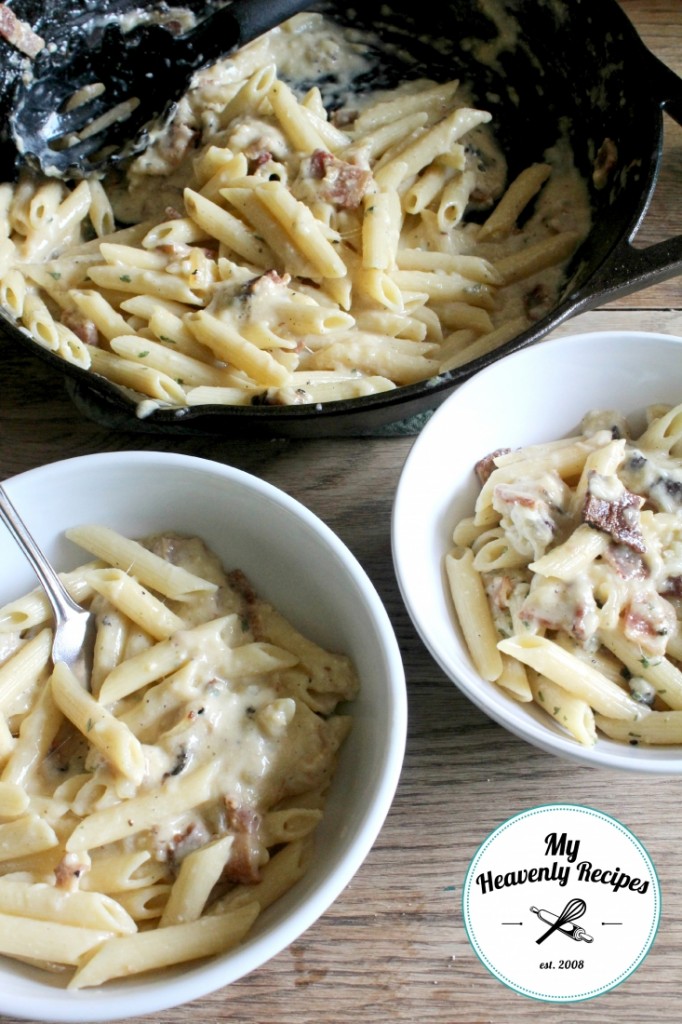 We ended up eating this for lunch that day and then the Hubby took the leftovers to work the next day. If you do go to reheat this carbonara recipe you'll want to add a bit of milk otherwise it will be to dry.
Ingredients
1 Box Barilla Penne Noodles, cooked and drained
8 Pieces Bacon, diced
1/2 Yellow Onion, sliced
2 TBSP Butter
1/2 TBSP Garlic, diced
4 Eggs
1 C Milk
Salt & Pepper to Taste
1 1/2 C Mozzarella Cheese, Shredded
1 1/2 TBSP Dried Parsley (or 3 TBSP Fresh Parsley)
Now I will tell you that if I had it my way I would've added a bag of frozen peas. I LOVE peas, but, no one else in my family agrees with that so I hardly ever buy them unless I am having guests over that I know will eat them with me….kinda the same goes for my Deviled Eggs Recipe.
It's such a shame really.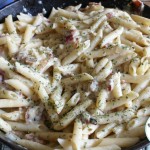 Bacon Penne Carbanara
Ingredients
1

Box Barilla Penne Noodles

cooked and drained

8

Pieces

Bacon

diced

1/2

Yellow Onion

sliced

2

TBSP

Butter

1/2

TBSP

Garlic

diced

4

Eggs

1

C

Milk

Salt & Pepper to Taste

1 1/2

C

Mozzarella Cheese

Shredded

1 1/2

TBSP

Dried Parsley

or 3 TBSP Fresh Parsley
Instructions
Boil your noodles, drain them al dente.

In a large skillet add in bacon, onion, butter and garlic. Let cook 5 minutes until onions are translucent and bacon has been heated back up. Turn the stove OFF.

In a small bowl mix eggs together with milk and cheese.

Add the cheese mixture to your hot skillet. The cheese will begin to melt and the eggs/milk mixture will create a nice yummy sauce.

Once the cheese has melted add in the parsley and stir.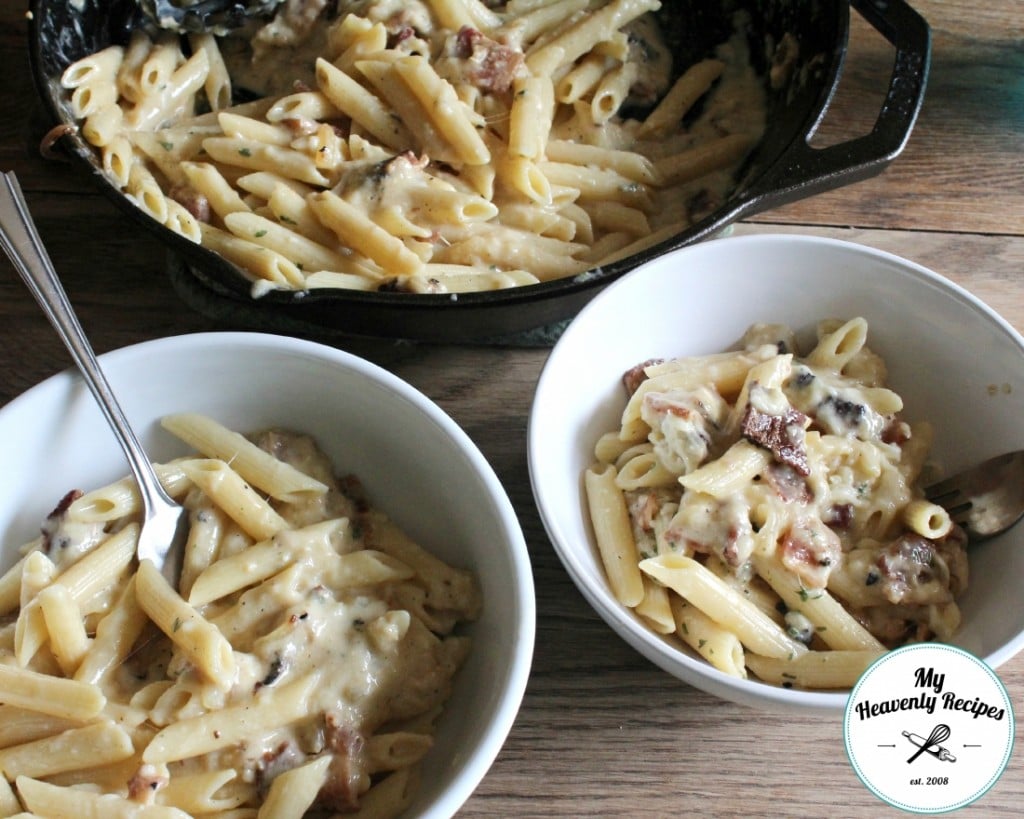 I love to see what you are creating in your kitchens! Be sure to share the recipes you found on MyHeavenlyRecipes.com with me on Facebook, Twitter, Pinterestand Instagram.