This post may contain affiliate links, read our
Disclosure Policy
for more information. As an Amazon Associate I earn from qualifying purchases, thank you!
These simple dessert recipes use minimal ingredients, and many of them are no bake desserts! So, the next time you are expecting guests to arrive, make some of these easy desserts ahead of time, and enjoy your party!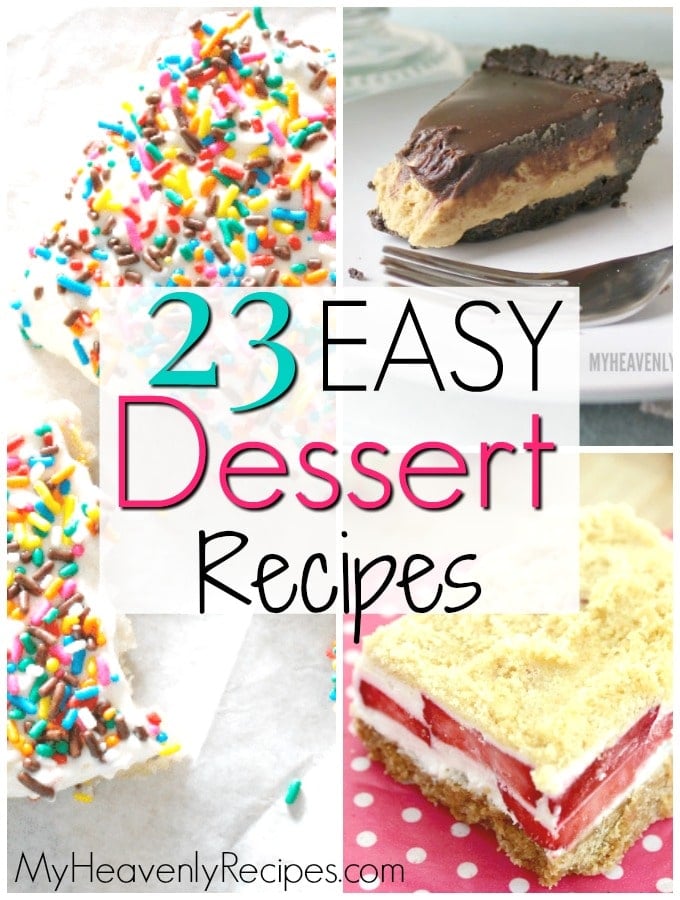 For many folks, like myself, baking can be a daunting task. If you are not the type to follow directions well, baking may not be a fun experience. So these simple dessert recipes with minimal ingredients are a perfect option. Oh and there's a good mix in here that contain chocolate desserts, no bake dessert recipes and of course recipes that are perfect for making ahead of time – like that Homemade Hershey Sundae Pie!
Simple Dessert Recipes
CHOCOLATE TRUFFLES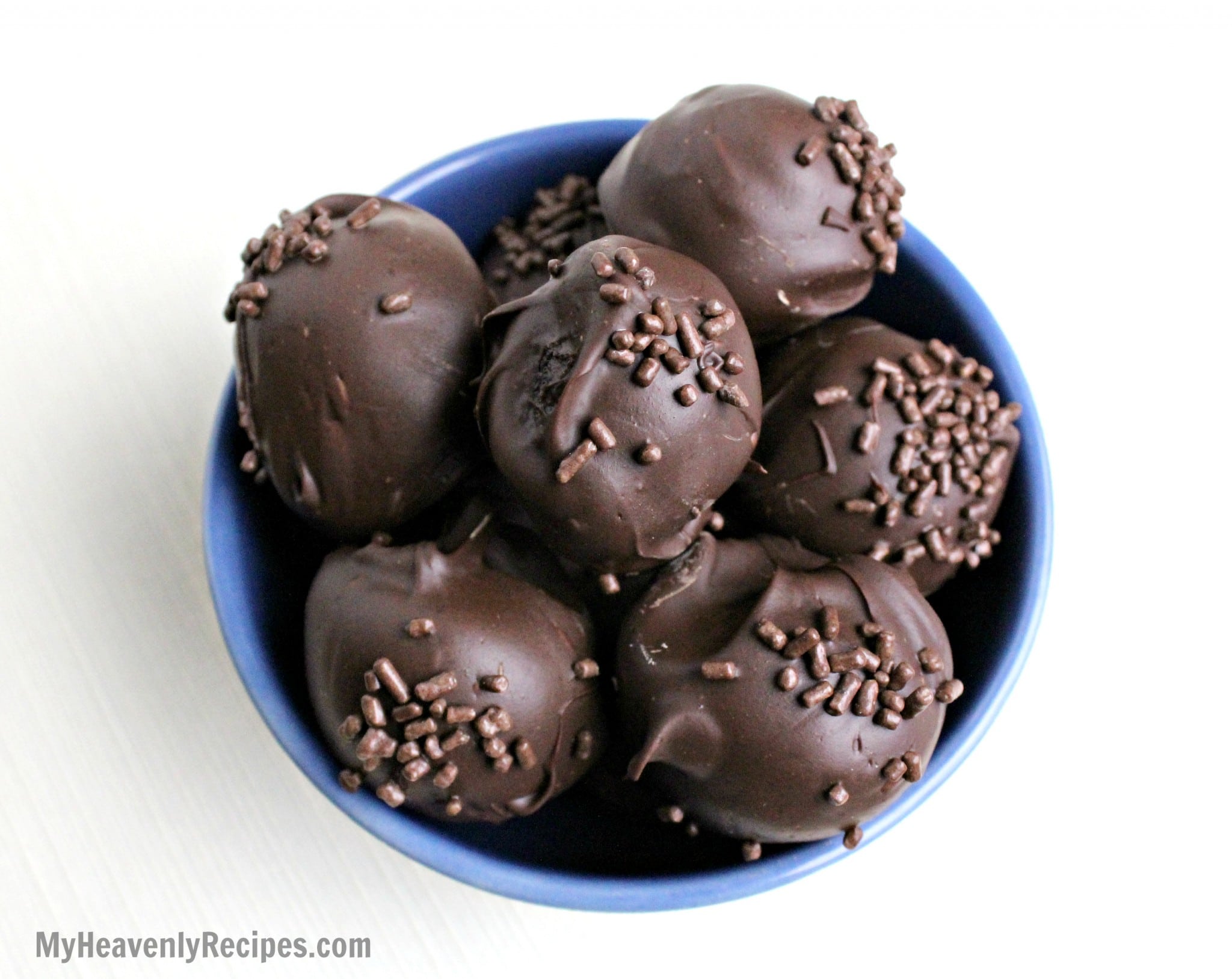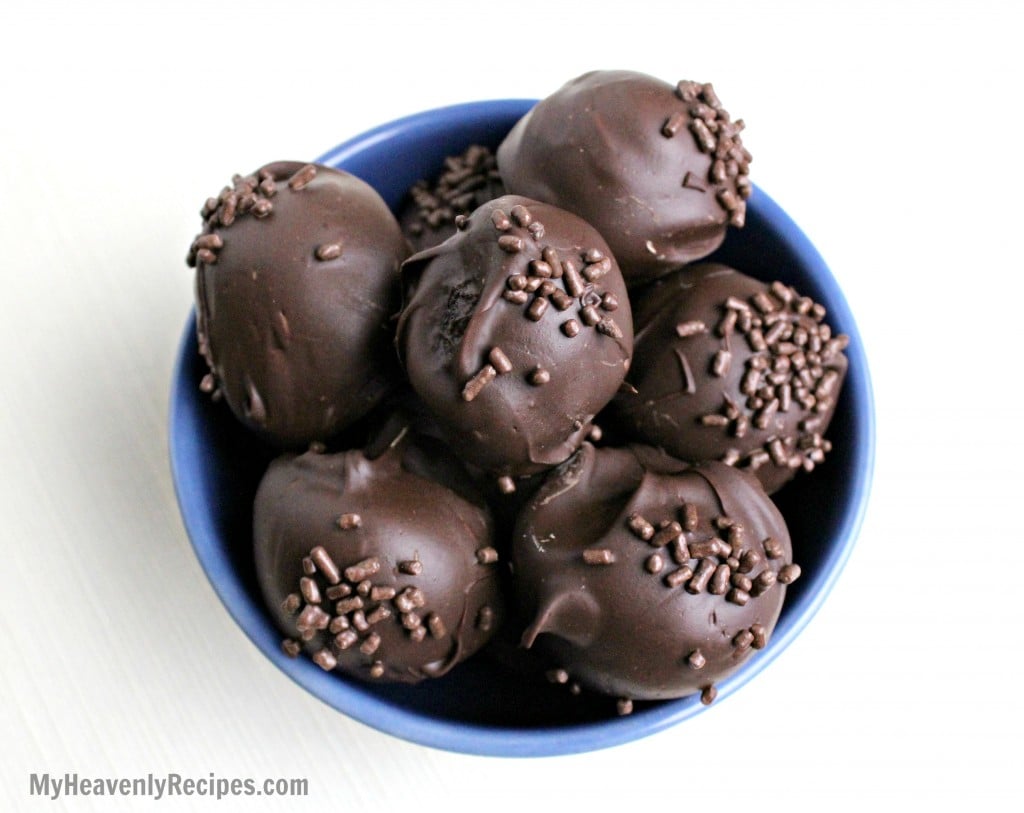 Chocolate Truffles Recipe Here
Seriously just a few ingredients, roll into a ball, dip in chocolate and you are done! I don't know of very many easy dessert recipes with few ingredients that is just this easy!
TGI FRIDAY'S VANILLA BEAN CHEESECAKE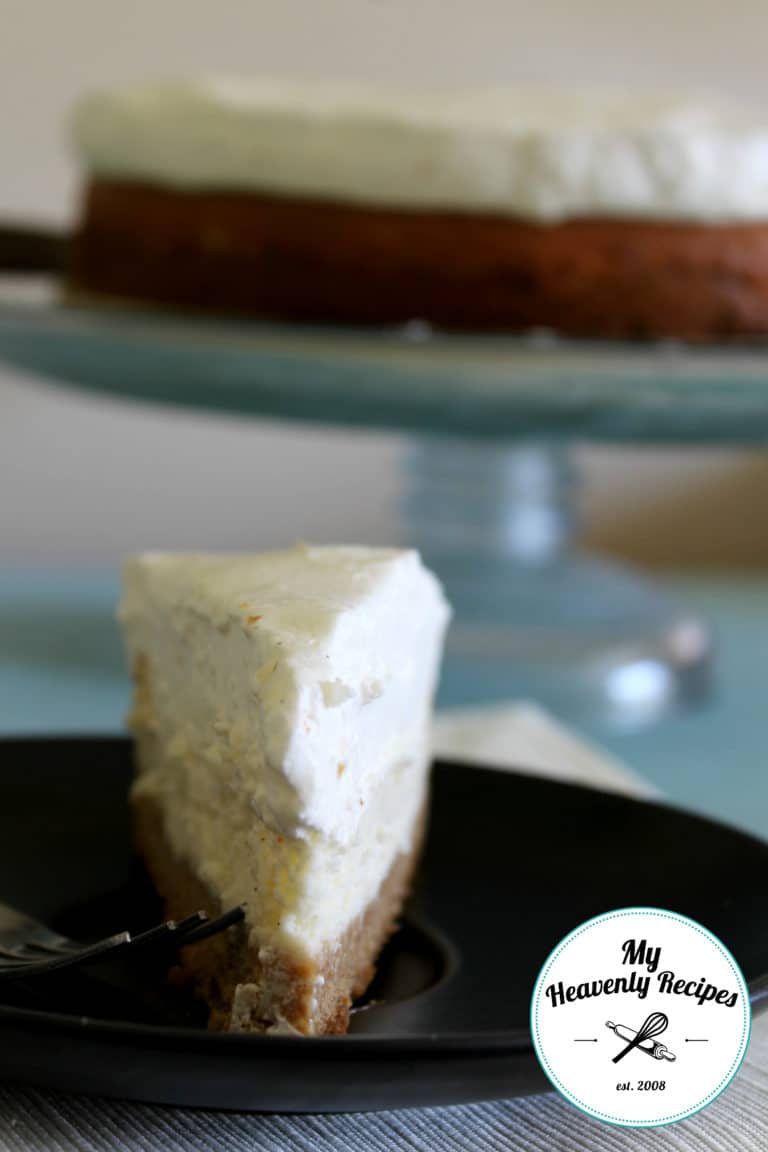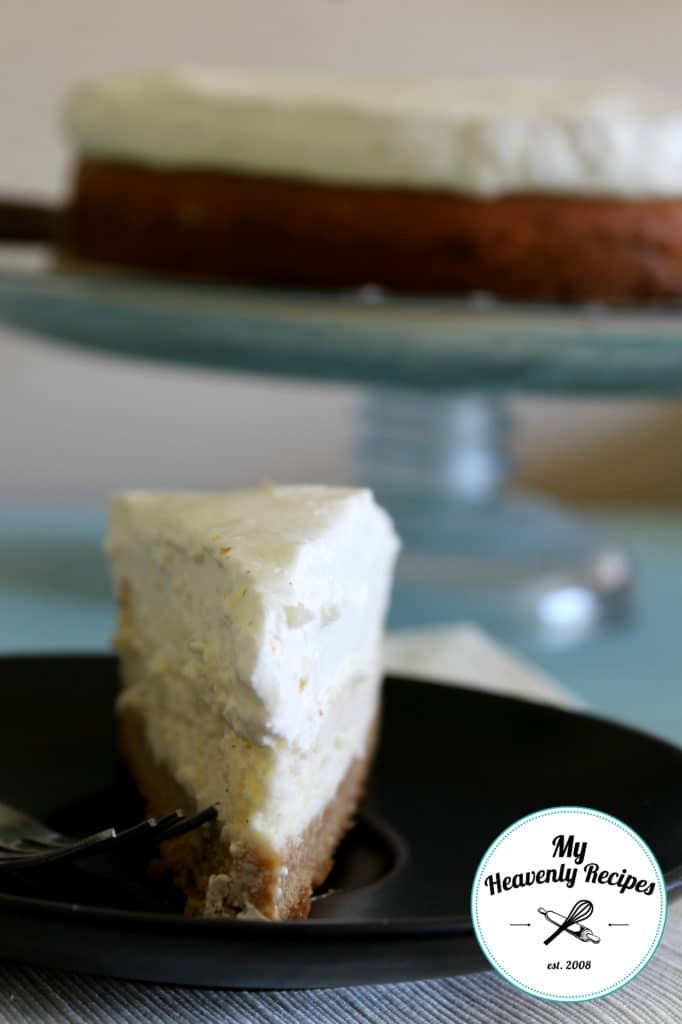 TGI Friday's Vanilla Bean Cheesecake Copycat Recipe Here
One of my all-time favorite simple dessert recipes to make! There are a few extra steps, but, the ingredients truly are super simple to find. This is one of those dessert recipes that will impress a crowd!
COOKIES AND CREAM ICE CREAM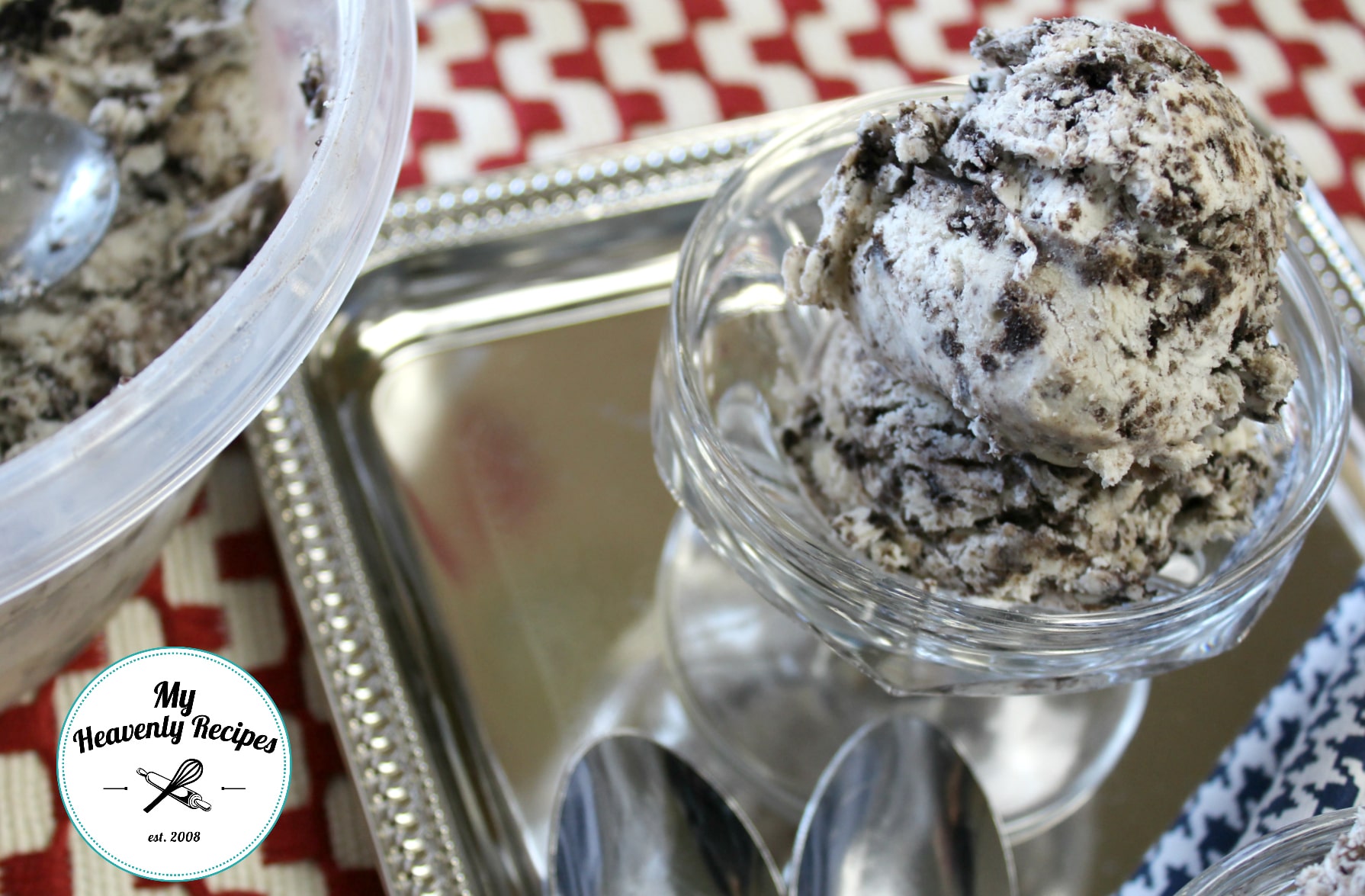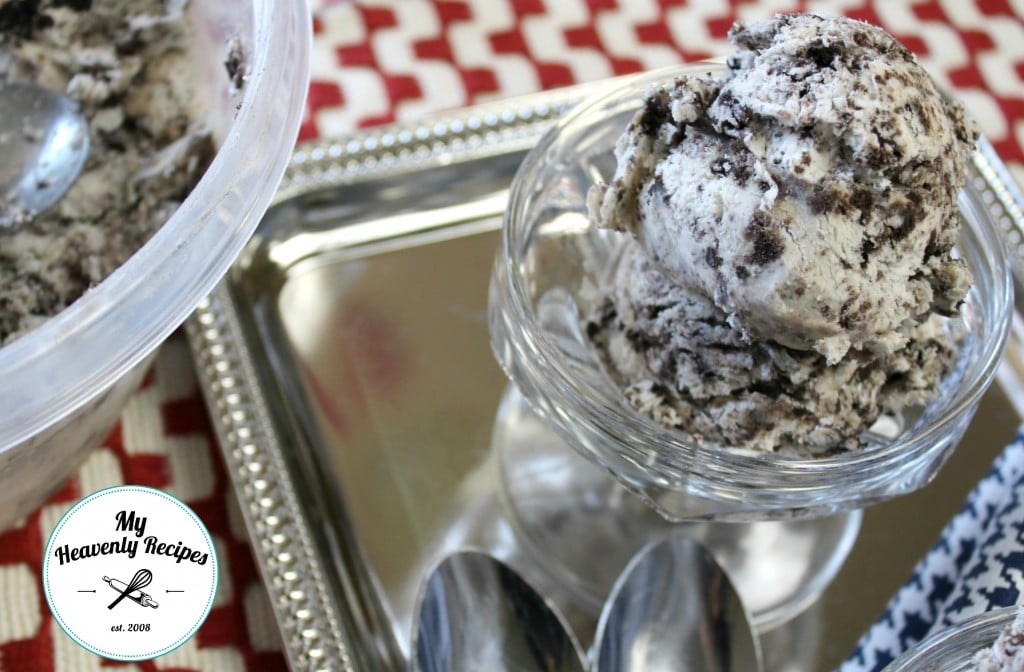 Cookies N Cream Ice Cream RECIPE HERE
The kids will go crazy for this ice cream recipe. It's literally just a handful of super simple ingredients that you probably already have in your pantry. Let the kids get involved my smashing the cookies!
HOMEMADE BUCKEYES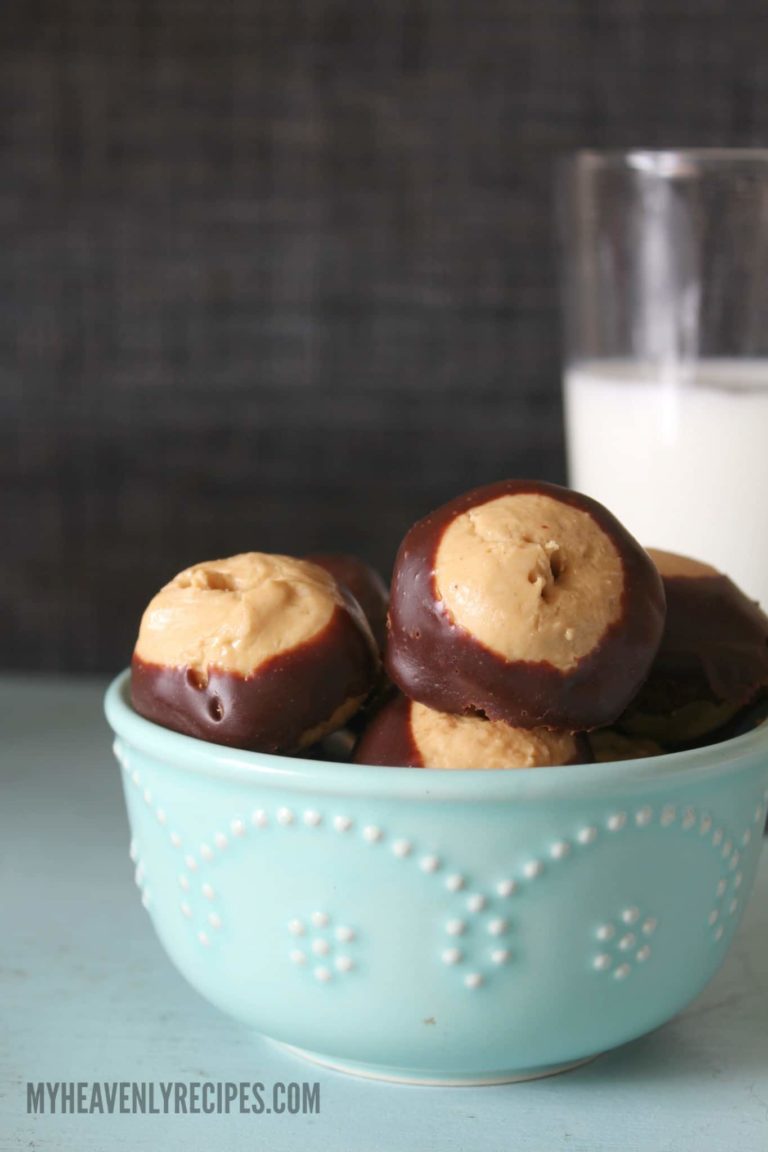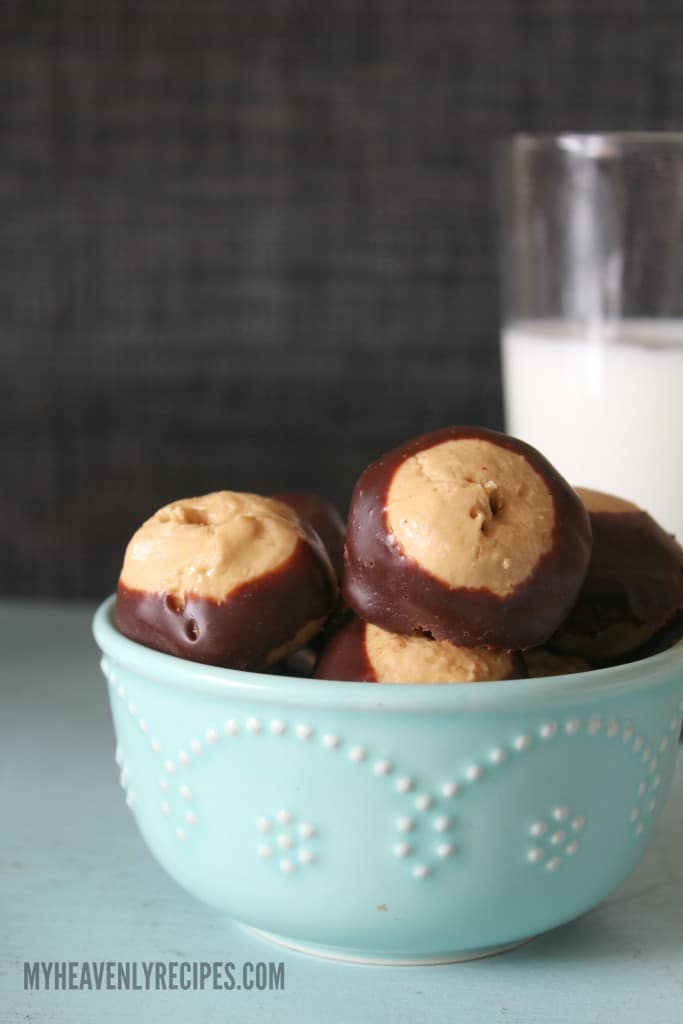 You may have heard this before, but, I made 1,400 of these babies for our wedding. There was not a single one left inside the reception once we arrived! Needless to say, these are now the #1 asked for recipe amongst my friends and family!
NO BAKE PEANUT BUTTER PIE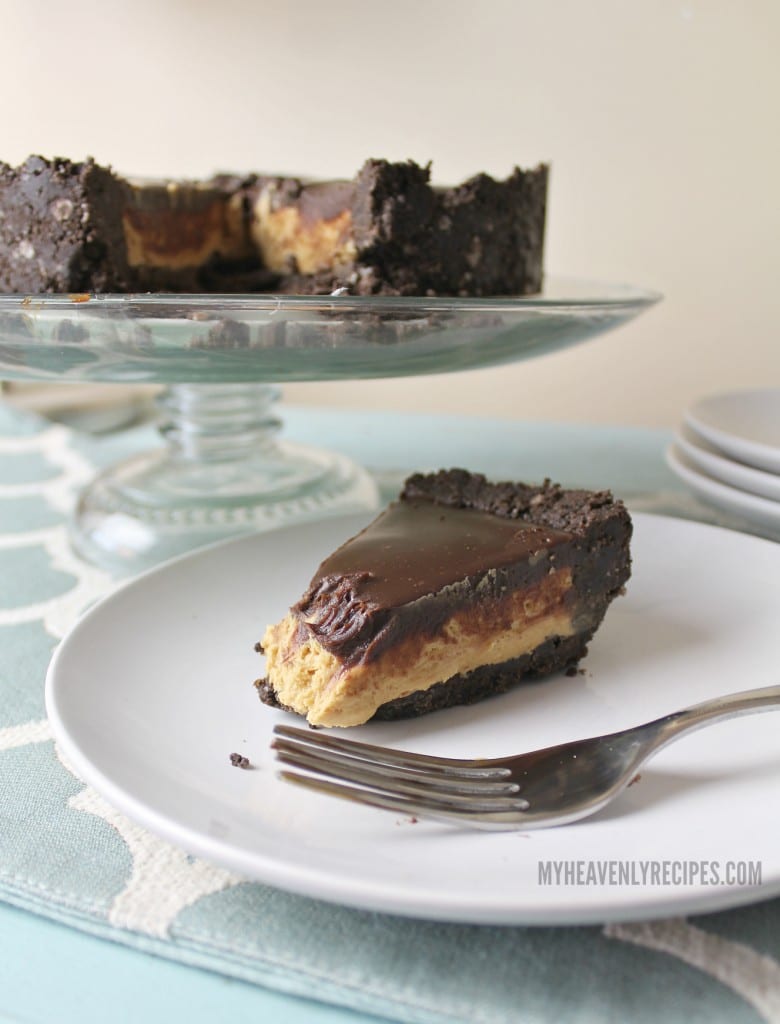 No Bake Peanut Butter Pie Recipe Here
This recipe was born out of laziness ya'll. I had made the peanut butter filling for the buckeye recipe above, but, didn't feel like rolling out the balls. So, instead, I headed into the pantry, whipped up this super simple crust and this No Bake Peanut Butter Pie Recipe was born!
BAKERY STYLE FUDGE BROWNIES
These brownies are delicious! This recipe can feed an entire crowd and on a budget, as it's made on a 9×13 sheet pan, like the bakery does! Don't forget that icing though….it's worth every penny!
HOMEMADE HERSHEY SUNDAE PIE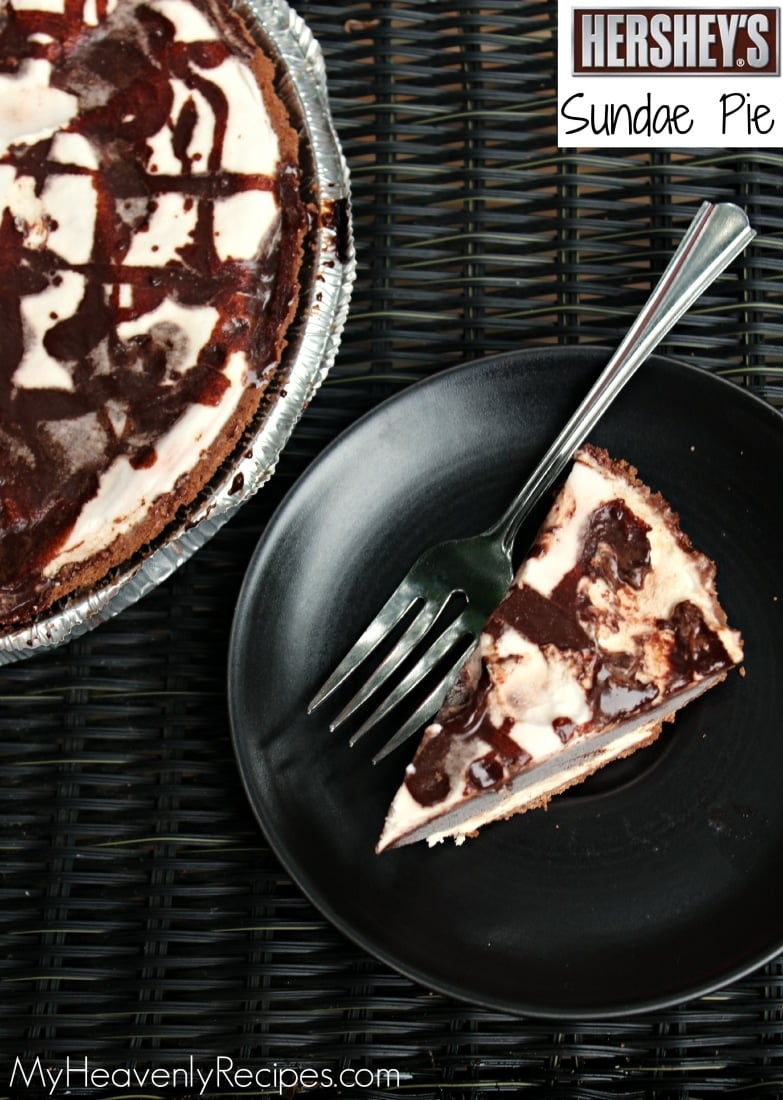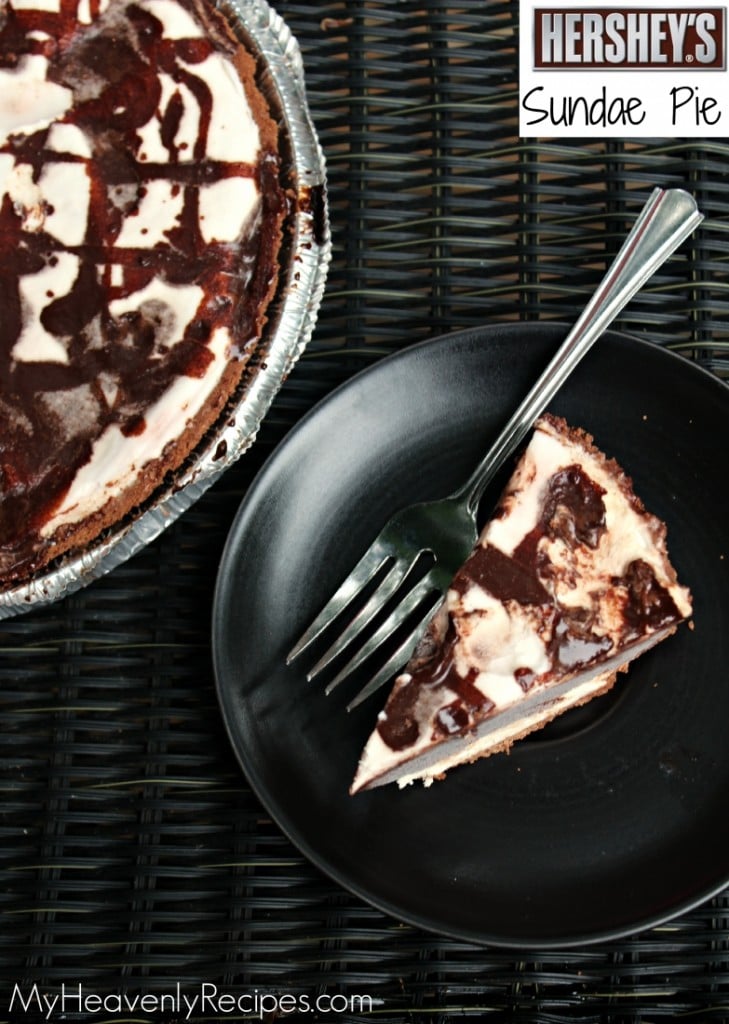 If you are heading to a picnic or hosting a party, this is the easiest dessert recipe you'll ever make. Literally, it requires a handful of ingredients, is kept in the freezer and allowed to thaw about an hour and a half before serving. In fact, this is such a delicious and simple dessert recipe, you may want to make two of them!
HOMEMADE CARAMEL POPCORN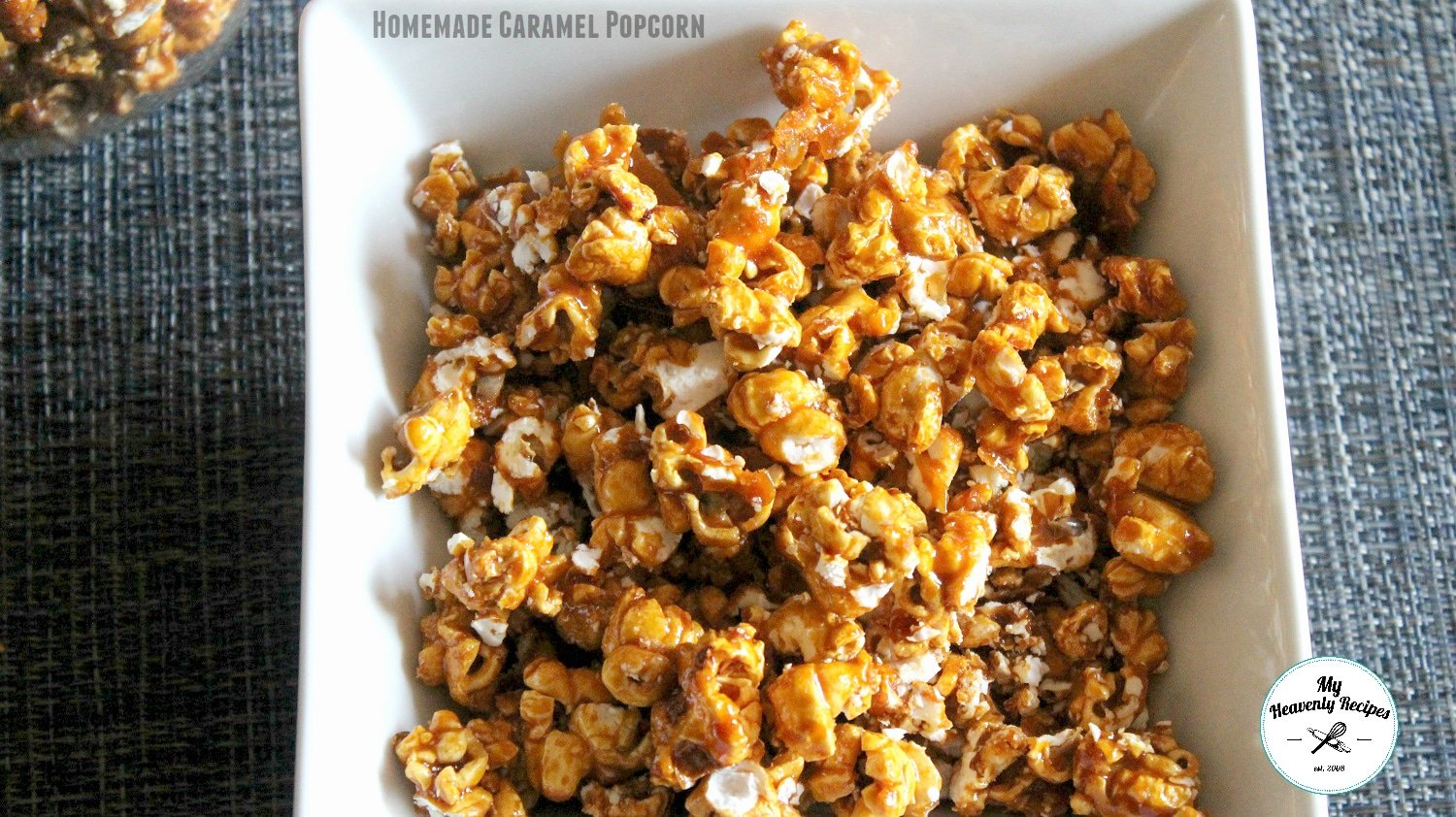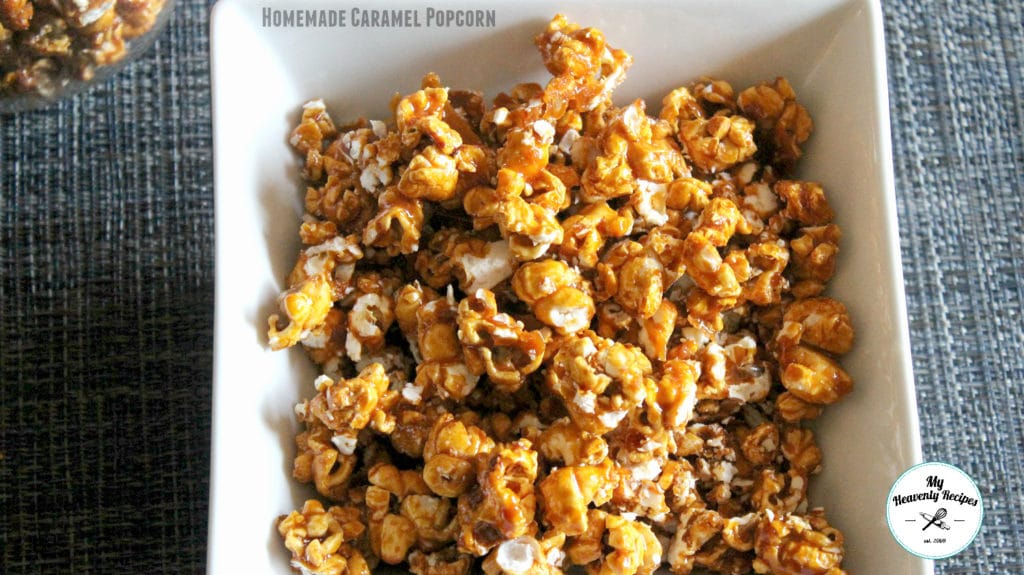 The kids go CRAZY for this one! When we have movie nights, they often ask for this Caramel Popcorn. You know what…I think I'm gonna have to surprise them with it for our Saturday movie night this week!
STRAWBERRY ANGEL FOOD CAKE WITH VANILLA BEAN ICE CREAM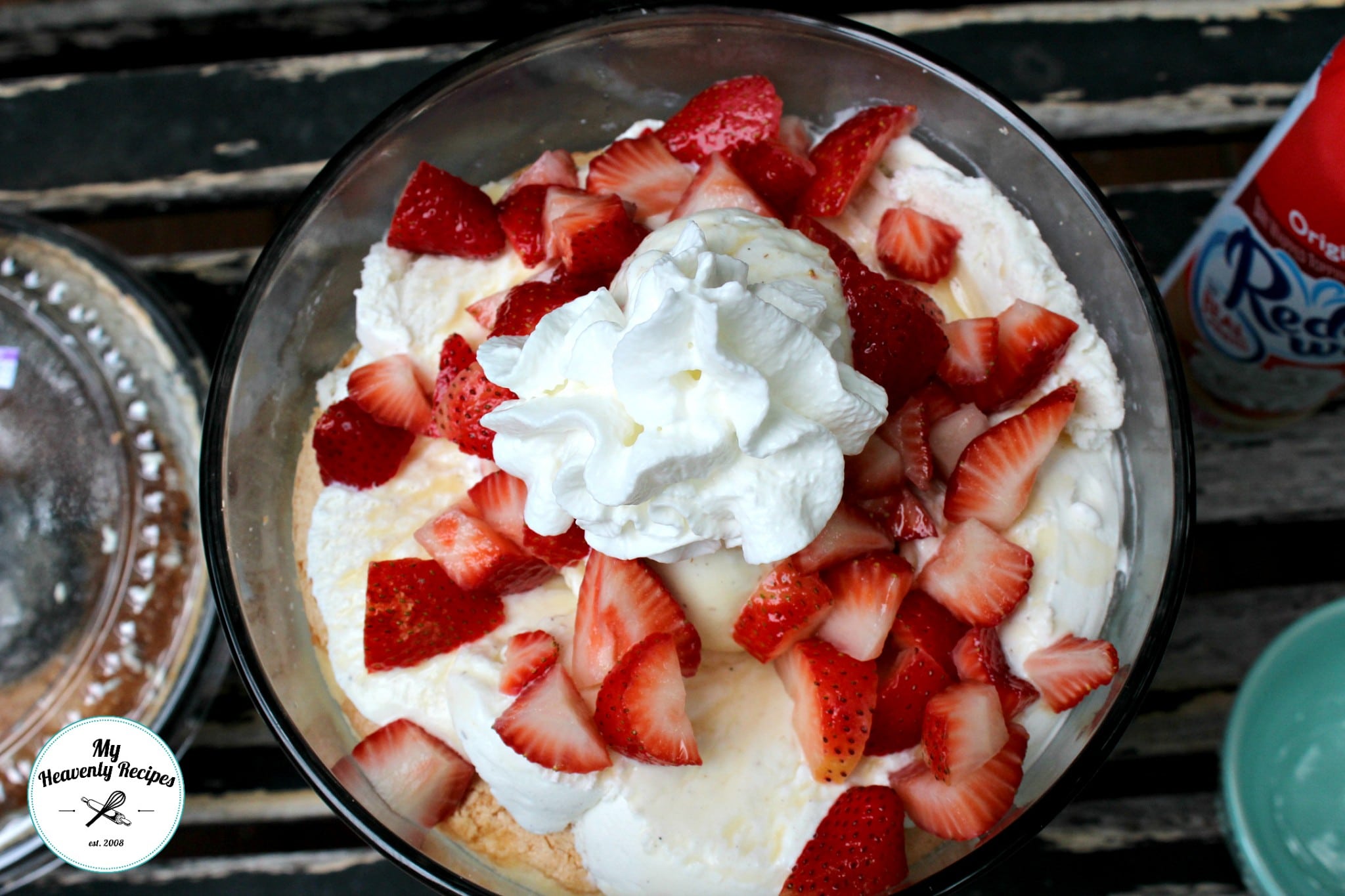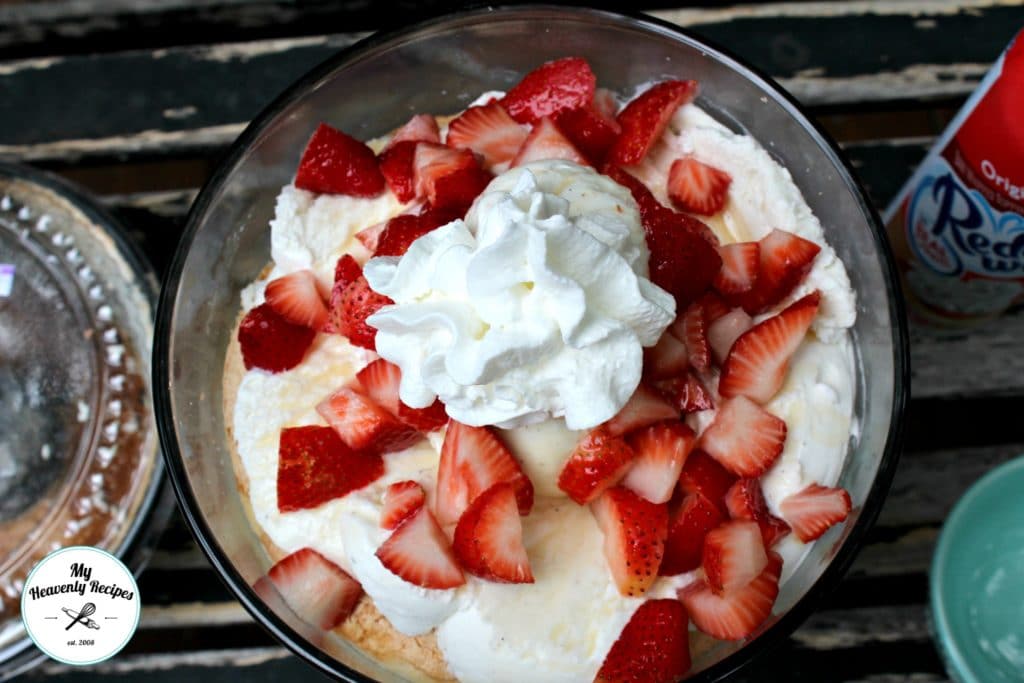 Strawberry Angel Food Cake with Orange Juice Sauce
This recipe was shared with us years ago by my friend D! Hey girl! It's one of those dessert recipes that is stupid super simple you'll wonder why you didn't think of it! It's light on calories, packed full of flavor thanks to the orange juice and will feed a crowd on a budget!
SLOW-COOKER PUMPKIN SPICE DUMP CAKE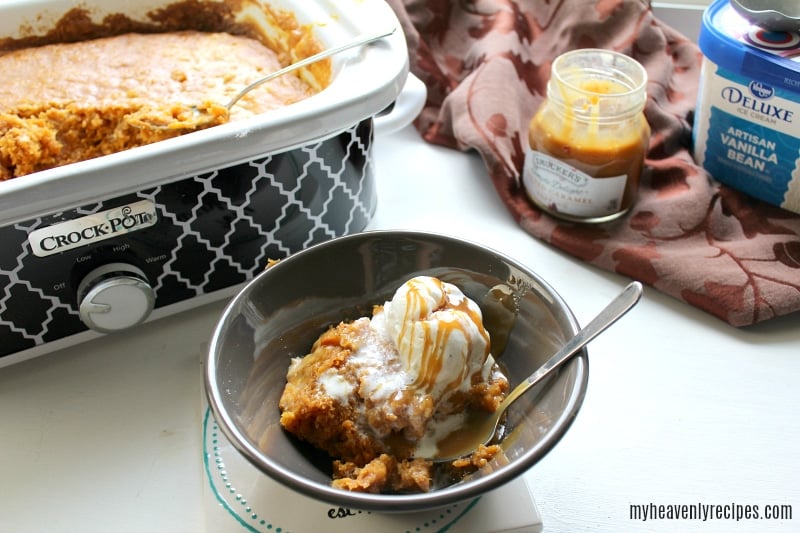 If you are like me and simply can't wait until October to roll around so that you can enjoy all those pumpkin flavors, this is one you have to try! The video shows just how simple this recipe truly is.
THIN MINT COOKIES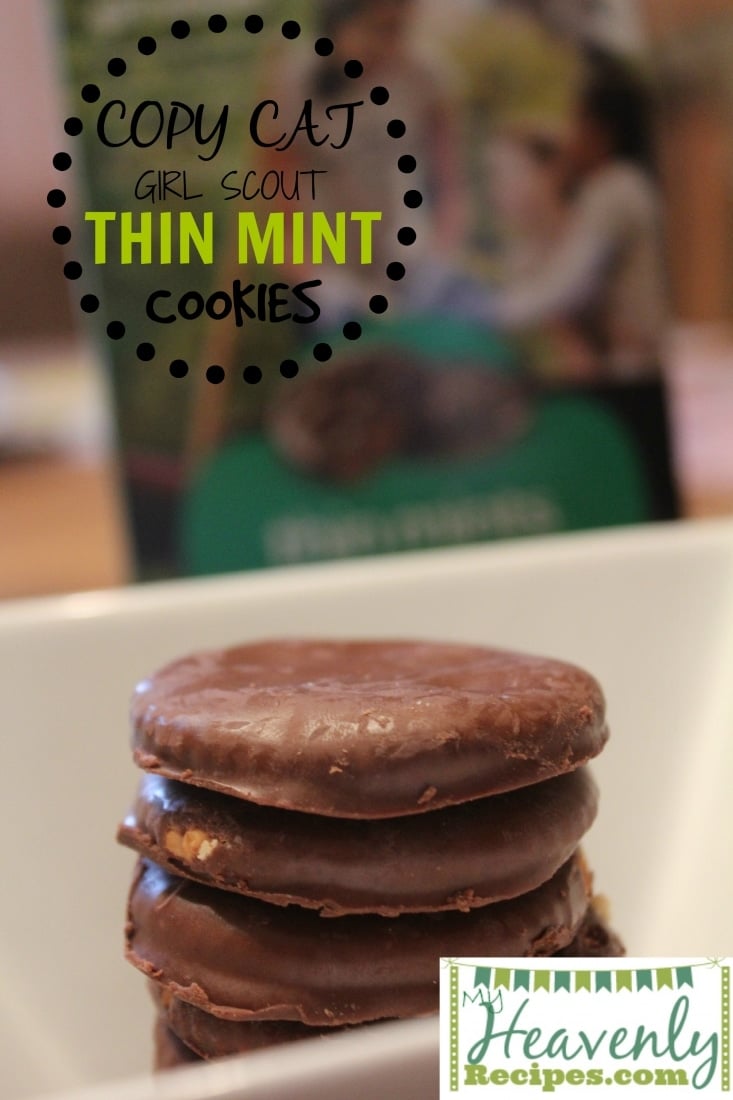 This is one of my favorite simple dessert recipes! With just 2 ingredients, that's right TWO, you'll be enjoying this girl scout copy cat cookie recipe in just minutes. The hardest part is waiting for the chocolate to harden!
CINNAMON & SUGAR PRETZELS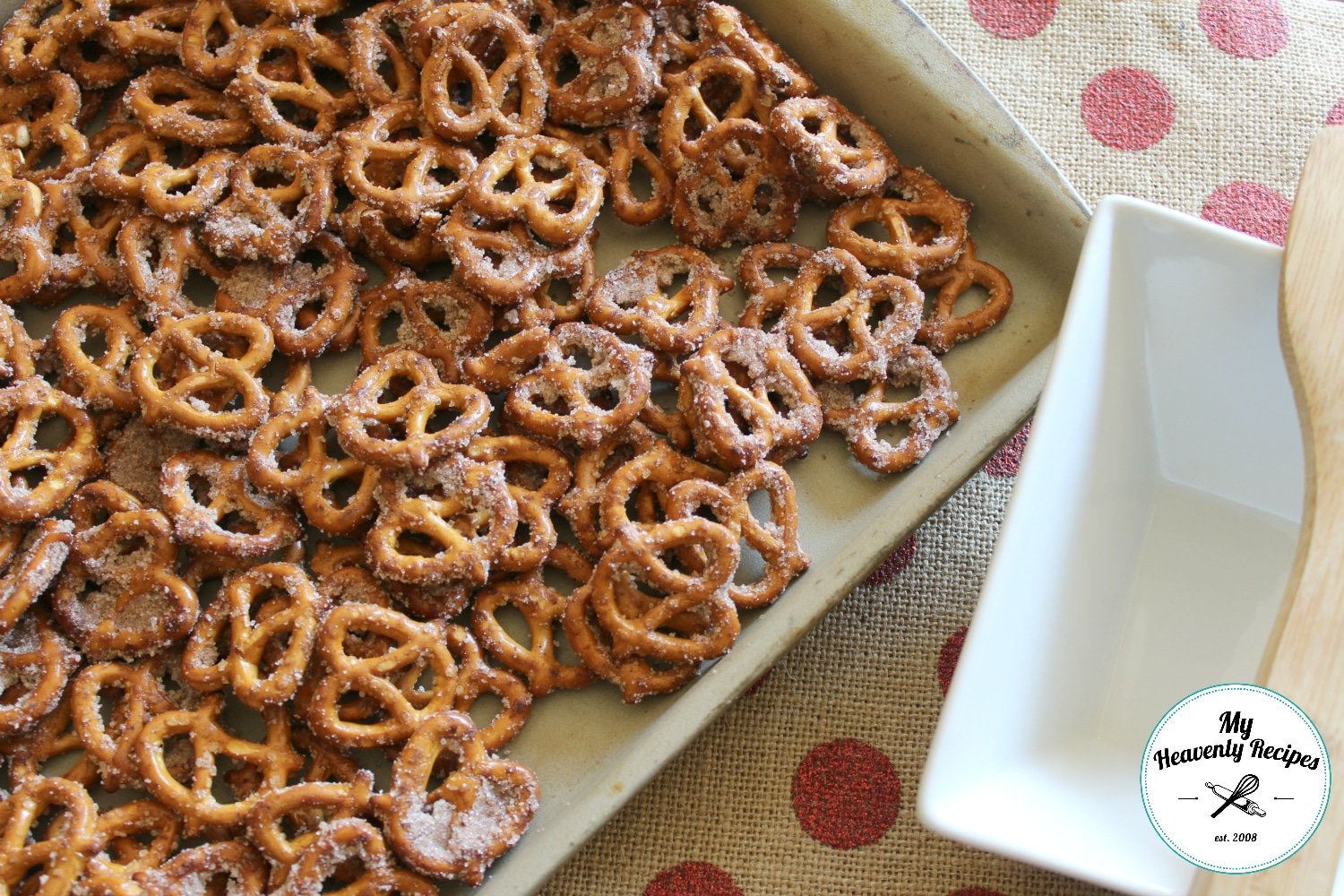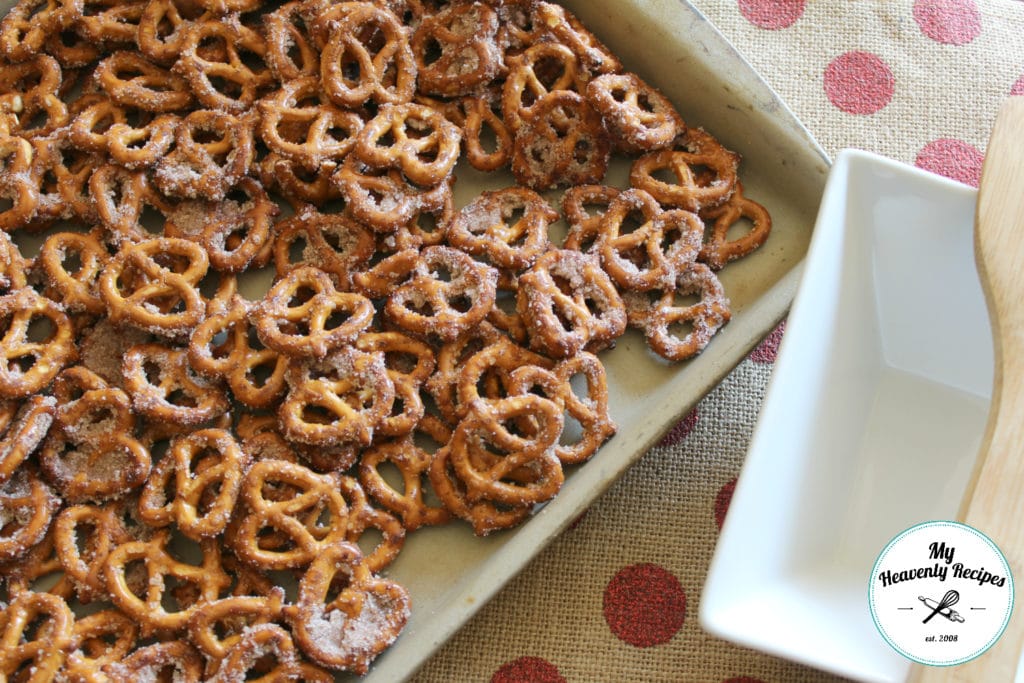 If you are like a super quick and easy dessert recipe this is for you! Every time I make these beauties they are gone in no time flat. Then I have everyone asking me for the recipe. Just a couple bucks and a couple ingredients are all you need. Oh and bonus your house will smell heavenly!
MAGIC BARS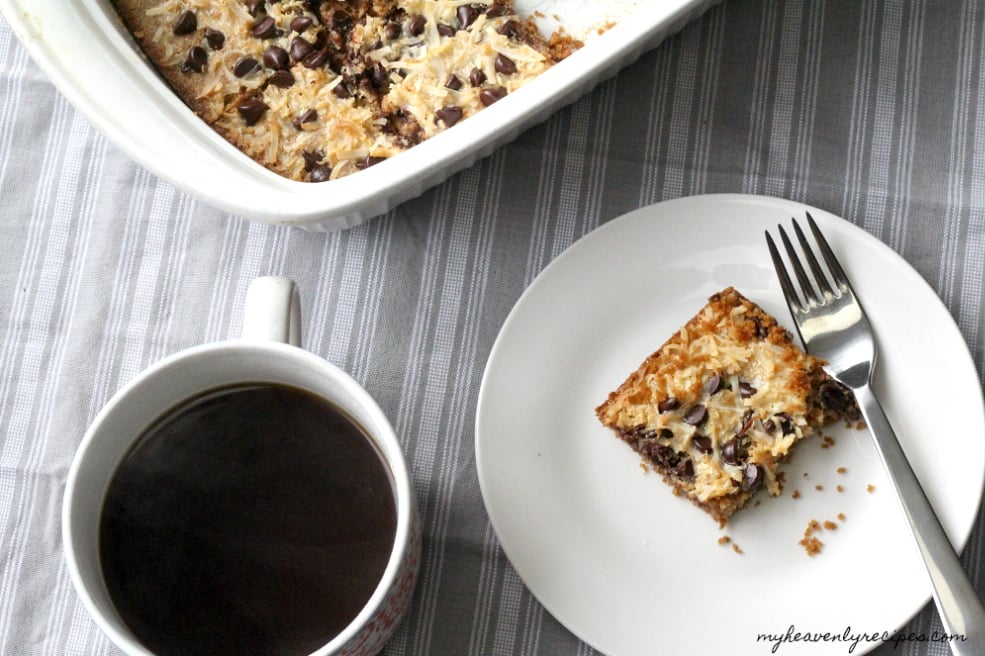 We have all had them and we often call these a different name, but, no matter what you call them, Magic Bars are super simple to make and even easier to eat. They don't stick around for long!
BLUEBERRY DUMP CAKE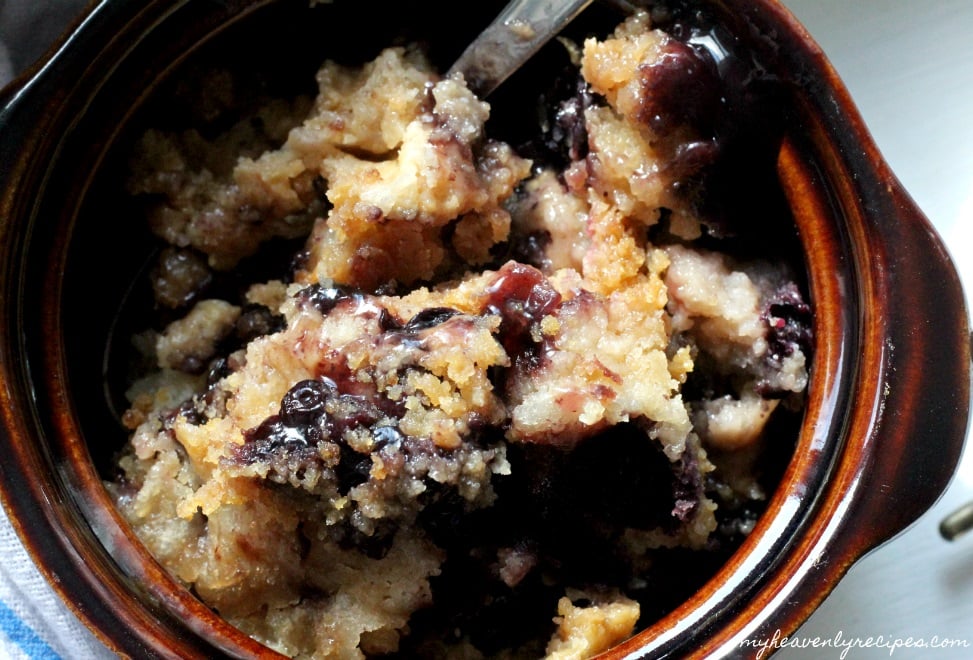 Just take the ingredients, dump them in the slow cooker and let it do its thing. Then scoop out into a bowl, serve with vanilla ice cream and fresh whipped cream and you have yourself a simple dessert recipe that will feed a crowd. Your house will smell amazing too!
HERSHEY KISS PRETZELS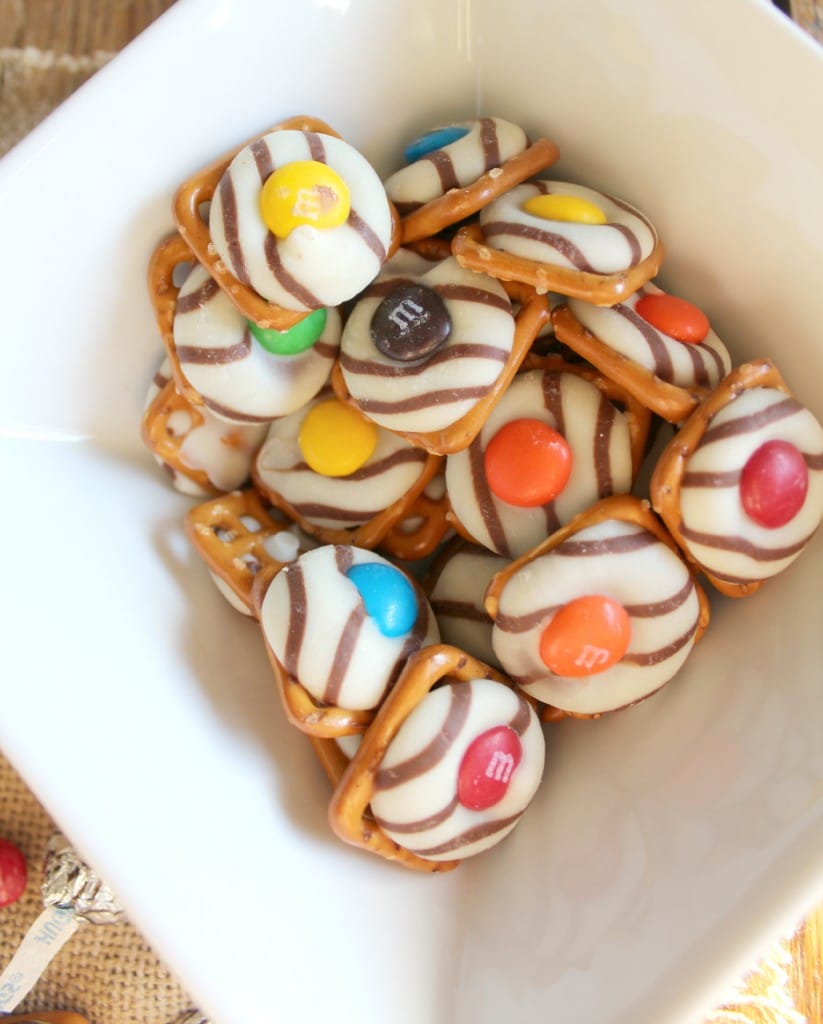 If you want a super simple dessert recipe that's fun and can be made with Hershey Kisses or Rolo's, this is the recipe for you. Both salty and sweet, these Hershey Kiss Pretzels were actually made by my Husband and two out of three kids as I was recovering from surgery! It was the perfect snack while recovering and learning to walk again.
CHOCOLATE CHIP OREO BROWNIES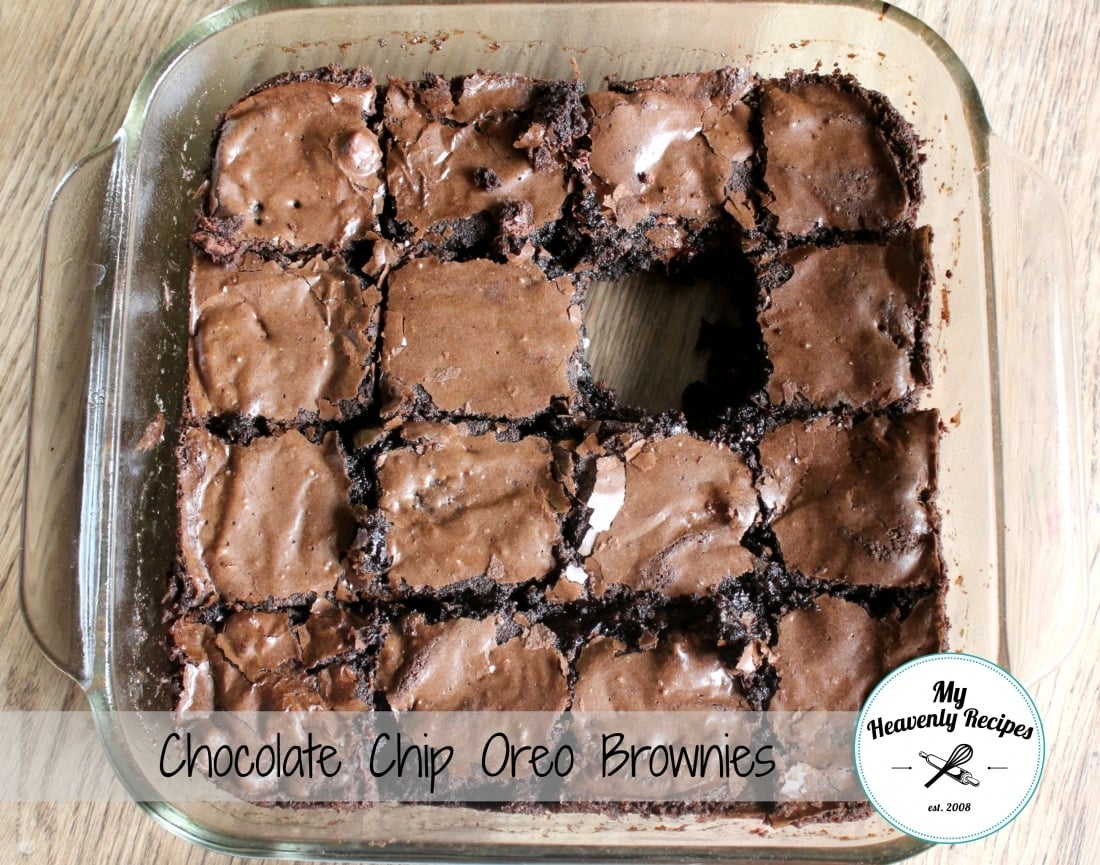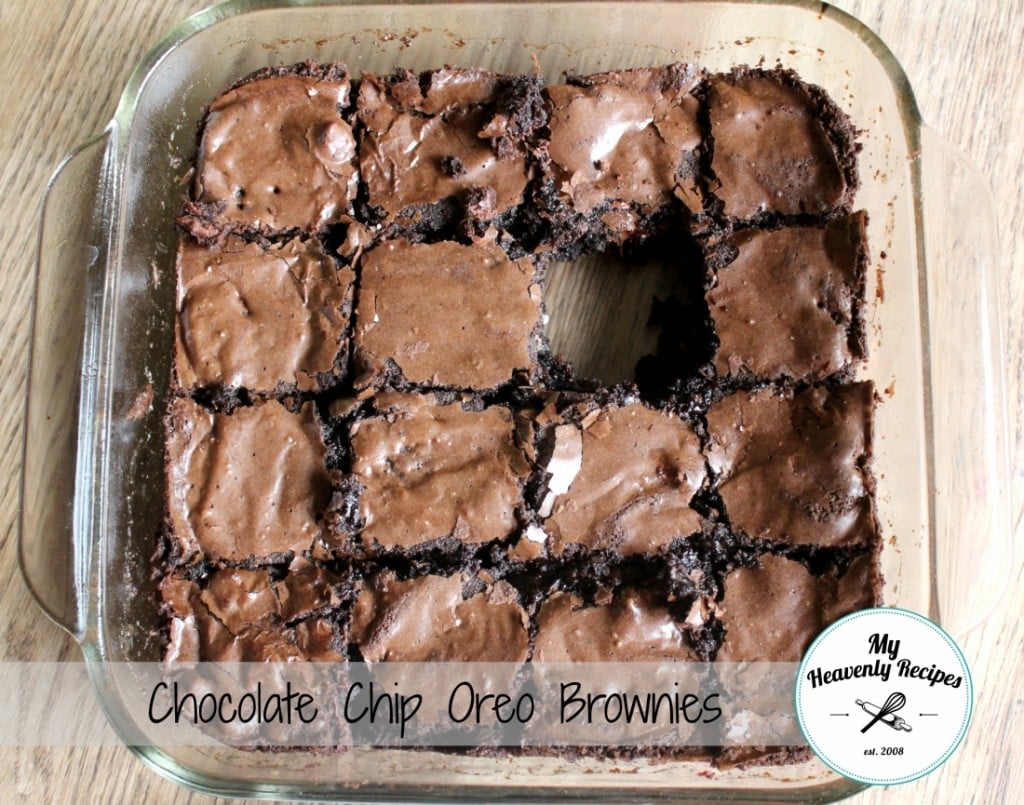 This is one of those simple dessert recipes that the kids came up with. Typically, kid #1's secret to baking brownies is adding in a handful of chocolate chips. But, on this particular day, we had just enough Oreo's to squeak into the pan and it was a pleasant surprise.
SUGAR COOKIE APPLE PIE CUPS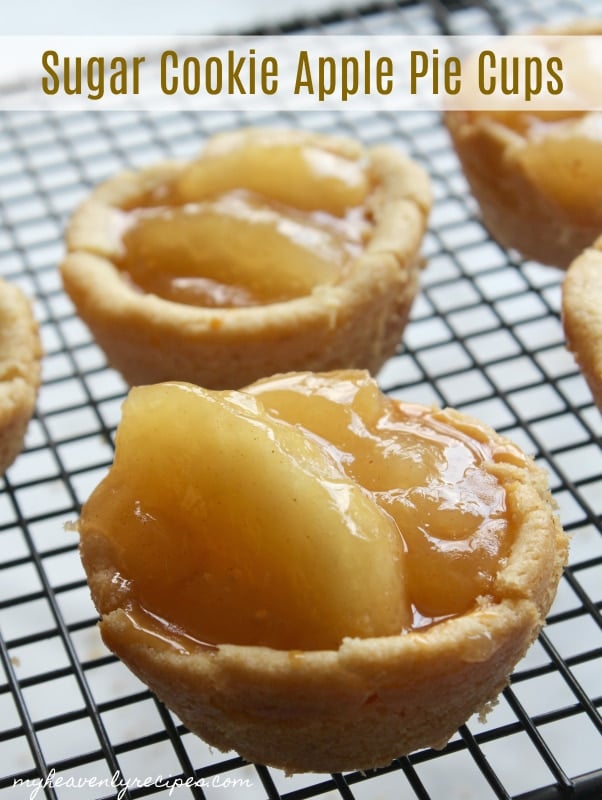 Two ingredients, that's it ya'll! Well, if you want to top with caramel sauce or whipped cream, then that's an additional two ingredients. But, this is one simple dessert recipe that will feed a crowd even on the tightest of budgets. Fill with either cherry, apple or blueberry pie filling and you are are to the races!
FUNFETTI SUGAR COOKIE BARS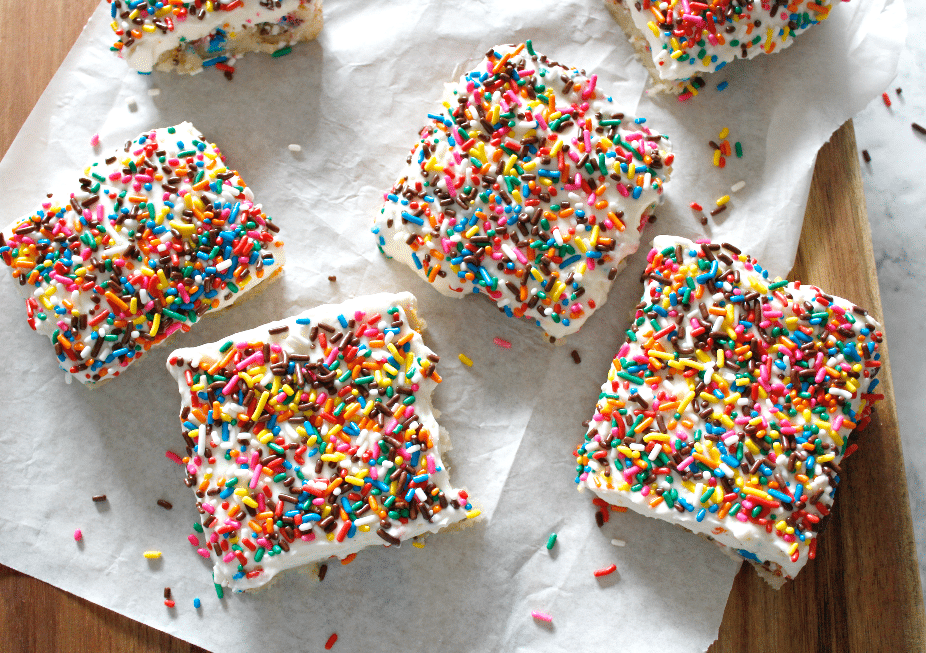 Funfetti sprinkles are so much fun. Stuffed inside the cookie and topped on the homemade icing these bars will be the hit of the party. They are beautiful in the pictures, wait until you are holding on in front of your mouth 😉
HOMEMADE CHOCOLATE CHIP COOKIE CAKE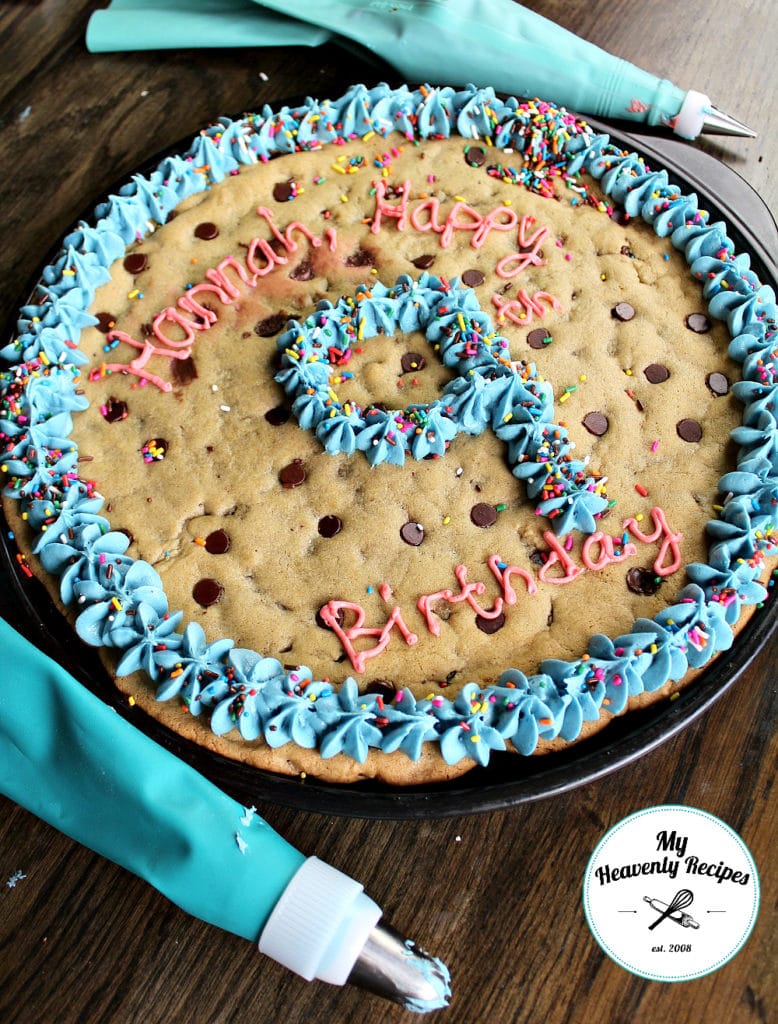 If you are like me and are a "wannabe baker" you have to try your hand at making this Chocolate Chip Cookie Cake recipe. It's super simple and the icing is so much fun to play with! Get yourself an icing bag and a few nice tips, they help even the amateur bakers like me!
SMORES COOKIE BARS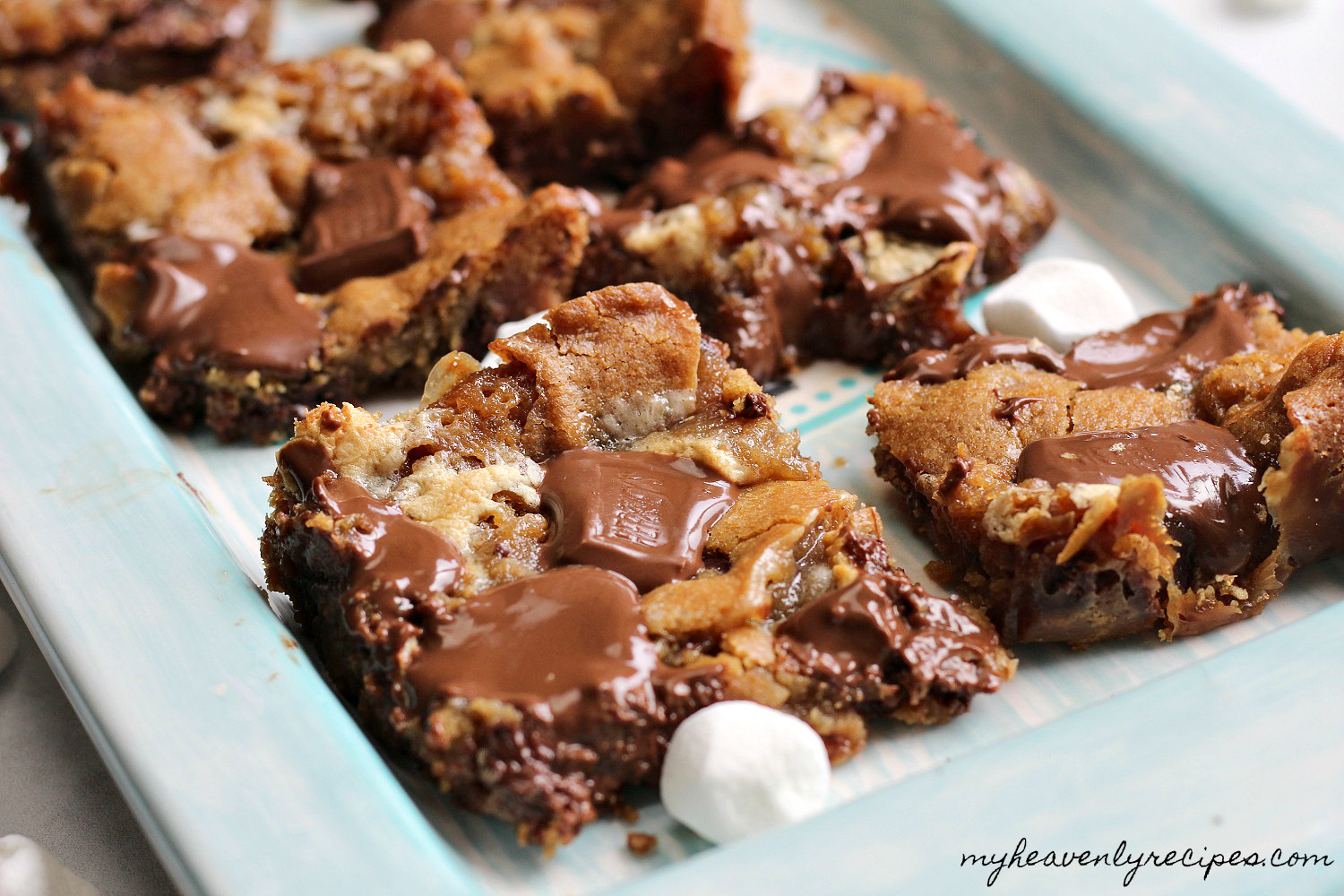 This was the first recipe I ever published on MHR! Whether you use a store bought or homemade chocolate chip cookie dough, it's pretty much the winner of all dessert recipes around here. In fact, we even served it to the neighbors for a party a few years ago and people still talk about how ooey-gooey and delicious they were!
STRAWBERRY CRUNCH BARS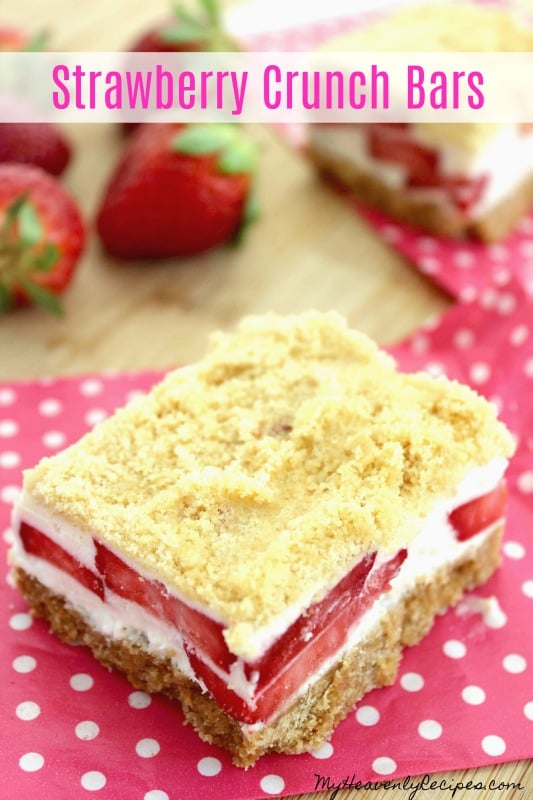 Strawberries are my weakness. This dessert is too! I can't wait for  you to make these in your kitchen and serve them up to the people you love. These Strawberry Crunch Bars are everything!
HERSHEY'S CHOCOLATE PUDDING PIE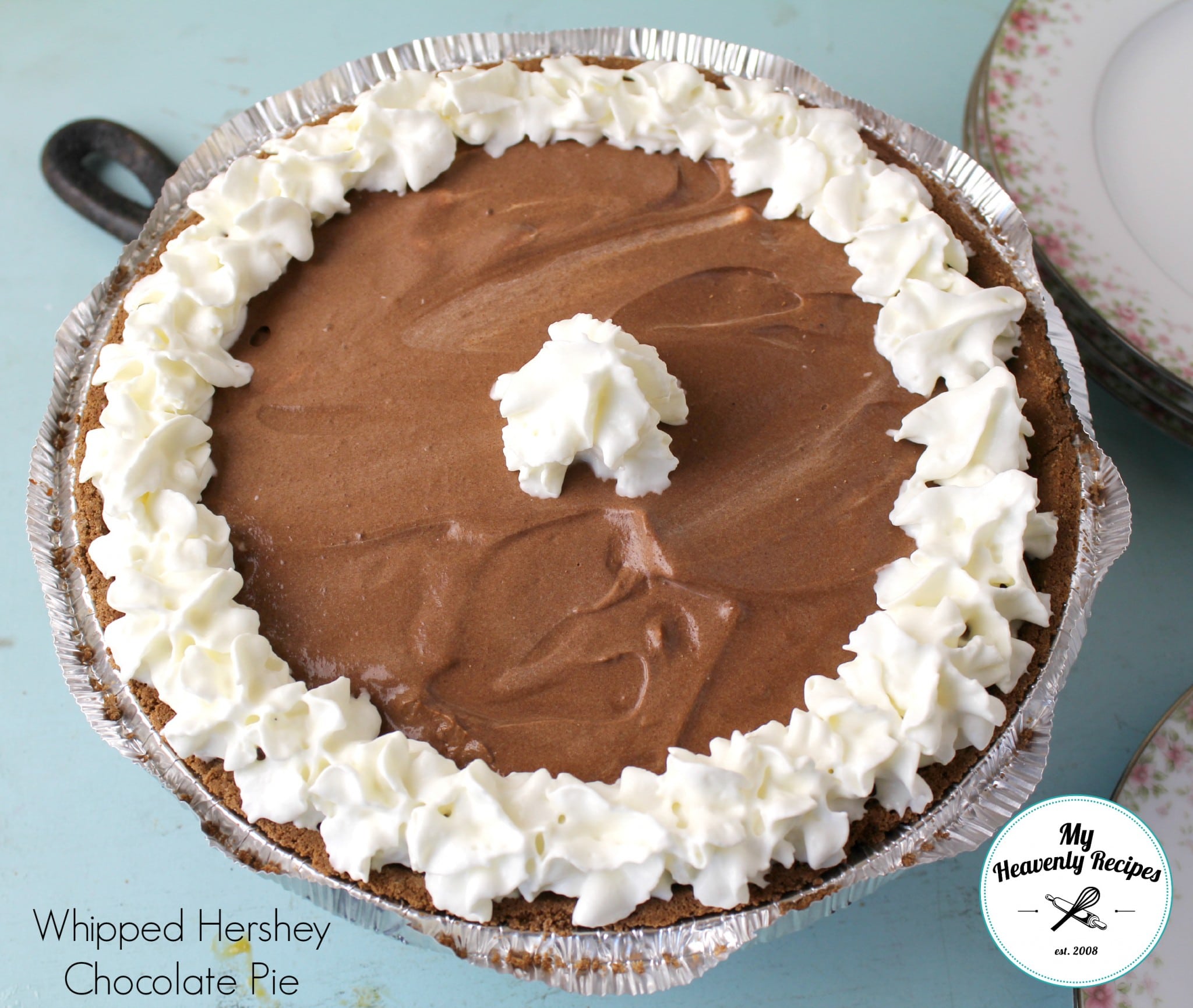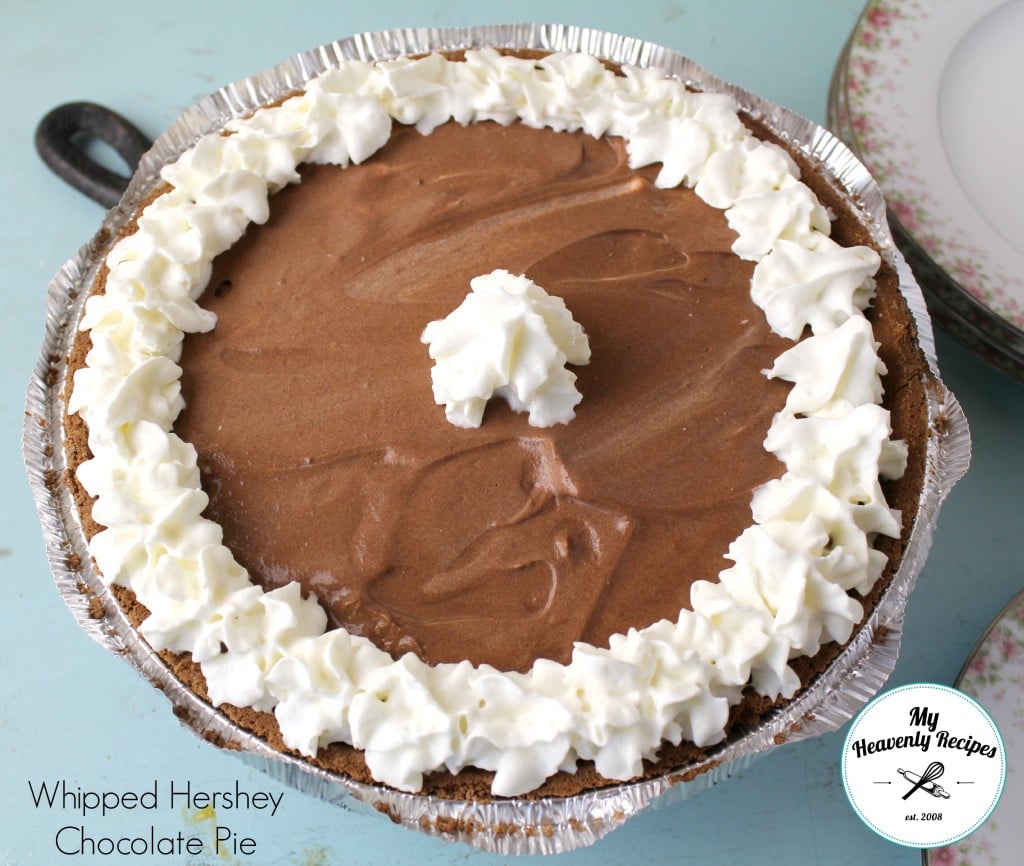 Whipped Hershey's Chocolate Pudding Pie
I can't tell you how EASY this chocolate pudding pie dessert recipe is. If I were giving an award for the easy dessert recipes with few ingredients it would probably be this one! In fact, get the kids, they can handle making this easy dessert!
RAINBOW RICE KRISPIES TREATS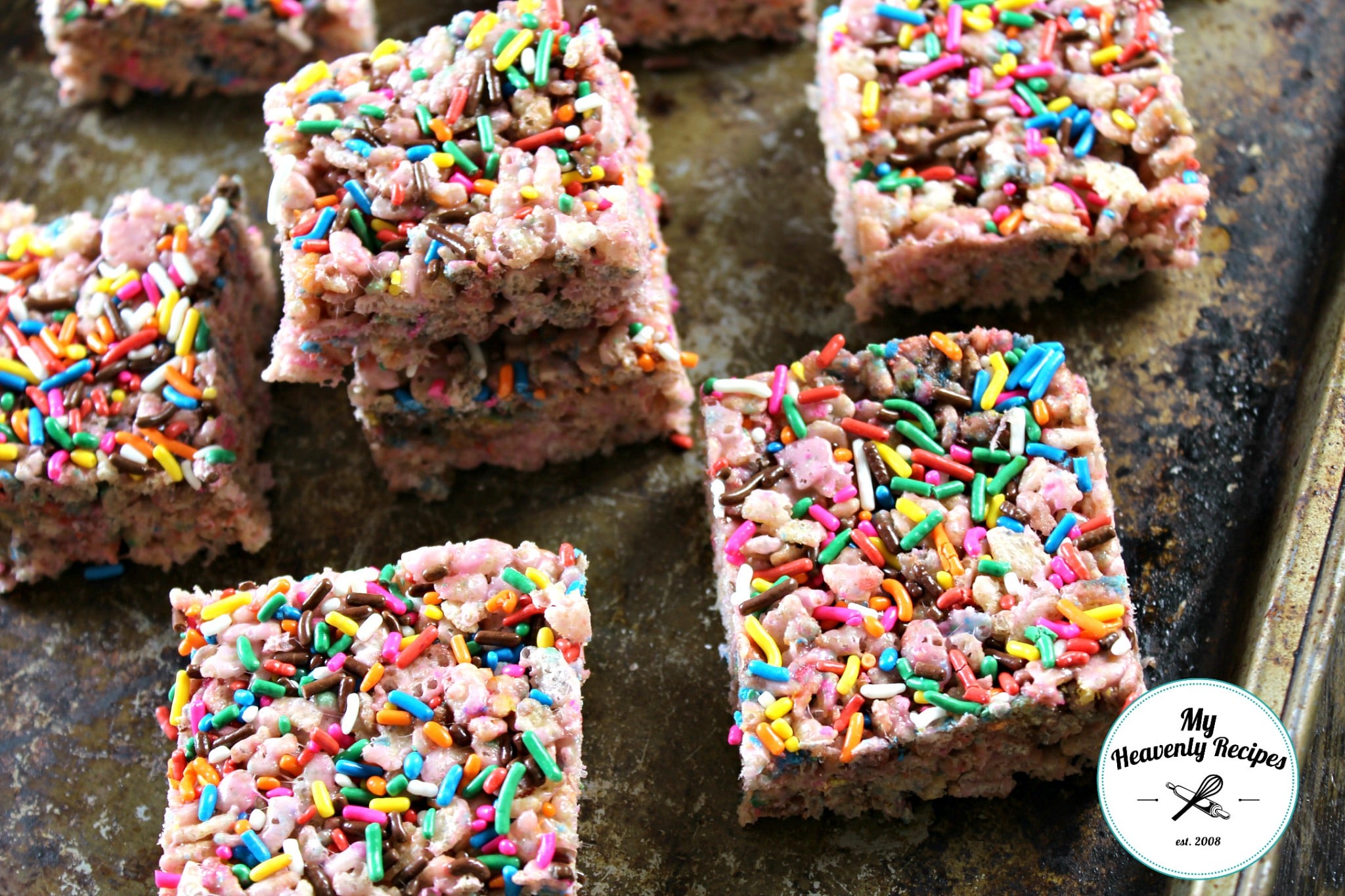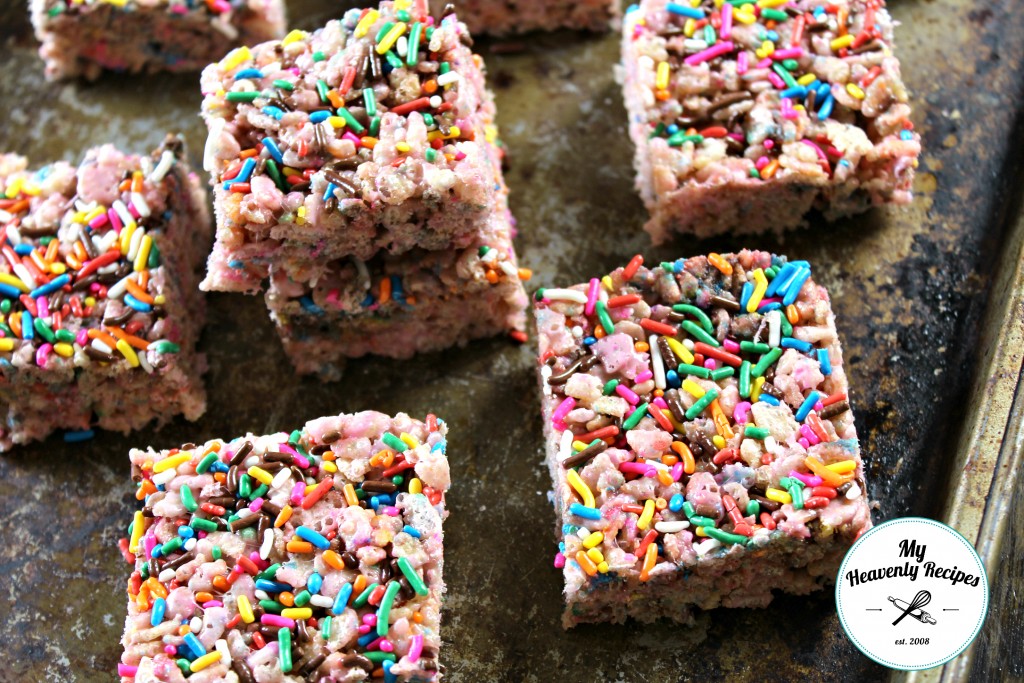 We all have bad days, kids included. When one of my three are feeling down, having a bad day or just need a pick me up, I'll surprise them with these Rainbow Rice Krispies treats. They are super simple, can feed a crowd easily when you double the recipe and perfect for being "the cool Mom" when the neighborhood kids are over!
Try These Reader Favorite Dessert Recipes
Quite a few of our Dessert Recipes have been very popular across social media. Here's a few of our readers favorite dessert recipes that we hope you'll also try!